There's no time like spring especially in New England as everything comes back to life! Before the hills and mountains get filled in with green, flowers are the first sign of spring in Connecticut and they're so much fun to walk around and photograph!
There are lots of spring walks in CT that are perfect for checking out the freshly bloomed flowers and a few you can even turn into a little hike! 🥾
If you're not a winter walker it's time to take your hiking boots and camera out of hibernation.
I compiled a list of 13 flower spots in CT where you can walk and view the flowers. Take your time to stroll through 5 football fields worth of tulips in Preston (number one on the list below) or through tens of thousands of daffodils in Litchfield.
There is even a map below for you to easily find a flower place near you and plan your trip! So take out your calendar and start planning your flower-peeping season! 🌷🌸🌷
What are the 13 places to walk and see spring flowers in CT?!
1. Wicked Tulips, Preston (New London County)
This is New Englands LARGEST tulip farm with 150+ varieties you can't see anywhere else! They also host the largest U-pick tulip events in New England.
Plus there's tons of room to stroll here. You won't have to worry about getting crowds of people in your pics as there are 5 football fields worth of tulips for you to check out.
"Tiptoe through acres of tulips and experience the sights, sounds, and smells of spring. Bring home a fresh picked bouquet of the most amazing tulips you have ever seen." Wickedtulips.com
This is a great place to bring kids or anyone craving nature and fresh air after winter!
When: from mid-April to early May
How to visit: You need to buy tickets which are $15 each and they do sell out. The best thing to do is sign up for ticket alerts via email for when they start releasing them which all depends on when the tulips bloom!
2. Laurel Ridge Farm – Northfield Daffodil Field, Lichfield
Rolling green hills, centuries-old stone walls and foundations, and a flowing sea of yellow daffodils make this visit one to remember. You'll enjoy thousands upon thousands of blooming daffodils here, their reflections clearly displayed in the property's small pond.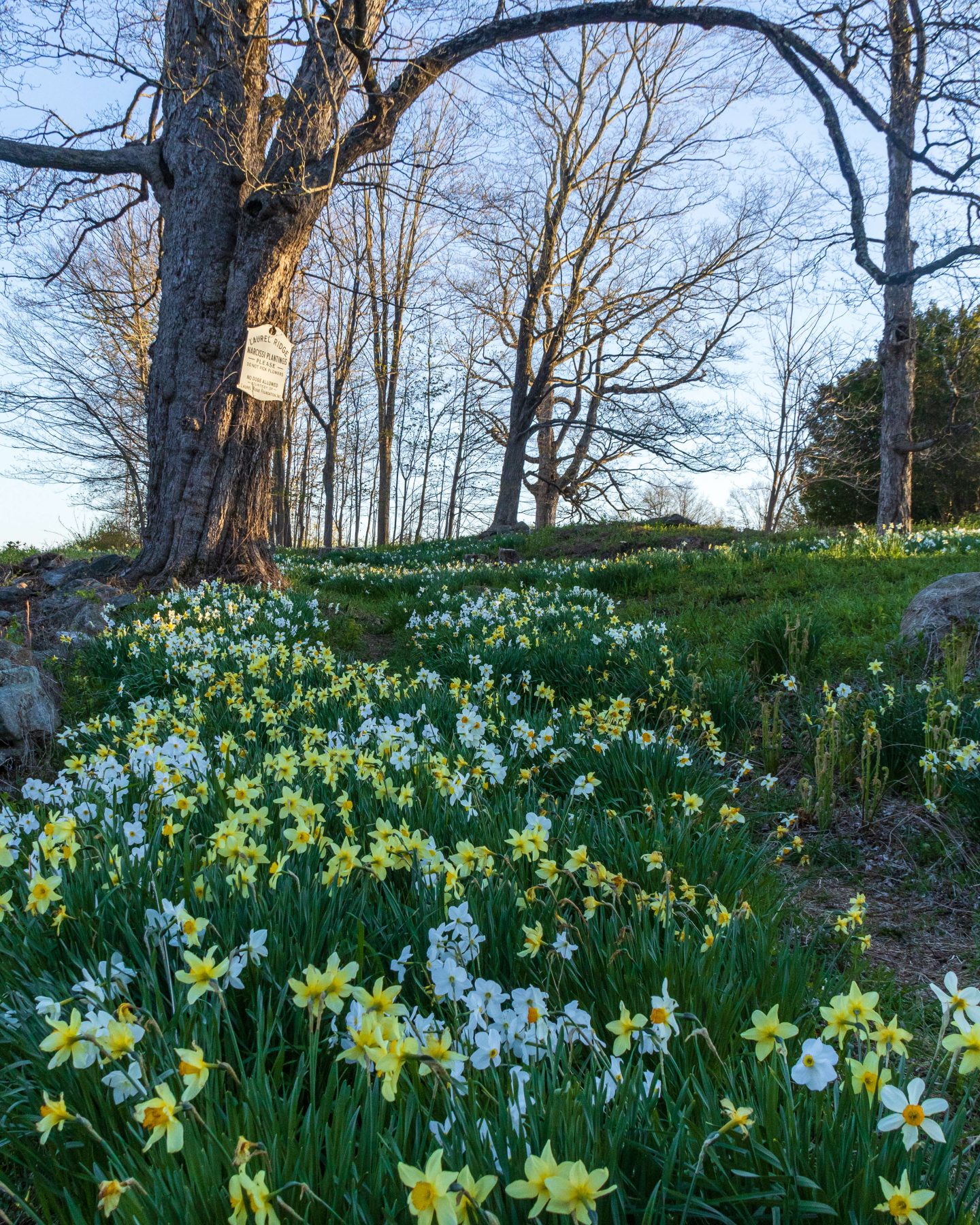 Their beautifully well-worn paths make their way in and around this veritable daffodil army. Catching the colors of sunrise or sunset could set a visitor's rods and cones on overload!
When: Entrance to this property is free and the flowers will be in peak bloom in late April/early May.
3. Elizabeth Park, Hartford
Boasting over 100 acres of formal gardens, green space, walking loops, and the Pond House Cafe, Elizabeth Park is a true gem to be perused in West Hartford, Connecticut.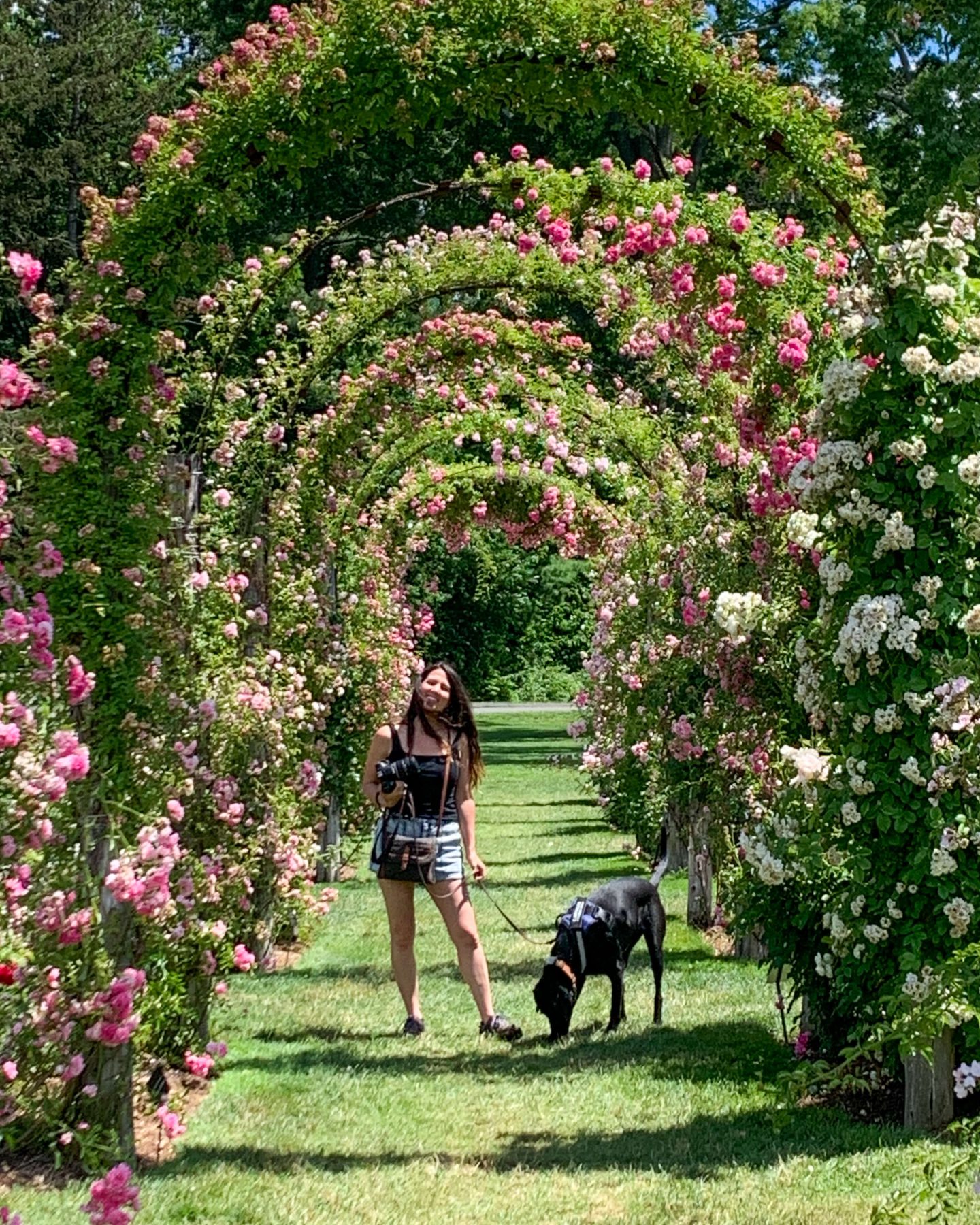 The Helen S. Kaman Rose Garden is the centerpiece of this property and will jettison a visitor back to Venetian times with its stoically hushed lush walkways and towering floral structures.
A truly magical place for landscape and micro photography enthusiasts.
When and How to Visit: The park is open 365 days of the year, from dawn to dusk but the rose garden and accompanying floral arrangements will bloom in Spring through Summer.
4. Topsmead State Forest, Litchfield
We owe the late Edith Morton Chase a substantial debt of gratitude for donating this magnificent property to the state of Connecticut. Miss Chase would summer at this property, lounging in her English Tudor-style cabin, which remains undisturbed to this day.
At Topsmead (meaning "top of the meadow") a visitor can stroll for hours along the inviting labyrinth of networked trails and enjoy views in all directions, as well as take in a plethora of gorgeous perennial flora.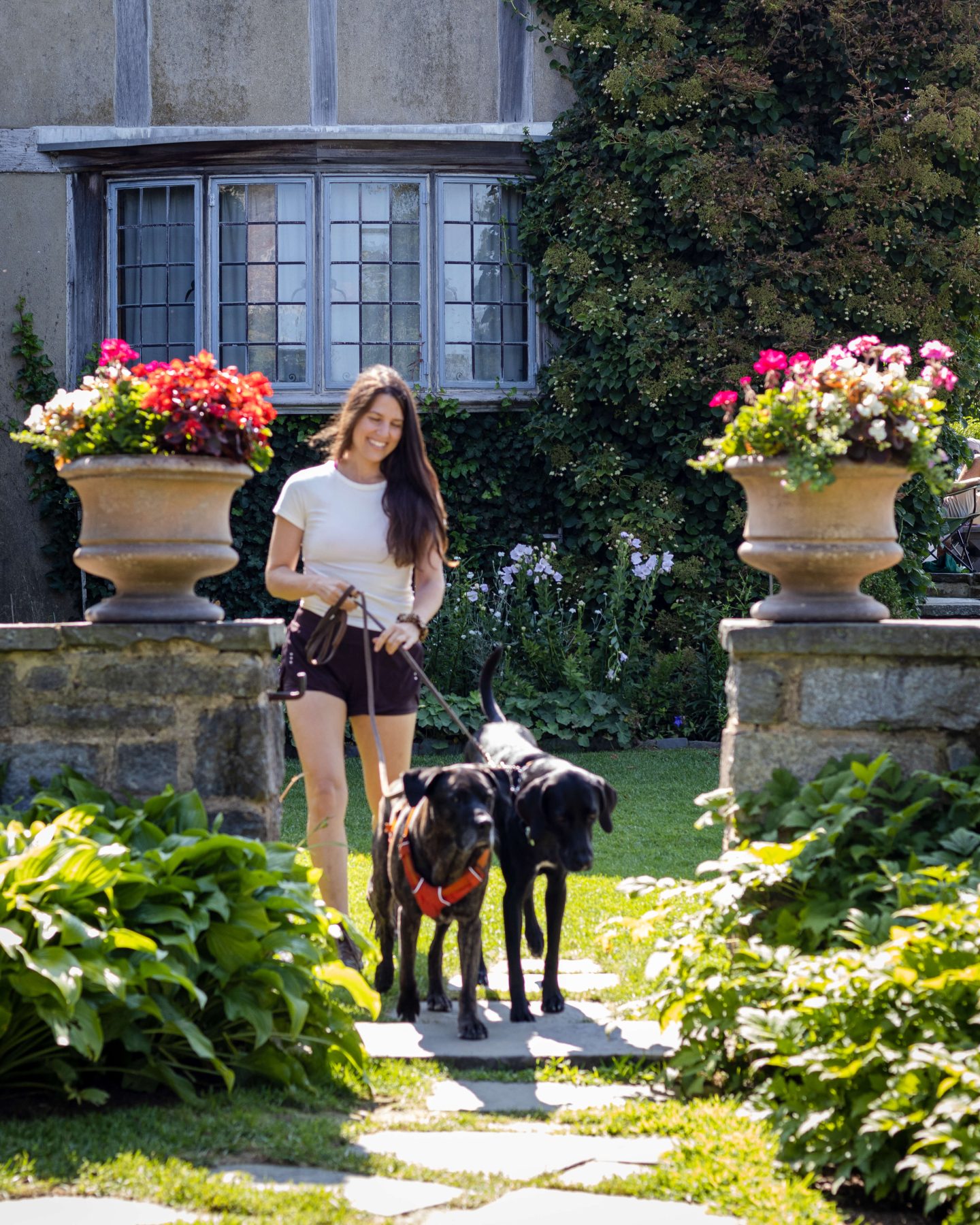 When and How to Visit: The gates to Topsmead open daily at 8 am and close at dusk, all year round!
5. Nipmunk State Forest, Stafford Springs
What more can be asked for than a beautifully cultivated and preserved 9000+ acre forest? Why not add in an overabundance of Connecticut's state flower, Mountain Laurel, for which the forest is duly named!
Traditionally blooming in mid-June, these white, pink, and red blossoms will dazzle any visitor to this property and will ensure no lack of photography subjects. Getting lost in this land of fairy tales is nothing to fret about, just enjoy the meandering and bathe in the glory of this impeccably pristine forest.
When and How to Visit: There is a weekend/holiday parking fee for non-residents, however, the tax is beyond well worth it to enjoy this property and its Mountain Laurel Sanctuary.
6. Harkness Memorial State Park, Waterford
Donated to the state of Connecticut in 1950, this sprawling seaside property, with its over 230 acres boasts magnificent views of Long Island Sound, elegant stately hardwoods, and spectacular gardens.
Get lost in opulent wonder while you stroll the grounds of Eolia, the elegant summer parcel of the Harkness family.
The impeccably manicured property is home to absolutely breathtaking garden arrangements, making this stop on this list a photographer's dream.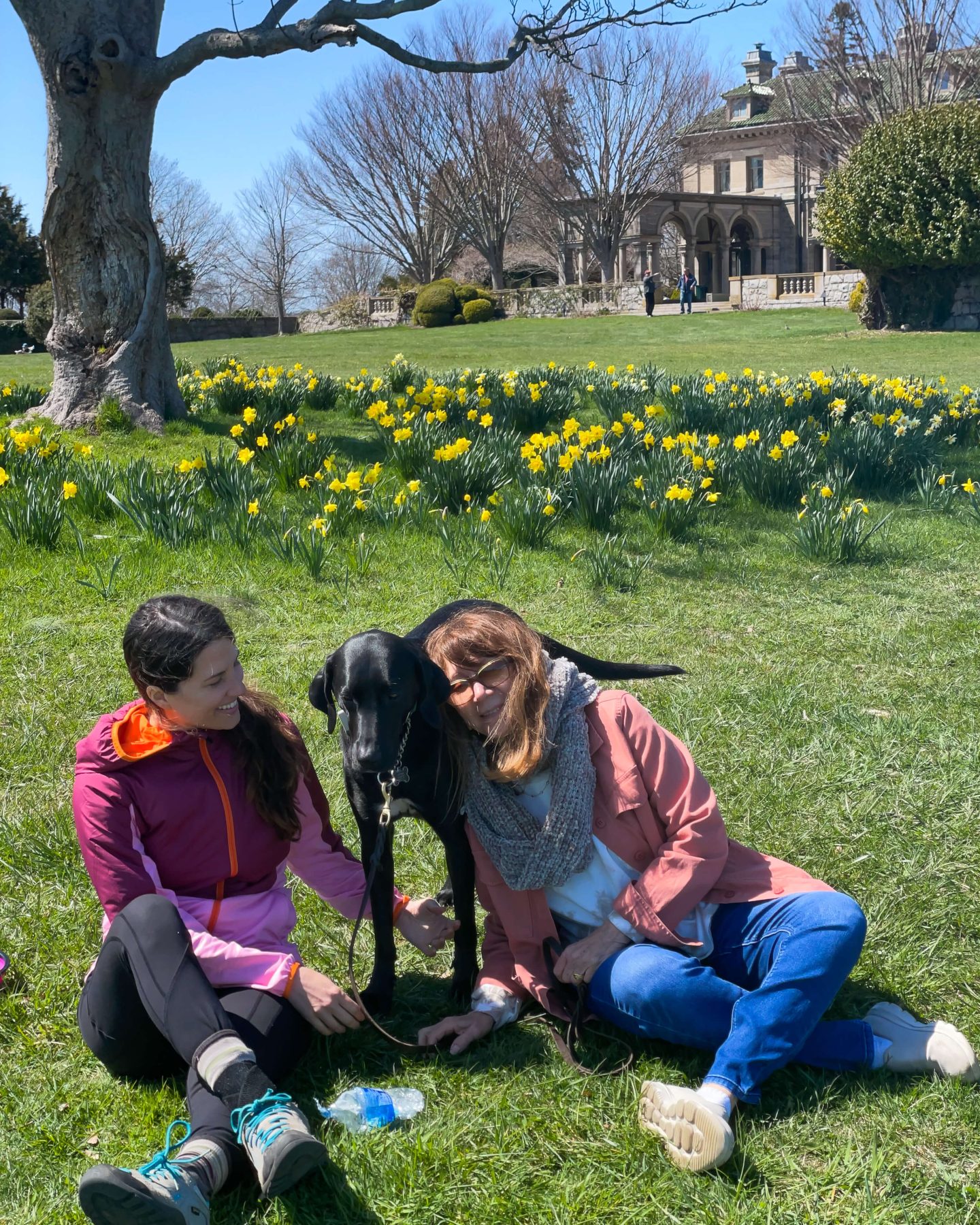 When and How to Visit: There is a parking fee for non-resident vehicles, and the park is open daily from 8 am to sunset, all year round.
7. Hill-Stead Museum, Farmington
Wander through Hill-Stead's 18th-19th century lands from the Sunken Garden to over 3 miles of walking trails, and even a historic farm on its 152-acre historic landscape!
Growing up, The Secret Garden was one of my favorite books so when I visit here I feel like I've stepped into a page from that book.
Hill-Stead's Sunken Garden occupies nearly an acre and includes a summer house, brick walkways, and a stone sundial inscribed with the Latin phrase Ars Longa, Vita Brevis, which translates as "Art is Long, Life is Brief."
According to the website, Hill-Stead's octagonal garden holds more than ninety varieties of perennials and annuals in thirty-six beds. The color palette of cool hues—primarily pink, blue, purple, and white accented with silvery-grey greenery— mimics that of the Impressionist paintings found within the historic mansion.
When to visit: Starting in mid-April you will start to see the sunken garden transform with buds and flowers popping up in May through August! No charge to enter unless you want to visit the museum inside.
8. Denison Homestead, Mystic
The Denison Homestead gardens have grown quite large over the years. The property even enlists "Volunteer Gardeners" to keep the grounds flourishing, keeping the displays lively and vibrant.
In 1654, George Dennison (a Captain in King Phillip's War), established this land in 1654, and it encapsulates a rich history of the Mystic, CT area. The beautiful colonial home that stands as the property's hub is not the original that was built by the Dension family but is a rebuilding of the original that was burned to cinders.
Like much of Connecticut and New England at large, this property proudly displays assortments of Butterfly Weed, Feverfew, Daffodils, Creeping Myrtle, and Orange Day Lillies.
When to Visit: Normal hours of operation at Denison Homestead are Monday – Friday from 10 am – 4 pm. June – October, and Saturday hours from 12:00 pm – 4:00 pm are additionally offered.
9. Bartlett Arboretum & Gardens, Stamford
Don't pretend you know what an arboretum is. An arboretum is a variable collection of botanicals composed solely of trees. A living tree garden. Named for Francis Bartlett, who was a twentieth-century world-renowned master arborist, the grounds are a timeless ode to his research and collection efforts. Featured on the property are various trees from Asia, North America, and Europe, making these 93 acres of natural beauty like no other in the region.
There are also 13 impeccable gardens to marvel at.
When and How to Visit: Hours of operation are between 6:30 am and 8:30 pm, every day, and its free to stroll.
10. Florence Griswold Museum Gardens, Old Lyme
'The Garden Gang' continues the cultivation of these re-discovered gardens on the Florence Griswold property. Interestingly enough, the original 1910s garden was unearthed and mapped by an archeological dig that occurred in 1998.
These are gorgeous educational flower and vegetable gardens that are filled to overflowing with colorful, vibrant flora as well as "working" vegetables, so named because the produce was used to feed borders and livestock during the time of the original property's comings and goings.
The aforementioned borders were some of the most noted names in American Impressionism. Over 200 artists such as Childe Hassam, Willard Metcalf, and Matilda Browne found the lush countryside of Connecticut the perfect location for inspiration, and so the Florence Griswold house, in stunning late Georgian fashion was anointed as an American Art colony.
When and How to Visit: Museum hours are Tues-Sun, 10 am-5 pm, with no advance ticket reservations required.
11. White Flower Farm, Morris
Established in 1950, the family-owned White Flower Farm in Northwest Connecticut has been delighting cultivars around the country with their mail-order nursery business. They specialize in a wide range of ornamental plant varieties, regularly mailing catalogs and delighting visitors with a dizzying array of colorful blooms.
Few in the region can match White Flower Farm for its worldly-inspired cultivations of foreign, domestic, and hybrid flora.
When to visit: Visit the store in Morris, Connecticut Thursday through Monday, 9 a.m. – 5:30 p.m. to expand your gardening prowess!
12. Hollister House Garden, Washington
Wow. Hollister House Gardens. A classic garden in the Old English manner, with a loosely formal structure, informally planted in generous abundance situated in the Litchfield hills of Northwestern Connecticut.
An overwhelmingly transportive property, with high maze-like hedges, beautiful stone walkways, and thought-provoking masonry. You do not feel as if you are in Connecticut at this garden, rather one feels like the lucky guest of a 17th-century Duke in Southern England. Photographers of all skill levels will capture shots that will make any viewer ask, "Where IS this place!?"
When to visit: Visiting hours for the Hollister House Gardens are Wednesday 1-4, Thursday 5-7 (June 1-August 31), Friday 1-4, and Saturday 10-4.Special hours for artists and photographers: Wednesday 9-1 (May 31 – August 30) with a well worthwhile admission fee of $10.
13. Buttonwood Farm Sunflowers, Griswold
Technically not a spring walk but wanted to put this one on your radar for summer!
Buttonwood Farm began as a dairy farm in 1975, using an old sawmill to mill lumber from timber grown on the land. Among many other interesting facets, the property now boasts one of the most profoundly awe-inspiring collections of sunflowers in the local region. A veritable sea of vibrant sunflowers await you and do so quietly, gently swaying in the breeze.
Visitors are free to meander via established trails through tall stalks of Lucy in the Sky-type sunflowers; can't imagine a much better locale for a Summer morning's walk.
Be sure to learn more about 'Sunflowers for Wishes' as it's a Buttonwood Farm fundraiser where 100% of the proceeds benefit the Make-A-Wish Foundation of Connecticut.
When to visit: Sunflowers begin blooming in July! Check their website to stay updated for opening dates. There is no admission fee for the walking field, which makes this the deal of the century.