Want to enjoy a beautiful Connecticut waterfall without the high chance of seeing many other people?! If you're looking for tucked away, lesser known waterfalls in Connecticut, then this post is for you!
Connecticut has it's fair share of stunning, multi-tiered cascades, 16 of those waterfalls you can find in this blog post here! But many on that list are pretty popular…
So it begs the question, are there any cool, lesser known, more secluded waterfalls in Connecticut?
The answer, surprisingly or not is, there sure are!
Below is a list of 5 amazing (and somewhat secret) Connecticut waterfalls that, from what we've gathered in all of our experiences there, allow a visitor to explore in peace. For us this means to set up a tripod for a long exposure shot, let the dogs roam around, and just sit and take in the scene.
All without the hustle and bustle of the masses…
For each waterfall the AllTrails link is included so you can navigate there along with extra location details.
5 Lesser Known Waterfalls in Connecticut
1. Falls Brook Falls, Hartland Connecticut, Hartford County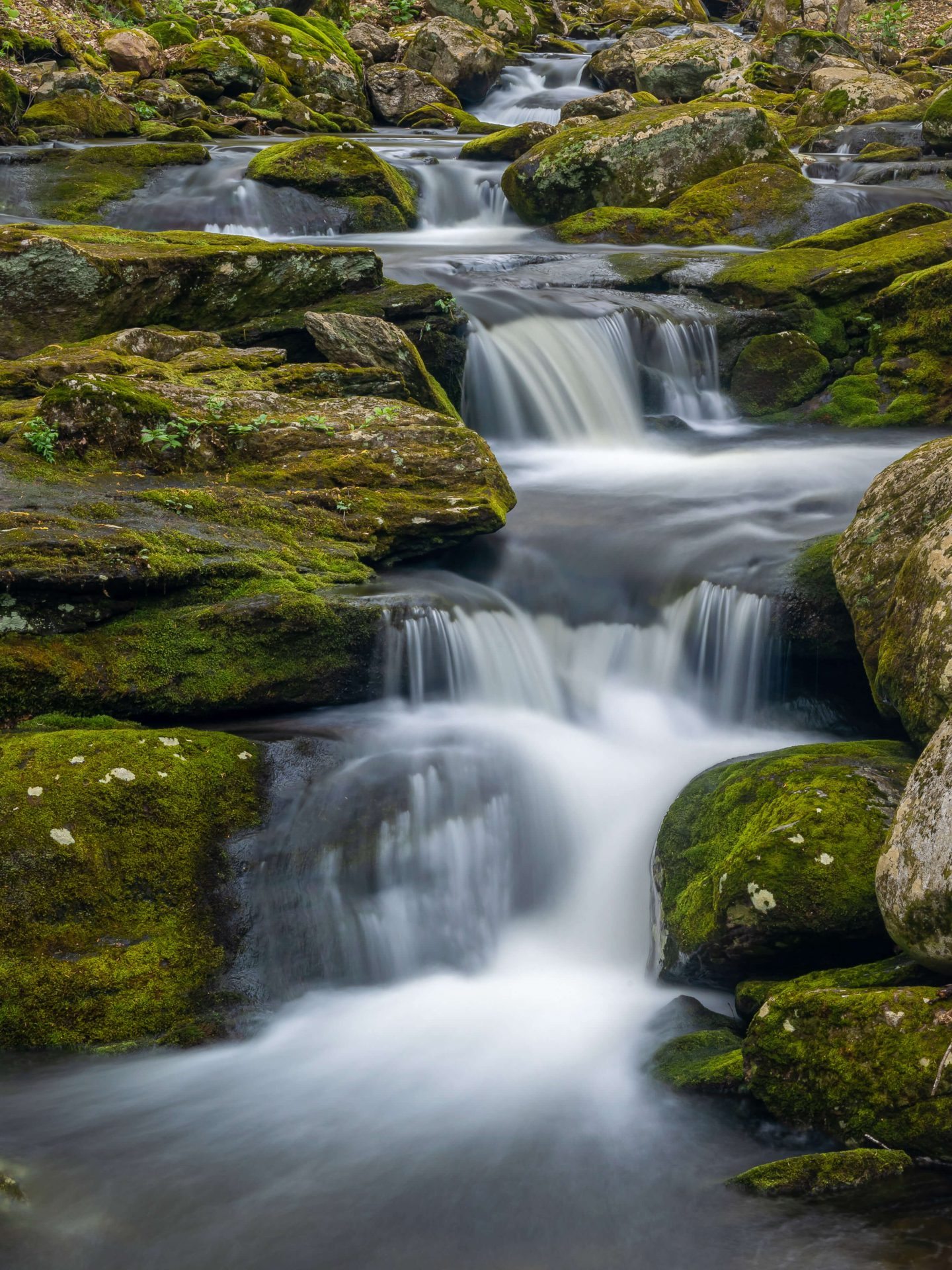 A stones throw from the Massachusetts border, enveloped deeply within the dense Tunxis forest, runs Falls Brook.
Cut into the depths of a deep ravine, guarded on either side by steep slopes, Falls Brook tumbles and splashes down several cascades until it reaches the first of two grand and timeless waterfalls.
The two near vertical rapids compliment one another. One being a somewhat wide and laid back set of multitiered tightly chiseled steps, with disparate chutes of water hopping down myriad parallel channels until it dissolves in whitewater at the fall's basin.
Falls Brook then collects itself, crawls over and under debris until its funneled into an extremely snug U-shaped spout. From here, there's nowhere left to go except to rush and pitch in orderly chaos down a natural rock slide straight out of a Crusoe novel. Again, upon entering the amber colored plunge pool, Falls Brook dusts itself off, regains composure and continues on to eventually volunteer itself to the Barkhamsted Reservoir.
Location Details:
🚗 Off of Morrison Hill Road in West Hartland, there sits the parking area for access to Falls Brook. Open year round, one is always free to trek down into the ravine and explore the many facets and attitudes of Falls Brook Falls. Do be mindful of your explorations however, there are many sheer and unforgiving areas here, places where there are no trails, only slippery dead leaves and ice depending on when you visit. Coincidentally, the spots that require a dangerous bush-whack, are of course the best.
AllTrails: https://www.alltrails.com/explore/trail/us/connecticut/tunxis-state-forest
2. Carpenter Falls, Granby, Hartford County
The allotted time and space occupied by attempting to divulge all of the hidden gems within Mclean Game Refuge would require its own dedicated post. For our purposes here I'm going to focus on but one.
Carpenter Falls rips just off the cross section of two antiquated dirt logging roads, deep into woods filled with towering Birch, Maple, and Pine trees. Prattling Beach Brook, which feeds the plunge is littered with patches of bright green moss, scattered without rhyme or reason on the rocks and roots that comprise the earthen walls that guide the flow. The scene looks lifted from Hobbiton in The Shire.
Two distinct horsetails whip down 18 feet of gnarly granite. The first chute creates a great swath of white water, it crashes into a jagged hole before barreling to the left cascading over another ledge of stone. The water then settles and gently ambles over the smooth, round river stones that pave the brook's path. The over hang trees, looming over head create a lot of shade here, letting colors pop in autumn and allowing a photographer with a sturdy tripod and nice ND lens fantastic opportunities for long exposures.
Location Details:
🚗 Park your vehicle at the end of Broad Hill Road in West Granby. From here you'll begin a gradual ascent on a well defined wagon road for about 3/4 of a mile until you can hear the rumble of falling water to your left. Follow some tight secondary trails until you're face to face with the charming sight and thunderous cacophony of Carpenter Falls.
AllTrails: https://www.alltrails.com/explore/trail/us/connecticut/carpenter-falls-via-broad-hill-road?mobileMap=false&ref=sidebar-static-map
3. Dividend Falls, Rocky Hill, Hartford County
If you told me that one of Connecticut's most picturesque waterfalls could be found hiding smack dab in the middle of Rocky Hill, I'd ask you to please stop lying. Then I'd privately check AllTrails and begrudgingly discover that you were right!
Few places boast a beautiful natural stone staircase that leads you to a perfect vantage point where you can see the entire formation of a majestic multitiered waterfall. Dividend Falls and accompanying Dividend Pond & Stone Ruins offer up all this and more.
The falls consist of horsetails, cascades, and plunges, all coalescing to provide any visitor or photographer ample eye candy to take away in memory or on "film." There are what appear to be tiny steps that ascend their way up to the main plunge of these falls, so basically there appear to be hundreds of tiny waterfalls within this one 38 foot waterfall.
Location Details:
🚗 Parking for the ultimate bang for your buck "secret" waterfall in Connecticut is off of Old Forge Road. A minuscule jaunt earns you Dividend Falls, and if you're looking to further stretch your legs, peruse the trail that circumvents Dividend Pond. Centuries old foundations and rock walls constructed during Connecticut's industrial past commingle amongst the beautiful natural elements of this site.
AllTrails: https://www.alltrails.com/explore/trail/us/connecticut/dividend-pond-lower-pond-loop?mobileMap=false&ref=sidebar-static-map
4. Burlington and Bunnell Falls, Burlington, Hartford County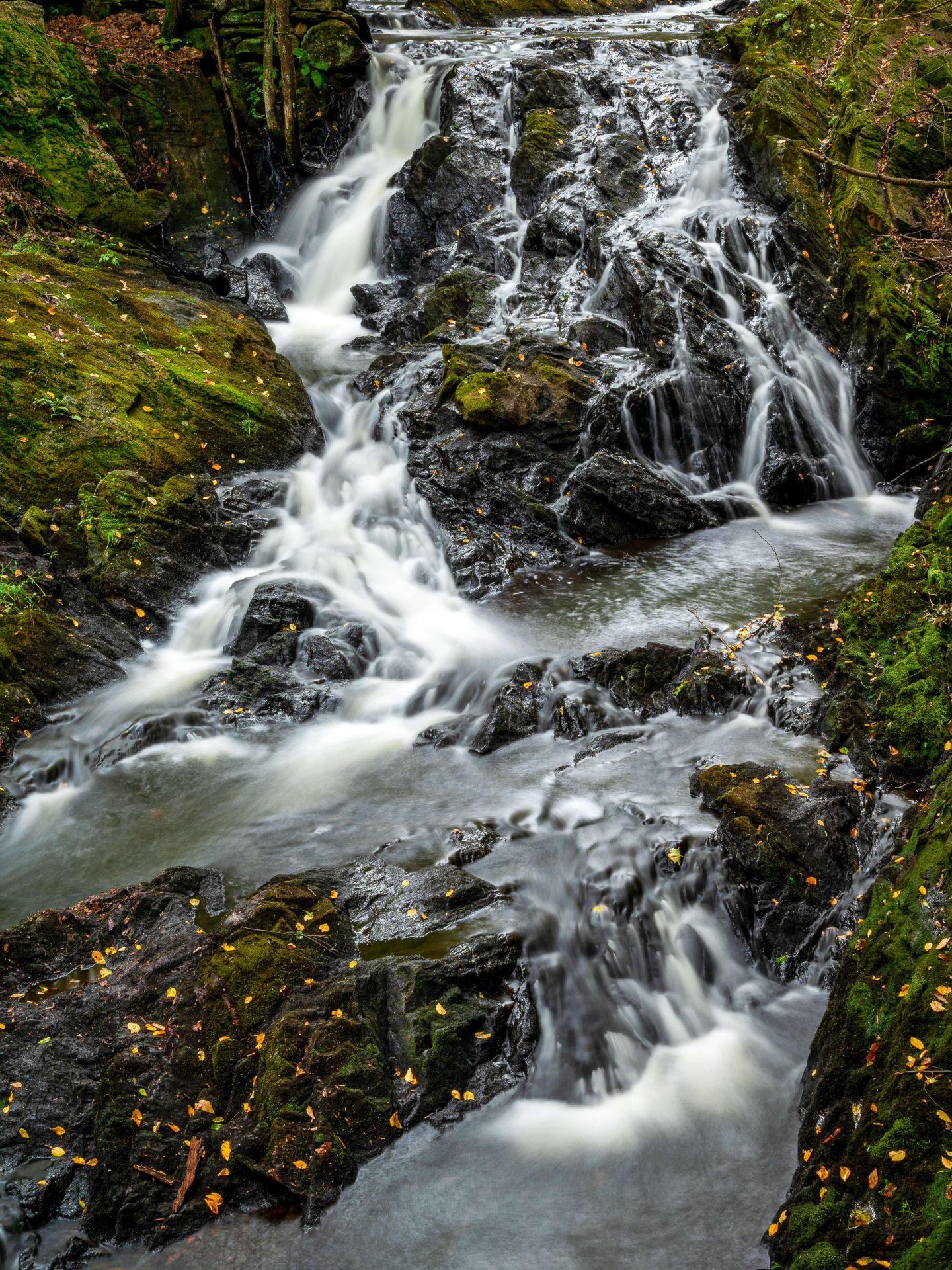 Up near Nepaug Reservoir, (again, a place that's an incredibly gorgeous natural setting to visit at any time of year) are a series of truly stunning waterfalls that are extremely easy to access.
For being right off a quaint little country road, these falls (about 600 feet north-south from one another) carry some weight in terms of being exceedingly explorable and dramatic. Once the heart of a lucrative clock producing factory, sporting several water wheels and turbines, the falls have a rich history with several deteriorating yet charming stone foundations scattered through out the area.
The juxtaposition of the natural timeless beauty of Bunnell Brook and its elegant falls with the remnants of manmade industry creates an interesting and captivating vibe here. Whether hanging off the cliffs and precipitous drops, to being on level ground, there are an abundance of perfect vantage points for admiring or photographing the whitewater.
Location Details:
🚗 Park in the secluded and quiet parking areas off of Hotchkiss Road in Burlington, walk about 40 feet, all the while following the roar of water, and you'll stumble upon the falls. Enjoy!
Note: there is no AllTrails link for this one – it is that much of a secret! 😱😍
5. Nonnewaug Falls, Bethlehem, Litchfield County
If I could make an assumption, it would be that most people have seen the movie Jurassic Park. Nonnewaug Falls was in the original Jurassic Park…
Just kidding. But it looks like it could have been a scene set from the jungle, dinosaur epic! When standing and viewing the falls from any one of numerous vantage points, it's all too easy to imagine a T-Rex slowly materializing out of the dense forest. To watch as the colossal creature's gigantic fang riddled reptile skull quietly emerges through the tangled vines. As it steps closer it crushes some of the bright green ferns that ring the great flume and its deep plunge pool…
The main flow originates from a gently babbling tributary to the somewhat grander Nonnewaug River. As the water crests the lip of the undercut cliff face it seems to expand exponentially, from a skinny brook into an energetic torrent that splits into several falling streams and crashes into the basin 18 feet below. The falls and the beautiful pool it's carved out sit in the center of what resembles a big bowl. The sides rise steep and sharp on either sides and only give way to allow the stream to continue on its journey.
Location Details:
🚗 At the end of Hickory Road in Bethlehem, you'll find the trail head for Nonnewaug Falls. From the dirt parking lot you'll make your way over a quaint bridge that spans the Nonnewaug River. You'll gradually peruse up hill, through sprawling open farm land and then back into the forest with its shady canopy. Trek on the main trail for just a touch more and before you know it you'll be descending into a dense pine forest, the roar of falling water there to greet you.
AllTrails: https://www.alltrails.com/explore/trail/us/connecticut/nonnewaug-falls-trail?mobileMap=false&ref=sidebar-static-map
I hope you enjoyed this post about the more secret, secluded, and lesser known waterfalls of Connecticut!
Do you have a secret waterfall spot to share?! I'd love to hear it! Comment below or send an email. 🙂