If you're like me, you love bringing your dog with you wherever you go and hate leaving them at home. And if your favorite activity is hiking (like me!) along with going out to eat (or for a glass of wine), you'll love this list of Connecticut hikes paired with nearby dog-friendly breweries in our state!
I'm happy to bring this list to my fellow CT dog and hiking lovers out there. Those who want to have a full day with their pup(s) and not have to leave them behind or in a car while you go inside somewhere.
It's a pretty simple formula; Making my dogs happy makes me happy!
No matter the work or effort to bring them somewhere – it's better than the dread I feel when having to leave them home for hours and hours. I'm going to have to get them out for a walk eventually so might as well get the most out of it for everyone!
And the best part is that after a hike, they will (hopefully!) be relaxed and calm at the brewery.
❗️I wouldn't choose to bring a dog that's been sitting inside all day to a public place with lots of people and food and expect them to behave and not disturb anyone.❗️🤔
So be sure to pair these dog-friendly brewery spots in CT with a nearby hike so you can all kick back and relax afterward!
8 Connecticut Hikes Paired with a Nearby Dog-Friendly Brewery🐶
Before we get into the details, here's a quick table to reference!
🥾Hike
🐶Brewery
Distance from hike 🚙
Haystack Mtn, Norfolk
Norbrook Farm Brewery
6 minutes
Ragged Mountain, Berlin
Alvarium Beer
11 minutes
Jones Mountain, New Hartford
Brewery Legitimus
10 minutes
Castle Craig, Southington
Kinsmen Brewery
6 minutes
Devil's Hopyard, East Haddam
Fox Farm Brewery
12 minutes
Hurd State Park, East Hampton
Dexter's Tunes, Tales, and Ales
8 minutes
Talcott Mountain, Bloomfield
Thomas Hooker Brewing
OR Talcott Mountain Collective
10 minutes for each one
Case Mountain, Manchester
Labyrinth Brewing Company
8 minutes
Connecticut Dog-Friendly Breweries and Nearby Hikes
A beautiful trail leads to the 31-foot Haystack Mountain Observation Tower in Haystack Mountain State Park. At only 0.8 miles round trip and 233 ft of elevation gain, this is a trail for hikers of all levels.
I love hiking to the tower for sunset but the view at Norbrook Farm Brewery is perfect for sunset as well! So take your pick but you can count on beautiful views at each. Norbrook is one of my favorite dog-friendly breweries in CT for it's outdoor seating and scenery!
And don't be afraid to show up hungry because Norbrook Brewery has food trucks every day they're open. From the East Coast Pizza Truck to the Grilled Cheeserie, there is something for everyone! Check out their food truck calendar and music lineup on their Facebook page.
A popular spot to hike in central Connecticut and for good reason! There are over 12 trails to choose from here at Ragged Mountain Preserve.
Check out the whole list on AllTrails which features 3 'easy' and several 'moderate' hikes. There are elevation gains from 137 feet to 1,532 feet, so there is indeed a trail for everyone!
Linked in the title though, is my favorite trail here- the blue and red blazed loop. This 5.6-mile trail takes you around the whole ridge of Ragged Mountain so you have multiple views along the way. If you start the loop going clockwise you'll hit the eastern-facing view first (great for sunrise) just 0.7 miles in.
Continuing on the trail, hugging the edge, you'll get views facing south and then views to the northwest. Sunset here is a treat, too!
And speaking of treats, head over to Alvarium Beer after for your drink of choice and/or a hearty snack from a local food truck! Check their food truck schedule here but I see a taco truck and a crepe truck coming up.. race you there! 🏃🏻‍♀️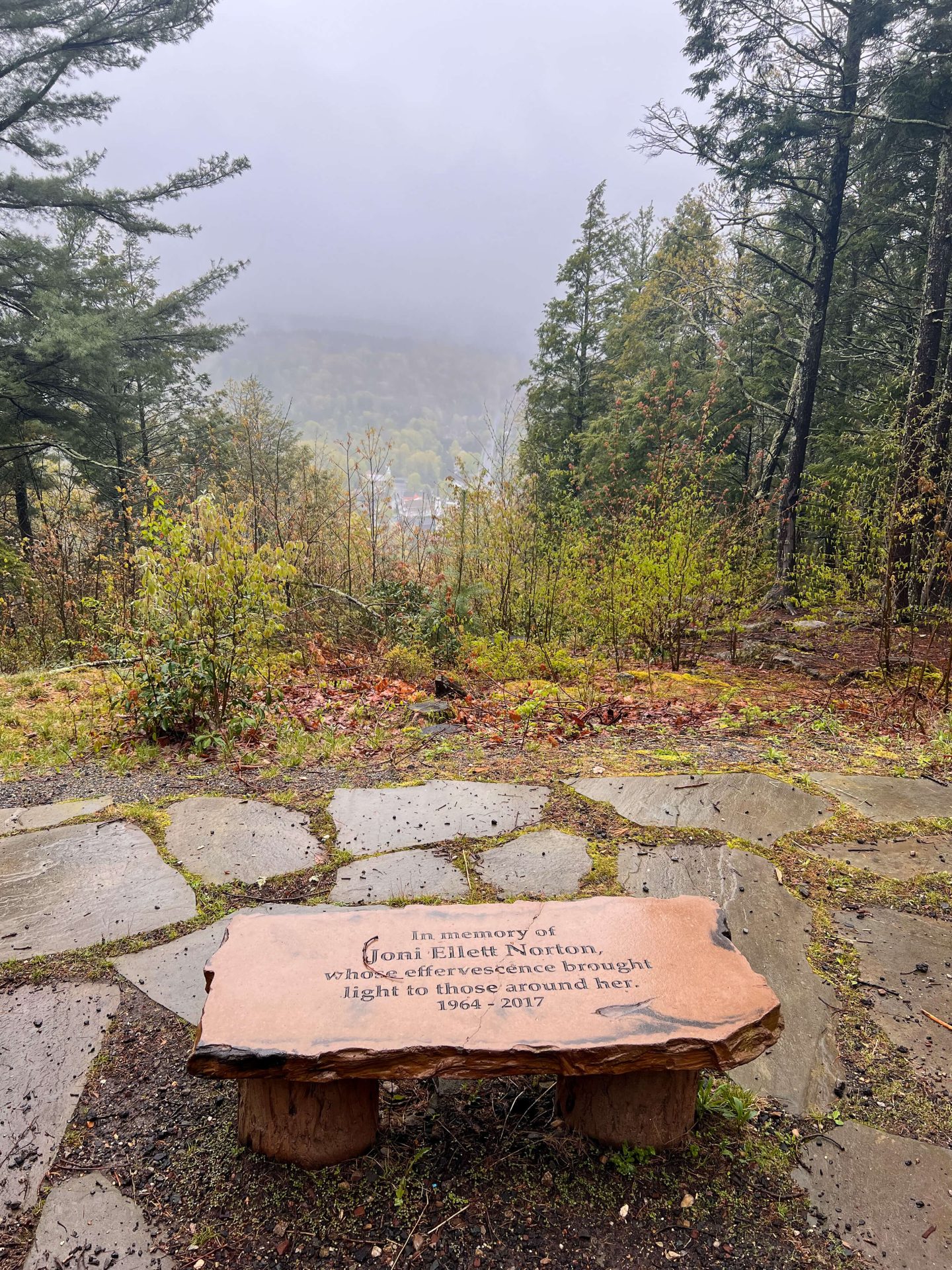 A fun 2.6-mile loop hike with views overlooking the town of New Hartford. See if you can spot the white-steepled church in the distance!
This hike is rated 'easy' on AllTrails making it good for all levels. Though it is a little uphill, it mostly follows an old carriage road (a wide, non-technical gravel path) with lots of history!
"Huge white pines and swaths of ferns border a carriage road created by Irish stonemasons at the turn of the 20th century.
The Jones family traces its roots to Deacon Abraham Merrill, born in 1670 and one of New Hartford's first settlers. For hundreds of years, the family has preserved this fairyland mountainside where visitors can lose themselves in a magical natural world." Newhartfordlandtrust.org
And just minutes down the street, across from the Farmington River, is the dog-friendly Brewery Legitimus. While I'm sure their beer is reason enough to visit, check out their exciting food truck schedule here! There's even trivia night, too!
A hike, food, and trivia with your pup – what a fun day! 😍🐶
We've made it to my FAVORITE dog-friendly brewery in Connecticut! Hiking or not, I love coming to Kinsmen Brewery with the dogs. One, it's centrally located and is a great spot for me to meet up with friends and family scattered about the state.
And two, their FOOD! 😱 More specifically, the PIZZA! And the COOKIE PIZZA desert with warm chocolate chip cookies and ice cream. 👀Wow!
Did I convince you to go yet? Good! Now let's talk about this hike you can do to ensure you're nice and hungry for this brewery stop.
There are longer routes to hike that will take you up to Castle Craig but the hike linked above in the title is a 3-mile moderate loop with almost 700 feet of elevation gain. Going by Mirror Lake at the start of this hike is a pretty initial view before you start heading up to the castle. The dogs love taking a dip here! 💦
Climb inside and up the stairs to the top of Castle Craig, take your pics, and then you and your pup hurry back down to the car and drive 6 minutes to Kinsmen.
The specialty pizzas at Kinsmen Brewery are made at the adjacent eatery, Sauced. 😍 I love the Mad Lips pizza with soppressata (kind of like pepperoni) and honey!💯🍕Enjoy!!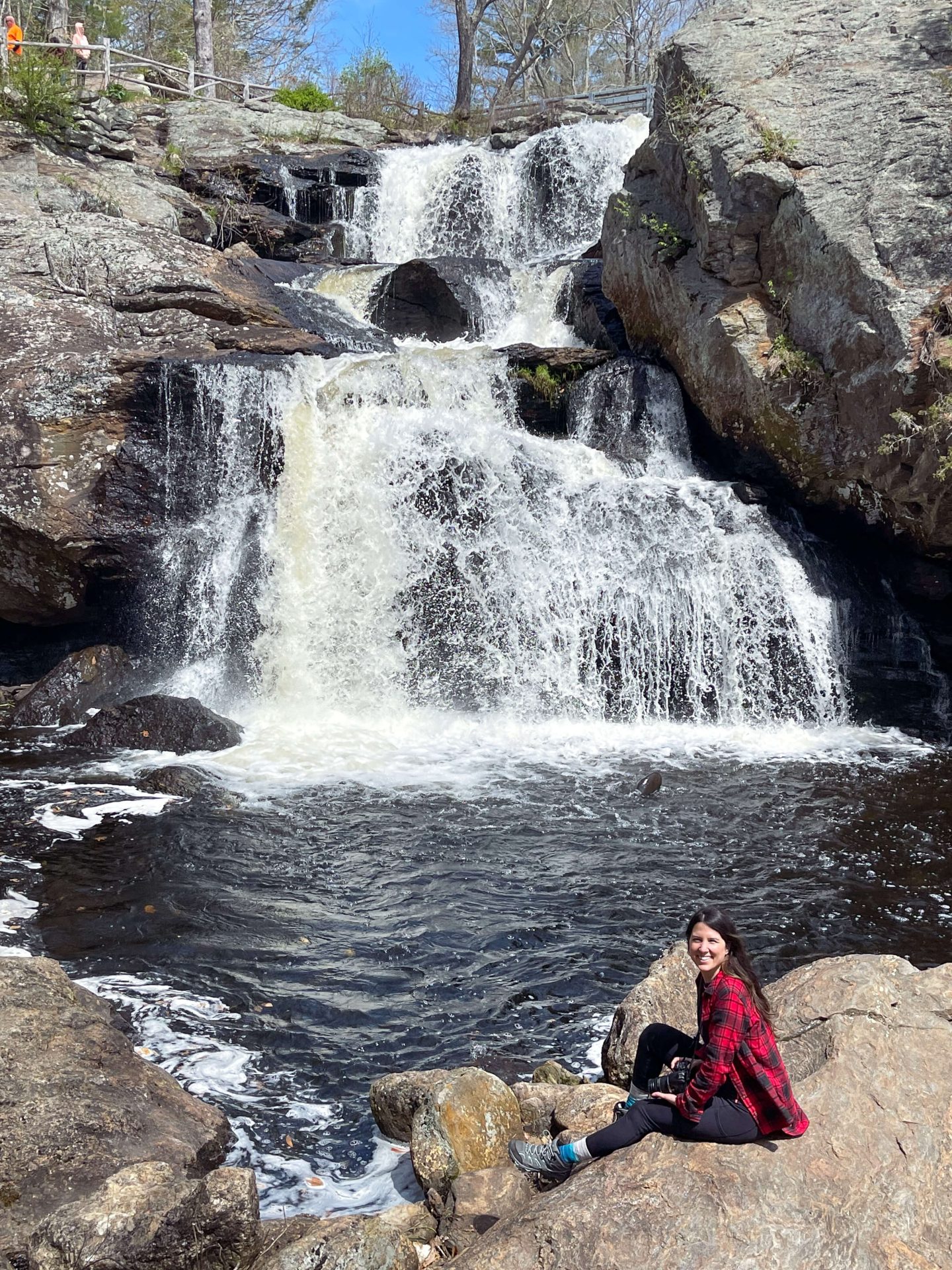 There are over 8 different dog-friendly trails to choose from here at Devil's Hopyard State Park and the main attraction of this almost 900-acre state park is Chapman Falls waterfall. Chapman Falls drops more than sixty feet over a series of steps and is pretty easy to access and hike to.
The Chapman Falls Loop will take you to the waterfall and back in just 0.4 miles! Or go deeper into this CT state park with paths running along the Eightmile River. The abundance of water in this state park makes it a perfect place for hiking with your dog, especially in warmer weather!
Of course, it's hard to let them splash around in the waterfall with other people there but you'll be able to find a quiet spot as you walk along the brook right at the entrance or the river further in.
And afterward, head to Fox Farm Brewery. Dogs are welcome outside on a leash. The only downside is that they do not have food here, not even a food truck! 👀 But they allow visitors to pack light snacks to enjoy with their visit.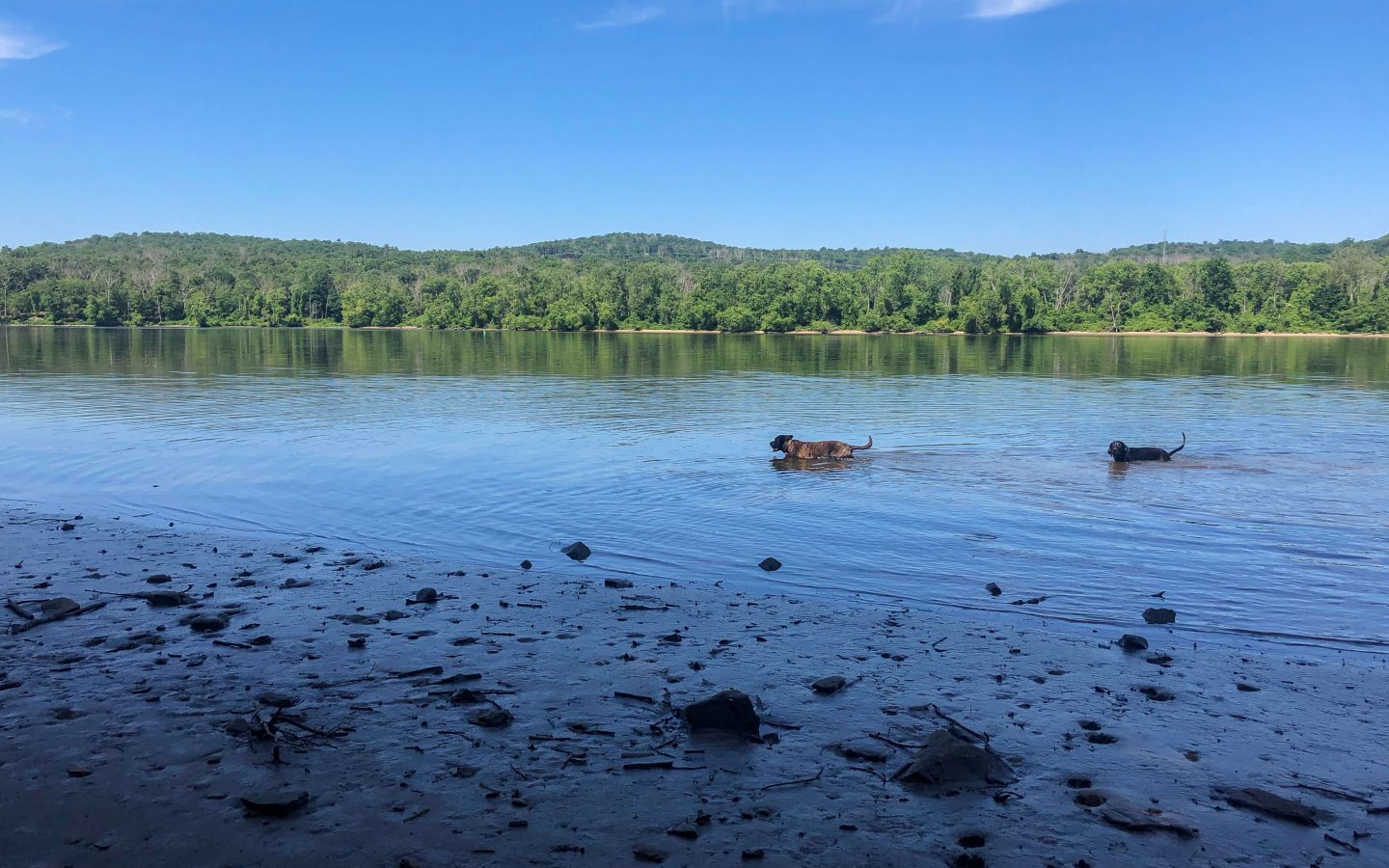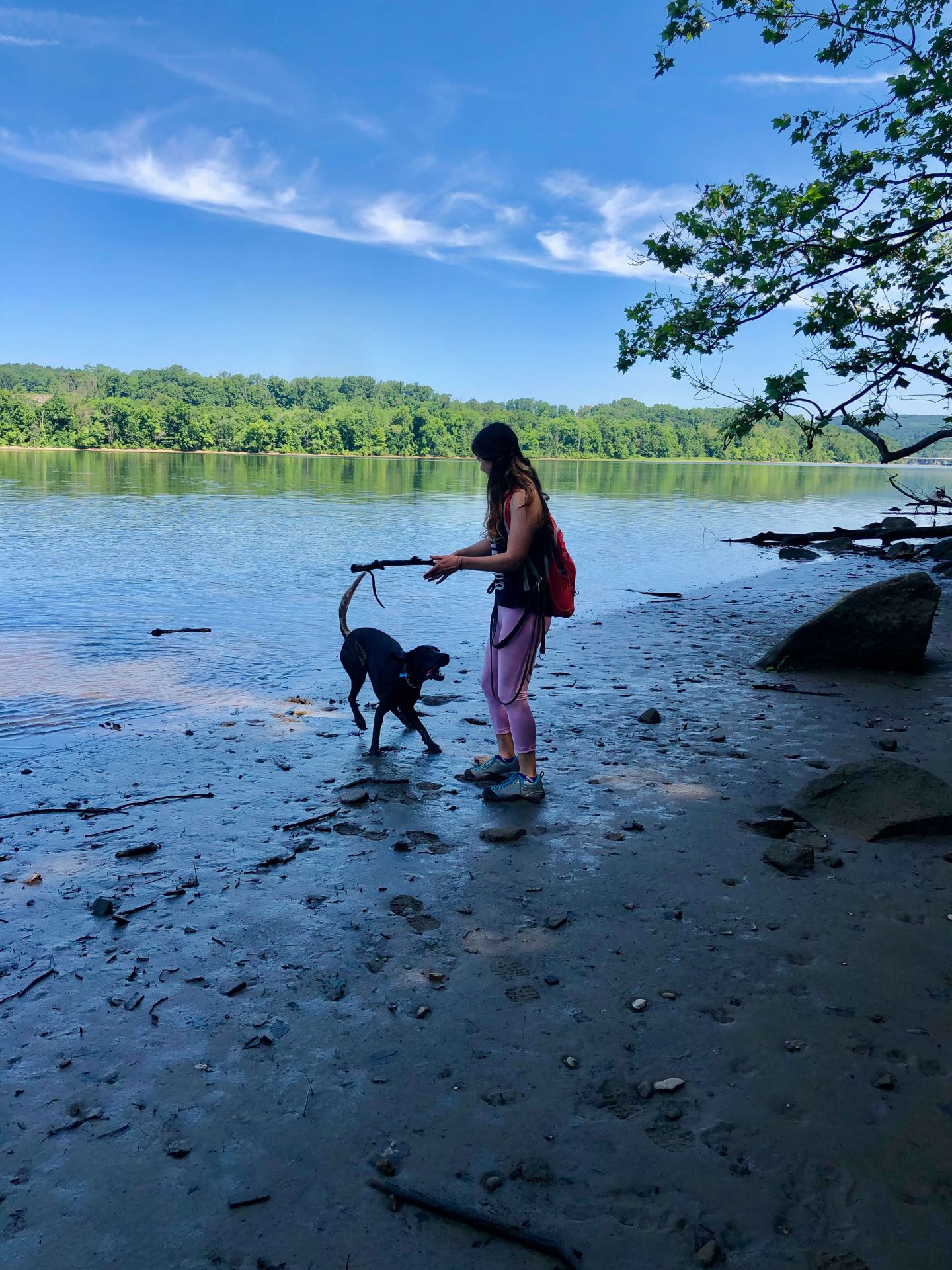 There are 4 different trails to choose from at this state park which is nestled right along the Connecticut River. The trails linked above range from 1 mile to over 6 miles so there is a hike for you and your pup to enjoy no matter the level!
I LOVED visiting here on a hot summer day with Captain. I stood on the sandy shore of the Connecticut River and threw sticks at him and another pup friend. We did the long loop (6.1 miles versus the 2.7-mile loop) and walked along the river first before heading up to the overlook called Split Rock.
No matter what trail you choose here I would suggest downloading the map on AllTrails ahead of time. There are lots of interlocking trails here and though none will take you too far out of the park you don't want to loop back to the car before seeing the view and it's easy to take the wrong turn here!
After the hike of your choice head over to Dexter's Tunes, Tales, and Ales with your pup. In addition to beer and wine, Dexter's has live music, a bookstore, and music store.
This CT dog-friendly (outside only) brewery has a small menu if paninis, pizzas and other snacks, too!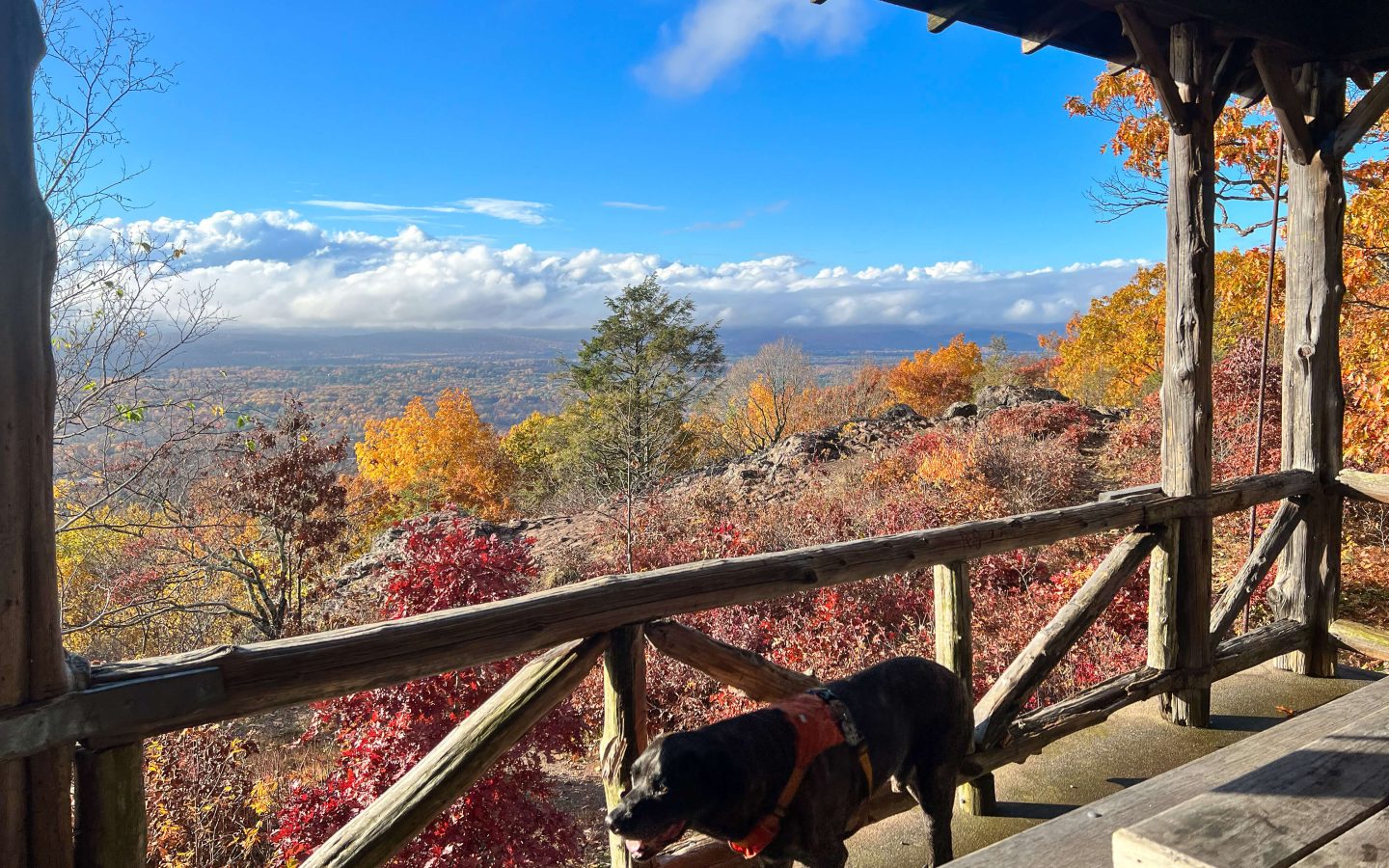 There are 2 trails to choose from (linked above in the title) here at Talcott Mountain State Park. One is 2.8 miles and the other 5.2 miles, both loops take you up to the popular Heublein Tower.
The tower is only open Friday to Monday 10 am-4 pm and I have yet to go inside! It's definitely on my list though because I hear the views from the top are incredible. Though I am sure dogs are not allowed in and up the tower.
But you and your pup will love the wide path and trails leading up to the tower and the views from the views from the multiple ledges and lookouts along Talcott Mountain.
I enjoy the views so much here that I sometimes forget there's a tower to hike up to! So don't fret if you don't get to make it to the tower when you visit.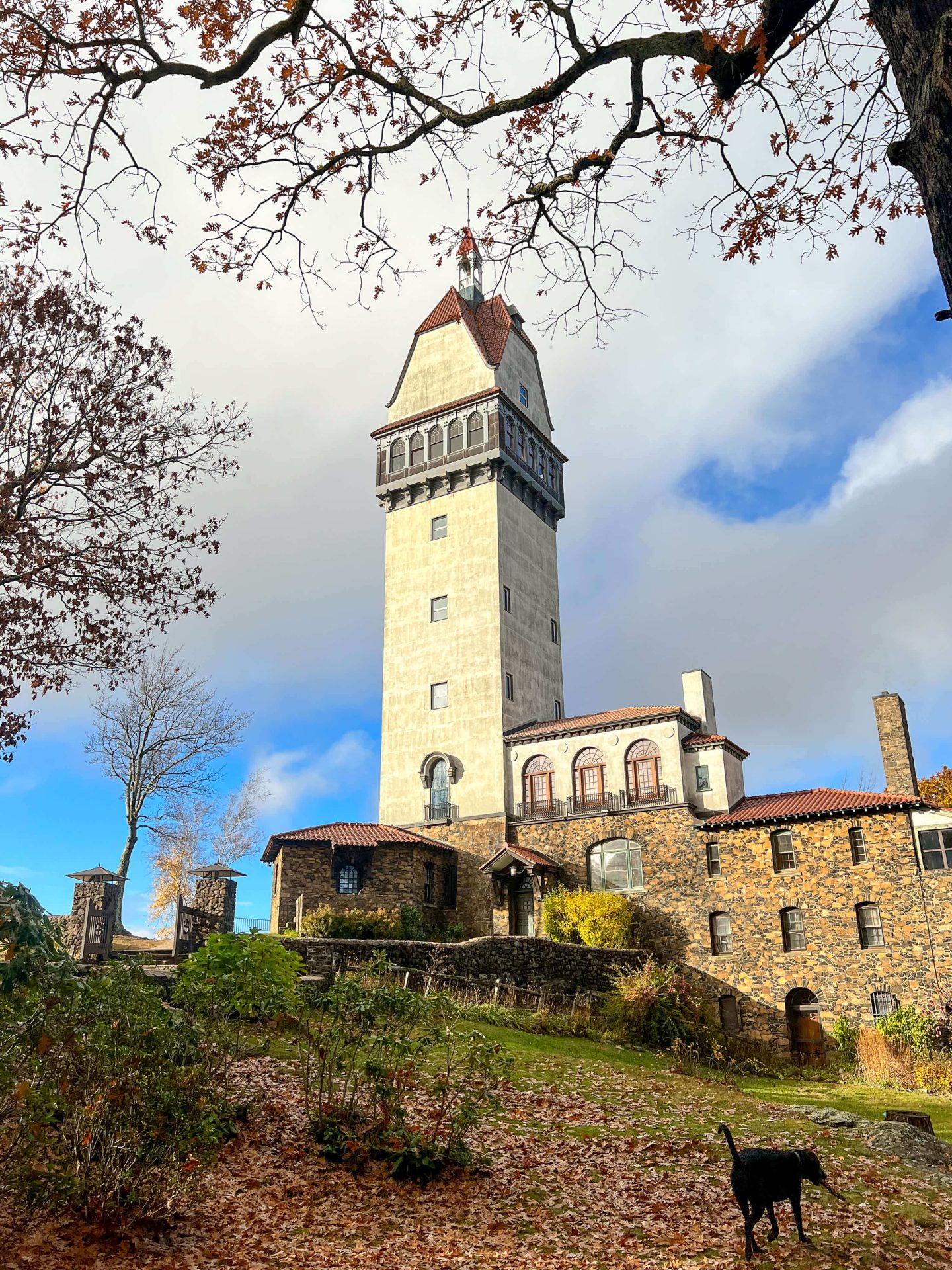 The views all along Talcott Mountain face west making it a great spot to watch the sunset in Connecticut.
And after your hike, you have two options! One is to head to the popular Talcott Mountain Collective just minutes away. From their website: "We tap into our local community to offer a range of rotating food trucks, expansive craft beverages, in/outdoor games, live music, moments with nature, and more."
So yes, there's food and outdoor games, too! Enjoy a spot on the lawn listening to the live music with your dog, some food, and a brew if that's what you're into! 🙂
Another option just as close is the Thomas Hoooker Brewery in Bloomfield. Dogs are welcome on the patio and wait until you check out their menu! 😱 From their garlic ricotta toast to the burgers and pizza, there is something for everyone here. And don't forget to order a plain burger for your date. 😍🐶
A hike with views, food, and a place to sit and relax with your dog. Nothing beats this!
I loved this 4.4 mile moderate hike (actually a little shorter if you just go up to view then back!) east of Hartford. I rarely venture east of Hartford to hike just because it is a bit farther for me and I drive to Hartford everyday for work. 😱
But I was really glad to finally try this hike and see the view facing west toward the Hartford skyline. Case Mountain has a bunch of interlinking trails so I did a full hike guide for Case Mountain that you can check out for more details on hiking up to this overlook.
After the we visited dog-friendly Labyrinth Brewing Company which had a great beer selection along with a few good red wines which is what I get. 🙂
There are lots of tables outside on their deck, where we sat with the pups, and food trucks right outside. We loved the Latin food truck that was there this night and enjoyed a variety of tacos and fried chicken. 😍 Rumor has it (on Labyrinth's website) that a pizza place is moving in there soon?! So by the time you read this it might be open!
I hope you discovered some new dog-friendly breweries in Connecticut and have a hike date with your pup picked out! 🐶
I plan on adding to this list so bookmark and come back for more!
There's no reason for your dog to miss out on a whole day of fun. If you start taking them out from a puppy, they will get used to being in a busier environment around other people. And if you take them to one of these dog-friendly breweries after a hike – they will hopefully be much more relaxed for you to all sit and enjoy. Of course, no promises tho…🐾🐾❤️
Happy trails!! And ales 👀🥾🍻