Looking for a sunset hike in the northwestern part of our state?! I've got you covered with 6 stunning sunset hikes in this particular area of Connecticut to add to your list!
So what is it about the possibility of a gorgeous sunset that drives us to uproot our tired selves after a long day and hit the trails?
There's something undeniably rewarding about watching the sun bid its daily farewell, especially when one is comfortably situated in a stunning natural setting.
The small but mighty northwestern corner of the Nutmeg State is the proud home to many such enclaves; places where memories of the daily droll slip away the more time you spend there.
These quiet places to watch the sunset in Connecticut offer spectacular views into New England's past; a time when nature ruled and flourished, not yet obstructed by the straight-lined edifices of modern society.
Thankfully, there are many of these wilderness settings still in existence such as they always have been. Many of these places have wide-open western-facing views, ideal for watching our paternal star dip below the darkening horizon. Places that cause us to neglect the fact that the sun isn't so much "setting" as we, here on Earth, are actually hurtling in a backward rotation. Science.
In this Northwestern Connecticut sunset post, I detail below six such places. Boasting incredible views, (not the least of which are of the Catskill, Berkshire, and Green Mountain ranges) these places should be on every sunset seeker's to-do (or re-do) list!
6 Northwestern Connecticut Vistas to Hike For Sunset!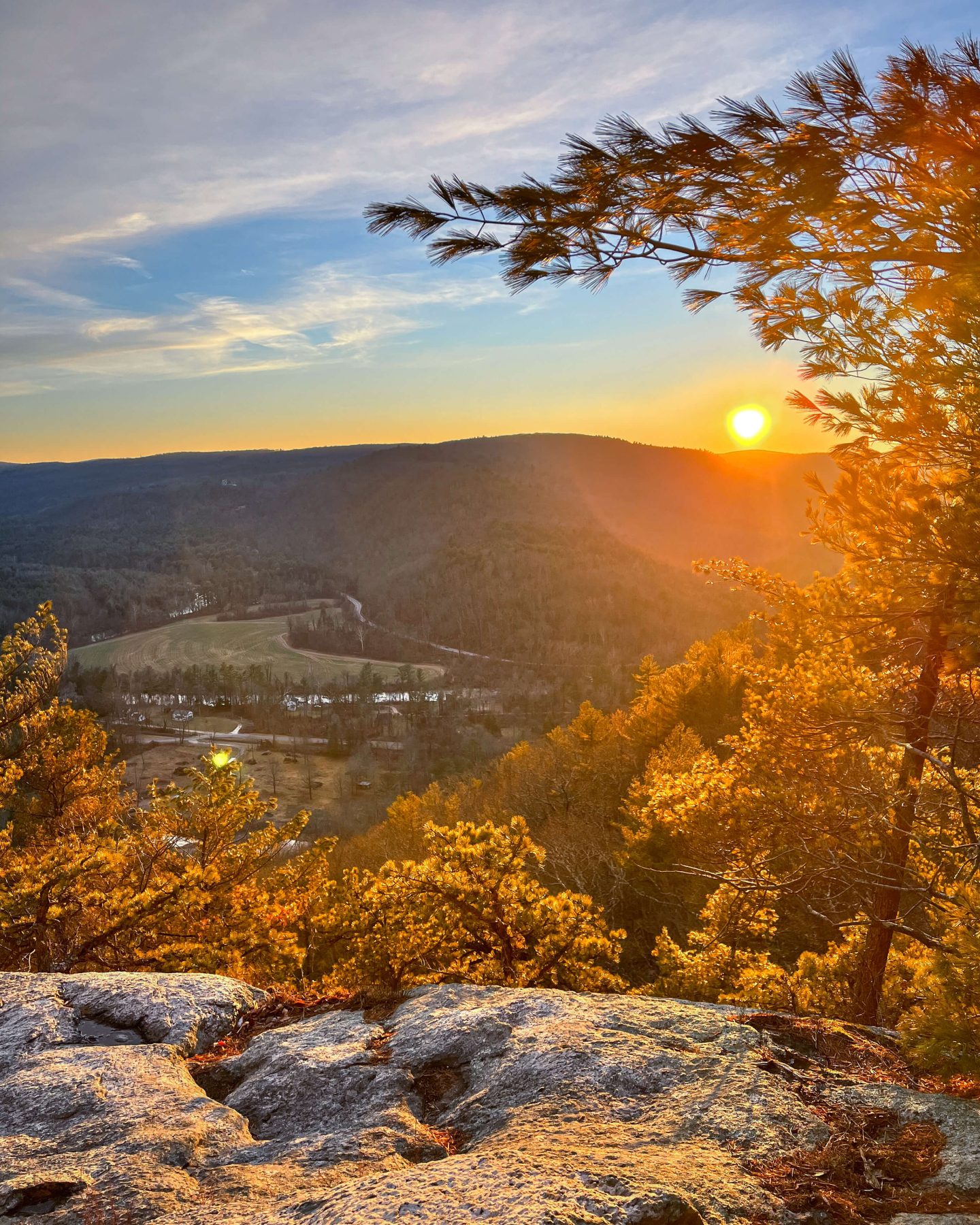 One of the best and lesser known sunset hikes in Connecticut!
Along a quiet and placid section of the Mohawk Trail in Falls Village, just north of Dean's Ravine, there sits a fantastic rocky outcropping with expansive views to the west and southwest.
The river moves gently south, monstrous Sycamore trees and elegant pines dot the landscape and create a haven for woodland creatures.
At this location you're high above the Housatonic River, gazing down its gorgeously carved valley.
You may be able to hear and see Lime Rock Raceway in the far-off distance. Sharon Mountain looms directly in front of you with the sun's fledgling rays cutting through the mountain's tall swishing trees, providing a recipe for beautiful starbursts for an eager photographer.
The entire area in which these cliffs live is as tranquil and still as it gets.
The incredible private cliffside views here are compounded by the overlapping hills that surround you, creating lovely layers of varying texture and density. The sky expands above your head to fill your field of vision with the full array of the superb colors of sunset. All the while birds soar and play, and leaves and pine needles rustle in the breeze.
Location Details
This site has no official title so I've dubbed it Sunset Cliffs over the years. You would park off Music Mountain Road, just west of parking for Dean's Ravine. You'll enter the woods on the Mohawk Trail and continue on a steep climb for about a mile until it's obviously evident you've reached your destination.
Talcott Mountain sports the iconic and watchful 165-foot Heublein Tower as its most sought-after feature. However, the Metacomet Ridge's thirteen-mile-long traprock ridge provides a hiker with countless wide-open westerly views, making this northwestern Connecticut gem a primary destination for watching the sunset.
At an abrupt 950 feet above the Farmington River basin, one is afforded an eagle's eye view of picturesque farmland, gently rolling hills, and the lazy Farmington River itself.
The reddish tint of the igneous basalt stones creates a network of beautifully intertwined meandering footpaths along the ridge.
It's easy to get lost in thought here but not physically lost while navigating this well-trodden, well-marked State Park.
These open ledges, with countless massive precipitous drops to the valley far below, are a photographer's dream.
With a direct line of sight of the sun winking its last bit of daily radiance, it takes little effort to frame a fantastic natural scene with the many overhanging tree limbs, shrubs, and cheerful flowers that call the cliffside home.
While a popular hike, given the multitude of viewing spots, there's little difficulty in finding a private little alcove to create your own masterpiece.
Location Details
Talcott Mountain State Park can be found off Route 185 in Simsbury and is open to the public year-round. The Tower Trail is about 2.5 miles long and features a stunning section of the Metacomet Trail.
This is a major 'bang for your buck' type of place to hike to capture a pristine Connecticut sunset, with huge visual benefits achieved with minimal effort.
A cousin to Talcott Mountain, Hatchet Hill can be found at the northern tip of the Metacomet Ridge. Composed of the same Mars-like colored basalt, this cliffside wonder is not for those afraid of heights or susceptible to bouts of vertigo.
Your primary sunset vantage point for this climb is atop a dizzying fifty-one-story cliff, absolutely towering above the churning Farmington River.
The cliffs overlook the sleepy little village of Tariffville and stand watch over the ever-famous kayaking run of Tariffville Gorge.
In the twilight of dusk, just following a brilliant sunset, the lights of Tariffville begin to pop on, distinctly illuminating the picturesque river town in all its New England splendor. During the winter months, with some snow on the ground, you'd think you were looking at a Normal Rockwell interpretation of a "cute town at Christmas time" or a holiday display at Yankee Candle.
At this location, elements for a spectacular photo are the sheer depth of space created by the cliffs, the gorgeous treetops, the rippling Farmington River, and the setting sun and its accompanying hypnotizing skyward color wheel.
It's a beautifully serene place to slow yourself down, take some deep breaths, soak up the sights and sounds, and enjoy Mother Nature's recurring evening performance.
Location Details
Park off of Route 189 in Tariffville and meander along the well-worn trail system for about .7 miles until you reach the main lookout. I would recommend downloading and using Alltrails for this one as a variety of mountain biking trails intersect the main footpath and could create some mild confusion. Some parts of the access trail hug the banks of the Farmington River, adding yet another perk to this already overflowing bounty of natural wonder.
This hike's terminus will find you at the top of a medieval 34-foot stone tower, with stunning views of the Riga Plateau, the Berkshires in Massachusetts, the Catskills in New York, and the lush Green Mountains of Vermont. Not bad for a relatively painless trek through Connecticut's wilderness.
The views here are primarily western-facing, with undulating hills, mountains, and marvelously manicured farmland. You can clearly make out cows and other livestock grazing in fields miles away and about 1,700 feet below.
The tower welcomes you to peer out of its wide open stone framed windows, taking in awe-inspiring scenery.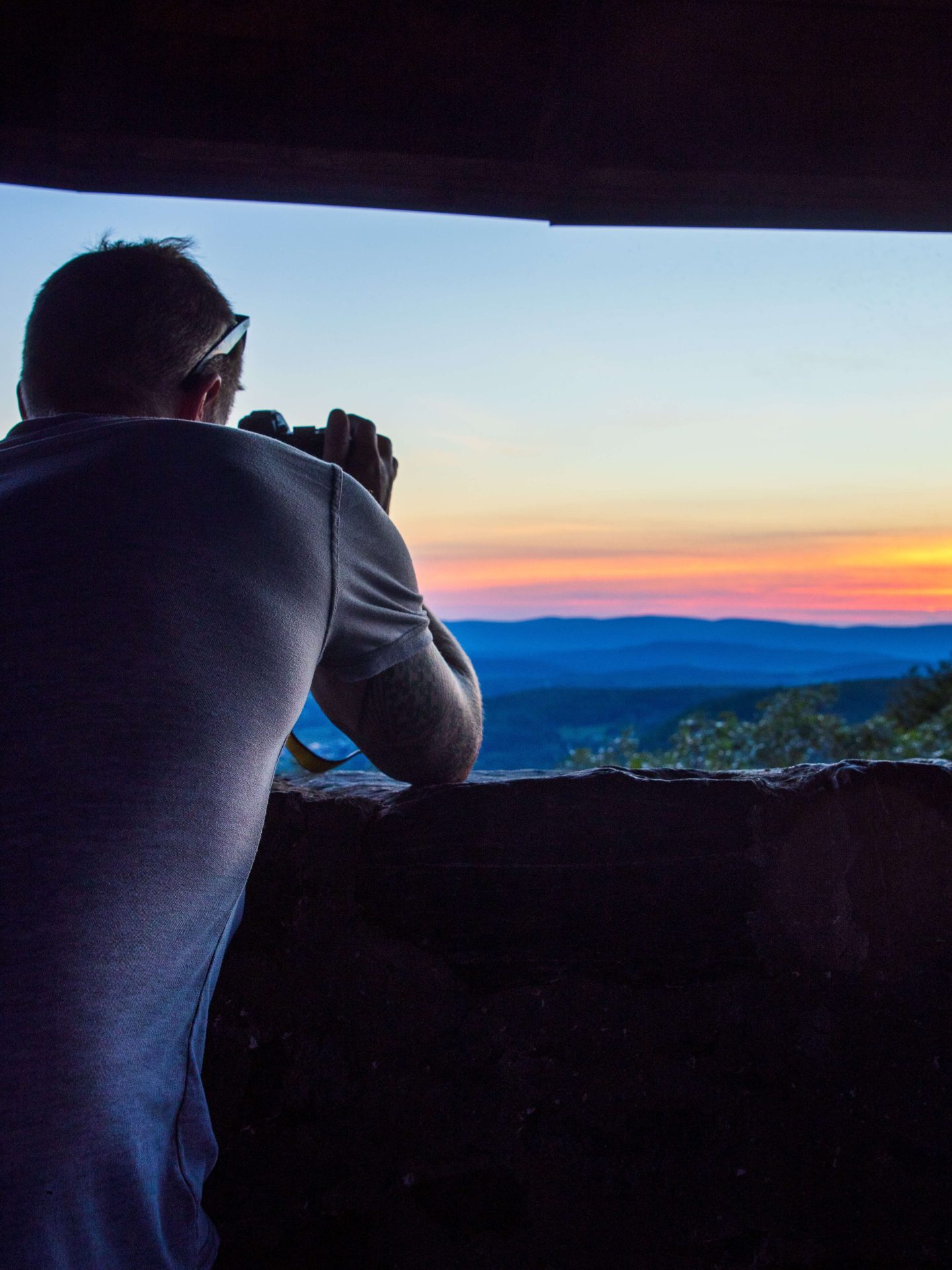 A tripod can be set up in a flash and in any number of configurations in order to capture a truly sublime image of the sunset. Take your time as the light slowly fades and dark purples and reds begin to seep into the sky above. Birds soaring skyward may cross your exposure, but it's well worth it to see them freely gliding in their element.
Location Details
Just off Route 272 outside of Norfolk, you'll find the entrance to Haystack Mountain State Park. You'll park right at the gate, with the trail beginning immediately and heading north. A brief climb of .7 miles will get you to the tower and transport you to fifteenth-century England. The park itself is incredibly charming and is a great base camp to spend some time before making your ascent to the tower.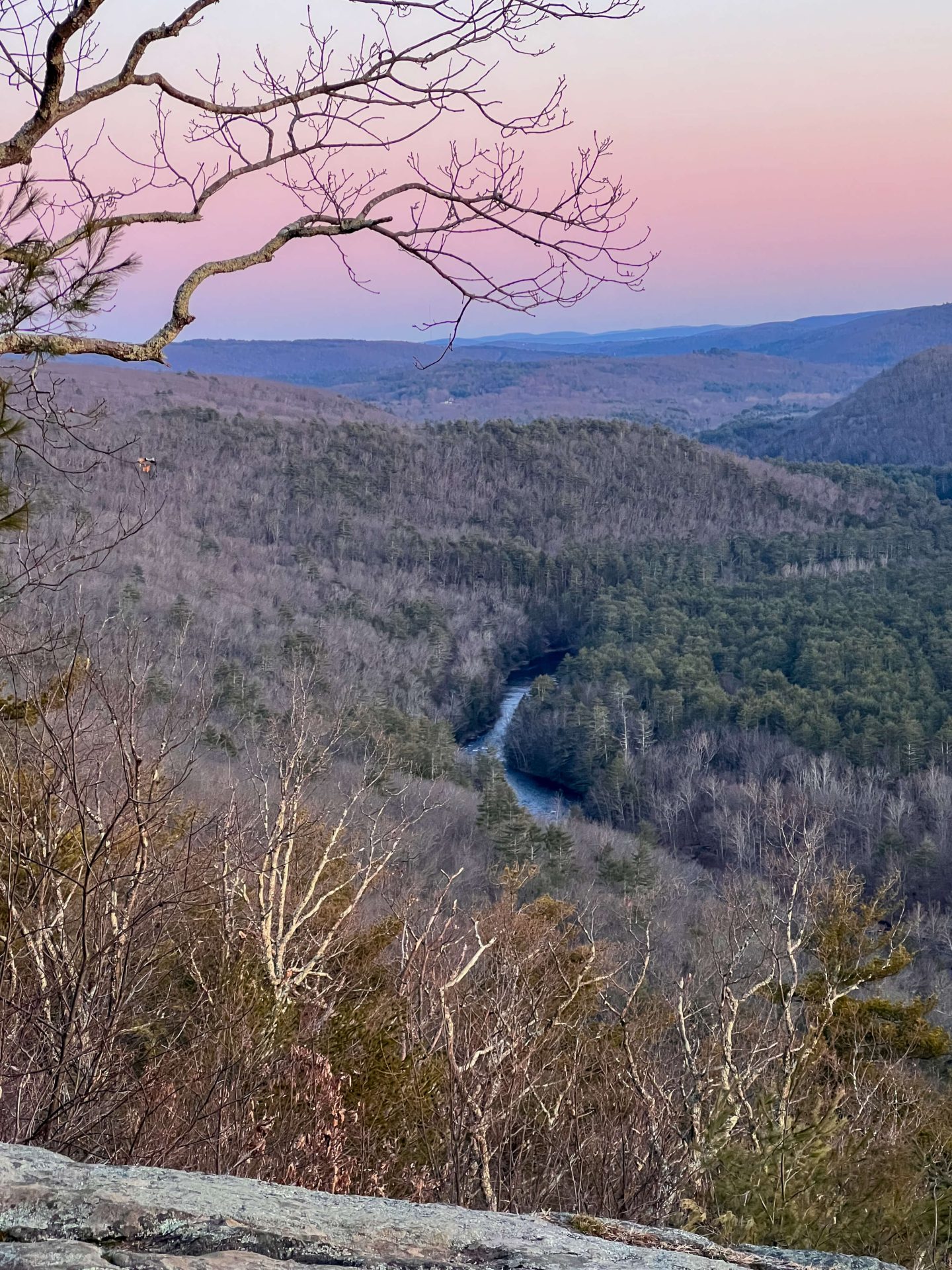 Even if you know where to look, these two quiet and remote sunset lookouts (see photos of each one above!) are tricky to point out from any of the surrounding roadways.
You have to climb to capture these views, but the effort is especially worth it. While the vistas open primarily to the north and south respectively, a hiker during sunset in these hills will still be privy to spectacular shows of shadow and color.
The first lookout faces south/southeast and while the sun may be setting over your right shoulder, the distant clouds to the south, hovering serenely above the rambling Farmington River (a common theme for hikes in Northwestern CT), catching and transforming the colors of sundown, coupled with the deep slanted shadows thrown by the many undulating hills create a unique and distinctive natural scene.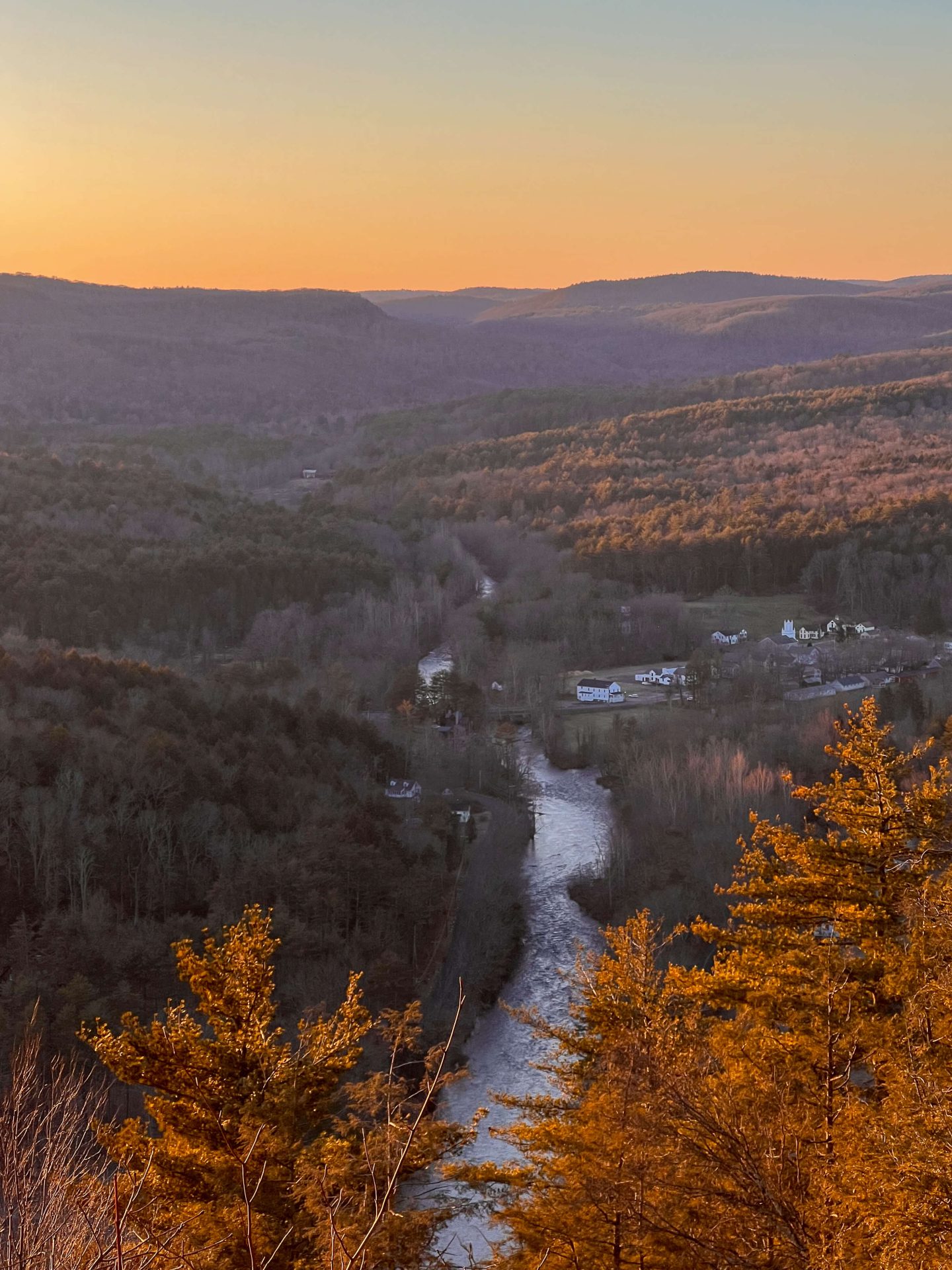 The second lookout offers a supremely elevated vantage of the sleepy town of Riverton, aptly named for its proximity to the Farmington. Truly a "one horse" town, the general store, bakeries, and restaurants are all within spitting distance of one another, and the small-town charm is on full display.
Peering down on the village is like looking into the past, with many of the centuries-old buildings still standing and in operation. You can watch the sun blink out to your left all the while noticing as tiny lights begin to flicker on in the kitchens, dining rooms, and front porches of the Riverton residents.
Location Details
Off of East River Road, you'll find parking for the Jesse Gerard trail. You'll want to head north (left) at the fork at the very beginning of the trail and begin a steep, beautiful climb past many small rushing waterfalls. Expect a gain of over 600 feet in a half mile, making the price for summiting to the first lookout a hefty one. From there you'll head north for about .3 miles on flatter terrain until you meet with the second lookout.
Another gem in the heart of the Falls Village and Salisbury region.
I have a full post on Rand's View that offers 3 different route options to get you there. There's even a 2-mile round-trip trail here! Check it out in this post here.
Along a stunning stretch of the Appalachian Trail is Rand's View. As the AT pops you out into an old cleared farm field a flawless panoramic view of the northern Berkshires will stop you in your tracks. The Riga Plateau rises to your left and stretches north, while Monument Mountain and other Berkshire highlights can be seen dead ahead.
This view looks primarily north, but with the sun setting over Bear Mountain to the west, a photographer is presented with an incredible opportunity to incorporate all the splendor of a sunset as it paints the pristine mountain valley in front of you.
If you're really lucky some early evening shrouds of fog will begin to form and settle in the valley, hovering above the treetops and old farmhouses. The reds, oranges, yellows, purples, and blues of the sunset swirling overhead as the mountains watch stoically.
Although a popular thoroughfare for hikers of the AT, there is more than enough free space at this spot to go around, so feel free to bring a dinner picnic, set up that tripod, and enjoy the show.
Location Details
Rand's view can be accessed via several points. The two primary trailheads are off of Housatonic River Road in Falls Village, and off of Route 44 in Salisbury. You'll traverse over 2 miles from either starting point to reap the unabated splendor of Rand's View, but it is well worth it and your portfolio will be appreciative.
Hope you enjoyed this northwestern Connecticut sunset hike list! 🌅🥾You should be armed with several places on your Connecticut hike list for sunset time..📝
And another post you may enjoy…