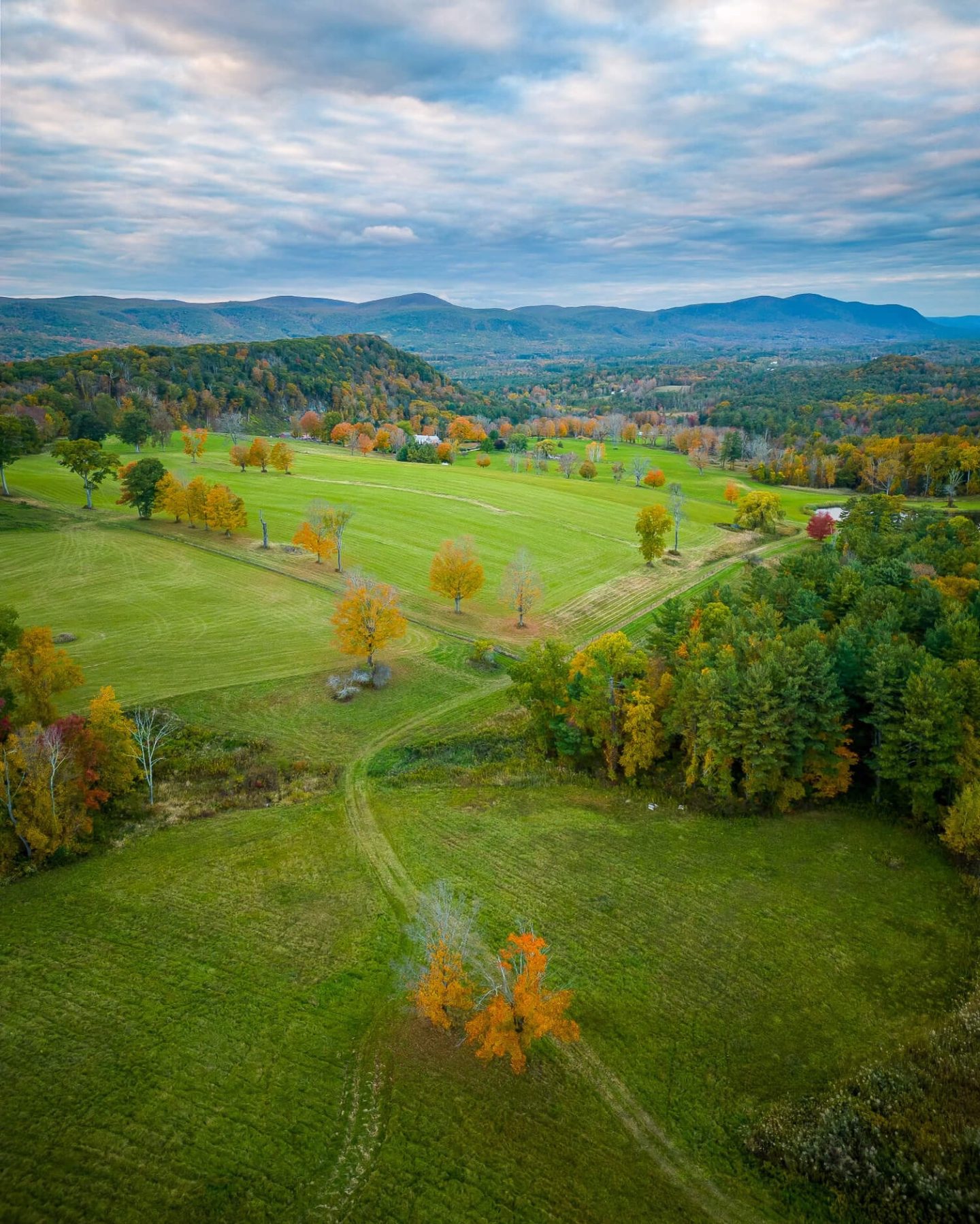 You'll love this lesser-known jaw-dropping view along the Appalachian Trail in Connecticut. Rand's View (also known as Raccoon Hill) isn't your traditional mountain-top view but if you visit, I am sure it will become one of your favorite views as it is mine!
I guess what makes it so special is that it's not a typical hike where you climb a hill or mountain and get a view…
Instead, you walk along in the woods surrounded by trees until, all of a sudden, you come upon a wide-open field. A huge sweeping meadow that makes you want to twirl in the grass like you're in the Sound of Music! 👀🎶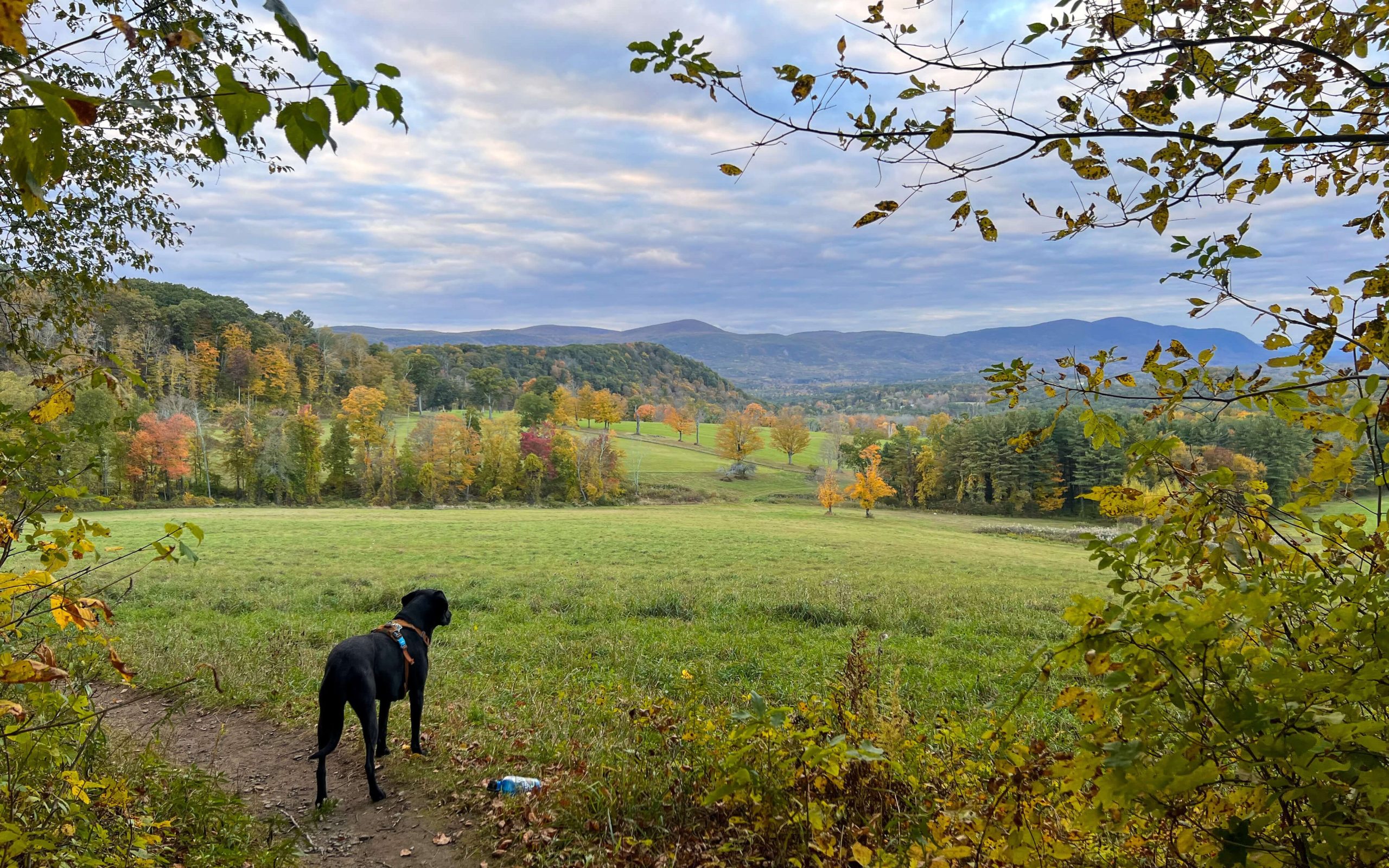 This wide-open meadow view looks north towards the southern Berkshires in Massachusetts.
With a row of trees perfectly dotting the landscape in the distance and rolling hills as the backdrop.
In this post, I'll tell you three different routes you can take to hike to Rand's View.
Three Different Hikes to Get to Rand's View
Let's check out the shortest hike to Rand's View with the trail I made linked above. You will not find this route on AllTrails.
Heading into Falls Village make your way to Dugway Rd and take a left onto Housatonic River Rd. After driving just several hundred feet along the Housatonic River you'll take a left onto Sugar Hill Rd.
Driving to the end of Sugar Hill Rd, you'll see a small parking lot for hikers on the left, right before a sign that tells vehicles not to go any further. Park here on the left before that sign. 🙂
Exiting the vehicle, you'll walk about 0.2 miles along the dirt road (and yes, you will see a couple of houses on either side but this is a public trail!).
After that initial 0.2 miles down the dirt road you'll come to a fork and see a trail entrance on the right. (See pic) Take that right onto the blue trail here instead of continuing down the road.
You'll walk along the trail for another 0.4 miles until you cross a little brook (Wetauwanchu Brook💦). At this point, you've come to the lean-to and campsite for Appalachian Trail thru-hikers!
Explore the sites here if you wish then continue on the trail, heading to the right of the lean-to and campsite.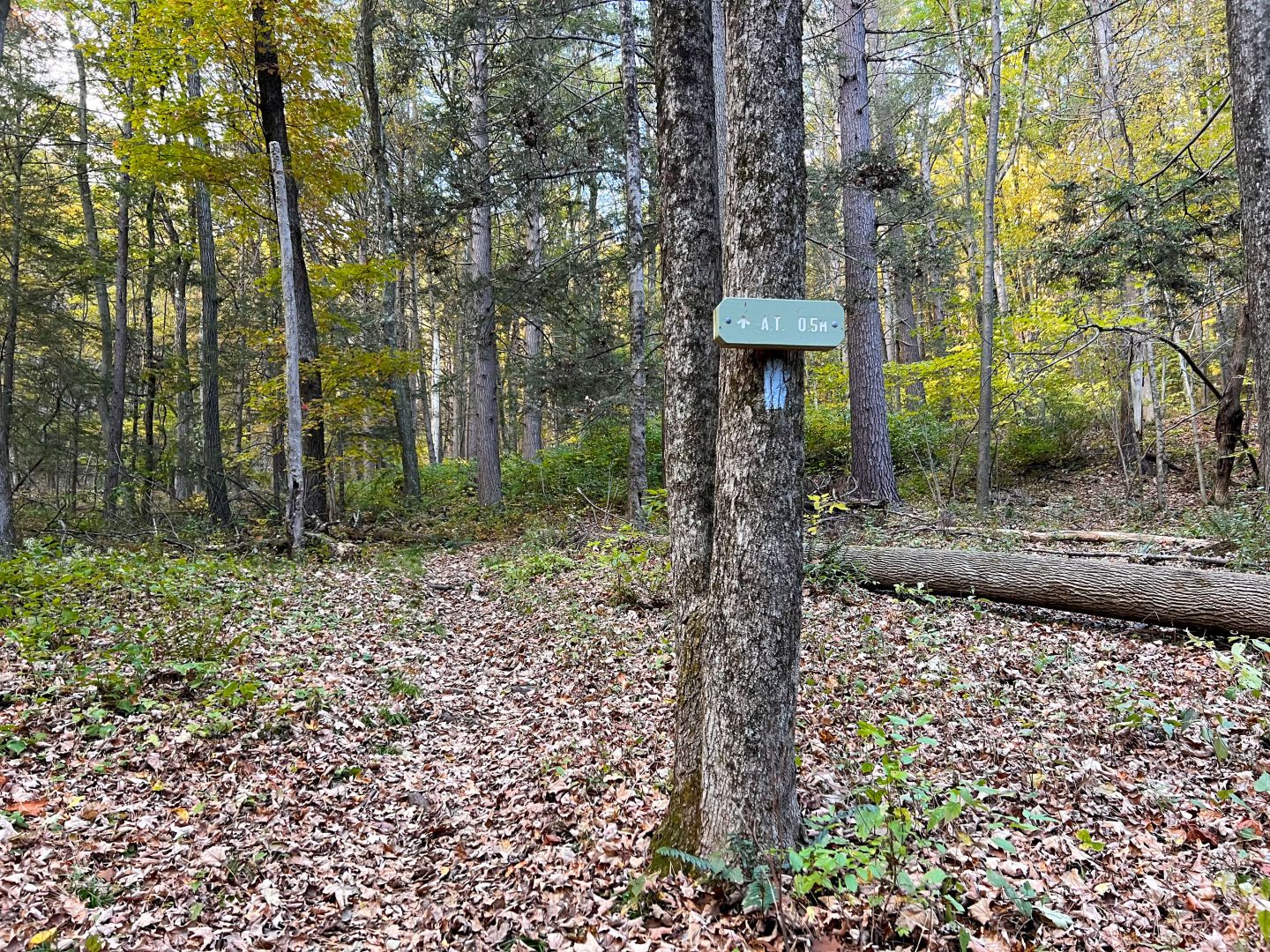 For the next ~0.4 miles (from mile mark 0.5 to 0.9) you'll walk along the blue-blazed trail until you come to a fork in the road where you meet up with the white-blazed Appalachian Trail.
Turn left onto the Appalachian Trail here. Once you turn left you have a small walk down the path until you arrive at Rand's View!
Take in the spectacular view here and then turn around and retrace your steps (about 1.1 miles) back to the car. 🙂
This is the most popular hike to Rand's View and for good reason! On this trail, you get to be on the Appalachian Trail the whole time. You'll hike up to Mount Prospect, take in the views here, and then head to Rand's View before your return.
Heading into Falls Village, go to Dugway Rd and take a left onto Housatonic River Rd. After about a half mile, you'll see a medium-sized parking lot on your right along Housatonic River Rd. I've never seen this lot full!
Park the car and head across the street where you'll find the entrance to the AT (look for the white blaze).
I love that you don't have to do much thinking here as you'll just be following the narrow, well-worn path of the AT the whole time.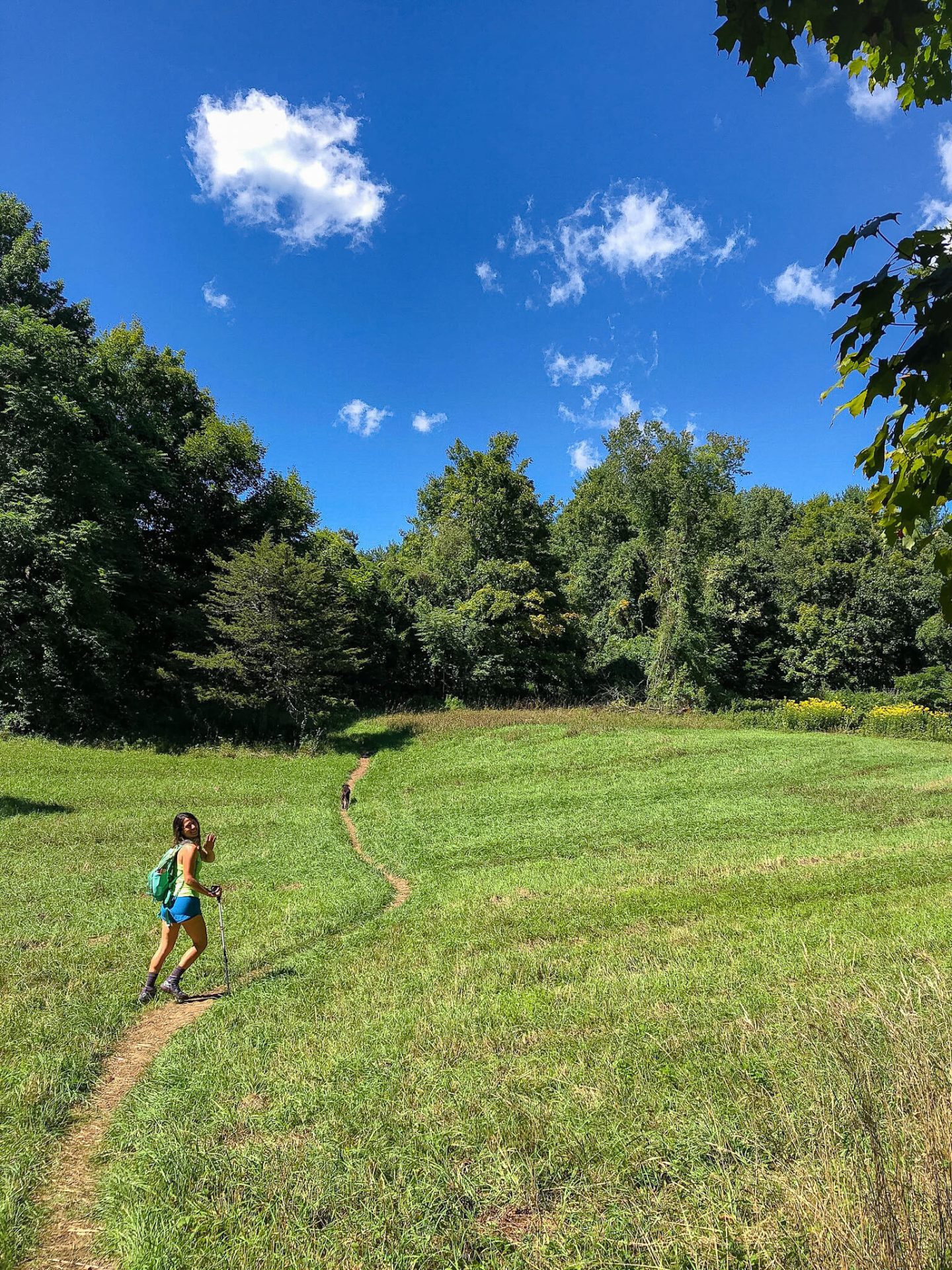 After just 1.7 miles and several hundred feet of elevation gain (you will work here!), you'll arrive at Mount Prospect.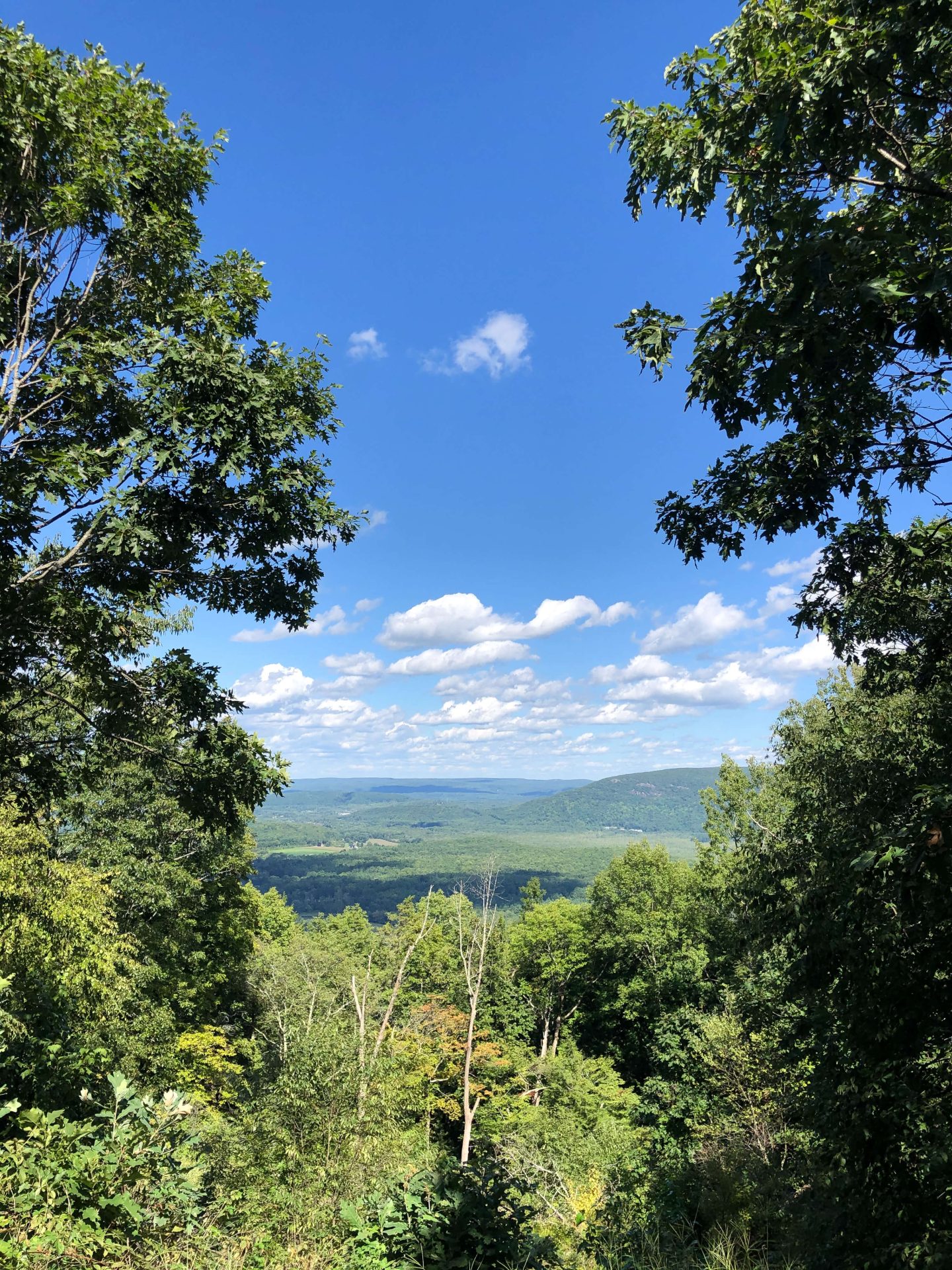 And just another mile more gets you to Rand's View. The trail on AllTrails has you continuing on but there's nothing to see past Rand's View. So after taking in the view here, you get to turn around and head back the way you came!
The classic Appalachian Trail, a mountain view, and the unique meadow view of mountains from Rand's View. You can't go wrong choosing this trail for a day hike in northwest Connecticut!
Here is the longest route and it combines Rand's View and the view from Moount Prospect except you pick up the AT in Salisbury and hike the AT from north to south. It's similar elevation to option 2 but spread out over more miles.
One benefit of this trail that the others don't have is walking by Giant Thumb. Giant Thumb large rock that looks like a stone giant's thumb sticking out of the ground.
For this trail, you'll park along Rt 44/Canaan Rd. There is no parking lot here, just several pull-off spots along the road.
Lace-up your boots because you'll get about 500 ft of elevation out of the way in the first half mile here.
From there you'll have little elevation changes spread out over the next 1.3 miles before you arrive at Rand's View.
You can turn around here if you don't care to see the view from Mount Prospect, making this just under a 4-mile hike.
Otherwise, this route has you continuing another 1.2 miles with just a little elevation change to arrive at your final stop atop Mount Prospect.
Head back the way you came, all along the AT, until you arrive back down to the safety and hopefully storage of some great snacks in your car!
Just a 2-minute drive south along Rt 44 (AT entrance should be on your left) will put you in downtown Salisbury where you can grab a sandwich or dessert to go from LaBonne's Market or a baked good and latte from Sweet Williams Cafe.
I hope you enjoyed these hike options and photos of Rand's View!
🌲🌲It is truly beautiful in any season!❄️🍁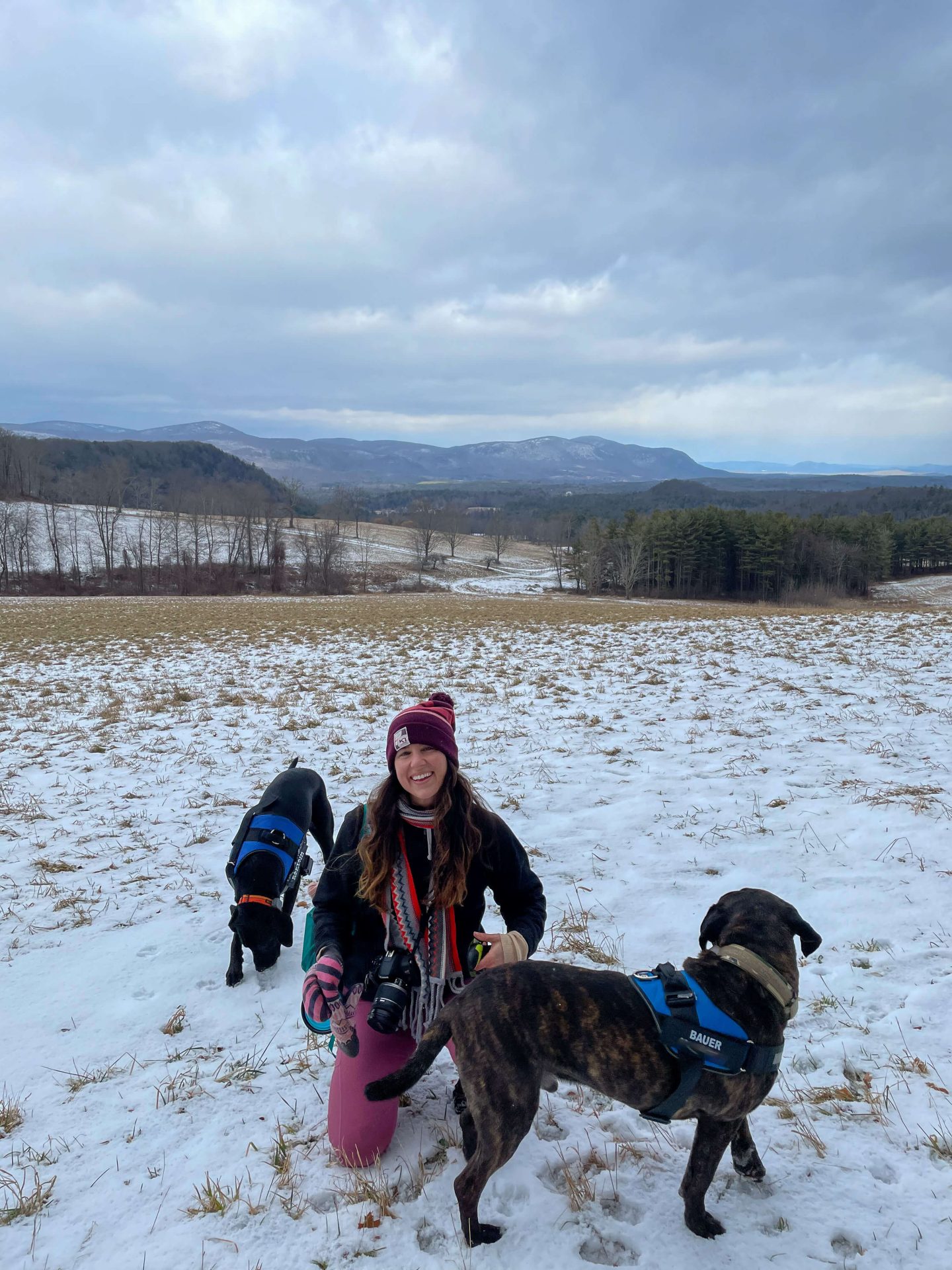 I hope you feel excited to choose one and make your way to this magical vista. To me, there aren't many or any trails in Connecticut that beat the Appalachian Trail or that beat the view at Rand's View!