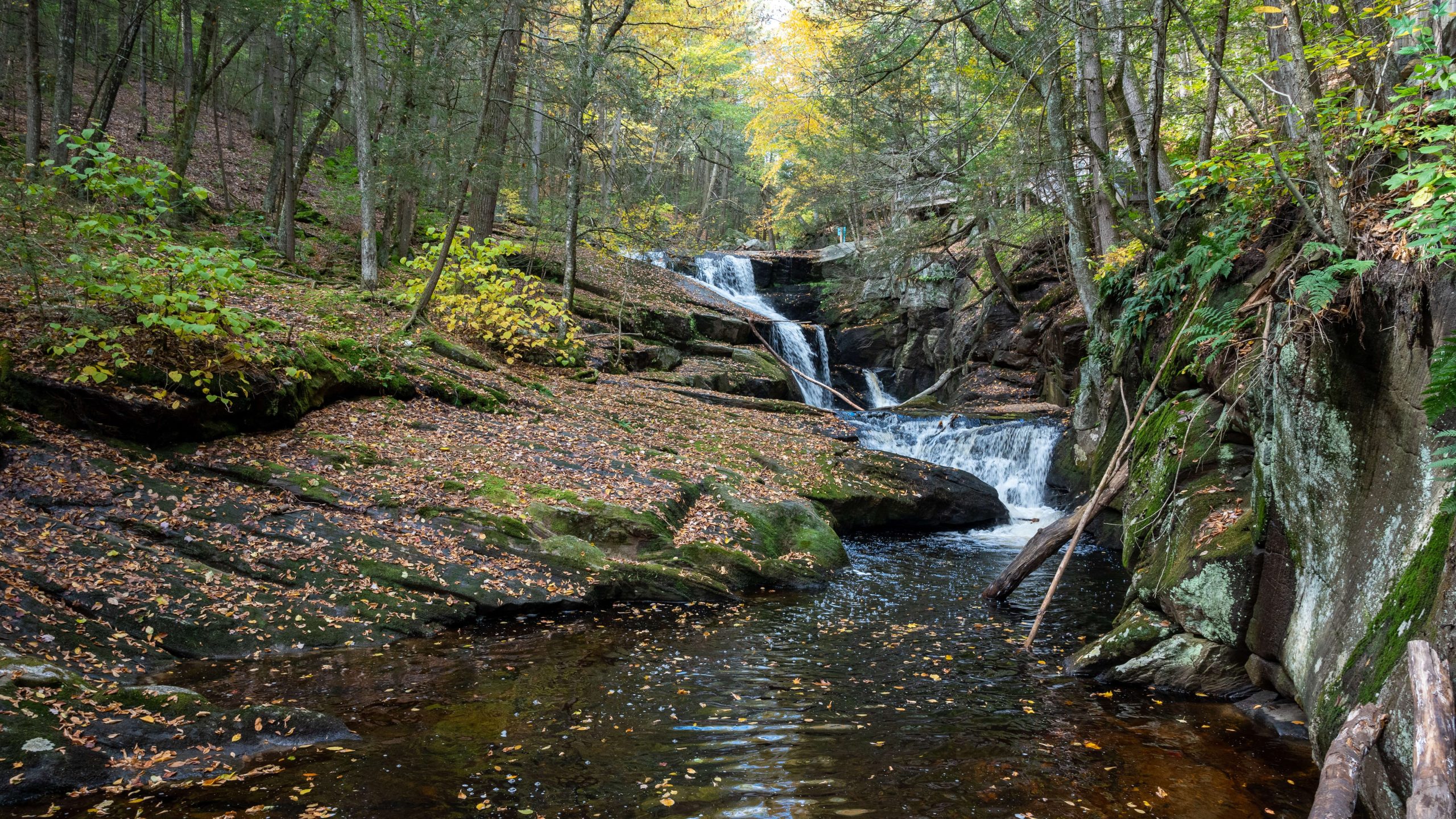 Want to explore a beautiful waterfall in Connecticut? In this post, I tell you about my experience and everything you need to know (and lots of pic inspo!📸) to do this just 1-mile hike at Enders Falls in Granby, Connecticut.
🗺First up, the location. (Address: 41.954637, -72.878227)
Located in the northwestern part of Hartford County, Enders Falls is in the West Granby Historic District.
Nestled in the 2,100 acres of Enders State Forest, the falls are just a small piece of this beautiful forest which helps give the trail a remote and peaceful feel even though it can be a popular CT waterfall.
A bit of history…
"Enders State Forest began as a 1,500 acre gift to the people of the state of Connecticut by the Enders family in memory of John Ostrom Enders and Harriet Whitmore Enders by their four children. It became Connecticut's 29th state forest. The property has been added to continuously as opportunities have presented themselves over the years so that the forest is now nearly 2,100 acres in size.

As per the wishes of the Enders family and terms of the original deed, their gifted land did then, and continues to, carry a hunting restriction. The forest abuts the remarkable 4,200 acre McLean Game Refuge which former Connecticut Governor and U.S. Senator George P. McLean established in his will after death in 1932." ct.gov
OVERALL RATING: ⭐️⭐️⭐️⭐️⭐️
MAIN ATTRACTION: 💦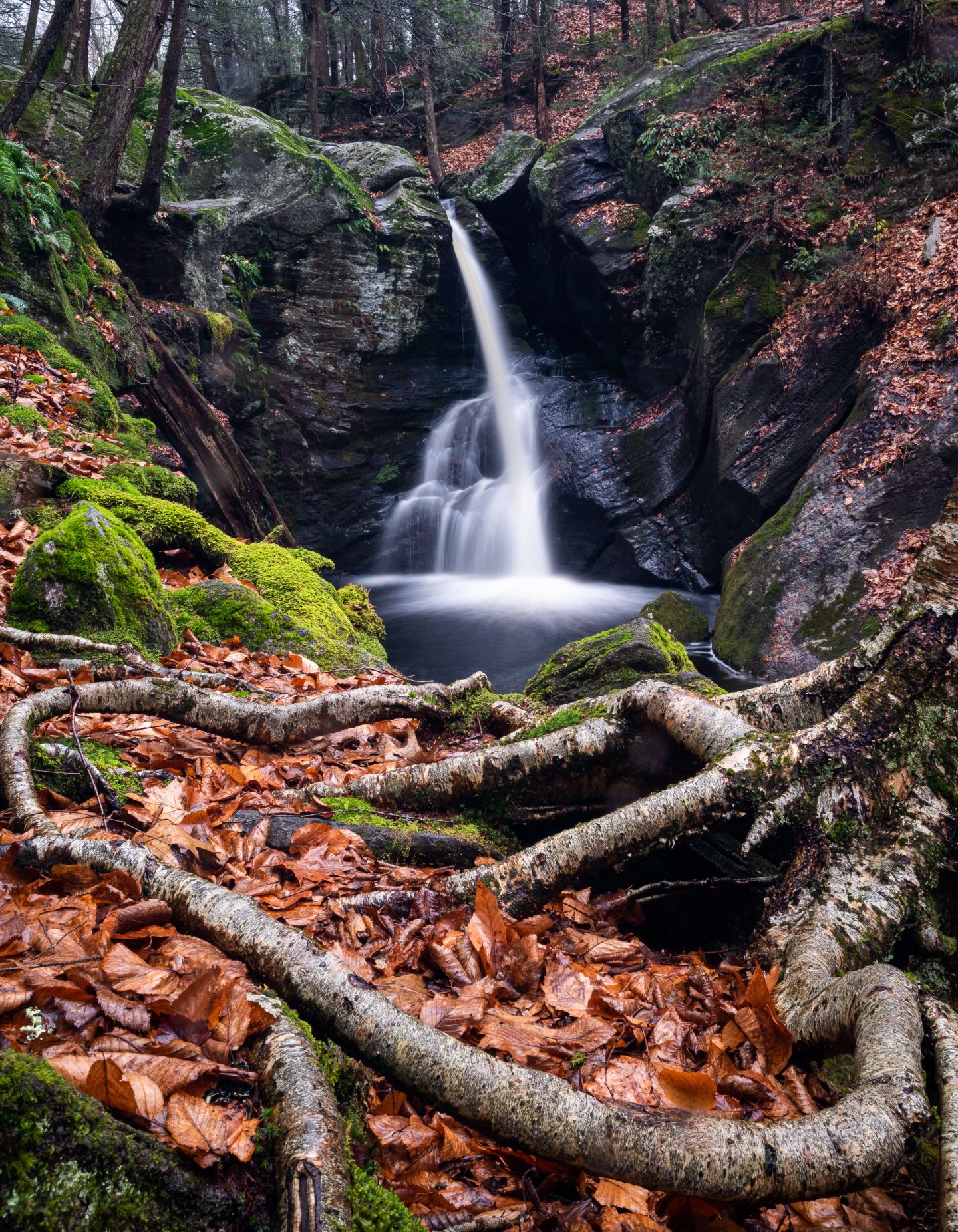 There is quite a lot to admire within this 2,098-acre plot of State Forest, but as one would derive from its name, the many plunges and cascades of cool rippling water truly demand center stage here.
There are at least 4-5 truly picturesque and distinct waterfalls on this little trek, each with its own flavor.
From gentle flowing rapids to raucous flumes of white water and everything in between, Enders (as it's known locally) is a marvel for any waterfall chaser. Other elements to note are the recent construction endeavors realized in the name of safety.
There are beautiful sets of Medieval-style stone slab steps that assist visitors in their descents and ascents around the sight. These stairs peruse along the cliffside and banks of Enders Brook, harkening back to a more fanciful era while also allowing visitors a variety of vantages from which to take in the sights. 
🥾MILES: 1.0 Mile
📈ELEVATION GAIN: 137 FT
LEVEL: EASY/MODERATE
🚗PARKING for Enders Falls Hike:
There is a large lot on Route 219, Barkhamsted Road, Granby.
From the junction of Routes 20 and 219 in Granby, follow Route 219 (Barkhamsted Road) south for just over 1.3 miles. The entrance to the Forest parking area will be on your left.
TERRAIN: TAME (if staying on designated trails) 
DOG-FRIENDLY: YES, on leash.
Since this isn't a long walk, it's not a great place for dogs to be able to run free.
KID-FRIENDLY: YES, on leash. 👀
As you can see from the signs posted, there are ledges and small cliffs alongside the water. There are fences and railings along the stairs on the trail but it's not a great place for small kids to run free. Staying on the path is important here.
PEACE AND QUIET:
This really depends on when you visit. The area can become very popular during the warmer months in Northwestern Connecticut, when swimming, although not allowed, is still too tempting an exploit for some visitors here. However, during the golden hours of the day, there can certainly be some solace to be had.
SAFETY:
Fresh sets of hulking granite steps, as well as concrete fortified railings, echo a not-so-safe past at Enders Falls. Unfortunately, there have been many accidents here, due to potentially heavy flowing water, slippery conditions, unforgiving precipitous plunges, and cavalier galavanting. However, provided you stay behind the ropes, as it were, these grounds are perfectly safe for the whole family.
ENDERS FALLS HIKE ROUTE AND GUIDE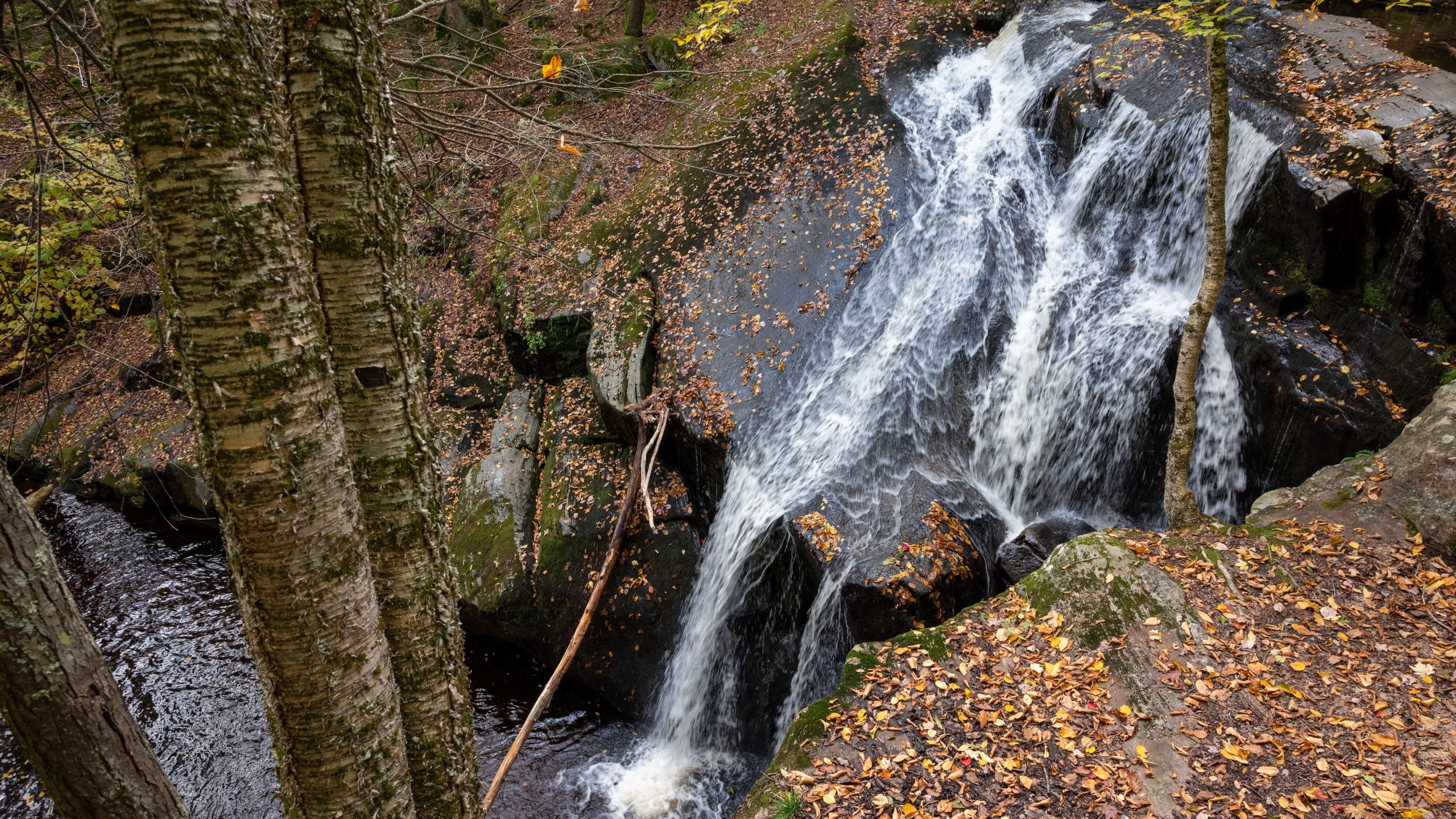 As mentioned earlier, there is a lot to absorb within this seemingly minimal hike. 
From the parking lot, you'll make your way to the main gravel trail, which will be recognizable.
From here, you can either turn right and walk about .1 miles to the trail's terminus.
At this point, you can about-face and walk another .3 miles to the trail's eastern end.
180 from here and begin to return via the same path, walking about .1 miles until you'll bear left onto the falls trail.
Beginning at this juncture onward, you'll enjoy an overflowing abundance of flumes, plunge pools, and gorgeous overhanging evergreens on a quick and decidedly worth-it 0.1 miles back to the main trail. 
Once reached, simply follow the trail back to your vehicle.