Come along as I review my recent hike at Case Mountain in Manchester, Connecticut! You'll get to see pictures of the view, learn about Case Mountain, and the trail we took to get to the lookout.
This is a great hike for those living in or near Hartford!
First up, the location. Just east of Hartford and in the southeastern part of Manchester is Case Mountain Recreational Area (or Case Mountain Park). It encompasses 640 acres from the Glastonbury border north to Case Pond.
Within Case Mountain Park there are 8 different trails (find them all here) to choose from 1.6 miles to 12 miles and ranging from 137 to 1,515 feet in elevation gain. So there seems to be a trail for all levels here.
🚴🏽‍♂️Case Mountain was even voted the 'Best Ride in Connecticut' in Mountain Bike Magazine by their readers. While there are several trails to take when hiking at Case Mountain, don't be surprised if you see a mountain biker or two!
But back to hiking here, let's get into everything you will want to know if planning a hike at Case Mountain!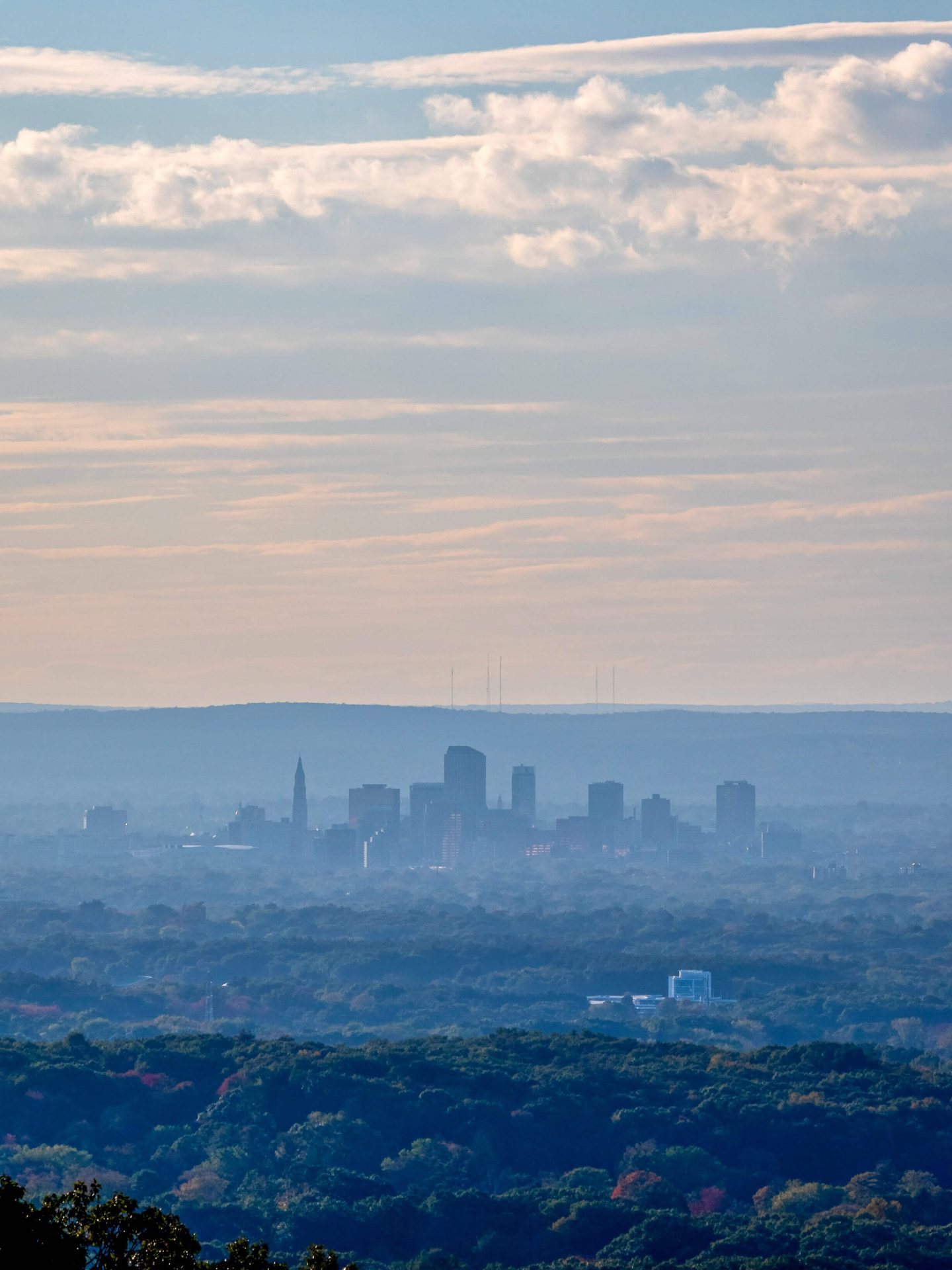 🥾Case Mountain TRAIL REVIEW: Lookout Mountain Loop🗺
OVERALL RATING: (OUT OF 5 STARS) ⭐️⭐️⭐️
Main attraction:
The main attraction here for Case Mountain is the lookout. It faces northwest toward Hartford with multiple benches at the top!
🥾MILES: 4.4 MILES
📈ELEVATION GAIN: 449 FT
LEVEL: Moderate
Though it is 4.4 miles, this is on the easier side since there isn't much elevation gain. It's just a long walk in the woods! Which is really nice for a change compared to most views that require more of a steady uphill climb.
There are no long stretches of uphill and there are no big step-ups here that you have to do. Hooray!
📰Helpful AllTrails Review:
"Beautiful view of Hartford! Lots of people at the summit on a beautiful day. Follow the map closely because there are a spider web of paths in this park." -Kate King, July 2023 (I agree!)
🚙PARKING:
You can click here to navigate to the parking lot on Line Street where this particular Case Mountain loop starts. You'll find a decent sized parking lot (fits about 10 cars) along Line Street which is off Rt 83/South Main Street. (Be sure to cross the street to enter the start of this trail, but more on that below!)
🪨TERRAIN:
As of early October, 2023, there were lots of leaves on the trail but this isn't a rugged trail.
I still wore my favorite pair of high top Merrell boots for the ankle support but the trails are mainly flat and padded with leaves.
🐶DOG-FRIENDLY: yes!
Of course, they need to be leashed, but we let them off when we knew there was no one around and called them back when we spotted someone in the distance..
⚠️Watch for mountain bikers! Captain is used to them and moves out of the way but Bruin had no clue what to do as the bikers approached and tried to pass. 🙂
💦There are a couple streams for water but don't rely on this if it's a hot day!
KID-FRIENDLY:
Due to this being a pretty non-technical trail and just a long walk in the woods I would say it's absolutely kid friendly! It can take a couple hours though so just pack couple snacks. 🍫
PEACE AND QUIET 🤫☮️:
As you hike away from the parking area and get into the woods here you will find a quiet trail. The only thing that was startling were the mountain bikers that tend to come up quickly but they will likely see you before you see them and they seemed use to sharing the trail with hikers.
SAFETY:
While I felt very safe hiking here, I was with 2 other people. Given how dense the forest feels and its proximity to Hartford I probably wouldn't hike here alone. Not because I don't think it's safe I just prefer trails in more rural or suburban areas. I guess it's a matter of what you're used to.
🥾Hike Guide for Case MOUNTAIN via Lookout Mountain Loop🥾
We will be following the Lookout Mountain Loop which you can find on AllTrails linked here.
0-0.4 miles: Parking in the lot on Line Street, make your way ACROSS the street and into the trail. While there is a trail that leads into the woods from the parking lot, there are no particular views here.
💛Make your way on the yellow trail. There is another trail that runs parallel here so either one you're on is fine but for the first 0.4 miles just stay to the right the whole time and you'll be on the right track heading up to the lookout!
0.4-0.6 miles: There are several interconnected trails that break off left and right starting at the 0.4 mile mark. So the best way to describe your path moving forward is just to stay straight! Don't take any rights or lefts.
At the 0.6 mile mark you will see the sign in pic.
Stay straight and to the left of the sign. (Don't go to the right of the sign! :))
I think that's pretty clear.. 🤔 so let's continue on!
0.7 miles: At the 0.7 mile mark is when you come to the fork and loop. You can choose to either go left (clockwise) around the loop or right (counterclockwise).
0.7 – 1.8 miles: We went left and took the loop clockwise. There are many connected trails here so just continue to stay straight and you will arrive at the Case Mountain lookout at the 1.8 mile mark!
At this point in the hike you can turn around the way you came or continue the loop and make your way back down.
We decided to turn back the way we came as this is the shortest route and we were all hungry!
Post Hike Snacks 🌮
After the hike we drove a mere 8 minutes to the dog-friendly Labyrinth Brewery!🍻
They had a great latin food truck on a Wednesday night. The tacos, empanadas, fried chicken, and french fries were the perfect close to this brisk fall hike.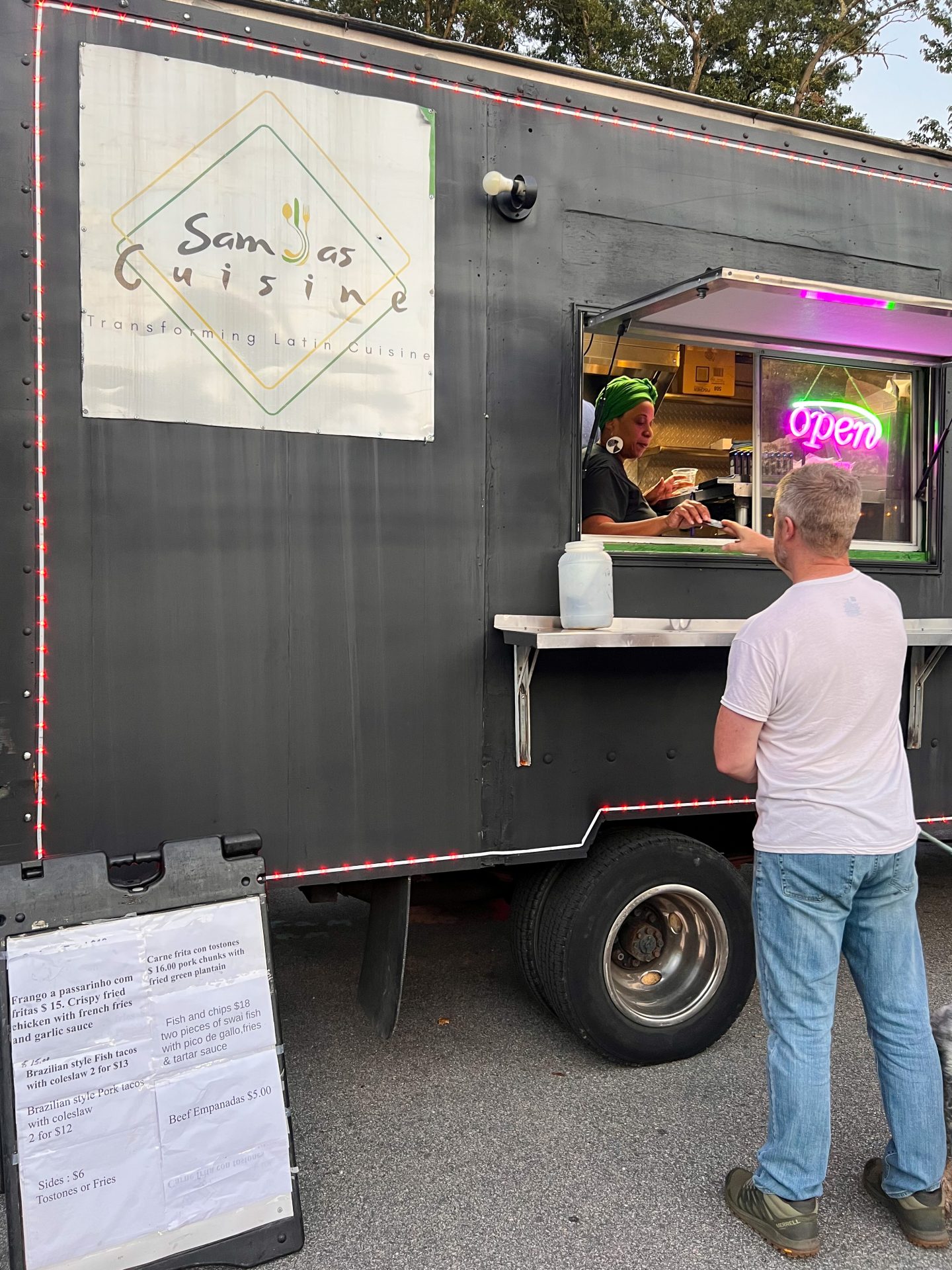 Case Mountain Hike Conclusion
I hope you enjoyed this trail review and my experience hiking Case Mountain for the first time!
While I enjoyed my time here I don't see myself going back again soon as there are other views that are a similar distance (~40 minutes) or closer to me than here.
But if you live in the Hartford area and are looking for a hike near you, I would definitly try this hike.
It's a very pretty walk through the woods and a great view for minimal effort on this relatively flat trail.
Enjoy! And let me know if you've been here or if you plan to visit after reading and checking out the pictures! 🙂
Looking for other hikes in Connecticut?!
Check out this post here that pairs Connecticut hikes with nearby dog-friendly breweries! 🥾