Wondering which hikes lead you to some of the most beautiful views in CT? Hikes you may have never even heard of before?!
I grew up in CT and while I've done lots of hikes in the state at least twice when I started thinking about my favorite, go-to Connecticut hikes with some of the best views, I realized that a lot of them have something in common – views that overlook water!
🥾There are so many great hiking trails in CT but the ones that come to mind with the best views all overlook lakes, ponds, and reservoirs, and some even allow you to visit and pop in that water before or after the hike. (Which I have noted below for each one).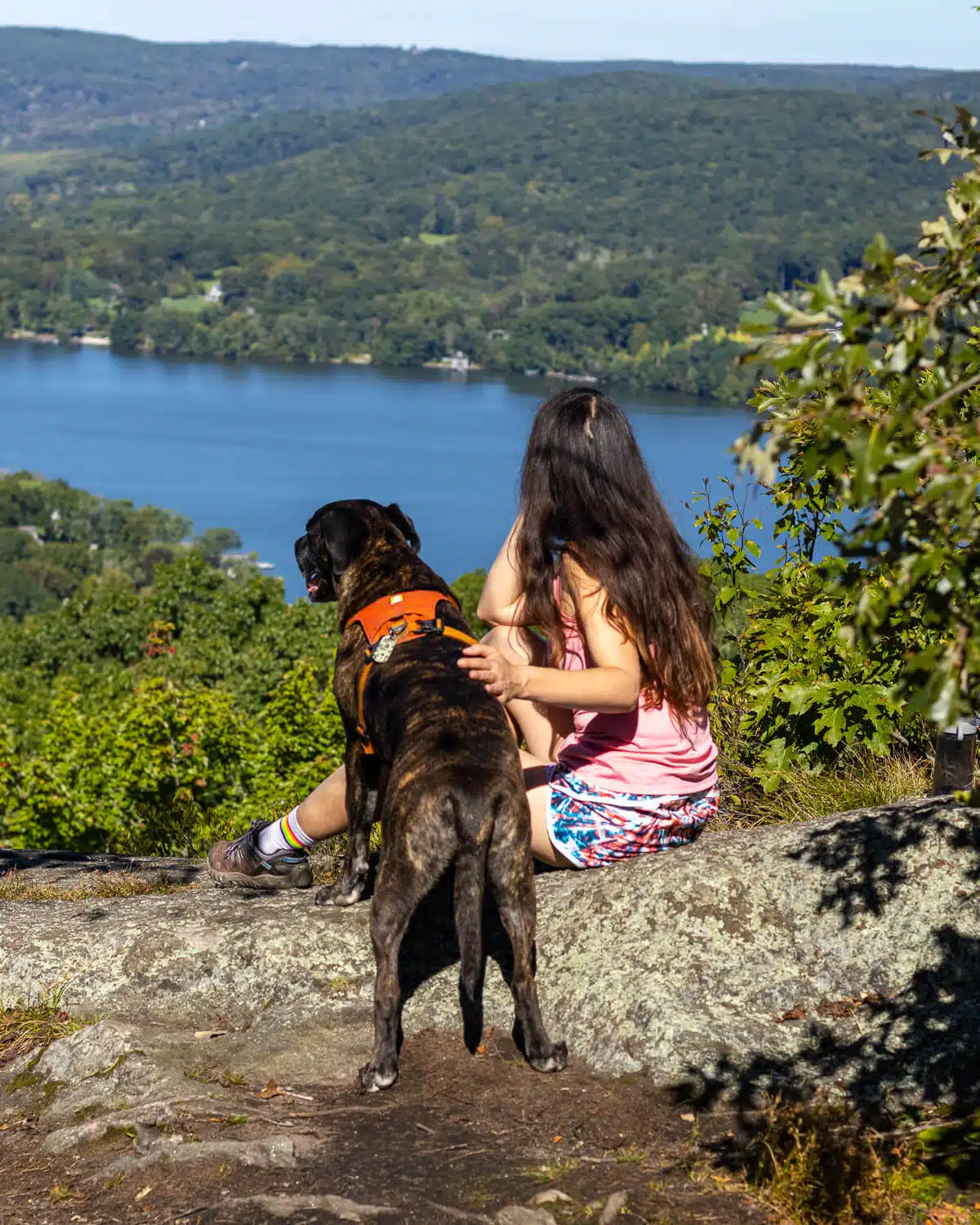 🌅And think about how beautiful it can be a sunrise, sunset, or golden hour too when the colors in the sky are reflected below. Whether it's a lake or a reservoir, it can be such a nice feature and subject especially if you're into photography and taking pictures while out there! 📸
For each of the 9 hikes below I include the name, trail details, an AllTrails link to each one so you can easily find them, and inside tips 👏 (which are good for sunrise or sunset?!). When you click on each hike link you can save it to your Connecticut folder on AllTrails 🗂 (you must make one if you don't have one yet!). You do not need to pay for AllTrails in order to save hikes to different folders and it's one of my favorite ways to use AllTrails.
So what are the best views and hikes in Connecticut that overlook the water??
⬇️ Check the list below and find your next favorite Connecticut hike and view! From 2.2 miles to 7-mile trails, there's something for everyone and all are dog friendly! 🐶🐾
1. Ratlum Mountain, Barkhamsted 🌊 Overlooks Lake McDonough, can swim and paddle here!🛶🏊🏽‍♀️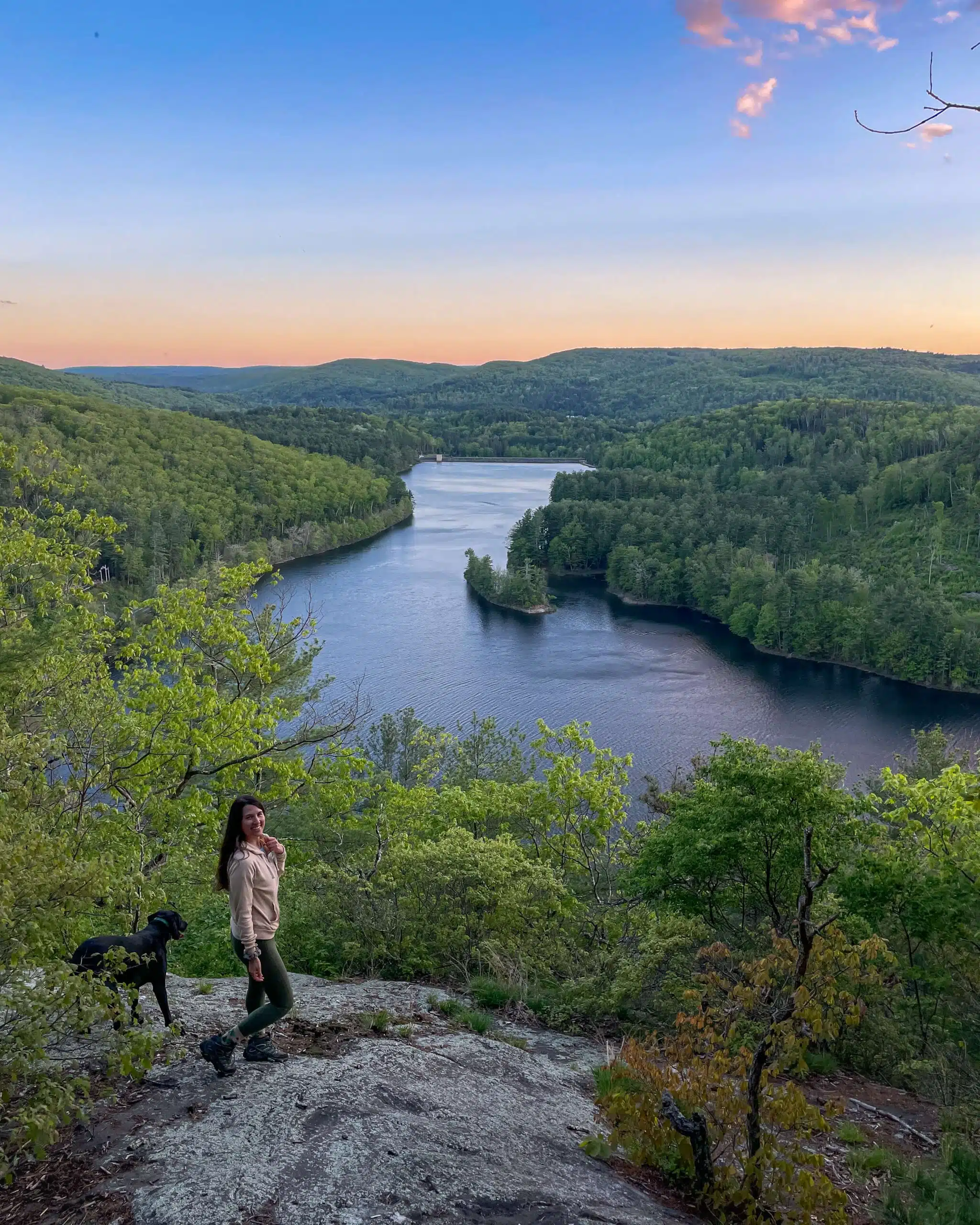 🥾7 miles out and back, 1371 feet of elevation gain, rated moderate
📝Tip: If you are short on time and want to get to the lookout there is a pull-off on Ratlum Rd. You can see the trail on AllTrails off of Ratlum Rd that links up to the full hike linked above. If you take this way keep your dog leashed as it does pass somewhat closely to homes and their property (but not uncomfortably close).
🌅This is a beautiful hike and view that faces southwest so while it doesn't face directly west for sunset you still get some of the sunset colors during golden hour as seen in the pic above!
🥾 2.4-mile loop, 270 feet of elevation gain, rated moderate
📝Tip: If you are new to hiking this is a good one for you as it is a pretty easy hike since it's short and mostly flat. There are numerous trails here, some for mountain biking which you will see in blue on the AllTrails map, but you can make this a longer hike leading up to or after the view if you wanted to. Just be sure to have the map handy as you will encounter lots of trails and turns.
🌅This beautiful view faces west so it's really amazing for sunset as you get all the colors reflecting down on the lake below. If you want to get here for sunset, in order to not miss the view, start counterclockwise, and about a mile in you will see the rocky ledge that opens to the view. You can find this spot on the AllTrails map where it says 'Chimney'.
3. Lovers Leap, New Milford 🌊 Overlooks the Housatonic River, can swim and paddle here!🛶🏊🏽‍♀️
🥾1.2 miles out and back, 200 feet of elevation gain, rated easy
📝Tip: Ok, this is a super short one and an easy hike but if you want to walk more there is more to be walked! Once you hit the view and take your pics or some deep breaths, continue on the trail to the left. After 1/10th of a mile, you will come to N Lillinonah Lake Rd. Turn right and you will enjoy a walk on a beautiful country road with homes you wish you owned and clear views of the Housatonic River on your right. When I was here in June I saw a swan family, babies and all! Tried to zoom in as much as I could to get a clear shot but this was when I decided I need a better lens. 😉
☕️Check out the cute downtown of New Milford after your hike! I enjoyed an amazing sandwich and baked treat (so many croissants and special desserts to choose from!) at OC Organic Kitchen afterward. Be sure to stop by even just for tea or coffee.🥐
4. South Mountain, Berlin 🌊 Overlooks Merimere Reservoir
🥾 3.2-mile loop with 530 feet of elevation gain, rated easy
📝Tip: There's a lot to this little hike. Though it is rated 'easy' on AllTrails it is a rocky trail so I would wear stable boots to protect your ankles. There is also always a super muddy section on the way out of this hike (if you go clockwise). I like how the hike starts along Elmere Reservoir so if you need some water for your dogs this would be a good spot to get some.
🚗The only thing I am not crazy about with this hike is the parking. You have to park alongside, parallel to, the road on Chamberlain Highway (route 71) which is really busy. So keep your dog or kids close next to you as you may have to walk a minute or two to get to the trailhead.
🌅The rocky ledges at the top give you views to the west and you can spot Castle Craig Tower all the way in Hubbard Park in the distance!
5. Meeker Trail, Maricostas Preserve, New Preston 🌊 Overlooks Lake Waramaug, swim and paddle here 🛶🏊🏽‍♀️
🥾 4-mile loop, 700 feet of elevation, rated moderate
📝Tip: This is one of my favorite hikes in the state. When you begin you will cross several wooden plank bridges over a marshy section with wildflowers on either side (except in winter!) and then it opens up to a beautiful field on a hill that you walk through. You then head up and into the woods where you start with a little climb.
🌅If you go clockwise you will come to a lookout but don't stop there! Continue on (follow the map link on AllTrails) until you get to Waramaug Rock with open rock ledges that face west making it perfect for sunset! The varying terrain from the start of the hike to the top makes this one of the prettiest and best hikes in CT. I love it in every season and the surrounding area as you drive in always makes me look forward to the drive.
6. Giuffrida Park, Meriden 🌊 Overlooks Bradley Hubbard Reservoir
🥾 4.4-mile loop with 750 feet of elevation gain, rated moderate (part of CT's Mattabesett Trail)
📝Tip: Make it shorter! If you don't have time for the 4.4-mile loop cut it in half to 2.2 miles and still get the climb with the water view! Here is the link for the shorter loop. This is one I sometimes head to after work to meet friends. It is a popular spot with a good size lot that can sometimes get full.
🌅The lookout at the top also faces west making it amazing for sunset!
7. Hurd State Park, East Hampton 🌊 Overlooks the Connecticut River, swim and paddle here 🛶🏊🏽‍♀️
📝Tip: You have two options to get to this overlook. There's a 6-mile loop (labeled 'Easy') with 720 feet of elevation gain or a 2.7-mile loop with 400 feet of elevation gain. I would recommend either taking a screenshot of the map on AllTrails or downloading it (only if you have paid version) because there are lots of little trails in there and it can be tricky to know which one to take!
💦Walk on up to the CT river before or after your hike with your dogs so they can cool off or splash around!🐶
8. Ragged Mountain, Berlin 🌊 Overlooks Lower Hart Pond on one side of the loop and Wassel Reservoir on the other.
🥾 5.6-mile loop with almost 900 feet of elevation gain, rated moderate
📝Tip: Make it a short hike by taking the loop clockwise .8 miles until you get to this rock ledge overlooking the water below!
📝There are numerous connecting trails in Ragged Mountain Memorial Preserve so I often have AllTrails open when I first start the hike. ☕️Be sure to hit up a new coffee spot, Miel Coffee, in New Britain afterward! Seriously amazing lattes and very close to the hike (closed on Sundays!).
🌅For sunrise go clockwise and walk .8 miles to 'sunrock'. You will see sunrock noted on the trail map on AllTrails with a yellow dot. This spot overlooks the pond below and faces directly east! It is a perfect place for sunrise as the walk in is under 30 minutes.
🥾3.7 miles out and back, 800 feet of elevation gain, rated moderate
📝Tip: You have two trail options to get to this view. You can either do the full hike listed and linked above, or park at Black Pond and take a short trail up. Both are steep and challenging with lots of rock, it is not a smooth path so wear boots or stable shoes! At first, this hike doesn't seem like much because when you park you can still hear the traffic from the busier roads around but as you get further along that decreases.
🌅When you get to the top you are walking along amazing, open cliffs and rocky ledges with a view to the west. Lots of opportunities for pictures here just keep dogs and kids close as it is a cliff. Would love to come back here for sunset!
👏This rounds up our list of the 9 best views and hikes in Connecticut that overlook the water!
I hope you get to try some of these trails and please let me know when you do! Tag me if you decide to share any pictures on Instagram and feel free to message me there or leave a comment below if you have any questions! Would love to hear about some of your favorite views in Connecticut, too! ⬇️
Happy trails!! 🐾💗🥾