What better way to see the leaves change this fall or even the snow coming down from way above the trees! These 8 Connecticut tower hikes will take you up to some of the best views in Connecticut and all with not much hard work since most of these hikes are between 1 to 3 miles round trip.
This makes each one a great hike if you are a beginner or if you want to bring the family along. I doubt your kids will mind the short walk if they get to climb a super cool tower and pretend like they're at the tower at the end of the level in Mario Brothers! (Do kids still play that anymore?? 🤔)
Some of the views from these tower hikes reach as far as Vermont, the Catskills, and the Berkshires in Massachusetts! With sweeping 360-degree views from several of these CT towers (I will note which ones) you can't go wrong hiking up for sunrise or sunset.
If I've had a busy day and not enough time for a bigger hike, doing one of these at the end of the day an hour or two before sunset satisfies me and washes away the cares of the day! It's amazing what time in nature and seeing such beautiful views can do.
Included in this guide to Connecticut's lookout towers is some really interesting history about each one as several are featured in the National Register of Historic Places. Some are also part of the Connecticut State Park system making the surrounding trails a beautiful place to walk around and to extend the hike.
Where are these CT towers located?
The towers are spread out across our state. Click on one of the pins below to see the tower associated with that location!
While there are lots of hikes with beautiful views in CT some of the best views can be found from a short walk and climbing a set of stairs to one of these towers, if you dare! 😍 (And aren't afraid of heights ;)) So let's get to it!
8 Connecticut Tower Hikes with Amazing Views
Mount Tom Tower Trail, Litchfield, Northwestern CT, 🥾 1.3-mile loop, 340 ft elevation gain, rated 'moderate' on AllTrails
🌅There are 360-degree views from the top of this stone tower making it ideal for sunrise or sunset! As you get to the top you will see a clearing to the right that has beautiful views facing west and always looks really pretty during golden hour before the sun sets!
📖History: This 230-acre state park is the oldest in the CT state park system and the tower is listed on the National Register of Historic Places! The 34-foot-high stone tower was built in 1888 by Columbia Professor and Litchfield resident H.S. Monroe after seeking donations from around the area.
📝Note: It is a pretty rocky climb up so I suggest wearing hiking boots or sturdy shoes! Sneakers may not be comfortable on the hike up or down with all the rocks. I always wear my higher ankle boots even if it's not a long hike just to protect my ankles! The length of the hike doesn't dictate your footwear but rather the terrain even if it is only 1.3 miles.
2. Sleeping Giant Tower Trail, Hamden, central CT, 🥾 3.1-mile loop, 600 ft elevation gain, rated 'easy' on AllTrails.
**The trail linked above is the most popular route up the tower and is a wide gravel path that meanders up to the tower. This is a very popular trail and does get crowded on weekends with lots of people, kids, and dogs! If you would like an alternate route up to the castle that is more of a hike and less crowded you can give this trail a try that is rated 'hard' and is very challenging and steep! I featured a video from the steep blue trail on Instagram that you can check out here!
📖History: "The square four-story tower was built in the Romanesque-style between 1936 and 1939 by 60 workers through the Works Progress Administration as a Depression-era relief and recovery project." (From the patch.com) Also from patch.com, "According to Julie Hulten, SGPA Outreach Chair and Assistant Archivist, "during World War II, the tower was 'manned' and there was a telephone installed to notify authorities in the event that any 'enemy planes' were spotted."' And in 1986, the tower was added to the National Register of Historic Places.
📝 Note: Sleeping Giant State Park charges an entrance fee for out-of-state registered vehicles which varies on weekends/holidays versus weekdays.
3. Orenaug Park Fire Tower, Woodbury, 🥾 .9 miles, 209 feet elevation gain, rated 'easy'
🌅With 360-degree views this is one of the top 3 views out of the towers listed here. It can be a little scary to climb up with its see-through grated stairs but there are railings to use the whole way up! And it is fenced in at the top with little window openings.
📖History: "The Orenaug Fire Tower was built in 1911. It was a lookout for fires within the Pomperaug River Valley. It stands 80 ft high from the base to roof, 260 ft above street level and 520 feet above sea level," from woodburyct.org where there's a trail map located as well.
📝 Note: There is another trail or a trail that continues beyond the tower but when we took it it looked like it wasn't maintained very well and we ended up turning around.
Afterward, stop at one of the best independent and family-owned natural food stores in our state, New Morning Market in Woodbury. It has everything from prepared foods to go, local produce, a bulk section for all your trail mix needs, and of course multiple aisles of natural health and beauty products.
4. Talcott Mountain Yellow Trail to Heublein Tower, Simsbury, 🥾 2.5 miles, 430 feet elevation gain, rated 'moderate'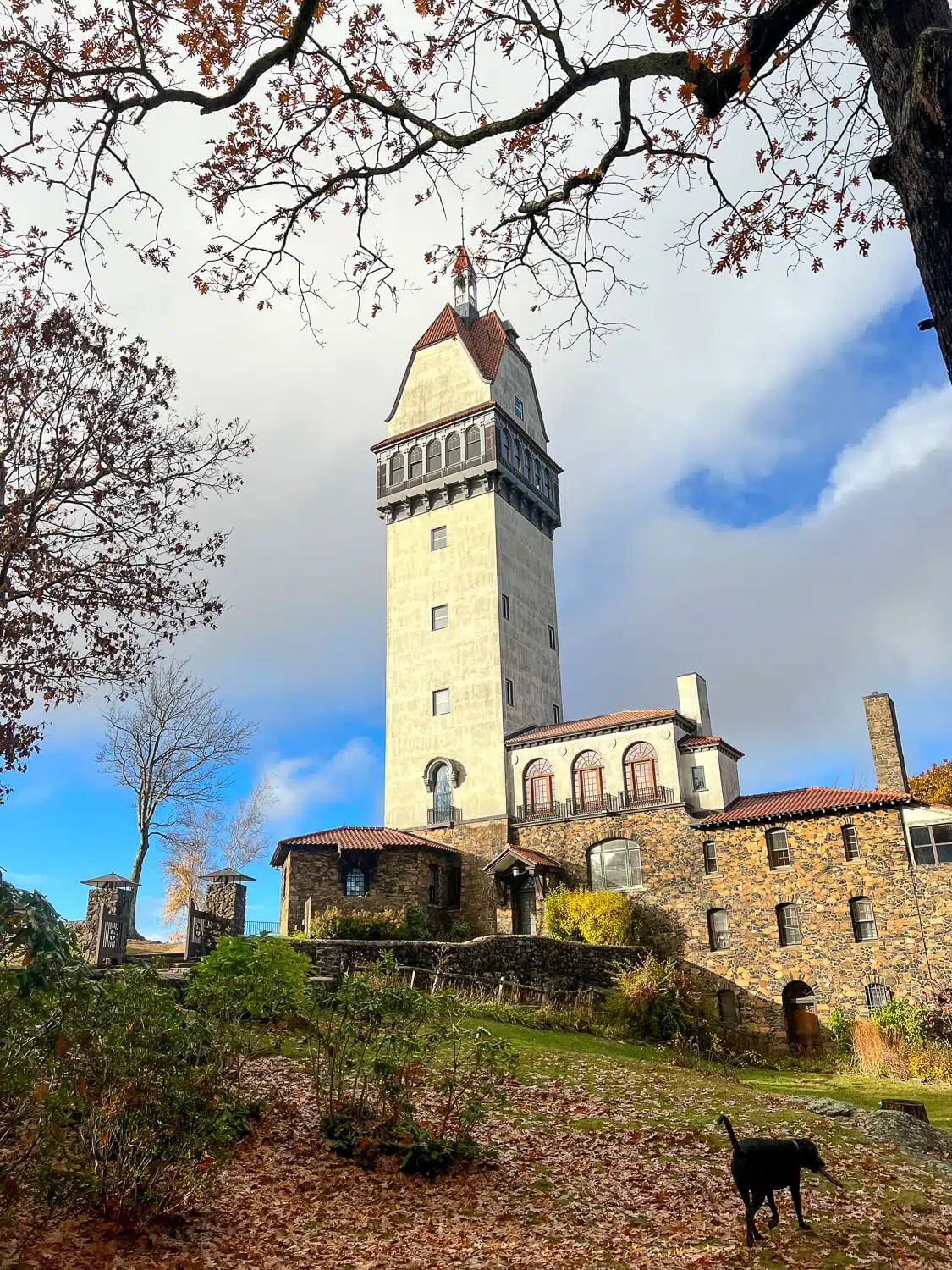 🌅The tower has very specific hours, this isn't a tower like the others that you can just walk up and into. As of 10/25/22, the hours are Friday to Monday, 10 am to 4 pm. But, even if you don't make it into the tower (I haven't yet which is why I don't have pictures from the top!) the hike is 110% worth it as it has beautiful views all along the Talcott Mountain ridge that faces west making it a great hike for sunset.
📖History: From FriendsofHeubleinTower.org, "The structure you see here today is the fourth tower built on this property. In 1810, Daniel Wadsworth built a tower at the top of this mountain, near his estate, which was called Montevideo. Wadsworth was the founder of the Wadsworth Atheneum in Hartford, Connecticut, and one of the very first Americans to be considered a patron of the arts."
The 165-foot tower that is there today was built in 1914 by Gilbert Heublein after he promised his fiancé, Louise Gundlach, a 'castle on the mountain' when they were hiking on Talcott Mountain before their marriage. How romantic! The tower was used as their summer retreat and you can read more about what took place from that time until the tower was restored and opened to the public in 1974 here. It's really amazing what the rooms used to look like inside the tower with all of the furniture and fireplaces! Keep walking beyond the tower, too, to see the pavilion with picnic tables and views facing west.
5. Castle Craig, Meriden/Southington, central CT, 🥾 4.4 miles, 800 feet elevation gain, rated 'moderate'
🌅 There is a 3-mile road that takes you up to the stone castle so because of its easy access the castle does close at 5:30 pm every day (as of 10/25/22) and opens at 10 am. From what I can see online the road to the tower is only open from May to October. You can walk up the road or hike up to the tower year-round though. Because of the road up it does make this a popular and crowded spot so it's best to visit early or later in the day! From the tower, you can see south into New Haven and the Long Island Sound, west to the Berkshires, and north to Hartford.
📖History: Castle Craig was dedicated to the people of Meriden by Walter Hubbard which is what the park it is located in (Hubbard Park) is named after. The 32-foot tall tower stands at an elevation of almost 1,000 feet and has the neat distinction of being the highest point within 25 miles of the coast from Maine to Florida.
If you'd like to visit a super close brewery that also serves amazing pizza after, click here!
6. Camp Columbia Tower, Morris, 🥾.6 miles round trip, 36 ft elevation gain, 'easy' on AllTrails
🌅The tower has 360-degree views at the top with openings on all sides but the clearest and longest view faces west making it perfect for sunset!
📖 History: There are almost 600 acres in Camp Columbia State Park. This park was used during the First World War where it served as a military combat training facility for Columbia students. According to Wikipedia, "During World War I, the property became the site of combat training for college students who sought officer commissions. Military exercises included simulated warfare with real gunfire and the digging of trenches. Remnants of the trenches dug during the training are still evident on the property." You can read more about it here!
📝 Note: The stairs going up the tower is on the OUTSIDE and wind all around to the top. Check out the video I made of this hike here. This makes for a somewhat scary walk up and I would keep pets and children close on the way up or down. It definitely made me a little nervous and it's best to not look down! There is a railing that you can hang onto. 🙂
7. Haystack Tower Yellow Loop, Norfolk, northwestern CT, 🥾1.8 mile loop on the yellow trail, 500 ft elevation gain
📖 History: Built in 1929, the tower and Haystack Mountain State Park were donated by Ellen Battell Stoeckel, a Norfolk resident, who donated the tower in memory of her husband. The tower is listed on the National Register of Historic Places and is a local example of medieval Tudor Revival architecture.
🌅 When clear you can see peaks in MA, NY, and even the Green Mountains of Vermont! This one is beautiful for sunrise or sunset and even for watching the full moon come up!
8. Soapstone Mountain Lookout Loop, Ellington, northeast CT, 🥾2.9 miles loop on yellow trail, 500 ft elevation gain, 'moderate'
📖 History: The only public observation tower in Eastern Connecticut! Yay! The lookout is located in Shenipsit State Forest which has over 40 miles of trails and 7,000 acres and 14 different hiking trails listed here on AllTrails for you to choose from.
🌅 Unfortunately, when I was there for sunrise it was a very foggy morning but when clear you can see into the CT River Valley and Springfield skyline, so I hear. I will definitely be back and see what it looks like for myself!
📝 Note: There is a road that leads up to the lookout so if you are going for sunrise and down want to scramble up to the top (the hike up is a bit challenging!) I would suggest walking up along the road, especially in the dark, and then you can take the trail (or the road ;)) back down.
👏📑That's the end of our list! I believe I've covered every fire tower or tower that you can hike up to in the state of Connecticut! 😅But if you know of one that I missed please leave it below! Always looking for another beautiful view in CT. I hope you get to visit one of these soon and if you are looking for bigger hikes in Connecticut with great views click here for 7 different hikes along the Appalachian Trail in CT. Have fun out there and don't forget to follow along on Instagram if you'd like almost daily hike ideas and inspiration!
And happy trails…🐾🥾🍂