Did you know that New Hampshire is home to the tallest peaks in the Northeast and the White Mountain National Forest which has more than 1,000 miles of hiking trails in its 800,000 acres? New Hampshire is truly a hiker's dream! 🌲 From the famous Franconia Ridge Trail to the tallest waterfall in NH, this list has it covered!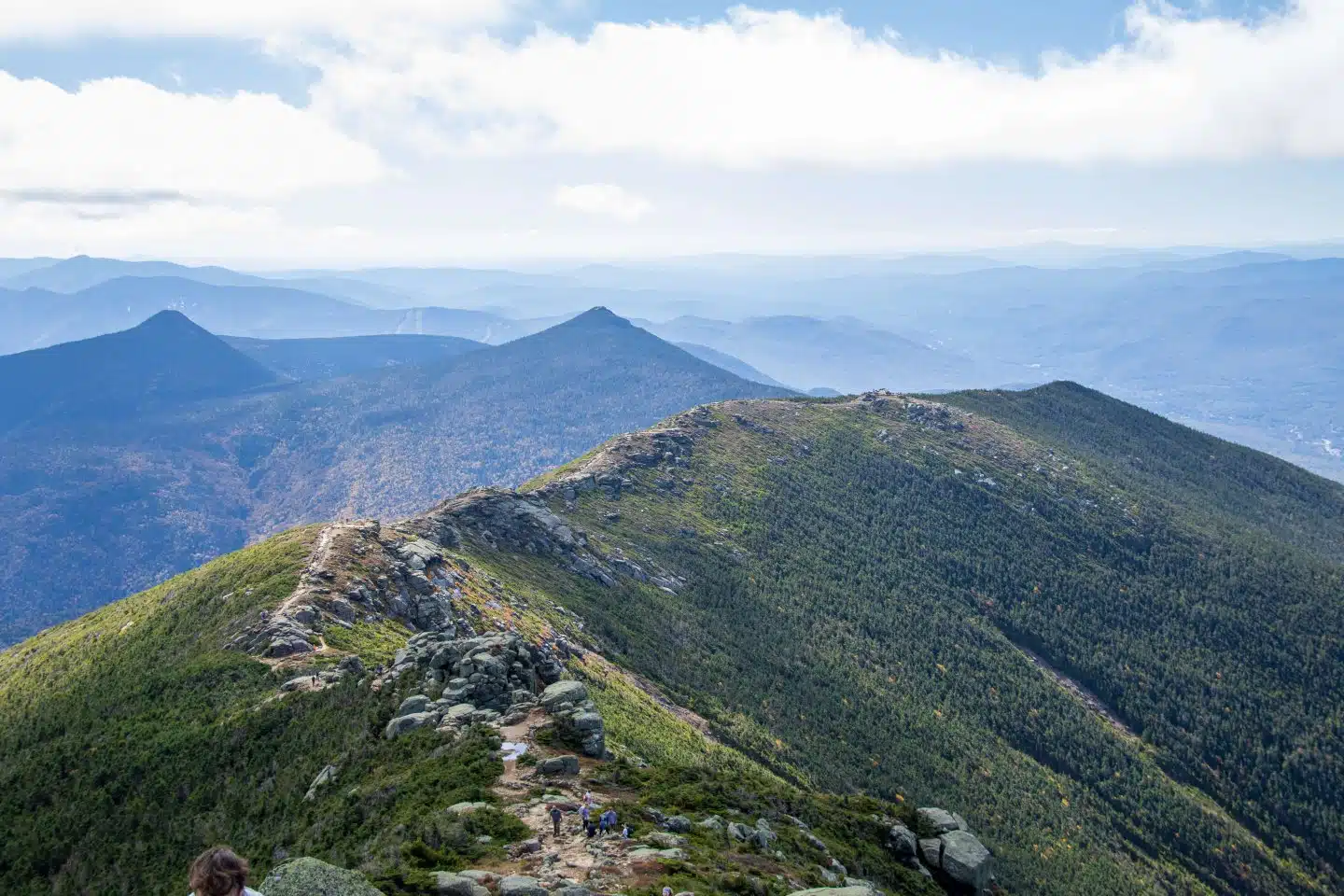 The White Mountain National Forest contains the best mountains to hike in New Hampshire as well as New England as it is home to 2 very well known hiking lists; the New Hampshire 48 (48 mountains above 4,000 feet) and the 52 With a View (52 WAV; 52 mountains under 4000 feet that have incredible views).
Since that's a total of 100 different amazing hiking trails to choose from it's no wonder you may be overwhelmed when trying to decide what to hike! 😱
Anything different about the hiking trails in New Hampshire?!
Yes! Well, it depends where you're used to hiking. New Hampshire's hiking trails are ROCKY (it's called the Granite State after all) so wear your sturdy tall hiking boots that protect your ankles. While there are some worn down paths it is a lot of rock and it requires concentration and lots of stability so hiking poles work wonders here!
How I chose this top ten list:
Living in Connecticut, I visit and hike in New Hampshire at least once a month and each time I go I carefully select my hikes after extensive research and experience from prior trips. Each hike selected and shown here was chosen for its spectacular views and each is 100% worth the effort (because some of these aren't easy!) whether you are road tripping for a weekend or flying across the country for a fall trip.
📝 This list contains some of the best trails and mountains in New Hampshire to hike. For each one I include the highlights of each, the difficult rating, details to know before your hike, and the AllTrails link in the hike title so you can click and save or download the map before you go. 🗺
So what are the best hikes in New Hampshire that lead to spectacular views?! ⬇️⬇️
Centrally located in Crawford Notch State Park, this hike combines a steep climb up Frankenstein Cliff (don't worry, you're not actually rock climbing :)) along with the tallest waterfall in New Hampshire – Arethusa Falls! The falls drop nearly 200 feet and obviously can attract a crowd so keep that in mind when visiting.
We hiked this one counterclockwise so we could take our time and enjoy the water fall at the end of the hike. That is if you have any camera storage left from your view at the top of Frankenstein Cliff which looks out into Crawford Notch State Park. 😍 It's truly an incredible sight especially in the fall!
Another feature of this hike is walking under the train tracks of Conway Railroad which makes for a great picture spot as well.
This hike is one of the best hiking trails in New England and should be on your must hike list for the ultimate New Hampshire hiking experience! AllTrails notes it as an "extremely popular hike in the White Mountains" and "is one of the best day hikes in the area for a variety of reasons".
The 7th tallest mountain on the NH48 list, what makes this one such a special and popular hike is (I think) how it puts you up on a ridge (Franconia Ridge) with views all around you for almost 2 miles. It you're like me and like to take pictures then it will be a long 2 miles as you stop to take pics and take in the views! Beginning near the Lafayette Campground in Franconia Notch State Park, you'll ascend three peaks including the highest mountain outside the Presidential Range – Mount Lafayette.
It's also super special as you hike along two waterfalls; the Falling Waters Trail and walk by Stairs Falls and then the larger Cloudland Falls. I would go counter clockwise hitting the falls as the trail begins, then reaching Little Haystack Mountain (views!) which starts you up on the ridge and now the Appalachian Trail. Following along you'll then hit Mount Lincoln (another NH 48 peak!) and Mount Lafayette and on your way down after the ridge walk there is the Greenleaf Hut (closed during winter) which has coffee, water, and snacks!! (Bring cash.)
You'll then complete the loop by following the Old Bridal Path back to the Lafayette Place East parking lot.
Located just south of the White Mountains (which makes it a great option if you're staying further south or driving up for the day!) Mount Cardigan's 360 degree views are hard to beat. There is a fire tower at the top which is not climbable but you won't even need to with how far in the distance you can see! 🙂
Suggest going counter clockwise as there is a steep slab you will walk up as you get closer to the top. This can be a popular one but the summit is so vast that you won't have any trouble carving out your perfect spot (as long as you can handle the wind!) for a snack or lunch.
Because of it's length it's great for sunrise or sunset and possibly squeeze in a visit (open for dinner) to the Common Cafe along the way!
4. ⛰Mount Jackson, 5 miles, 2,200 feet elevation gain (Hard)
Mount Jackson is one of NH's 48 (mountains above 4,000 feet) and is special in that the top when you reach the Appalachian Trail is a wide open summit with views of Mount Washington, Monroe, Eisenhower, and Pierce! Mount Washington being the tallest mountain in the Northeast and its surrounding friends incredible peaks to admire as well.
Alternate routes! 🚨There are a few different ways up to the top besides the one I linked above. If you're looking for a longer hike with twice the views (and double the challenge) then take the Mount Jackson via Webster Cliffs Loop (10.7 miles) which summits Mount Webster, one of the 52 With a View, as well.
And if you want to hit two 4,000 foot peaks in one hike then try this trail that takes you up Mount Pierce on the way for a total of almost 3,000 feet of elevation gain over 8.2 miles.
5. ⛰Mount Osceola, 6.3 miles, 2040 ft of elevation, (Hard)
Check another one of NH's 48 off your list with one of the more moderate climbs on the list. The elevation gain is 2000 but it's pretty evenly spread across the 3 miles up (think of an evenly distributed bell curve shape!) so this is a good one to do if you're looking for a challenge but nothing too extreme.
And if you want to add an additional NH 48 peak to this hike then you can take this trail here and head over to East Osceola for an additional 2 miles round trip and another 800 feet of elevation. There is a steep "chimney" part to get to East Osceola though. It is not recommended for kids and some dogs may have a problem with it as well. There is a 20 ft rocky steep drop that you climb up and down (there are foot and hand holds) or you can take a trail off to the side that's been formed but even that is steep. So watch your step, put safety first and make an informed decision given the group you are hiking with. 🙂
❄️Winter access: the access road (Trippoli Road) is closed for the winter so it will be an additional 2 miles to the trailhead!
Oh boy, if you are looking for the ultimate challenge then this hike is for you! Check out these stats! At 5,712 feet Mount Jefferson is the third tallest mountain in both New Hampshire and New England, it's on the NH 48 list (of course) as well as the Terrifying 25 and one of the 13 mountains in the Presidential Range. It's the ultimate New Hampshire hiking experience and is one you will remember forever if you choose to do it.
Now, don't get too intimidated about this hike. Numbers wise it's not too different from some of the others but it's more difficult than the mileage and elevation suggest because of the rock scrambling sections (a couple crags!) as you get to the top. If you don't mind using a lot of brain power, hands, and feet on a hiking trail then you will enjoy the challenge here.
Explicit directions from AllTrails that may help you: This trailhead is in Jefferson Notch at the highest point in the Notch. From Rte. 302 near Bretton Woods follow the Base Station Road which heads to the Cog Railroad up Mt. Washington. Several miles down this road you will come to a 4 way intersection with Mt. Clinton Road to the South. Take the left onto the Jefferson Notch Road which is closed in the winter and early spring. Follow this for a couple miles keeping an eye out for the Caps Ridge Trailhead at the highest point in the Notch
Finally, a 'moderate' 4000 footer on NH's 48 list! Like Osceola above this one again has the elevation more evenly distributed throughout the hike. Think of walking uphill for 3 miles. that's what this one will feel like! While there are no really steep ascents this one is a great workout and I had to stop several times to catch my breath and give myself a pep talk before continuing on. 🙂
According to AllTrails this hike is a popular choice for your first NH 48. This hike is located near Bretton Woods which is where the famous Mount Washington Resort is located. If you don't pop in to see the inside it's definitely worth the drive by as it stands in contrast at the base of the mountains behind it. It's very photogenic in any season!
You'll love the wide open rocky summit at the top of Pierce with all the other peaks in the distance. It provides a perfect backdrop for a family photo or selfie to commemorate your hike.
8. ⛰Middle Sugarloaf, 2.6 miles, 885 elevation gain (Moderate)
If you're looking for a short hike in the White Mountains with big big views, including Mount Washington, then this one's for you! Sugarloaf is on the NH 52 With a View list and AllTrails describes it as "a great hike for families or visitors who have not visited the White Mountains before and are looking for a fun warm-up hike." Awesome!
Because of the length this one would be great for either a sunrise or sunset hike as well. The top is expansive with lots of room to wander around on the rocks and explore the views or find a quiet spot to sit for a snack. The fun part about this one is you are surrounded by several taller mountains which puts you face to face or eye level with the changing leaves if you visit in the fall. From the parking area you will cross a bridge that offers beautiful views on either side of the Zealand River which I stopped to photograph for several minutes as golden hour started to set in.
If you'd like to extend this hike by just a half a mile and hit another peak with a view then you can hike the Middle and North Sugarloaf trail. I think this was maybe our 3rd activity of the day so we opted just to see Middle Sugarloaf but the pictures from North Sugarloaf look like they're worth the stop!
9. ⛰Rattlesnake Mountain, 2.3 miles, 950 ft of elevation gain (Moderate)
If you're looking for a family friendly hike with beautiful views in the southern (and western) part of the White Mountains then this short but steep hiking trail is for you! Now, I say "family friendly" but note the elevation here. There will be about 800 feet of elevation gain in just .7 miles so little ones (and you! cause I know I did 🤣) may get impatient as it continues to climb up but fortunately it doesn't last very long. 🙂
Since this is a short hike with a big reward it can get popular and the parking area (which holds about 4-5 cars) is small. So if you arrive at 11:30 on a Saturday hoping to have a quiet lunch at the top, you may have difficulty finding a space. But when we went at about 9am on a weekend day we were ok.
You cannot go wrong and you will not be disappointed with this hike and its sweeping views not only at the top but all along the way. It is on the 52 WAV list but as you're completing you'll wonder why it's not a NH48 because it's pretty darn tough. 🥴 But boy is it beautiful.
Such beautiful views that it is cited on AllTrails as one of the most popular hikes in the White Mountains! What makes it difficult are the very steep climbs up a couple long sections of rock slabs. 😱 Best way to describe it is you will feel like a mountain goat and will either be walking on your toes for a bit or leaning forward and using your hands to help you. It's steep! Think of walking on a treadmill at maximum incline…
Located in the southern end of the White Mountains you will find the parking lot off Orris Road where there is a $5 parking fee at the trailhead. I suggest (and lots of AllTrails reviews say the same) hiking this trail counter clockwise so that you walk up the steep slabs versus down them.
If going counter clockwise you will reach Welch Mountain first and think that the hike is over! If this is all you have time for, there are amazing views right here. Otherwise continue northward and you'll reach Dickey Mountain. 🙂
Extra info:
🗓 Booking a trip and wondering where to stay?!
If you are wondering where to stay and situate yourself when visiting New Hampshire I suggest the towns of Lincoln or Woodstock which are both centrally located in the White Mountains allowing you to be in the middle of all the best hiking.
You can stay further south in Waterville Valley which is a very pretty area but you will drive about 45 minutes to some of the popular hiking spots but there are lots of hikes further south too. Similarly, you can also stay at the northern end of the White Mountain National Forest in Gorham or Jackson and hit the hikes that are further north.
❄️Winter hiking in the White Mountains, what you need to know:
Roads leading to different trailheads are subject to seasonal closure. Click this link and see if the road of your trail is on the list. And if you need a place to get started with winter hiking gear and knowing what to wear check out my winter essentials post here!
I hope you found this post helpful and have a few favorites picked out for your next New Hampshire hiking trip! I plan to keep adding to this list so come back for updates and comment below with your favorite New Hampshire hike! Happy hiking…🐾🥾❤️