Contributions from Jared Cotton @cottonspictures
Home to some of New Hampshire's best hiking trails and views, the Pemigewasset Wilderness is New Hampshire's largest wilderness area. It is also home to these 7 short sunrise hikes in New Hampshire with amazing views.
Named for the Pemigewasset River, it is home to some of the White Mountain National Forest's most stunning and dramatic mountains and landscapes.
Where are these New Hampshire sunrise hikes?
The map below pins each hike and numbers them in order to how they appear on the list below in this blog post. All of these hikes are located within the 800,000 acres of the White Mountain National Forest. From where we are in Hartford County, Connecticut it takes us about 3.5 hours to get to this area so we incorporate these hikes when we are camping or staying overnight.
Who are these hikes for?
🥾These New Hampshire sunrise hikes are for the intermediate to the advanced hiker who wants a beautiful mountain sunrise but doesn't want to have to hit the trail at 3 am to summit one of New Hampshire's 4000-footers.
Almost all of these hikes are short, 3 miles or less, making the trip to the summit only 1 to 1.5 miles which is ideal when you have to make it to a 5:30 am (or earlier!) sunrise.
What time to start hiking to make it in time for sunrise?
⏰For photography purposes, Jared and I like to get to the top about 15-20 minutes before the sun comes up. This is to stake out the best photo angles of the landscape and to see the pink, orange, and purple colors the clouds (if there are any) pick up PRIOR to the sun rising.
Getting there early also allows you to enjoy the quiet time before the sun comes up!
If it is partly cloudy the clouds will pick up pink, orange, and purple colors prior to the sun rising, and then once the sun comes up it gets more yellow or white and the colors fade.
So get up there slightly before the sun comes up to see the colors and stake out the best photo angles!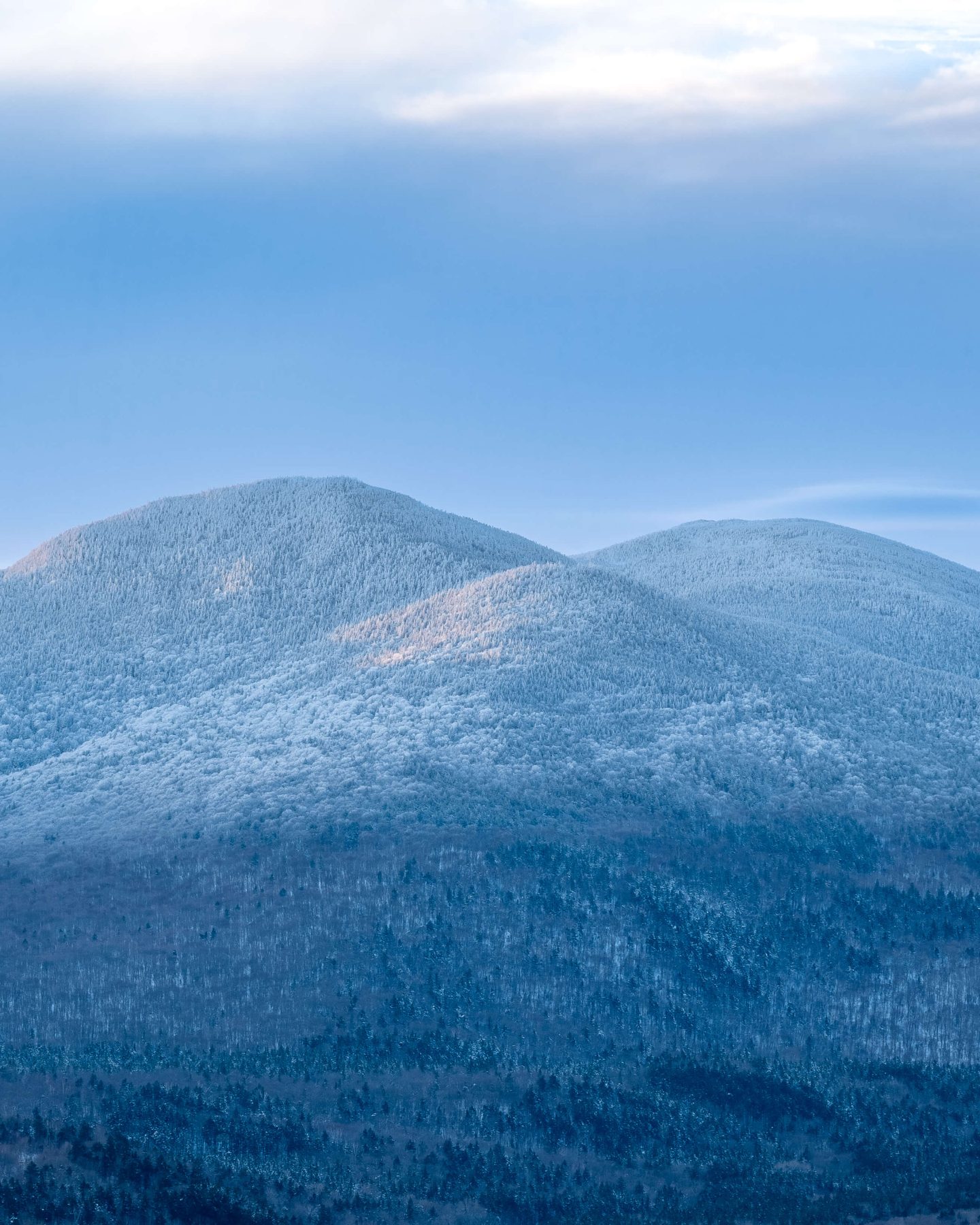 Thickly dense forests of thriving hardwoods are crosscut by more meandering brooks and game paths than by man-made roads.
One can pull off one of the main throughways, walk a short distance into the hallows, hills, and mountains, and be instantly transported to a time and space that our cluttered, fast-paced, modern existence would barely recognize.
A time of quiet and unaltered natural beauty.
Sunrise in the New Hampshire mountains is truly a wonderful, transportive, and awe-inspiring locale.
So here's a list of 7 breathtaking spots to watch the sun crest our eastern sky, while only requiring moderate effort to access.
🔦Let's pop those headlamps on and dive in…
What are the best short hikes in New Hampshire for sunrise?
1. Middle Sugarloaf, 2.6 Miles
For just a 1.3 mile climb to the top, this spot is at the top of our short sunrise hikes in New Hampshire!
Spring through Fall will afford you the minor luxury of driving and parking very near the designated trailhead to Middle Sugarloaf's lofty summit.
However, in the Winter months, you'll be taking on a couple of extra miles (1 each way) due to the seasonal closure of Zealand Road and the necessity to park off of Route 302.
Let's go ahead and assume it's a gorgeous, crisp late May morning, you've parked along Zealand road and after a very brief jaunt over a small bridge spanning the Zealand River, you're ready to head up.
The trail hugs the west bank of the Zealand River for about .2 miles until turning west into the dense forest. From that left turn, you'll wend your way through the familiar cross-section of hardwoods and evergreens for about .3 miles until it's time to start earning your breakfast.
From here the trail takes a steep turn and doesn't quit until a reprieve is awarded on the summit.
At 0.8 miles of the trail, you'll reach a perpendicular junction, at which you'll take a left towards the summit of Middle Sugarloaf, which you'll then reach in about .5 miles.
You'll walk out through a Southerly facing tunnel of Evergreens out into a wide open rounded summit with unobstructed views East, South, and West, making this climb not only an incredible spot to watch the sunrise but also sunset.
Looking east reveals an up close and personal Presidential Range viewing experience, with the big dog, Mount Washington as the king of the hill. But the immensity of New England's tallest mountain can only hold the sun's visage back for so long.
From the perfect vantage of Middle Sugarloaf's sloping peak, on a good day, you'll watch myriad colors of sunrise change from dark purples and blues, to hints of swirling oranges and yellows, to the grand finale as the Sun crests the Eastern peaks and begins to bathe the Pemigewasset River Valley in daylight.
As I mentioned, this peak also has western-facing views of the slopes of Mount Garfield and Franconia Ridge. So, as soon as the sun breaks the Presidential ridge line, a gorgeously defined horizontal shadow line forms on these Western peaks, illuminating the cols in slow motion as the Sun rises and the shadows simultaneously fall away.
You can enjoy both the sunrise and sunset from Middle Sugarloaf's summit and is one of my favorite spots in the Whites to do so.
In total, you'll trek about 2.6 miles and climb approximately 885 feet, a price well worth paying for the VIP sunrise seating that awaits.
2. North Sugarloaf, 2.5 Miles, 889 ft elevation gain
The trek up to North Sugarloaf begins identically to the one described for Middle Sugarloaf. At the .8 mile mark, instead of heading left, you'll head right to attain this summit in about .3 miles.
Compared to its Middle brother, North Sugarloaf has a bit more of a restricted view, affording the sunset climber beautiful Eastern and Southeastern lines of sight. Mount Washington is the star of this lookout. Its sloping cols and craggily defined summit are glorified in contrast to the vast wilderness below and the sky above, making this an amazing spot for telephoto shots of the mountain.
In total, you'll hike about 2.4 miles and climb approximately 735 feet to enjoy this secluded and beautiful sunrise summit in New Hampshire.
3. Haystack Mountain, 2.6 Miles, 734 feet elevation gain
Turn down Gale River Road North off of Route 3 near Deerfield, NH, and ramble onto the track's terminus. It's here that the Haystack Mountain Trail begins. You'll follow an old wagon trail for about .5 miles until you arrive at a perpendicular junction, from here you'll take a right and begin the ascent up Haystack. Along the way, you'll be encouraged by the ceaseless babble of several cascading brooks.
The final assault, while quick to arrive (being only about 1 mile from the trailhead), consists of a steep rocky scramble that you would do well to properly estimate. Should you attempt this summit after a rainfall, make sure that all your moves are thoughtful and deliberate because the slippery, seemingly frictionless slabs will show you no mercy.
Once atop you'll enjoy 360 views as you explore this multifaceted summit. Of course, for sunrise, you'll be privy to an unobstructed view to the east. During the brooding purple of predawn, the summits of Mounts Adams, Jefferson, Clay, and Washington appear as a wall of darkened silhouettes. From Haystacks's summit, the downward sloping lines of the surrounding hills and peaks provide some beautiful lines and depth of space as your eye travels East towards the proud range of 4000 footers.
To appreciate Haystack Mountain for a sunrise plan on a total traverse of about 2.6 miles while pocketing approximately 734 feet in elevation gain.
4. Bald Mountain & Artist's Bluff, 1.5 Miles, 436 feet elevation gain
Off Route 18 near Franconia, NH is a parking lot for the Cannon Mountain ski resort and where you'll find the trailhead of the Bald Mountain/Artist's Bluff path loop. The rocky, exposed summit of Bald Mountain can be reached in a quick and relatively easy .5-mile trek, making it an ideal spot to watch a sunrise.
Once atop Bald, you'll enjoy fantastic views of the northern gates of Franconia Notch, including the grand peak of Cannon Mountain and the precipitous slopes of Mounts Lafayette, Lincoln, Little Haystack, and Liberty. I93 even leaves its creative mark as it winds and curls through the steep granite walls of this stunning valley.
The sun will make its entry to a fresh new day over the Franconia Ridge and will shower the cols of Cannon Mountain in golden relief.
Perhaps you'll even hit the sunrise lottery and nearby Echo Lake will have produced some dense low-level fog to accent the mingling colors skyward.
Artist's Bluff is an accompanying hike to Bald Mountain and I would highly recommend you include a stop there on your clockwise walk back to the lot. While a touch lower in elevation than Bald Mountain, Artist's Bluff still offers up fantastic views to the east and south down Franconia Notch.
To get onto Bald Mountain for sunrise you'll walk only about .5 miles and climb approximately 300 feet. The entire Bald Mountain/Artist's Bluff path is 1.5 miles with about 440 feet of elevation gain.
5. Lonesome Lake, 3.1 Miles, 1000 feet elevation gain
If you find yourself camping at Lafayette Place campground in Franconia Notch then you need only to roll out your tent or camper and stumble several paces to begin the trek up to Lonesome Lake for a spectacular sunrise.
Ironically, this mountain lake is anything but "lonesome", attracting a multitude of daily visitors. However, because "we" generally love our beauty rest, the focus of this hike should be all yours for a sunrise.
The trail climbs steadily from the get-go and is very well-trodden. It consists mainly of two well-defined switchbacks that wend through beautiful copses of birch, beech (my favorite), maple, pines, and oak trees.
In just over a mile you'll reach Lonesome Lake, nestled in the pocket of Cannon Mountain. The lake lies in the Merrimack River watershed with its outlet, Cascade Brook, flowing south over ledges and waterfalls to the Pemigewasset River near "The Basin" in Franconia Notch.
This alpine cold water fishery feels like a secret thanks to its seemingly remote location, hidden by elevation and dense surrounding forests.
Trek either clockwise or counter to arrive at the Lonesome Lake hut area. From here you'll gaze dead east towards the perfectly defined Franconia Ridge. The colors of sunrise will dance and change above Mounts Lafayette, Lincoln, and Little Haystack. The dreamy palette will mix in reflection on the pristinely still water of the lake. A photographer's dream this place is!
You'll buckle down and climb about 1,000 feet in just over 1 mile to dip into what Lonesome Lake has to offer. The climb plus the loop around the lake will net you a total of 3.1 miles and approximately 1,030 feet of elevation gain.
6. Mount Avalon, 3.3 Miles, 1528 feet elevation gain
Mount Avalon stands watch over the valley of Crawford Notch. From Crawford Station and Saco Lake, you'll head on the westerly path toward Avalon's summit.
You'll enjoy a very steady climb for about 1.7 miles until you reach your goal. From Avalon's peak, you can see the green slopes of Mounts Webster and Willey gradually meeting on either side of Route 302, forming the commencement of the dramatic Saco River valley far below.
Wonderful southerly and eastern views abound from this rocky summit. The short, wind-weathered evergreens provide some fantastic framing opportunities for photographers.
To the east, as you wait for sunrise, you'll see the shadows of Mounts Jackson, Pierce, Monroe, Washington, Clay, and Jefferson. A full-on Presidential menagerie!
Being a skyscraper above Crawford Notch really gives Avalon a stunning vantage of the valley far below. The creeping sunrise illumination will play tricks with shadow and texture in and about the many cracks and crevasses embedded in the craggy faces of the surrounding mountains.
You'll pay a mountain tax of about 3.4 miles and 1,420 feet in elevation gain to hear the wind whistle through Avalon's summit pines.
7. Nubble Peak (Hard), 3.3 Miles, 2000 ft elevation gain
To close out this list of excellent choices for a sunrise in the Pemigewasset Wilderness I'm going to bring you back to Deerfield and down Haystack Road off Route 3.
To bag Nubble Peak you'll need to bust your a**! This is last on the list not because it lacks a stunning payoff, but because it should be reserved for those sunrise enthusiasts who want a bit of a challenge before taking their first sip of coffee or tea.
The trail will help you steadily rise through quiet and untouched forests of birch and softwoods. Keep your eyes peeled for moose as signs of the monstrous animal's activity are obvious.
With your efforts, you'll enjoy excellent views to the east and south.
Directly south you'll see the landslide scars strafing the north col of North Twin Mountain.
To the east, you'll see the familiar cast of Presidentials of Pierce, Monroe, Washington, Clay, and Jackson, as well as the Willey range. The sun will slowly clamor above these majestic peaks and light up a new day in the Pemigewasset Wilderness.
You'll fork over about 2,050 in about 3.3 total miles to claim your predawn seat for this once-a-day star show.
This list of 7 Fantastic Places to Watch the Sunrise is a foolproof way to capture some breathtaking photographs, exercise, and one-of-a-kind memories in the Pemigewasset Wilderness in the glorious White Mountains of New Hampshire.
Please do enjoy and before all else, be safe out there!
Other posts you might like: