Just over the CT line lies a hidden gem! Dover Stone Church is a popular hike with a cave containing a 30-foot waterfall on a short trail in the town of Dover Plains, NY. Walking down the street you would never guess what's deep in the woods behind the row of houses. It made me wonder how many of these caves are out there that we don't even know about yet!😱
Why is it called a stone church?!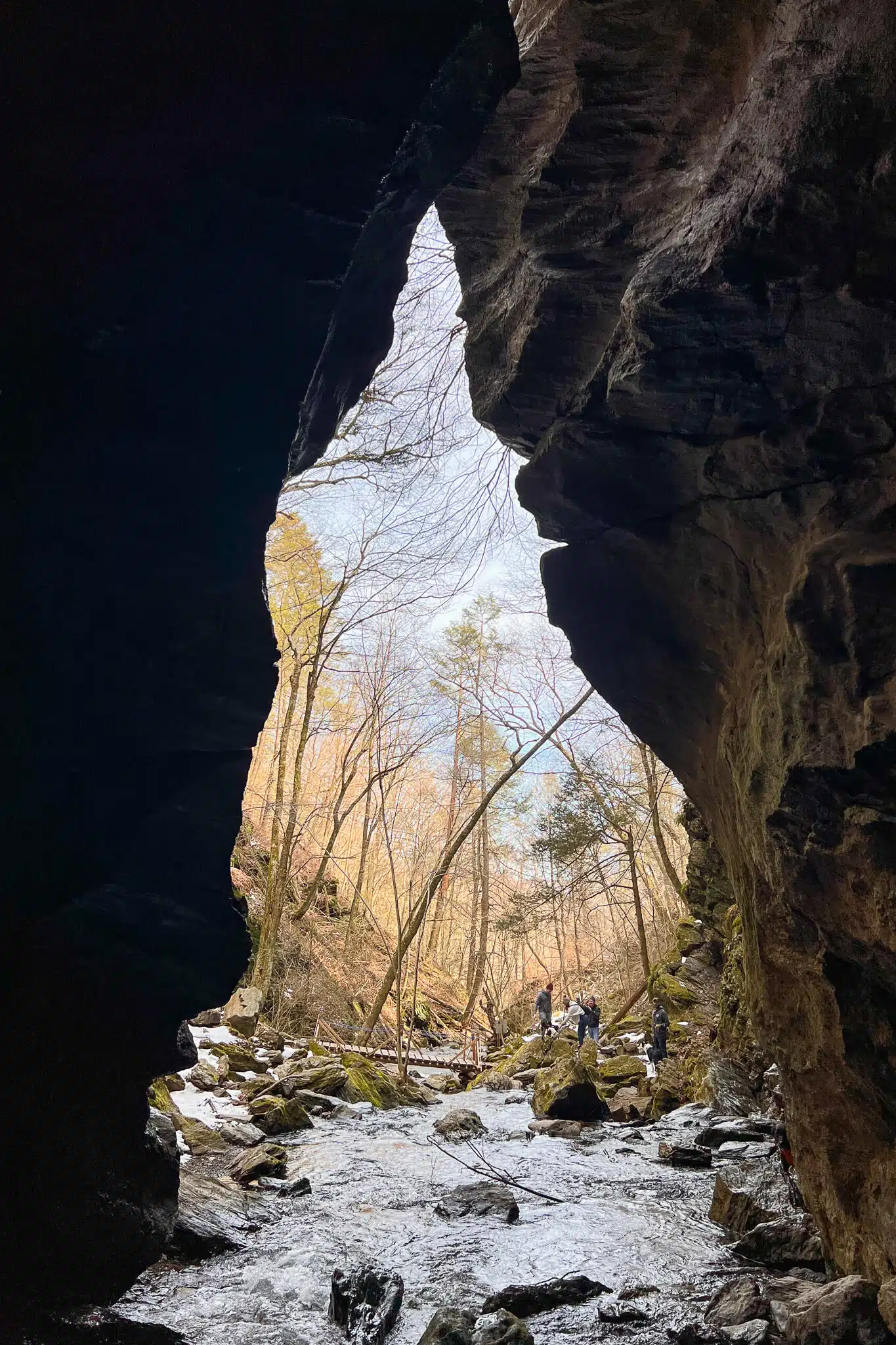 Large metamorphic rocks converge to form the entrance in the shape of a church's cathedral window. The gothic appearance of the cave entrance gave rise to the name "Stone Church." dutchessland.org
If you are making the trip from CT (or wherever you're driving from!) you are probably visiting for the main attraction of the church but there is also a lookout here and other trails to explore which I explain and show pictures of below!
Getting to Dover Stone Church
If you draw a line across CT in half horizontally and picture the start of the top half you'll be where Kent CT is (northwestern CT) and the town of Dover is directly west (to the left!) of Kent. Coming from the Hartford area, the most scenic route is taking Route 4 through Litchfield, Goshen, Cornwall, etc until you get to NY state. The hike has no address but I will give 3 addresses below when discussing where to park!
Where to Park
Where to park was a surprise to us when we got there as AllTrails kept leading us to an elementary school (although barely, it just drops you at a side street🥴). But now you don't have to be confused and drive around as we did! Here are the 3 lots that allow parking for Dover Stone Church:
Dover Elementary School: 9 School St, Dover Plains (can't park here when school is in session!)

Tabor Wing House: 3128 Route 22, Dover Plains

Freshco 22 Deli & Restaurant: 3156 Route 22, Dover Plains
Dover Stone Church Trail Guide
From the elementary school parking lot, cross Route 22 at the crosswalk, turn right, and walk on the sidewalk for less than 1/10 of a mile before you see the historic blue sign (on the left) marking the entrance to Dover Stone Church trails. You'll be like -huh? Here? Yes, here! Between two houses you'll walk up a short gravel driveway until you see the trailhead sign where it will all make sense. 😉
Stone Church Brook
Heading down the stairs from the trailhead you'll walk a nice, flat 1/3 of a mile between a row of maple trees and then along Stone Church Brook, even crossing a little bridge! This is such a picturesque part of the trail and I had the impulse to start taking pics and vids as soon as the hike began.
After crossing the bridge you'll come to a sign where you will decide whether to head to the right to go to the cave first or left to go up to the lookout. With the cave just 1/10 of a mile from here, I suggest heading there first if you are there early and notice not many people out on the trail. Ideally, you want some time to explore the cave without feeling like there are people waiting in line behind you. So make that call now!
The cave!
We decided to go to the cave first before more people arrived so here are more pictures of what it looks like up close. As you get closer to the cave there are lots of rocks making for an uneven walking surface so wear waterproof or supportive boots and not white Skecher sneakers. 🙂
The Upper Loop Lookout
After you've had your fill of cave magic head back down the way you came and when you get back to the sign you can decide if you want to head up to the lookout pictured above. From the sign, the lookout is about 400 ft of elevation gain and .6 miles away so it does require a bit of effort!
As you reach the top of this trail you will see an initial lookout (see right) and think this is the main view but it's not! So be sure to keep going along this ridge (stay left!) until you reach the main lookout featured in the picture above.
After this, we headed down the same way we came up instead of taking the loop back but if you'd like to look into the look then click here for the AllTrails link and map!
Dover Stone Church History (as found on trail sign)
20,000 to 10,000 years ago: The Laurentide ice sheet retreats from Long Island back to Canada, creating metamorphic rock formations and glacial outwash in Eastern Dutchess County
1600s: According to local legend, the site was a refuge for Pequot Chief Sassacus and his warriors as they fled from the British Army.
1700s: The first European settlers arrived in the early 1700s and inhabited areas along the Ten Mile River. Richard Sackett, one of the first to settle in Dover, claimed land in 1703 in present-day Dover Plains. Farming was the primary occupation in Dover at the time and iron ore was mined and used to manufacture weaponry for the Revolutionary War.
1800s: Asher Durand, a prominent artist of the Hudson River School, sketched the site in 1847. Dutchess County historian and Dover resident Benson J Lossing popularized the cave in his sketches, poetry, and publications as "a singular and interesting curiosity", attracting thousands of visitors to the site.
1900s: In the early part of the century the Stone Church became a popular local attraction for city dwellers to visit and enjoy this natural phenomenon, the fresh air, and beauty of upstate New York. Franklin Roosevelt called for its protection at a Taconic State Park Commission Meeting in 1925.
2000s: The property was purchased and preserved in 2004. Due to the collaborative efforts of many, the Dover Stone Church property now consists of 175 acres for the public to enjoy. Most of the property is protected with conservation easements held by the Dutchess Land Conservancy.
Where to eat after the hike:
Well, if this isn't the best part. 🥴There are a few lunch spots in Dover Plains but only 15-20 minutes away is the quaint downtown of Millerton which has an abundance of coffee shops, restaurants, and Harney & Sons Tea Room which is well worth the drive!
You'll love the lattes and baked goods at Irving Farm or lunch and lunch at Oakhurst Diner (pictured below.) Stop into the tea room for a snack to go and to stock up on your favorite tea for home!
In conclusion, if these pictures haven't convinced you yet I would say to have another look and then plan your trip to Dover Stone Church asap! 😉
And if you are looking for nearby waterfalls check out this post here of 15 waterfall hikes in CT!
I hope you found this guide helpful and let me know if you plan on going!