What a unique and fun hike in the Sam's Point Area of Minnewaska State Park! With the caves and the views from Sam's Point, the Ice Caves Trail in New York has become my new favorite trail. After seeing the pictures, I'm sure you'll understand why!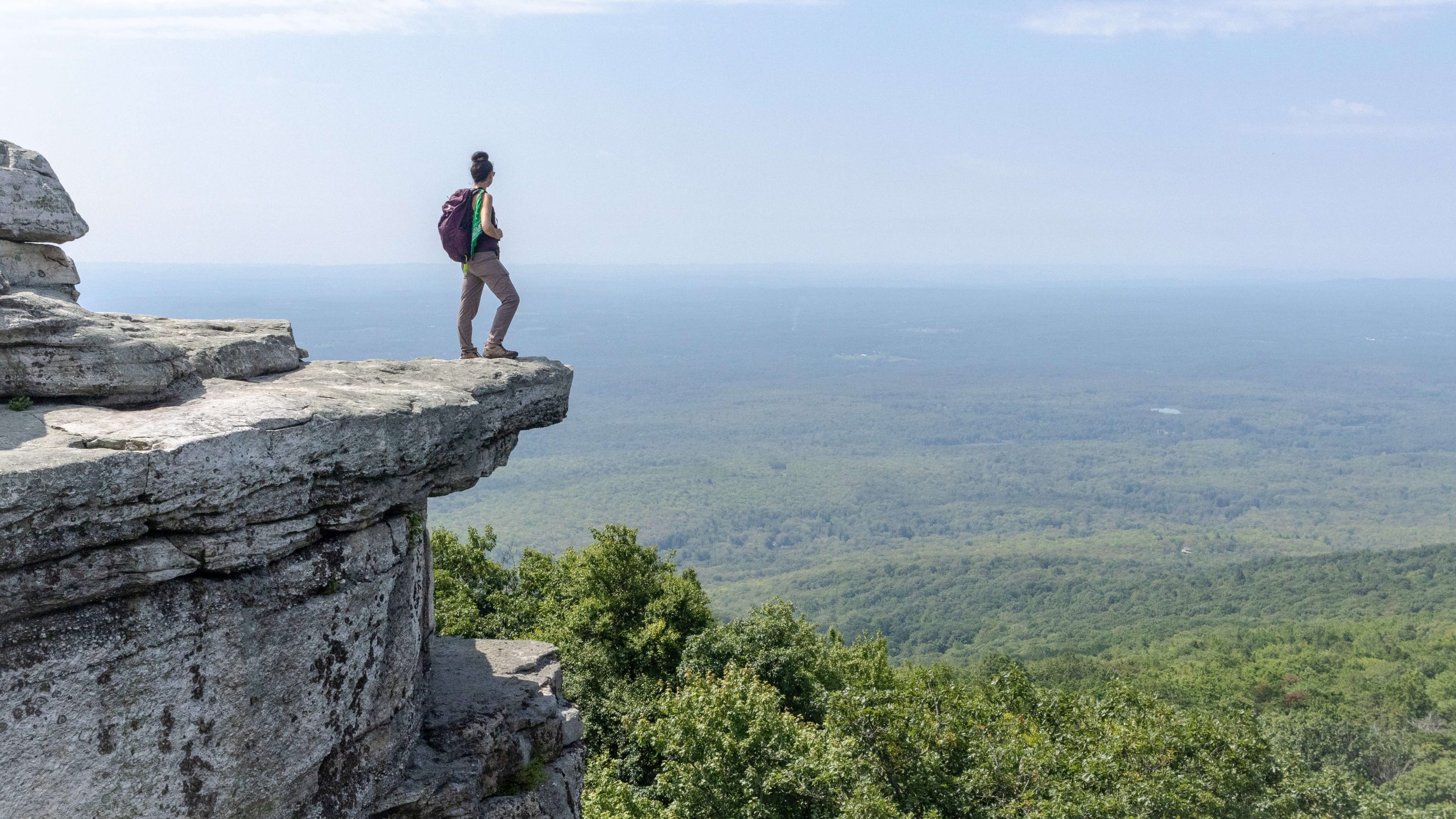 In this post, I tell you everything you need to know to hike this 3.3-mile Ice Caves Trail in NY. With just 531 feet of elevation and rated 'Easy' on AllTrails, this is a hike the whole family can enjoy!
Ice Caves Location in NY
Minnewaska State Park, located in the Hudson Valley, is a 24,000-acre preserve which over a dozen of hiking trails to choose from along with several waterfalls and lakes to see. (Never heard of Minnewaska?! Check out this post here that lists my 10 favorite hikes in Minnewaska State Park.)
Minnewaska is divided into two areas. The main area features popular hikes like Awosting Falls, Gertrude's Nose, and the Lake Minnewaska Loop.
And the Sam's Point Area, in Cragsmoor NY, which is where the Ice Caves are located!
History of the Caves
Formally known as the Ellenville Fault Ice Caves, the Ice Caves were designated as a National Natural Landmark in 1967.
According to the NY State Park website;
Geologically, the Ice Caves are unlike other caves in the Northeast. Most cave systems are made of limestone, which is easily eroded and dissolved by water. This results in the large, open caverns that most people imagine when they think of caves. The Ellenville Ice Caves are formed out of extremely hard and insoluble quartz conglomerate. When underlying rock layers were folded by tectonic movement, the hard conglomerate separated along existing joints in the rock.
Up until the 1990s, visitors were able to drive right up to the entrance of the Ice Caves. Now we have to walk to get there but the hike is half the fun. So let's see how to get to these Ice Caves below!
How to Plan Your Visit to New York's Ice Caves 🪨 (Reservations required!)
Need-to-know facts;
Opens daily at 9 am, gates lock at 8 pm
Reservations required! For weekends and holidays only. Click here to make a parking reservation or call (845) 647-7989 (For a weekday, we got here at 10:30 am on a Thursday in the summer and there were plenty of spots.)
Address: 400 Sam's Point Rd, Cragsmoor
Fee is $10/car (pay at the machine when you arrive) 🚙
Dogs allowed on leash 🐶
The trail to ice caves is a wide gravel path but is exposed🌞(no shade) so bring plenty of water and sunscreen
3.3-mile hike, 531 feet elevation gain, rated 'Easy' 🥾
There are restrooms, a water filling station, and a Visitor's Center when you park. Stop by for a map 🗺and ask any questions to the friendly park staff!
Ice Caves Trail and Dogs 🐶
One thing I wanted to know when I went was about the ladders and spots for dogs that may be tricky.
Fortunately, there are only two somewhat short ladders (about 6-7 rungs) that Captain found a way around on his own. For smaller dogs, you could easily hoist a dog up to the top of the ladder before you climb up.
Trail Guide to the Ice Caves; Let's hike! 🥾
We will be hiking this trail linked here on AllTrails titled 'Sam's Point Overlook to Ice Cave Trail'.
The moment you've been waiting for! You've made the reservation (or snagged a spot on a weekday), made the drive, and now you're here. Let's begin the 3.3-mile round-trip journey to the Ice Caves!
Park and walk over to the machine where you will pay the $10 fee to park the car (cards accepted). Put the receipt in the car window and off you go. 🥾
From the parking lot and visitor center, you'll walk up the wide gravel path to start. Bear right at the first junction and head to the first attraction on this hike; Sam's Point lookout.
At just 0.5 miles in you'll arrive at a series of stone steps leading up to Sam's Point. Take the path on the right up to the view if someone in your group is unable to do the stairs.
At the top, enjoy the southerly views from Sam's Point as it looks out at other areas in Minnewaska State Park. Admire and be careful around the cliffs here! Keep dogs and kids close.
After taking in the views at Sam's Point, head back out to the gravel trail and continue for another 0.5 miles toward the Ice Caves.
At the 1.1-mile mark from the start of the hike, you'll reach a fork in the trail, bear right.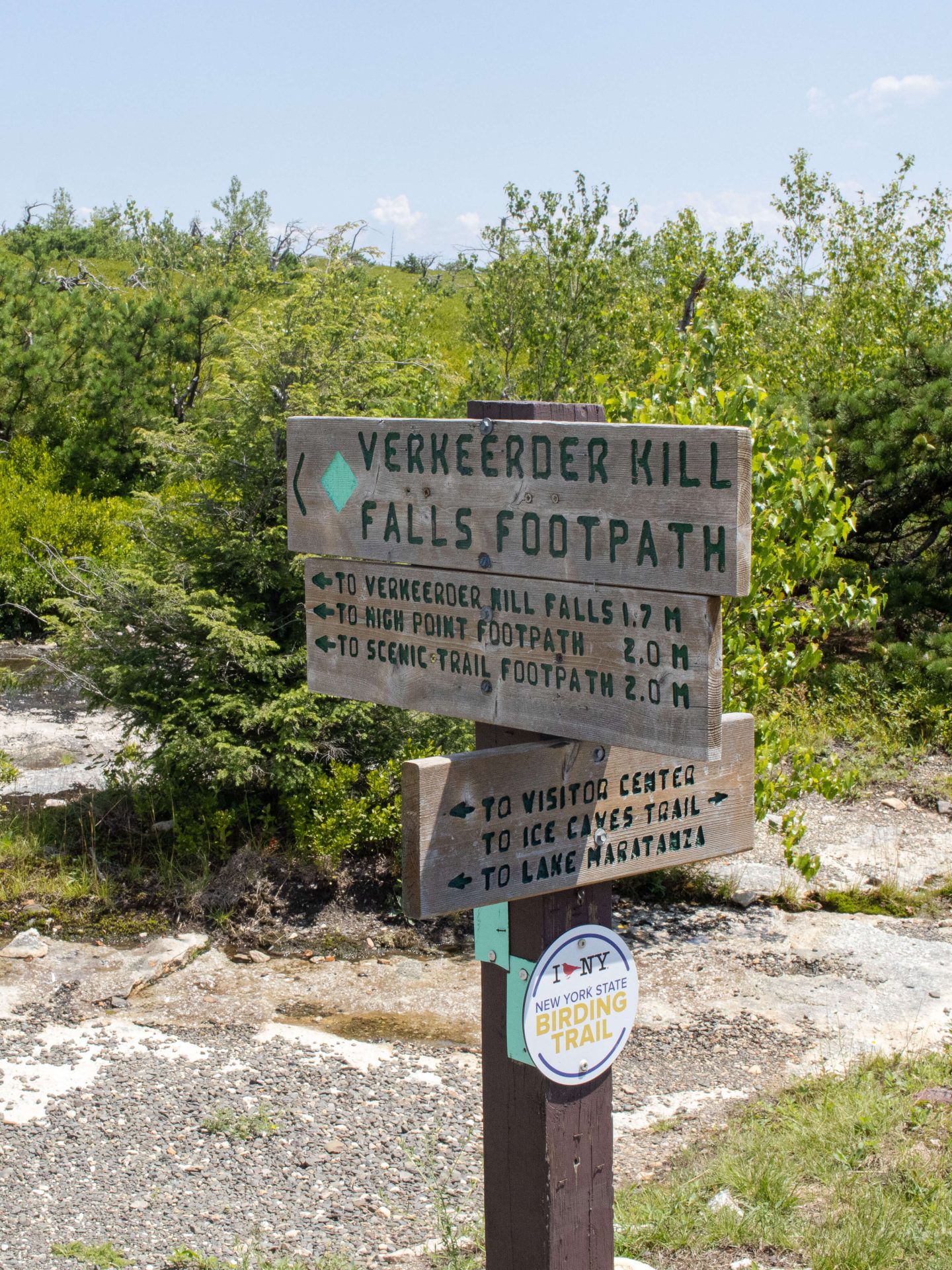 For just another third of a mile, you'll reach the start of the Ice Caves Trail loop! A sign denotes the entrance (top right photo) and exit which makes it easier for people to squeeze and pass through.
Follow the entrance signs and begin this fun adventure.
Inside the Ice Caves 🦇 (Don't worry, I didn't see any bats!)
The loop through the Ice Caves lasts for just half a mile but you'll love every minute of it.
As the sign here reads, "narrow crevices, low rock ceilings, darker areas 🦇, ladders, and boardwalks", you'll feel like a big kid on a ride at Disney here! Or at least that's what it reminded me of. 😉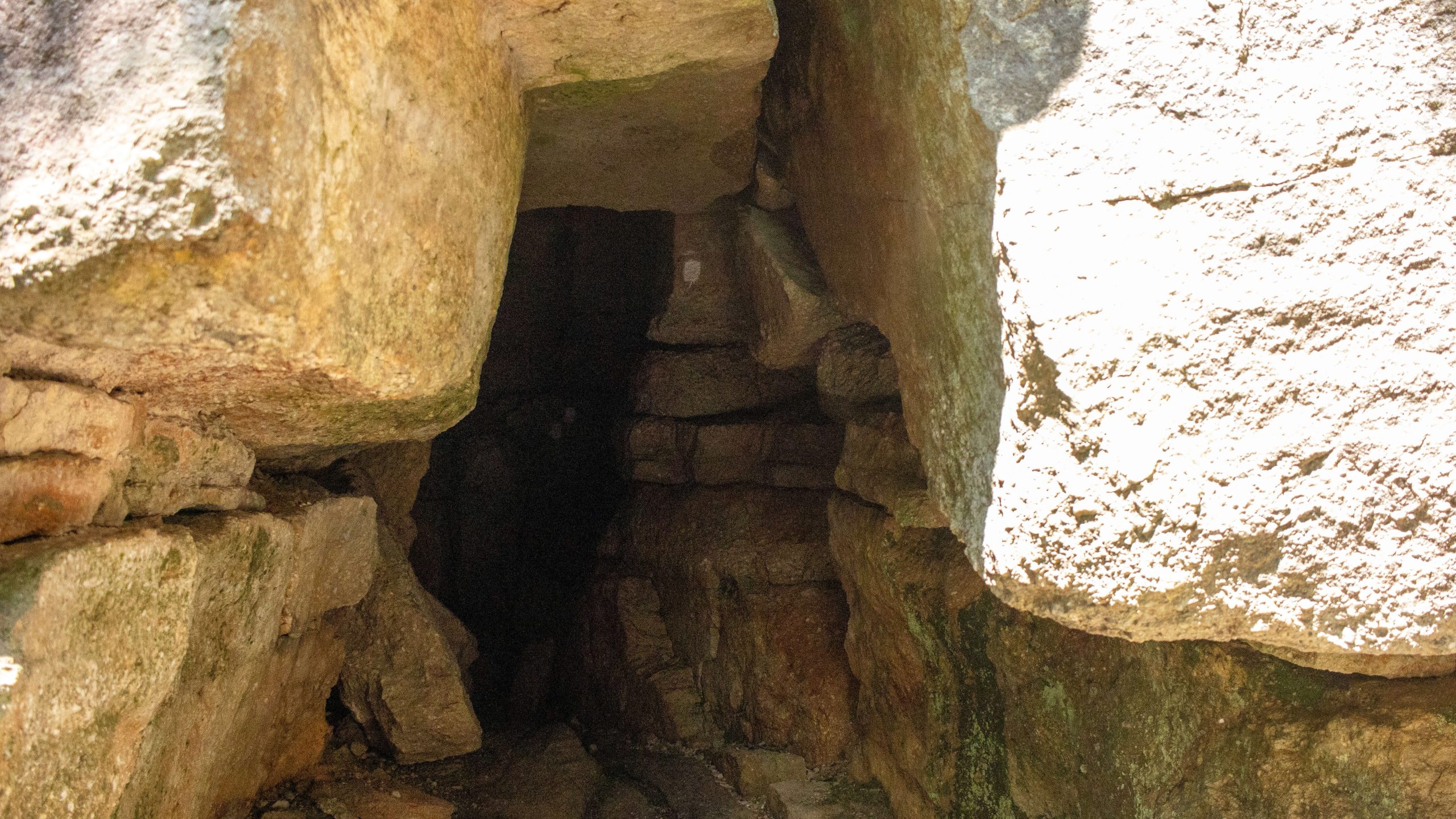 For the 'darker areas' there are censored lights that come on as you approach but I did use my iPhone flashlight a couple of times. If you are nervous about walking in dim light bring a flashlight to help brighten the way.
After the walk through the Ice Caves, you'll emerge back on the trail where you started.
From here return the way you came and head back to the parking lot.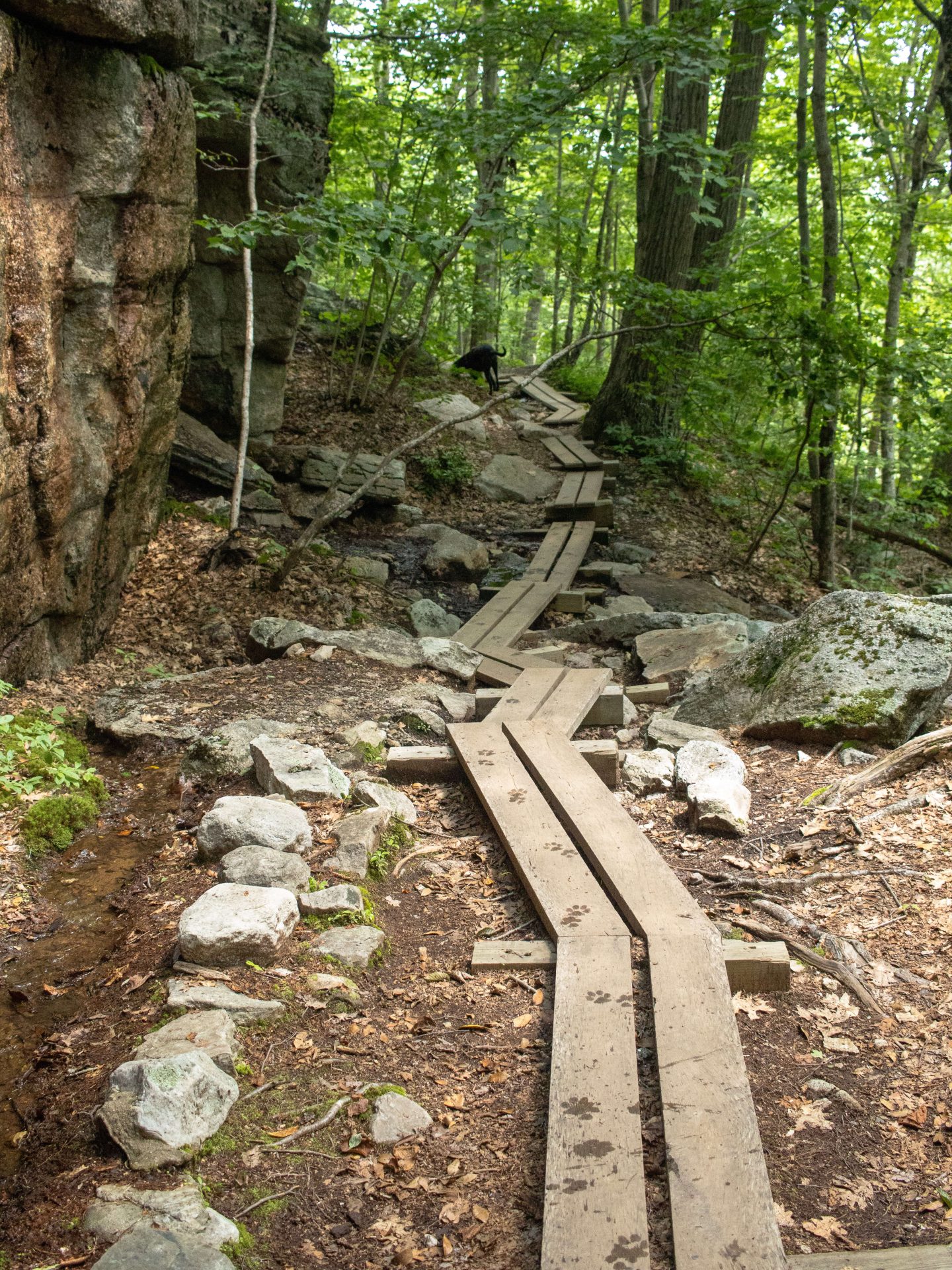 If you'd like to extend the hike to see an awesome waterfall (Verkeerder Falls), follow the route on this trail here!
Another post you may enjoy ⤵️
FAQS about the Ice Caves in New York:
Do you need reservations to hike the Ice Caves Trail in New York?
Yes, as mentioned at the start you need to make reservations for weekends and holidays. During weekdays try to arrive not too long after the lot opens (9 am) to ensure a parking spot.
Is there a fee to hike the Ice Caves at Sam's Point?
Yes, you will pay a $10 parking fee at a machine when you arrive.
Is the Ice Caves trail good for kids?
The Ice Cave Trail is a lot of fun and safe for children. There is nothing technical about this trail as there are steps and lights that make it easy to navigate. There was a camp that had brought a group of kids here when we went during the summer and they looked like they had a ton of fun!
I hope you enjoy this trail as much as I did. This is one trail that is sure to evoke your sense of adventure, and wonder and have you feeling like a true explorer.
Leave any questions and comments below and let me know about your visit if you go! 😊
Happy trails! 💖🐶