A southern New York hiking oasis with amazing views, ice caves, lakes, and waterfalls galore! Here is a round-up of the best hikes in Minnewaska State Park along with everything you need to know to plan a visit to this amazing preserve. ⛰
Home to the Shawangunk Mountains and in the heart of the Hudson Valley, Minnewaska State Park Preserve is a haven for us Connecticut (or southern NY) adventurers looking for a unique hiking destination getaway that isn't more than a few hours away.
There's a TON to explore at Minnewaska with its numerous waterfalls, 3 crystalline sky lakes, 35 miles of carriage roads, and 50 miles of trails to bike, walk, or hike.
⚠️But it's not a roll-up at noon on a Saturday and hope-for-a-parking space kind of place! ⚠️
So in this guide, I tell you not only about the best hikes in Minnewaska but also everything you need to know in order to plan your trip! ✅
🗺Getting Here and Where to Park (Everything you need to know!)
First, you need to decide which hike in Minnewaska State Park you want to do and what section of the park it is in.
Minnewaska is divided into two main sections: the main area, featuring attractions like Awosting Falls and Lake Minnewaska, and then the Sam's Point area.
Best Hikes in Minnewaska Main Area
Awosting Falls
Gertrude's Nose
Rainbow Falls
Lake Minnewaska
plus more (see list further down)
Best Hikes in Sam's Point Area of Minnewaska
Ice Caves
Verkeerder Kill Falls
Lake Maratanza
Now look at what you need to do in order to get in, get a parking spot, and hike your chosen hike! 🙂
Getting to Minnewaska
Opens daily at 9 am, gates lock at 8 pm
Reservations are not required (but the lot can fill up so get there at or shortly after 9 am on weekends
Address: 5281 Route 44-55, Kerhonkson
Fee is $10/car
Phone: (845) 255 0752
Dogs allowed 🐶 (on leash)
Getting to Sam's Point Area
Opens daily at 9 am, gates lock at 8 pm
Reservations required! For weekends and holidays only. Click here to make a parking reservation or call (845) 647-7989
Address: 400 Sam's Point Rd, Cragsmoor
Fee is $10/car
Dogs allowed 🐶 (on leash)
📝Rules of the Park (info taken from NY park website)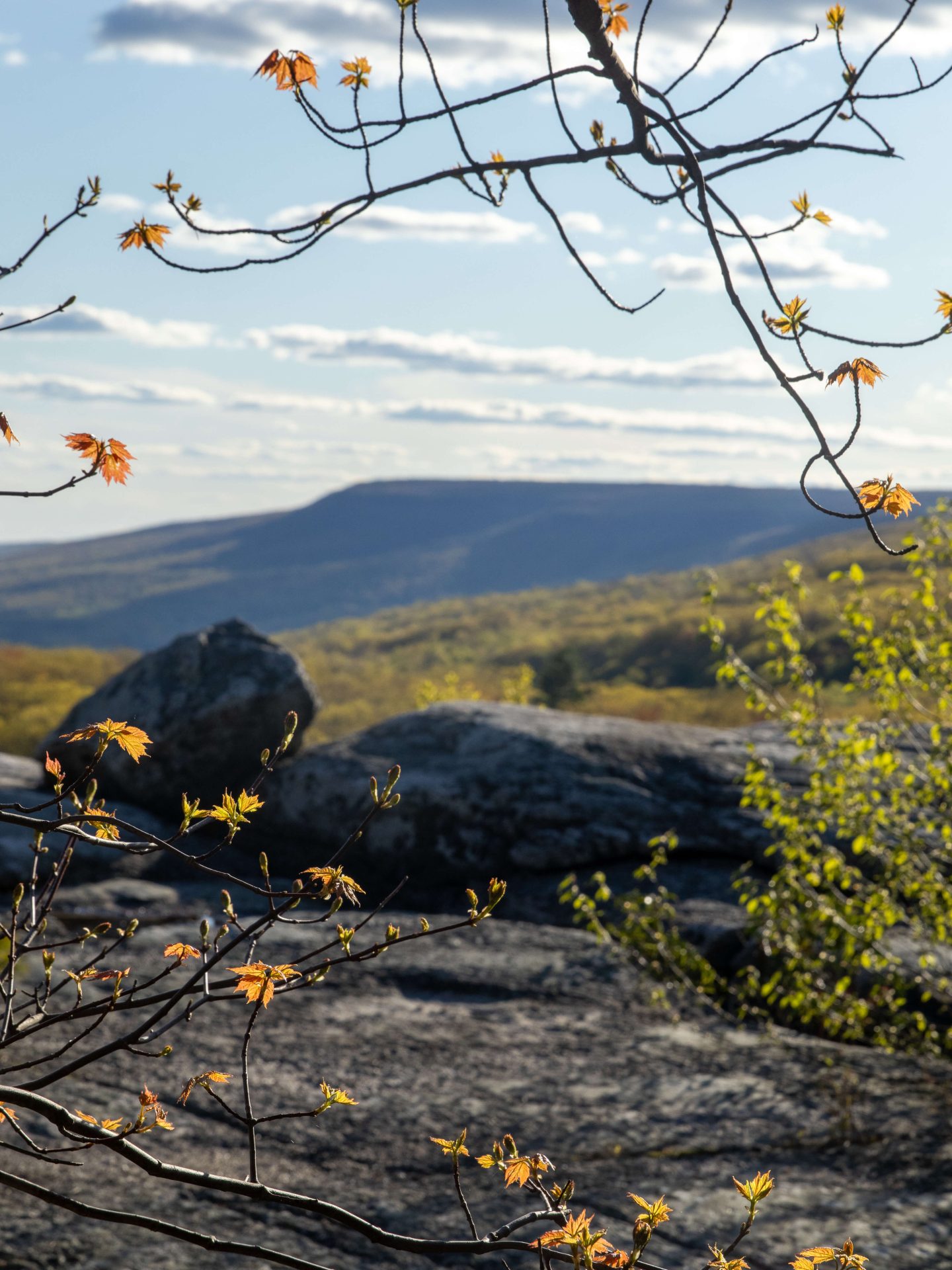 There are no trash cans at this park! Bring a bag to hike with to place your trash and consider picking up after others as well. Let's keep it open & beautiful!

Porta-Potties are available in the parking lot

Swimming is NOT allowed in any stream or waterfall

BBQing or cooking is not allowed in any location in the park

Use of drones not allowed

Amplified music is prohibited 🙂 🎶 (listen to the streams and birds and your own two feet!)

Dogs allowed on leashes no longer than 6 feet
Note from park website: Lake Minnewaska and Sam's Point are experiencing extensive congestion on good-weather days and both sites are subject to intermittent closures as parking lots reach capacity. Please respect our neighbors and surrounding communities, and do not park on adjacent roadway shoulder.

Trail Closures: ⚠️There are instances when one of the trails here might be closed mainly due to wildfires. Please check here to see if the trails you're interested in are listed.
⛰The Best Hikes in Minnewaska State Park; the Main Area
This is a popular one as everyone wants to sit on that nose! (See pics below) 😍 This is really just a part of the ledge sticking out making it look like a nose. Sit at your own risk! And don't get too close to the edge.
But really, the nose is not what's pictured below. The nose is technically the tip of this loop trail which you'll see marked on the AllTrails map with the number '1'.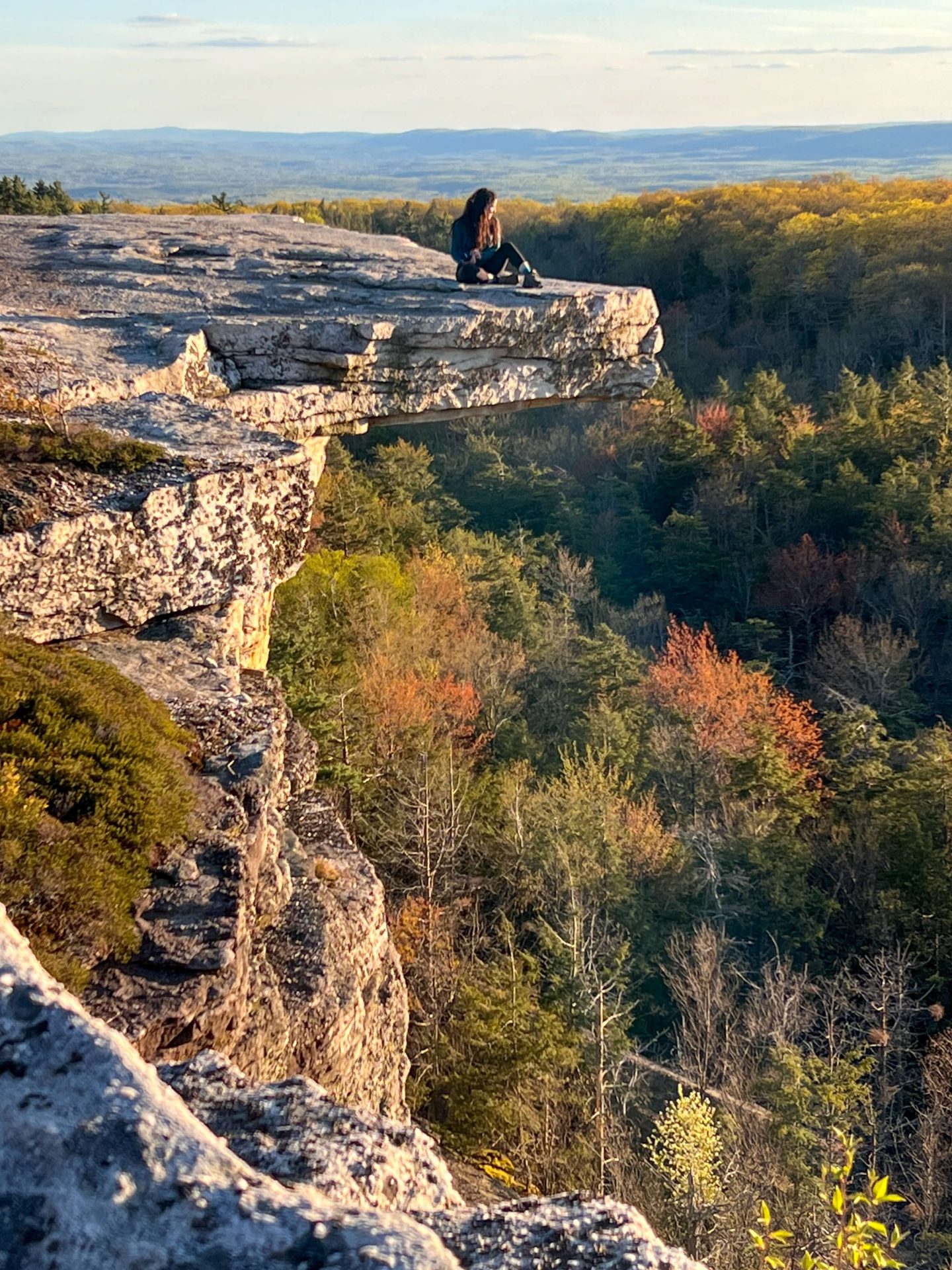 While this is a longer hike (you will want to stop often for pics or to admire the landscape) the good news is you'll have scenic and sweeping views on both sides of the loop.
If you go counter-clockwise (enter loop on the right side first) you will come to these jagged rock edges and cliffs before you reach the actual Gertrude's Nose which as mentioned is the tip and halfway point of the loop.
After reaching the tip of the loop (AKA Gertrude's Nose but you'd know that if you were paying attention 🙂) you will continue to walk along the exposed cliffs of Millbrook Mountain which offers a stretch of views facing east. It would be great for sunrise if you didn't have to wait for the park to open!
⚠️Note: This is an adventurous hike and not for beginners. Bring plenty of water and snacks and be ready to pay close attention to your step when you're hiking along the edge of those cliffs. There are CRACKS between the slabs of rock you on when you're close to Gertrude's Nose. It actually can be pretty scary if you look down!
🐶Dog friendly? On AllTrails it states: 'Dogs are allowed however dogs are not recommended for this trail due to its rocky paths and scrambles'.
I've only visited with our dogs but definitely kept them close on a leash throughout the hike so that they don't fall in one of the cracks!
Gertrude's Nose is definitely one of the best hikes in Minnewaska which is why it is first on the list!
2. Awosting Falls, Easy, 1.1 miles, 118 ft elevation gain, ~30 minutes
A popular and short hike in Minnewska, anyone that enjoys waterfalls will love this trail! And you do not need any hiking experience for this one as it is a wide gravel path the whole way.
Enter the main parking lot for Minnewaska State Park (address listed at the start of the article) and stay to the right for the Lower Awosting Lot.
The trail to get to the falls is adjacent to the bathroom area. You'll follow the mainly flat wide gravel path for about 0.6 miles and there's just a small descent (about 80) to reach the falls.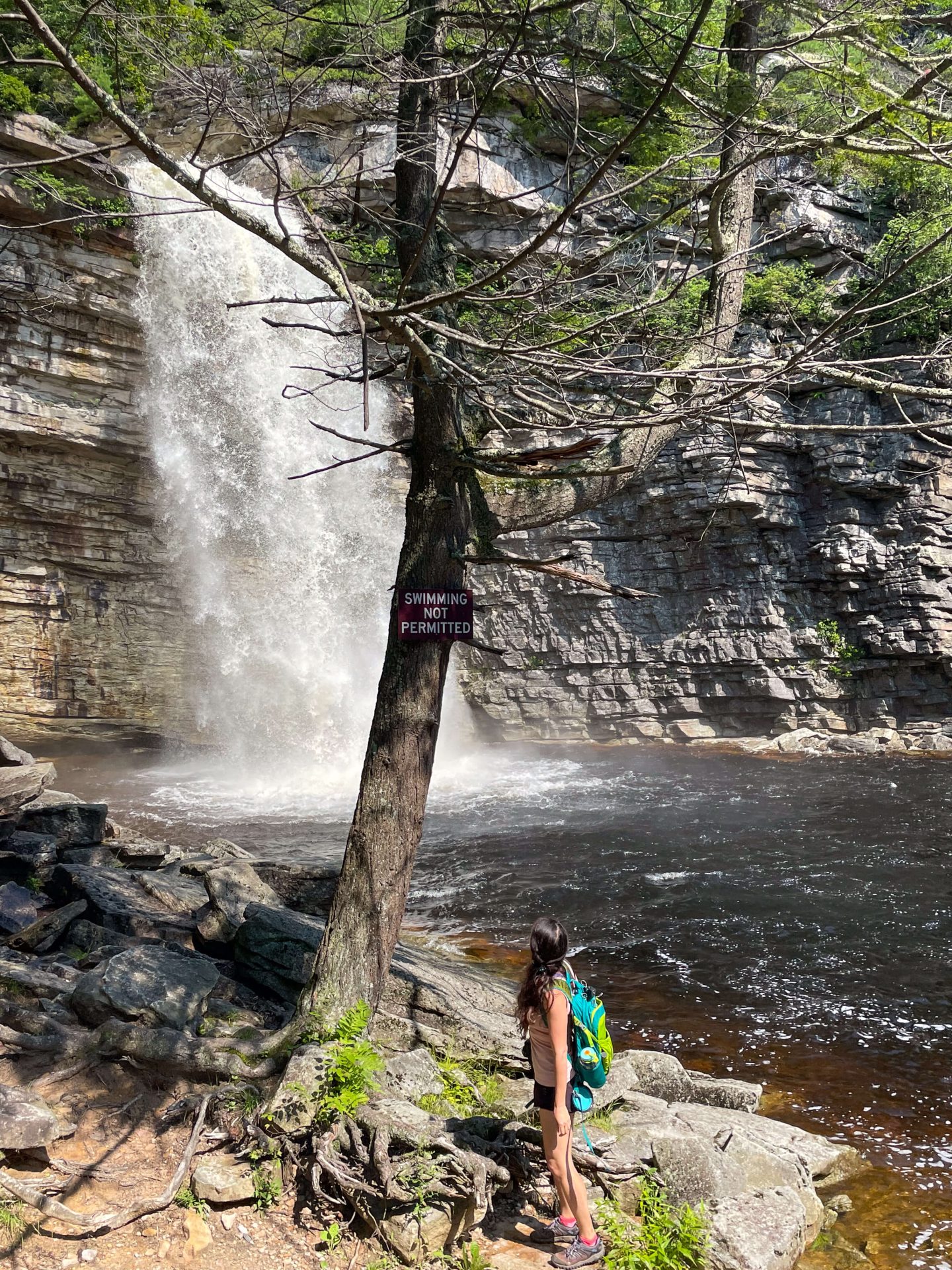 💦Awosting Falls is about 60-65 feet in height and cascades off a sheer cliff into a large pool.
As noted at the start of the article, swimming or wading in the water is not allowed here!
Beyond the falls there's not much to see so head back to the lot and start another hike in Minnewaska State Park! For beginners, pair it with the Lake Minnewaska hike below!
A very popular hike is the super scenic loop around Lake Minnewaska. It's a great and easily accessible way to see the park along a relatively flat gravel path. This is a trail I would take my mom on. 🙂 (Hi, Mom!)
This trail along with Awosting Falls are the best options if you're looking for easy hikes in Minnewaska State Park. You can (and should!) combine both on the same day.
This Lake Minnewaska hike is perfect for a new hiker or someone that simply enjoys going for peaceful and beautiful walks!
Stroll with your coffee around the lake on a wide gravel path that used to be a Carriage Road. ☕️
You can enter the loop either way and as mentioned this is a great scenic hike with very wide trails. The trail around the lake gives amazing views of the cliffs and rocky ledges that surround Lake Minnewaska.
When you pull into the main Minnewaska parking lot you will continue all the way to the top towards the visitors center to get to the start of this trail.
Accessibility (from AllTrails): Visitors using wheelchairs, mobility equipment, or strollers may need all-terrain tires or adaptive/motorized equipment for the surface type and grade or assistance along this entire route due to the consistent sections above a 5% grade (especially if using manual equipment). There are 9 designated accessible spaces and 9 van-accessible spaces with access aisles.
4. Compass Rock, Moderate, 1.9-mile loop, 469 ft elevation gain
Wow, what a beautiful hike and overlook from the top of Compass Rock! Compass Rock is a super scenic vista that looks west toward the Catskill Mountains and a little east toward Millbrook Mountain.
If you follow the loop counterclockwise the way AllTrails suggests, you'll be hiking with Peters Kill River on your right. With the water running alongside you, it's such a peaceful and memorable forest walk!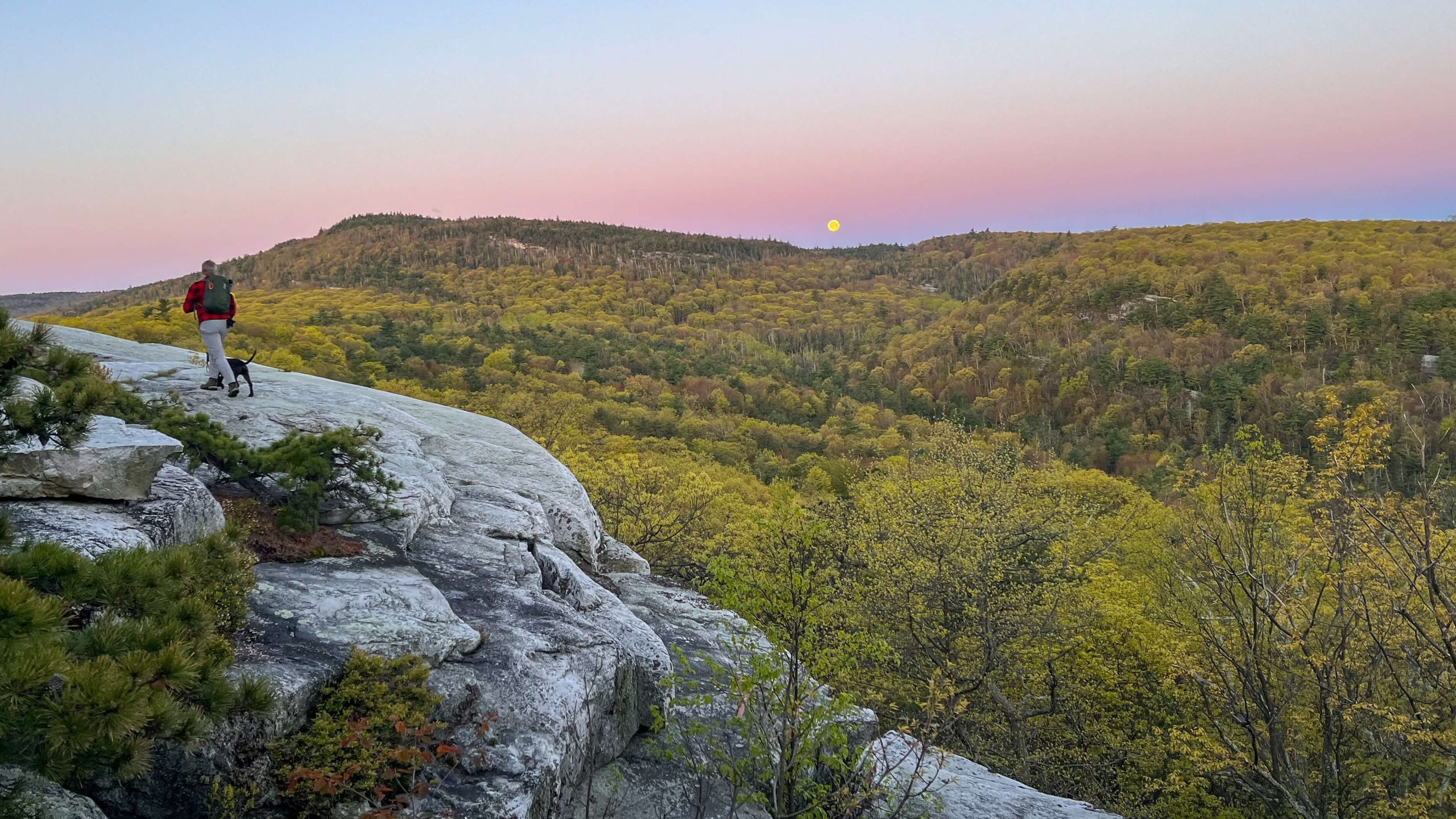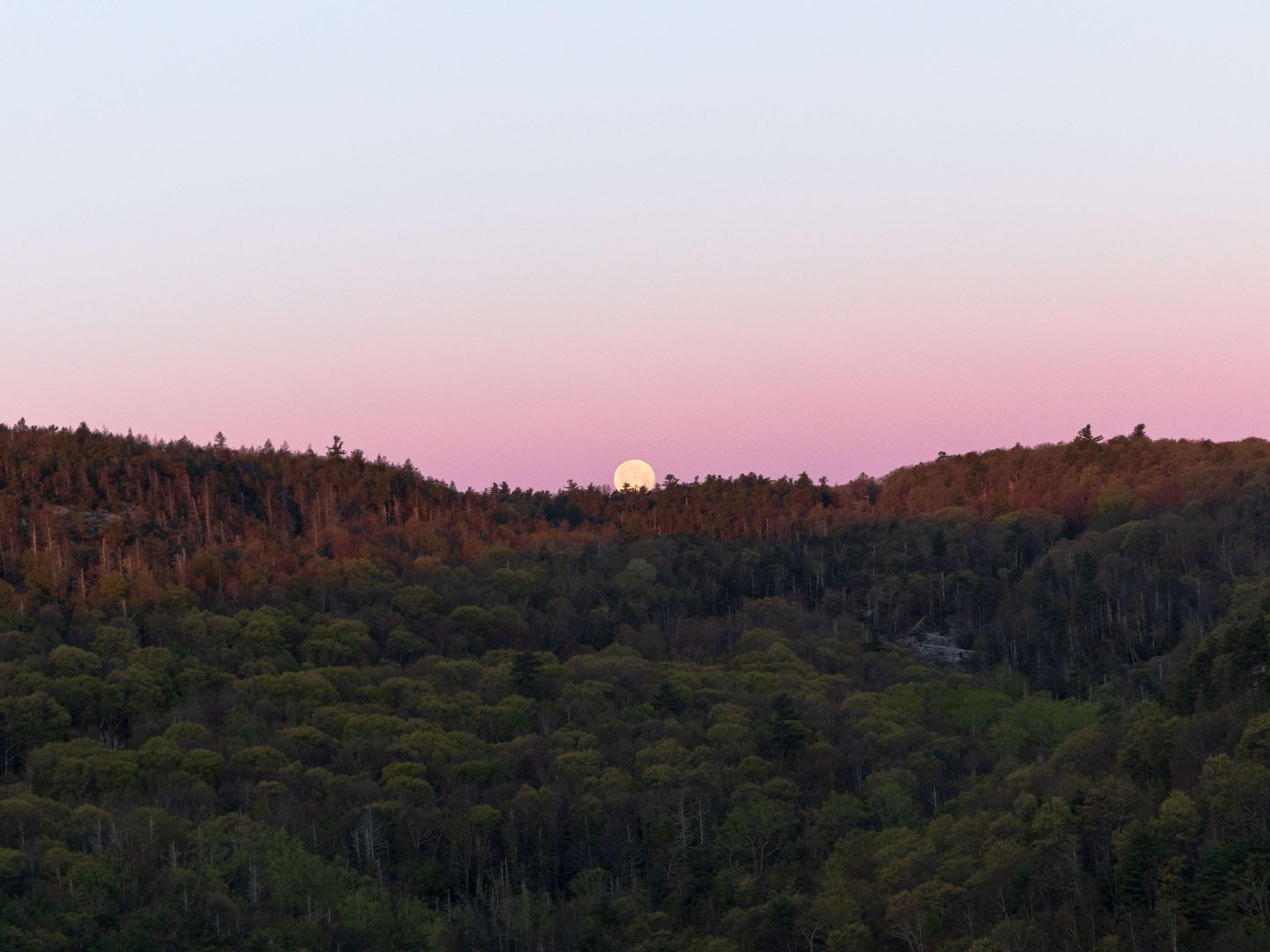 I say a little east because we were there a sunrise time and the sun was coming up just behind us. But we had a great view of the sunlight hitting the Catskill Mountains in the distance and were lucky enough to see the full moon setting!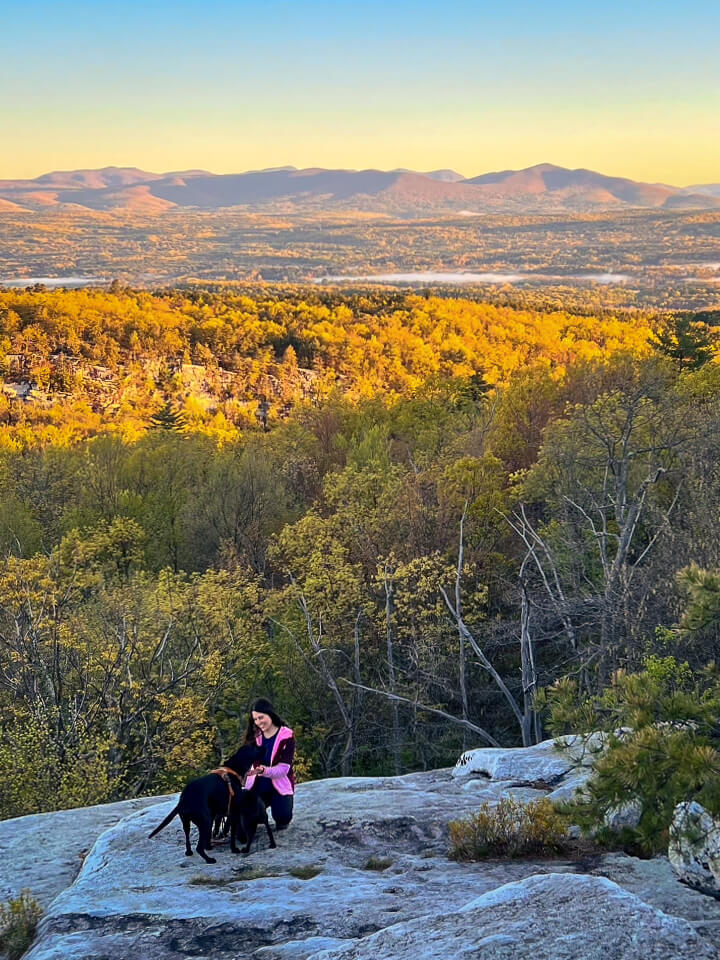 🕵️‍♂️Alternative parking for a sunrise hike:
If you follow me on here you know I like secrets as in secret trails that lead to sunrise or sunset views! Trails you would want to take for either sunrise or sunset because the original or "normal" way is sometimes too darn long or in this case not open.👀
Since the parking lot here doesn't open until 9 am so we found the handy dandy 'P' icon (which indicates parking) on the AllTrails map near a connected trail to Compass Rock. This lot is on Clove Valley Road and it's called Coxing Parking.
While the Coxing Parking lot wasn't open yet there were multiple pull-offs along Clove Valley Rd next to the parking lot and we decided to give it a try. Fortunately, we got back to the car before 8 am to a ticketless car. But if you are planning on hiking all day I can't guarantee that these spots are allowed for all-day hikers!
5. Rainbow Falls via Upper Awosting Carriage Way, Moderate, 5.1 miles, 426 ft elevation gain, ~2-3 hours
This waterfall, unlike Awosting Falls, felt like a little secret since there was NO ONE else there when we went..
That is probably because it takes more work to hike to Rainbow Falls than it does to get to Awosting Falls. But don't the best things always require a little effort?!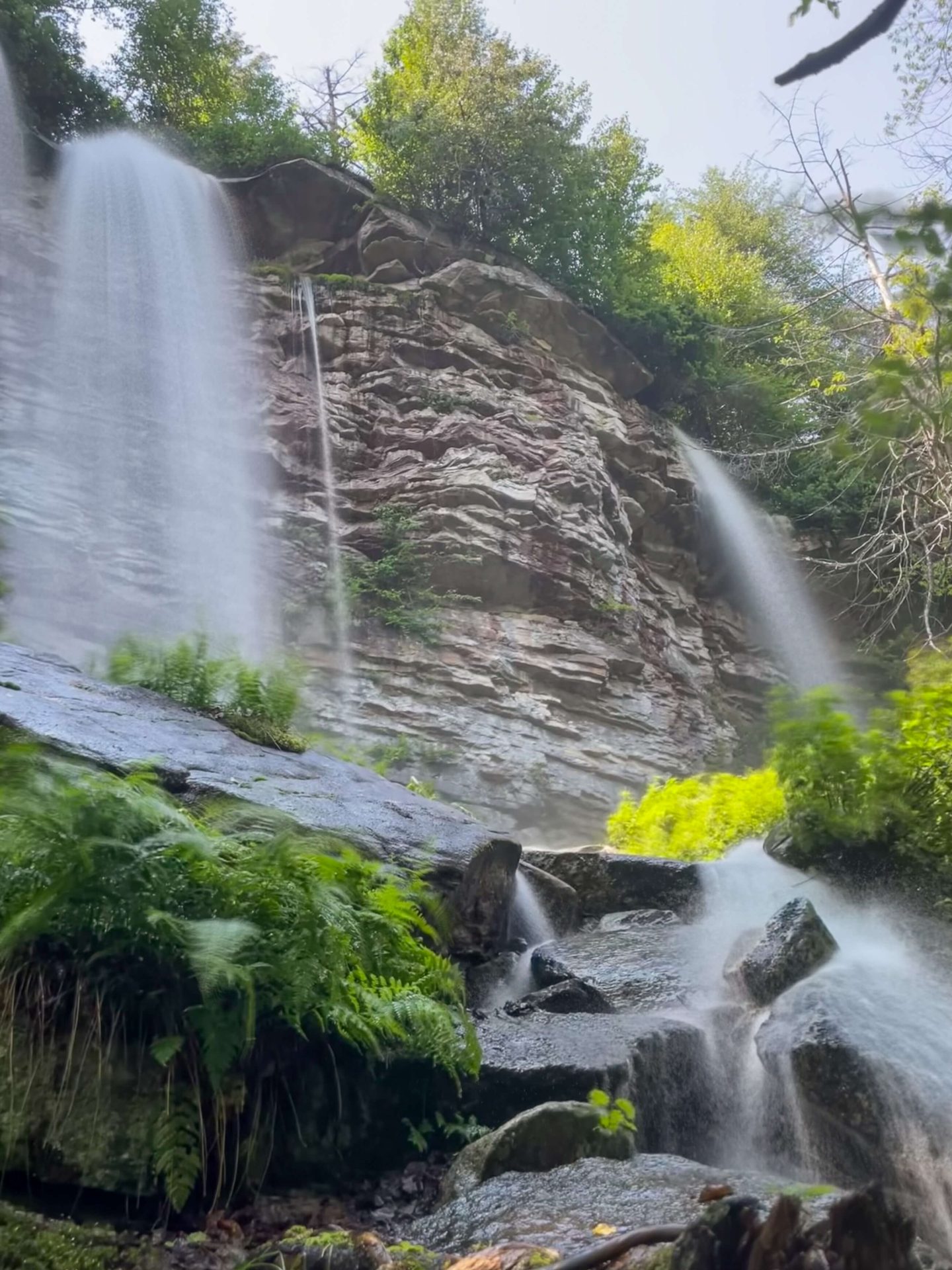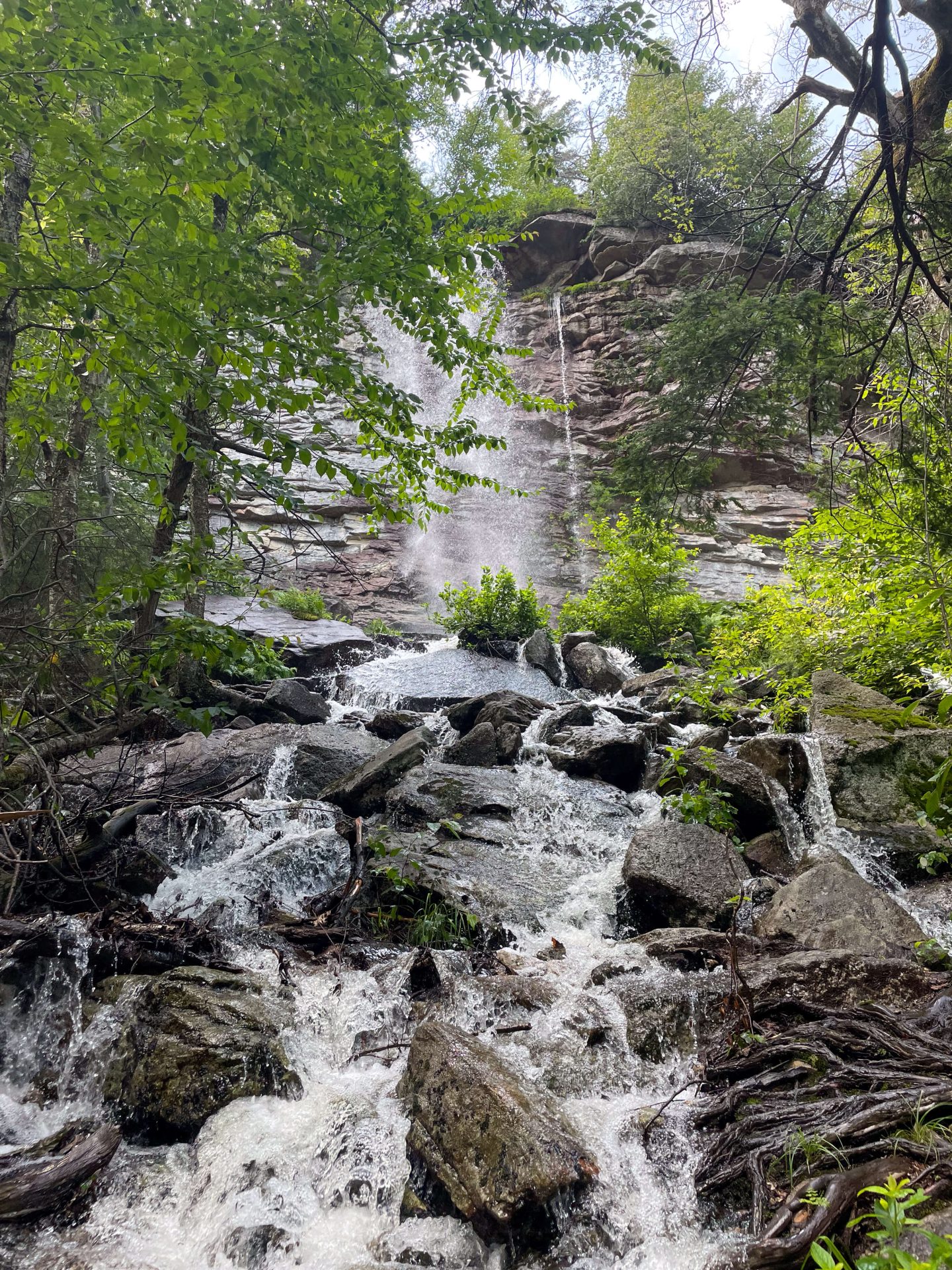 You'll enter Minnewaska State Park via the address at the start of the article and drive all the way up to the visitor center as the trail starts from there.
This trail is marked as moderate but it's a wide gravel path almost the whole way until you get close to the falls. At this point, it will be a bit rocky and maybe slippery with the water from the falls so watch your step!
There are actually TWO waterfalls here, side by side, and it's a sight to see. This double waterfall is definitely a must-see hike in Minnewaska State Park.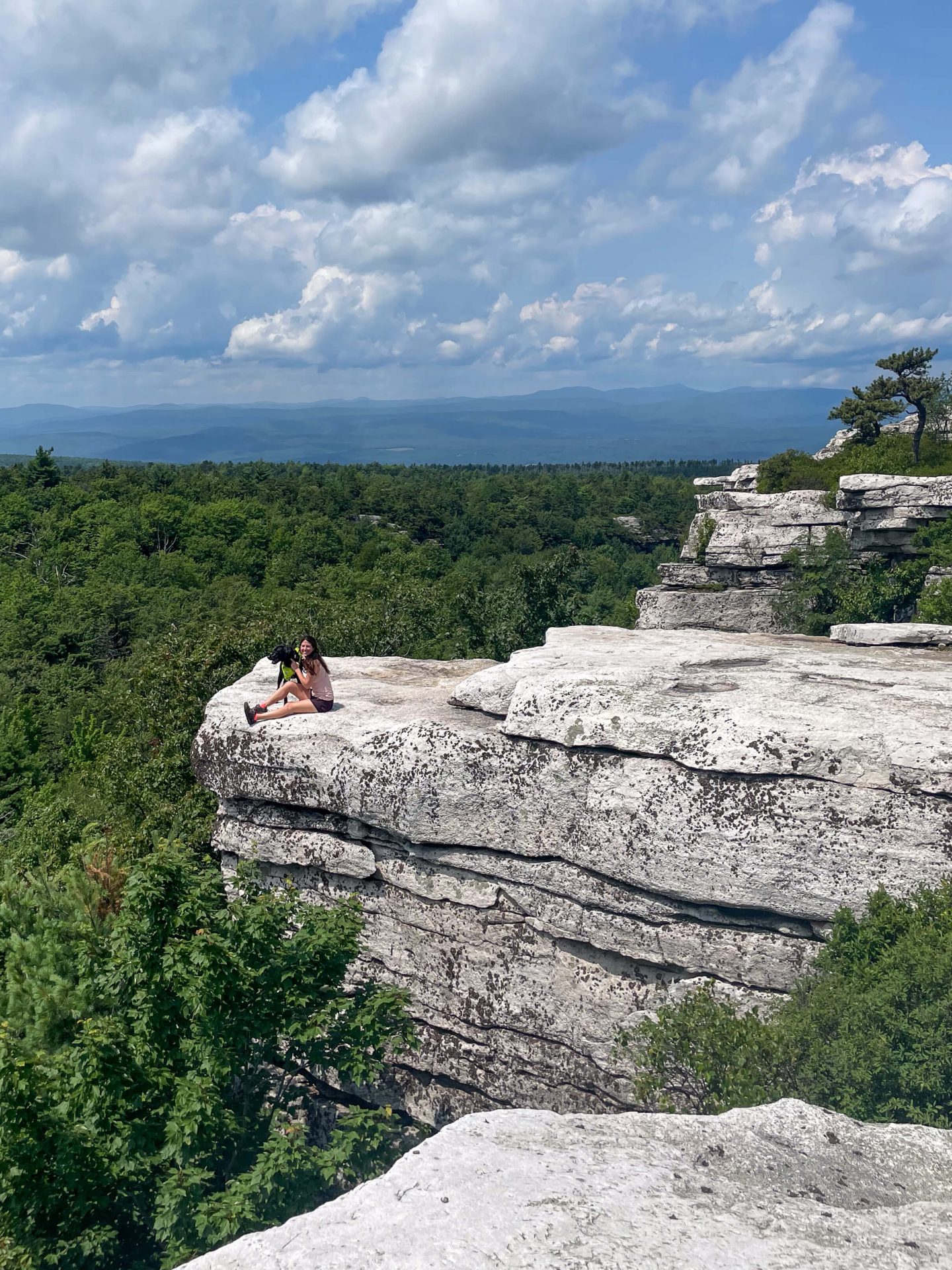 ⛰The Best Hikes in Minnewaska; Sam's Point Area
A whole other side to the park! The hikes listed below require you to park at a different location which I mention in the tables at the start of the article.
What a unique and beautiful hike in Minnewaska State Park! I have to say this one has become my new favorite. I wrote a whole guide dedicated to this Ice Caves hike so click here for more photos and details!
From the parking lot and visitor center, you'll walk up a wide gravel path to start. There are some stone steps heading up to the view at Sam's Point which is just a half mile in!
Take in the view here and then continue on for another half mile on a wide gravel path toward the Ice Caves.
At the 1.1-mile mark from the start of the hike, you'll reach a fork in the trail, bear right.
In just another third of a mile, you'll reach the start of the Ice Caves Trail loop! There is only one way in and one way out to make it easier for people to squeeze and pass through.
Follow the entrance signs and begin this fun adventure.
The walk through the Ice Caves lasts for just half a mile but you'll love every minute of it. As the sign reads, "narrow crevices, low rock ceilings, darker areas 🦇, ladders, and boardwalks", you'll feel like a big kid on a ride at Disney here! Or at least that's what it reminded me of. 😉
For the 'darker areas' there are censored lights that come on as you approach but I did use my iPhone flashlight a couple of times. If you are nervous about walking in dim light bring a flasher to help brighten the way.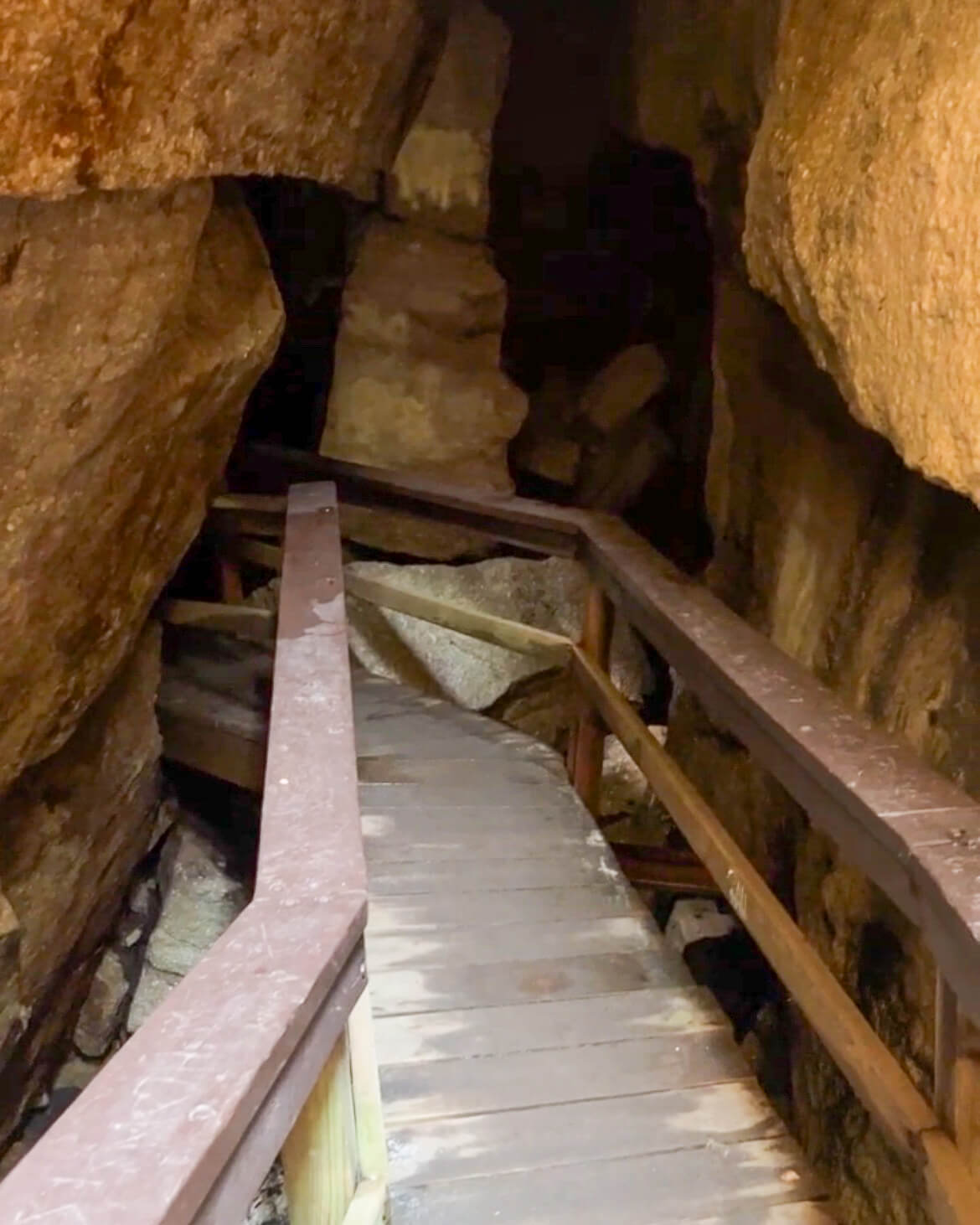 This trail has everything the Ice Caves Trail above has plus this amazing waterfall if you want to continue the hike! After visiting the Ice Caves you walk back up to the main trail and take a right at the sign for Verkeerder Falls.
Walk for another 1.7 miles now until you reach the falls.
⚠️This whole trail is exposed. 🌞 There are no trees and no shade. I did this hike in the summer and I was getting a little nervous for my dog, Captain, because it was a hot day and he has black fur! Most of us are not used to trails like this here in the Northeast. So take notes, check the temperatures, and bring lots of water and sunscreen!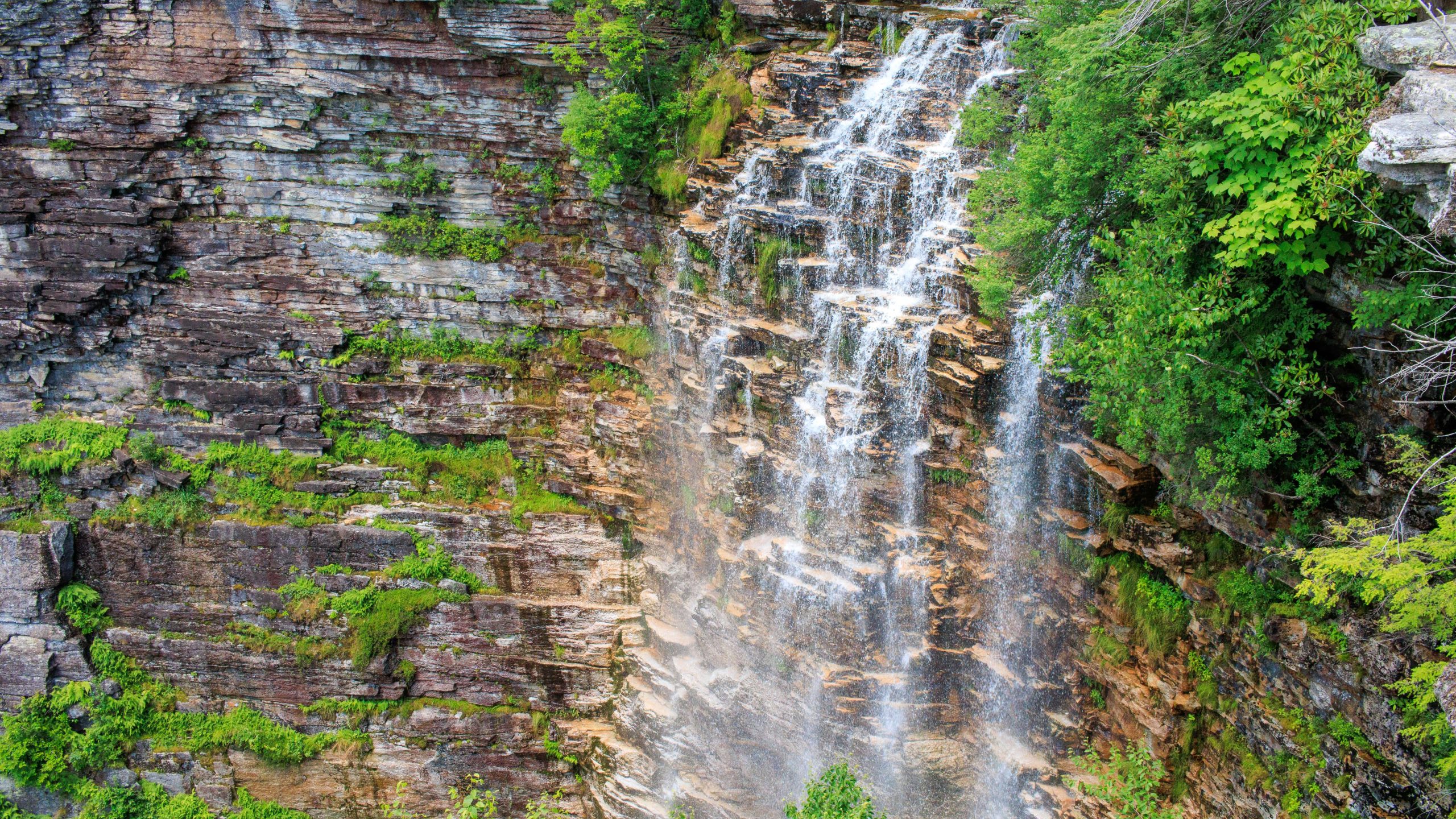 Like waterfalls? Here's another post you might enjoy!⤵️
Hiking Minnewaska State Park through the seasons: ❄️🌷🌞
❄️Winter Wonderland: Cross-Country Skiing and Snowshoeing
Winter in Minnewaska State Park transforms the landscape into a wonderland of snow and ice. What a beautiful place to cross-country ski or snowshoe!
Some trails and hikes, such as Gertrude's Nose, are closed in winter and maintained for cross-country skiing. And you imagine how pretty it is to cross-country ski with the views along the cliffs? Just don't ski off of one! 😱
In the winter be sure to check the trail on Alltrails which will note if the trail is open for hiking or not.
🌷Spring Blooms: Waterfalls and Wildflowers
As the snow melts, this is a great time to check out the waterfall hikes in Minnewaska. It's also still a time that's not too crowded so you take your time capturing the beauty of the park.
💦Summer Fun: Swimming and Relaxation
Summer at Minnewaska State Park allows you to take advantage of all of the hiking trails except if there are any wildfires causing a trail to close which you can find out about on this site here.
In the summer you can take a refreshing dip in Lake Minnewaska's designated swimming areas.
You can even kayak and paddle in Lake Minnewaska, too! 🚣🏻‍♂️
🍁Fall Foliage: Hiking and Scenic Views
Surrounded by forests and lakes, fall is a beautiful time to hike in Minnewaska State Park.
Grab your camera and your favorite hiking boots, and immerse yourself in the beauty of Minnewaska during this magical season!
Other activities besides hiking in Minnewaska State Park
If you or someone in your group is not into hiking then you can try one of the other activities below!
🚴🏽‍♀️Mountain Biking Routes
If you prefer two wheels to four legs, mountain biking routes in Minnewaska State Park Preserve provide scenic rides and access to deeper parts of the park. These specific paths near the hiking trails allow you to explore the park at your own pace on two wheels! Be sure to wear a helmet.
🧗🏼‍♂️Rock Climbing and Ice Climbing Opportunities
Of course with all that rock, Minnewaska State Park offers rock climbing and ice climbing opportunities. Whether you're a seasoned climber or a beginner, there are various climbing routes here.
The park's experienced guides can provide instruction and advice or you can get in touch with Eastern Mountain Sports School in New Paltz. EMS provides classes to help you learn the ropes and master the art of rock climbing!
Visitor Center Services
There is a visitor center at both the Minnewaska main area and the Sam's Point area. Both provide a wealth of information, maps, and assistance for planning your visit. Stop by and grab a map or ask some questions before you embark on your hike!
Nearby Accommodations and Dining Options
If staying in the area you'll be happy to know that there is a ton to choose from in terms of food! There is even a chocolate shop and an abundance of cafes to choose from for your pre or post-hike latte.
The nearby town of New Paltz has amazing restaurants and breweries and all types of food to satisfy any craving no matter what you're in the mood for! (Seriously – it's a melting pot of food! See below…)
Here are some popular spots:
Mountain Brauhaus Restaurant, Garvan's, Aroma Thyme Bistro, A Tavola Trattoria, Rough Cut Brewing Company, Main Street Bistro, P & G's, and Main Course Restaurant.
⛺️Camping and Lodging near Minnewaska
If you're looking for a place to stay that's very close to Minnewaska and want more of a luxury, one-of-a-kind experience then look no further than the historic Mohonk Mountain House. It provides a unique and charming experience but is definitely on the high end of prices. I haven't stayed here yet but it looks amazing in person and online!
If you're looking to camp, there's the Samuel F. Pryor III Shawangunk Gateway Campground. According to the site, the campground provides "a high-quality, minimalist camping experience for visitors to the breathtaking Shawangunk Mountains."
Here are some details about the campground:
tent-only campground
amenities include a pavilion, cooking area, restroom facilities
24 drive-in spots (one vehicle per site) and 26 walk-in spots
2 tents per site
Campground address: 953 State Route 299 Gardiner, NY 12525, within a five-minute drive of the main entrances of Minnewaska State Park Preserve.
Contact: (303) 951-4571, or visit the American Alpine Club lodging page at http://lodging.americanalpineclub.org/ and click on the Samuel Pryor Shawangunk Gateway Campground.
Minnewaska Hiking Summary
Hopefully, you have a list of the hikes in Minnewaska State Park that you want to do. And also have the plans worked out to get in here!
What I love about this place is the expanse of the park, all the dramatic cliffs, waterfalls, and lakes crammed into one area to explore. It keeps me coming back year after year in various seasons!
FAQS about the hikes in Minnewaska State Park:
Why is Minnewaska State Park closed?
As of July 2023, the following trails are closed: Stony Kill Carriage Road, Lower Mine Hole Footpath, and Mine Hole Footpath. Check the map here to see and check updates.
Is Minnewaska State Park free?
Minnewaska State Park is not free; the entrance fee is $10 per vehicle. But seniors over 62 are free on weekdays with a valid New York State ID.
How much does it cost to park at Minnewaska State Park?
Visiting Minnewaska State Park Preserve is an experience of a lifetime, and the cost to park your car is a reasonable $10 per day.
How long are the hikes in Minnewaska?
Every hike is different but the main loop around Lake Minnewaska (hike number 3 on this list) is a popular and relatively easy 1.9-mile loop as described with stunning cliffs and evergreen forest views.