There's a lot to love about the hiking trails in Giuffrida Park! For starters, there are 4 different hikes with beautiful views that you can do at this CT park so depending on your mood, level, or what you have time for, there's something for you!
Two, the park is centrally located in, you guessed it, central Connecticut, in Meriden and not far off 91! For me, this makes for a great spot to meet and hike with friends and family that are scattered all over the state.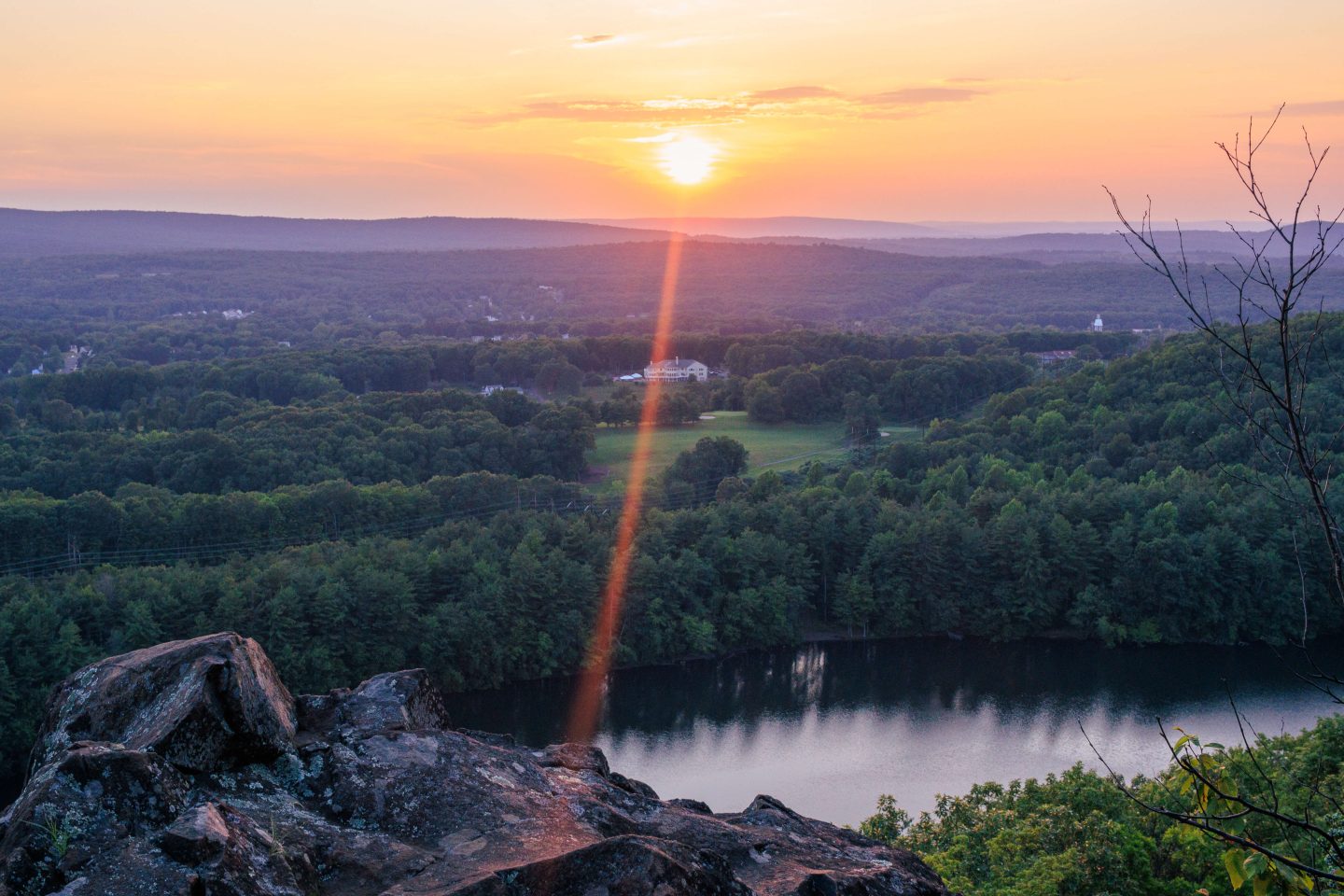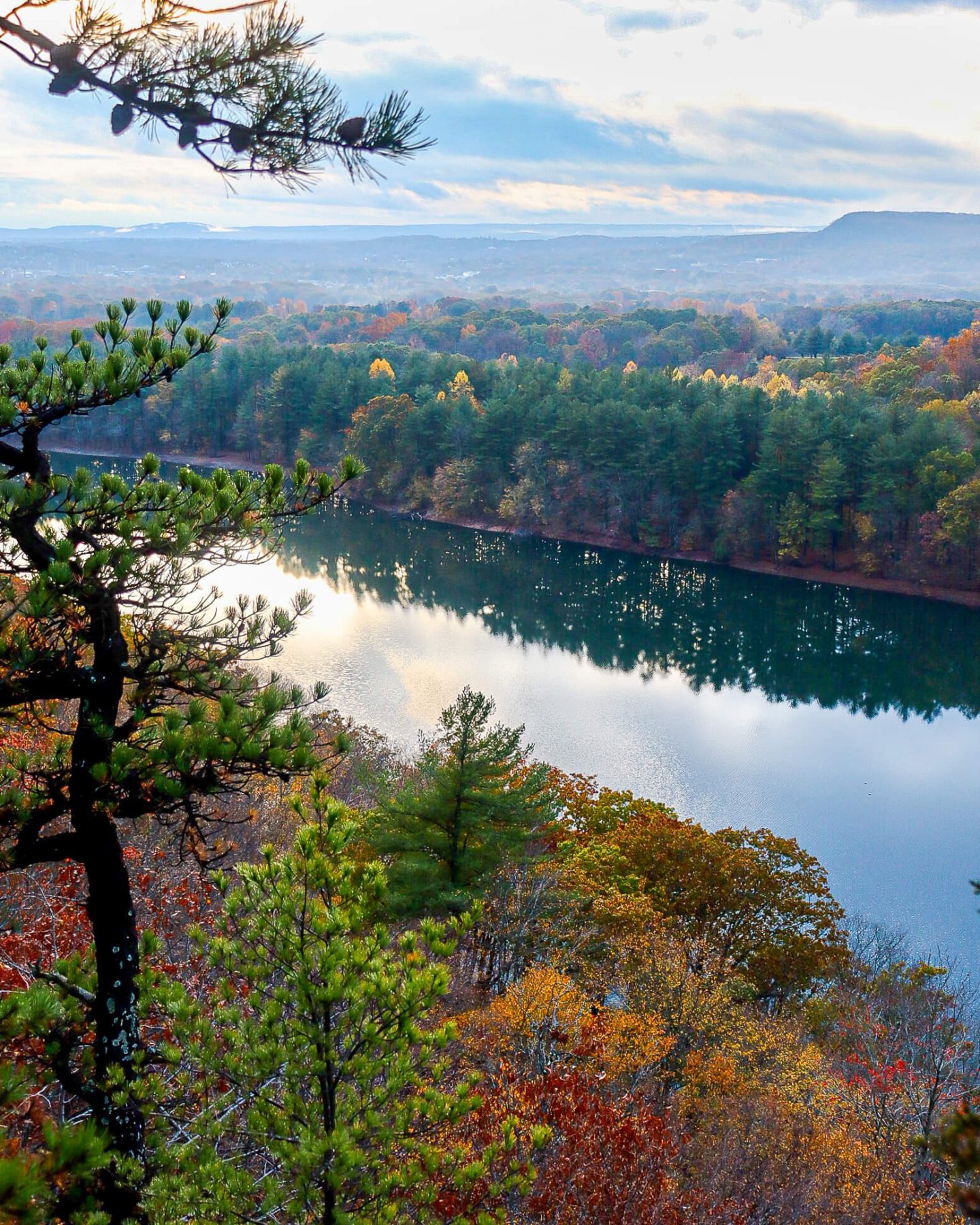 And another reason I love it is all of the hikes are centered around and with views of Bradley Hubbard Reservoir. (See below :)) And who doesn't like walking by the water, over the water, alongside the water, you get it!
Some hikes take you to views overlooking the water and when the water is calm you see a reflection which is really pretty at sunset.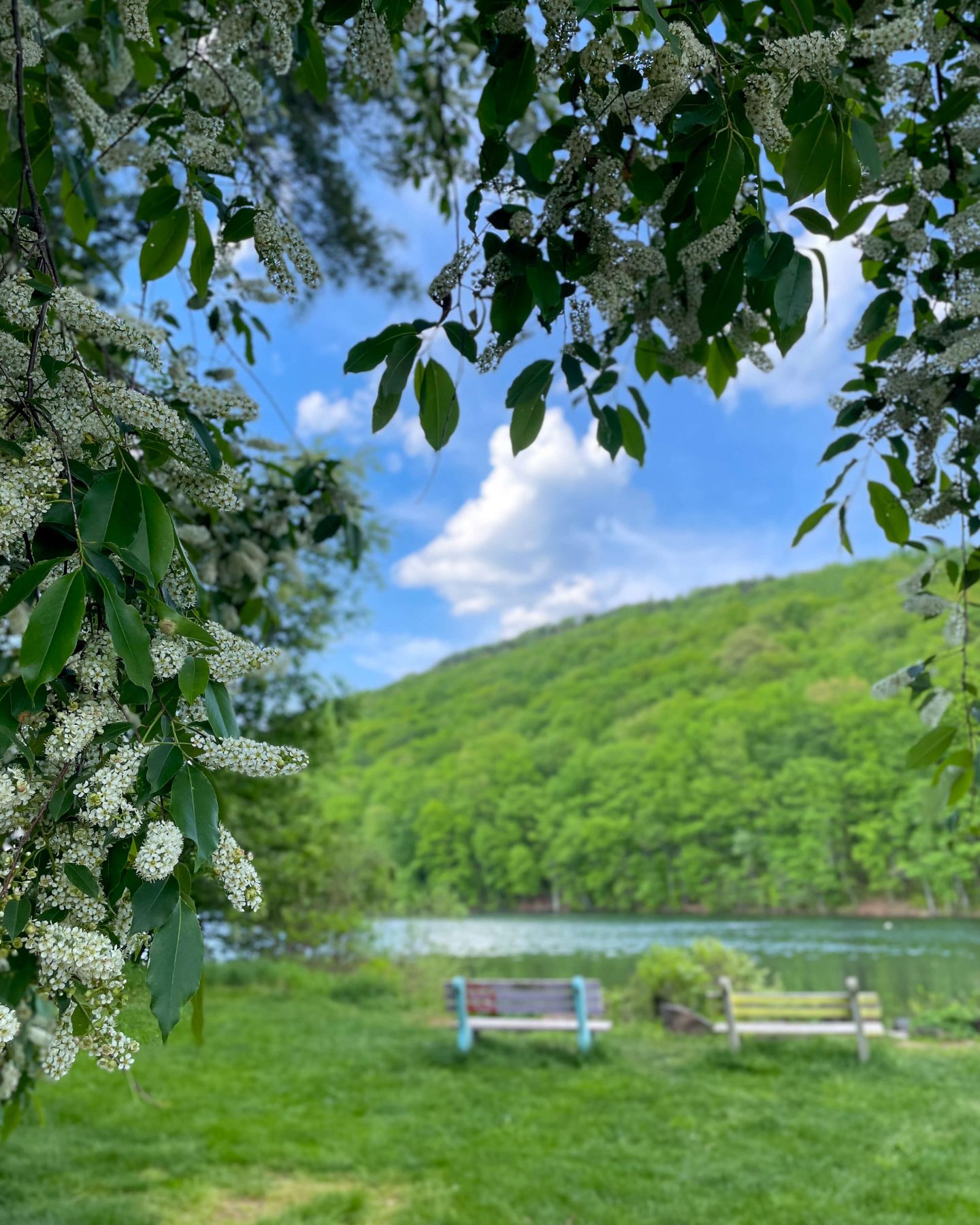 After hiking for years and years in Connecticut, this is a hike I always come back to.
So in this post, I share 4 different hikes that you can do in Giuffrida Park. I believe there is truly something for everyone and every level here!
Hope you enjoy it, and comment below your favorite hike here or if you have any questions!
Where is Giuffrida Park located?
Location: GPS coordinates, 41.562115, -72.762339
This park is conveniently located right off of 91 and 691 smack dab in the middle of Connecticut!
To get to here, travel along I-91 either north or south and take Exit 20. Head west (left off exit from north or left, then right from the south) onto Country Club Road. The Park entrance is will be on your right after a little bit.
Parking: There is a medium-sized parking lot with about 20 parking spaces. This lot can be busy during the week after work and certainly on the weekends.
Best time to visit and hike in Giuffrida Park
Giuffrida, like most other places, gets crowded on the weekends. If you have to visit on a weekend try to go early (shortly after sunrise or by 9 am) or later in the day shortly before sunset (4 pm on).
Personally, golden hour prior to sunset time is my favorite time to hike here. The view from Chauncey Peak and the ledges at the top face west making it perfect to watch the sun go down.
What to Bring Hiking at Giuffrida
Pack snacks, water, and a phone with the link to trail on the AllTrails app, or download the map on AllTrails (or from my blog) ahead of time. Service is pretty good here so you should be able to access your phone throughout if you need it.
Because of the rocky trail heading up to Chauncey Peak or Lamentation Mountain, I like wearing my hiking boots that keep my ankles stable!
Who are these hikes for?! (What level hiker?)
From the beginner to the experienced hiker, there is something here for everyone!
I note below the level of difficulty for each of the 4 hikes at Giuffrida Park.
So let's get to the best hikes in Giuffrida Park in Meriden, CT!
1. Chauncey Peak Trail Loop, Moderate, 2.3 miles, 344 ft elevation, ~1 hour+
This is the most popular of the trails at Giuffrida Park. This hike takes you up to Chauncey Peak; a rocky ledge overlooking the park below with sweeping views to the east and west.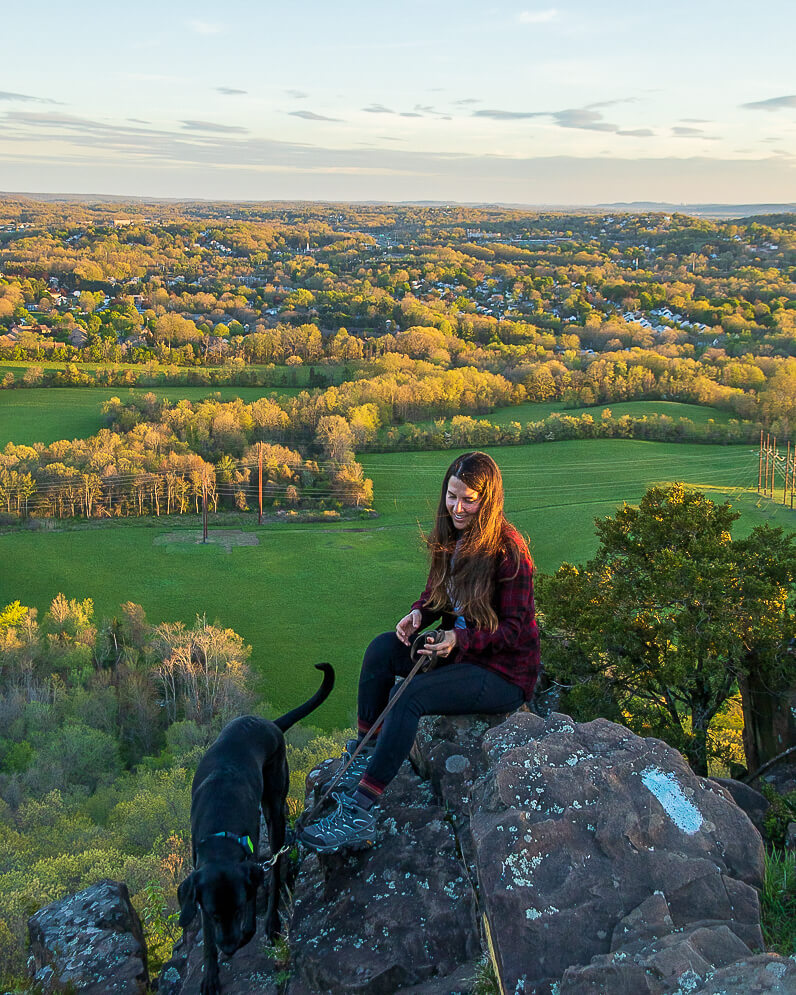 Chauncey Peak is a great picture spot but what you might love even more are the numerous ledges and overlooks you'll see after Chauncey Peak (if going counterclockwise).
All of these ledges sit high above and overlook the Bradley Hubbard Reservoir below.
Inside Tip: If you want to get the short but steep climb over within the beginning then walk the loop counterclockwise (from the parking lot walk so that the reservoir is on your left). As you head into the woods you'll get to climbing immediately.
Otherwise, going clockwise you'll have a nice, leisurely stroll along Bradley Reservoir first followed by the climb up to the ledge about a mile in.
⚠️Caution: There are cliff edges with sudden drop-offs along this trail so keep kids and dogs close!
2. Lamentation Mountain, Moderate, 4.5 miles, 538 ft elevation gain, ~2+ hours
Starting the trail hugging the left side of the Bradley Hubbard Reservoir, you'll walk a relatively flat 0.8 miles along the water before you take a left to head up to Lamentation Mountain.
There are a few other trails linking around here so you may want to have the AllTrails app open so you know exactly which trail to take a left onto!
You'll then have a couple of hundred feet of elevation (just a little uphill climb) until you reach the ledge walk along Lamentation Mountain.
I like the multiple viewpoints this ledge offers. There are points with wide open views facing west making this a great spot for sunset.
Inside Tip: Because of all the really pretty views along the top of Lamentation Mountain I sometimes don't walk to the very end of the trail if I'm short on time or had my fill. 🙂
Otherwise, walk the full mile along the ledge until you reach the point of Lamentation Mountain.
3. Giuffrida Park Loop, Moderate, 4.4 miles, 750 ft elevation gain, Loop,~2.5 hours
This trail is a tour of it all! All of the views and pictures listed in this blog post, this loop has.
Going counterclockwise you will walk along the flat reservoir path first, then head up to check out the views along Lamentation Mountain, and finally, up and over to the ledges and Chauncey Peak.
If you want a Tour-de-Giuffrida and you have the time then choose this trail!
4. Bradley Hubbard Reservoir Walk, Easy, 1.6 miles, flat, down and back, 30-40 minutes
If you're looking for an easy stroll with beautiful scenery then take a walk down along the reservoir and back! I love when the reservoir is calm and you can see the reflection of Chauncey Peak and the ledges across the way.
From the parking lot, you'll enter the trail along the left side of the reservoir and walk the 0.8-mile length of it until you reach the end. Then turn around and come back!
If you're short on time or with beginner hikers, take a walk along this peaceful padded pine path in a beautiful forest setting. You won't regret it! 🙂
I hope you enjoyed this post about all the trails and views in Meriden's Giuffrida Park. Comment below with your favorite or with any questions. Happy hiking!