Short on time or maybe you're a beginner that is looking for shorter hikes with amazing views?! If either is you, I've got you covered with 10 short Connecticut hikes.
These are hikes that are 2 miles or less round trip yet have beautiful views and will leave you wanting for nothing! (AKA you won't feel like you missed out by not doing a long hike.)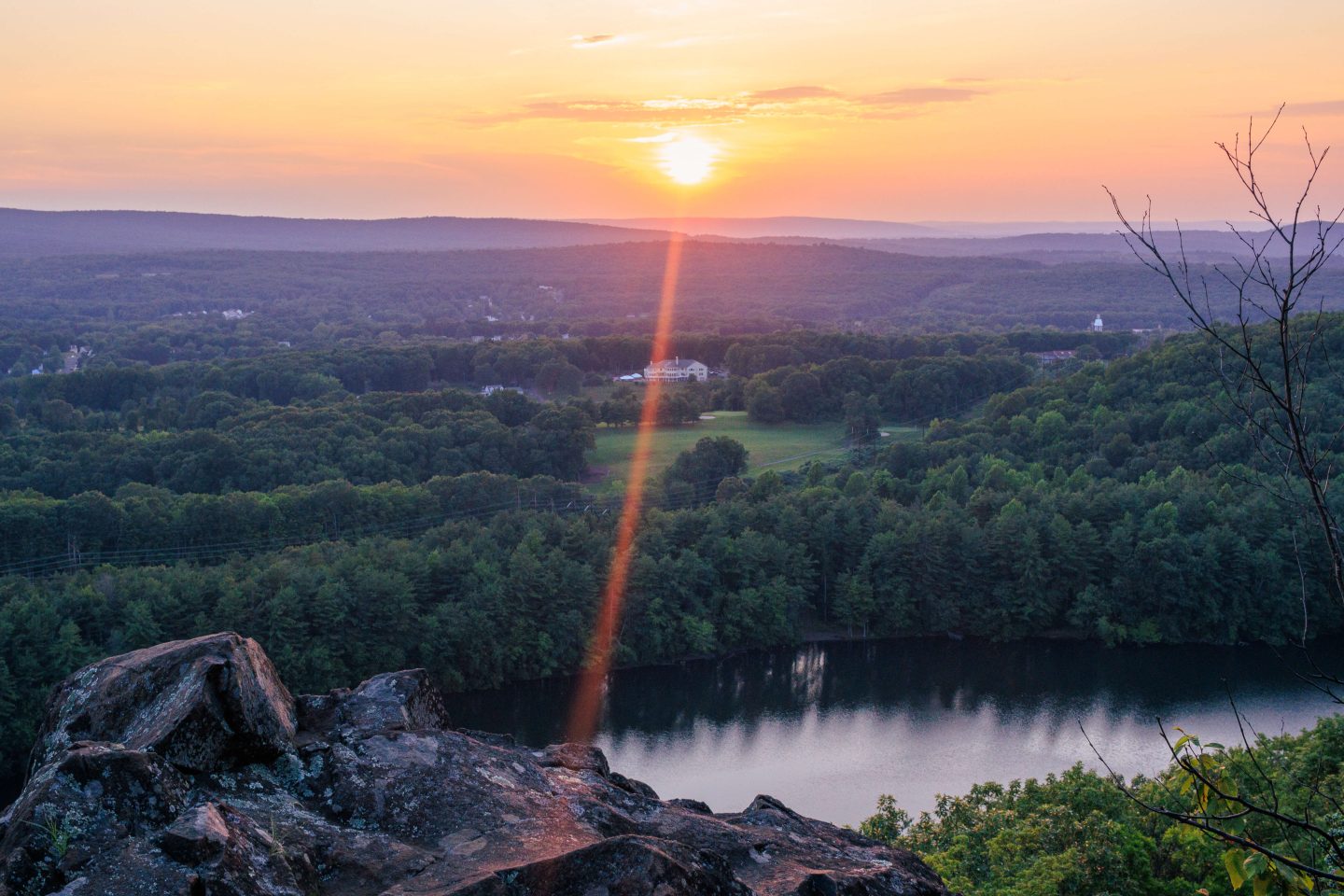 If you work full time like me and especially if you drive back and forth to work every day (also like me 👀) your days are full and your hiking time is unfortunately limited.
But with any of the hikes listed below you'll be able to fit one in either before work, after work (some are perfect for sunset), or even on weekend days when you have other social commitments going on.
Time-wise, you can do most or all of these hikes in under an hour unless you want to linger at the top for longer which is fun, too!
🚗Directions: To navigate to the trails or to get more details you can click the link in each title which takes you to the hike on AllTrails and from there you can tap 'Directions' to start navigating.
I also give coordinates or the address at the end of each description.
So let's get to it and provide you with a list of easier and shorter go-to hikes in CT!
Wow, what can I say about this one that you can't tell from the pics?! Because as you see it is a beautiful view and also faces east making it perfect for sunrise or early morning hikes.
Part of the Granby Land Trust, you'll park along Barndoor Hills Rd where there is a small pull-off (2 or 3 cars max). You'll then cross Barndoor Hills Road and walk up the beautiful Kettle Pond Rd.
You might question if you're in the right spot since you'll be walking down a residential street but in just 0.1 miles on your left, you'll see the entrance and signs to the Granby Land Trust.
You now have just a half-mile walk until you reach the view which overlooks the other side of Mclean Game Refuge and the Valkyrie Equestrian Center which gives us that beautiful red barn subject to photograph!
The little mound/mountain you see in the distance is East Barndoor Hill and that's a great one for sunset!
This is one of my favorite hikes when I'm short on time but if you do have more time you can walk back down, cross Barndoor Hills Road, and enter the 4,400 acres of Mclean Game Refuge which has more than 20 trails on AllTrails!
🚙 Getting here: Navigate to Kettle Pond Lane in Granby and on Barndoor Hills Rd you will see a small pull off along Barndoor Hills Rd right across from Kettle Pond Lane entrance. Fits 2-3 cars comfortably!
In a wild and beautiful forest setting of over 3,000 acres lies the Jessie Gerard Trail in People's State Forest.
You can either do the whole Jessie Gerard loop for 2.9 miles or, if you are short on time or just want to make it up for sunset you enter the trail and walk clockwise (stay left) for just 0.5 miles until you come to the first overlook with sweeping views of Farmington River and valley below!
You can then continue on for just another 0.3 miles (making it 0.8 miles total) to the second lookout which overlooks the village of Riverton below.
This hike and these views never disappoint and while it may be a little drive from you (this area is northern CT, almost in MA!) it is always worth it and truly feels like you're in another land up here!
🚙Getting here: Navigate to East River Road in Barkhamsted. From Route 44, take Route 318 in Barkhamsted. You'll go across the steel bridge and take an immediate left onto East River Road. The parking will be about 2.4 miles in on your left along East River Rd. About 10-15 cars can fit here. 🙂
At Crescent Lake Park in Southington, there's a 3.2 loop around the lake where lots of people come to fish and hike.
This is also a popular spot for mountain bikers as there are lots of little mountain biking trails in addition to the hiking trail around the lake.
With the hikers, mountain bikers, and people going to Crescent Lake to fish, it can be tough to find a parking spot here.
If you want to get to the sunset rock spot overlooking the lake in the shortest amount of time possible then enter the trail with the lake on the left and continue following the trail linked in the title above.
I suggest keeping the trail up on your phone because you will want to check it periodically as you walk.
Starting the loop counterclockwise, the view will be 0.8 miles in on your left after a small uphill walk. Facing west and overlooking Crescent Lake, it is perfect for sunset and catching the golden hues and colors reflected in the water.
🚙Getting here: GPS address = 495 Shuttle Meadow Rd. There is a very large parking here but because there are peopple who come to fish, hike, and mountain bike, this can be a very popular and busy spot after work hours and I've never even tried it on the weekend! I like getting here about an hour or two before sunset and it's a much quieter time.
4. Lantern Hill, Indiantown State Park, North Stonington
For all of my friends in the eastern part of Connecticut, here is a beautiful hike for you!
Located just a few miles from Foxwoods Resort and Casino, this 1.5 miles round-trip hike transports you to a peaceful forest setting.
I imagine this is a popular spot as it is such a short trail with a big payoff of a view but no one was here when we arrived for sunset.
The view not only faces west but you can also spot Foxwoods in the distance and seeing it rise above all of the green (we went in summer) makes it appear as a special castle rather than a bustling (and loud!) casino.
The view also overlooks Lantern Hill Pond. The hike up takes you along rocky and open cliff spots so be careful when you visit and have fun!
🚙Getting here: GPS coordinates; 41.46812194814044, -71.94678865139902.
Hill-Stead is such a special and beautiful place that's so much fun to visit and walk around with a ton of history! This is a super easy, family friend hike or great place to take people just getting into hiking and long walks.
Hill-Stead Museum is a beautiful 152-acre estate with miles of trails you can freely explore.
I love taking the Bittersweet Loop to the Woodland Trail and pop out by the farm with the baby sheep in the spring and early summer months!
It's also considered "perhaps the finest Colonial Revival house and museum in the United States" according to the National Historic Landmark Report.
You can even sign up for a tour of the property or even go inside the museum which according to the website houses some of the most important Impressionist paintings in the world! There's even a gift shop in there as well!
Behind the mansion with just a short walk from the parking lot is a stonewall with a sweeping view of the grounds.
Though it's not a mountaintop what it lacks in elevation it makes up for in it's New England beauty and charm!
🚙Getting here: 35 Mountain Road, Farmington 06032. Very large parking lot here. Drive slow as you approach as you will be driving near a boarding school and quiet neighborhood streets.
What a hidden gem this hike is! Though small, Horse Guard state park covers about 105 acres it is considered a "Scenic Reserve" and has jaw-dropping views facing east and west!
Yes, by hiking just 0.6 miles up, 1.2 round trip, you can experience a view facing east all the way to Talcott Mountain, see the tower in the distance below!
Or, if you want to catch a sunset there's a view at the top of the small mountain here that also faces west.
You'll walk on a wide mostly flat path for most of the hike but the last tenth of a mile takes you up a somewhat steep incline of what's best described as a pile of rocks. 🙂
If you remember the TV show, Guts, on Nikolodean with the agro crag at the end that the kids would climb up – this part of the hike always reminds me of that!
Though it's short I always wear my tall hiking boots to protect the ankles and get up this area smoothly.
Follow the white blazes and enjoy!
🚙Getting here: 245 W Avon Rd, Avon, CT 06001. There is a small parking lot but I've never seen it full. 🙂
You'll love the payoff and view you get here for such a short, little hike/walk!
Lover's Leap State Park is about 160 acres and not only features this view but also the historic 1895 Berlin Iron Bridge (one of 5 left in CT) that you walk across over the Housatonic River.
From the parking lot to the lookout is only 0.4 miles and little to no elevation gain making this one perfect for kids or new hikers.
AllTrails has you continuing on after the view for another 0.2 miles but there isn't much to see at the end of the trail.
What we did enjoy though was turning this into a longer walk by continuing on down the trail past the overlook. And then take a right and continue walking on N Lillinonah Lake Road.
It's a beautiful, quiet neighborhood street with the flowing Housatonic River on your right. I was definitely jealous of some of the houses and the view they have of the river!
🚙Getting here: GPS coordinates 41.542299, -73.406444
8. Sunrock, Ragged Mountain Memorial Preserve, Berlin
Ragged Mountain is a popular place to hike in Connecticut. The full loop around the mountain (if you ever have the time and desire) is 5.6 miles and has numerous overlooks and viewpoints facing east, north, and west.
Ragged Mountain is a traprock mountain which makes it can be a place for climbers. It is also part of the Metacomet (blue) Trail that runs through CT.
But what I love the most about this whole mountain is the sunrise view known as Sunrock which faces east overlooking the Lower Hart Pond and is located only 0.7 miles in to the hike!
It's beautiful any time of day but watching the sun come up here or visiting early morning is really a treat as the sun comes right up over the pond and you watch from the Sunrock cliff spot.
After you've taken in the views you could certainly continue on and do the whole 5.6 miles loop or you can turn around and go back to your car making this hike only 1.4 miles round trip.
It's a favorite!
🚙Getting here: 437 West Ln, Berlin, CT 06037. Multiple parking spots along West Lane. I've seen it very busy where the cars are parked along the side of the street all the way up towards the houses but when I come for sunrise I never have that issue. 😍
How lucky are we to have this wide open view and lookout we can get to in just ONE mile one way!
The whole Pine Knob Loop is only 2.5 miles and totally worth it if you have the time as this shortened version just takes you up to the view and back down in under 2 miles.
But if you were to continue on with the loop you get to walk along and down numerous cascades and little waterfalls known as Hatch Brook Falls.
Of course, this article promised views round trip under 2 miles so sticking to that, if you want to just go up to the view and back down you would enter the loop going counterclockwise.
From the parking lot (which is pretty big) on Route 7 across from the Housatonic River you will have to make your way across Hatch Brook Falls before starting the hike.
This requires stepping from rock to rock but don't worry, the rocks are pretty large and it doesn't require anything too technical. Sometimes it seems like the faster you walk across and not overthink it the better! 🙂
After you cross the water you will head to the right, taking the loop counterclockwise. You'll walk along with beautiful stone walls lining the way and Route 7 on your right.
After 0.4 miles of a relatively flat walk you will start to go up, walking the rest of the way (about 0.5 miles) to the lookout which in total is just a mile in.
The incline here can be a little steep as you gain 500ft of elevation in just a half mile. So leave yourself time to stop and catch your breath! 🙂
The view at the top seems like one you get from walking for more than just a mile! Facing southeast you'll be able to see the Housatonic River valley and other hills in the distance. This is a great spot for sunrise! Enjoy.
🚙Getting here: Navigate to Route 7 in Sharon. From the South – travel north on Route 7 into Sharon, CT. The parking lot and trail sign will be on your left along Route 7 about 2 miles north of the intersection with Route 4. Large parking lot here that I've never seen full.
The full loop linked above is only 2.2 miles round trip but if you need to make it as short as possible then from the parking lot begin the trail so the reservoir is on your left.
If you start this way and take the trail counterclockwise then you reach the view in only 0.6 miles. But you'll definitely feel a little pump from this incline of 300+ feet right in the beginning.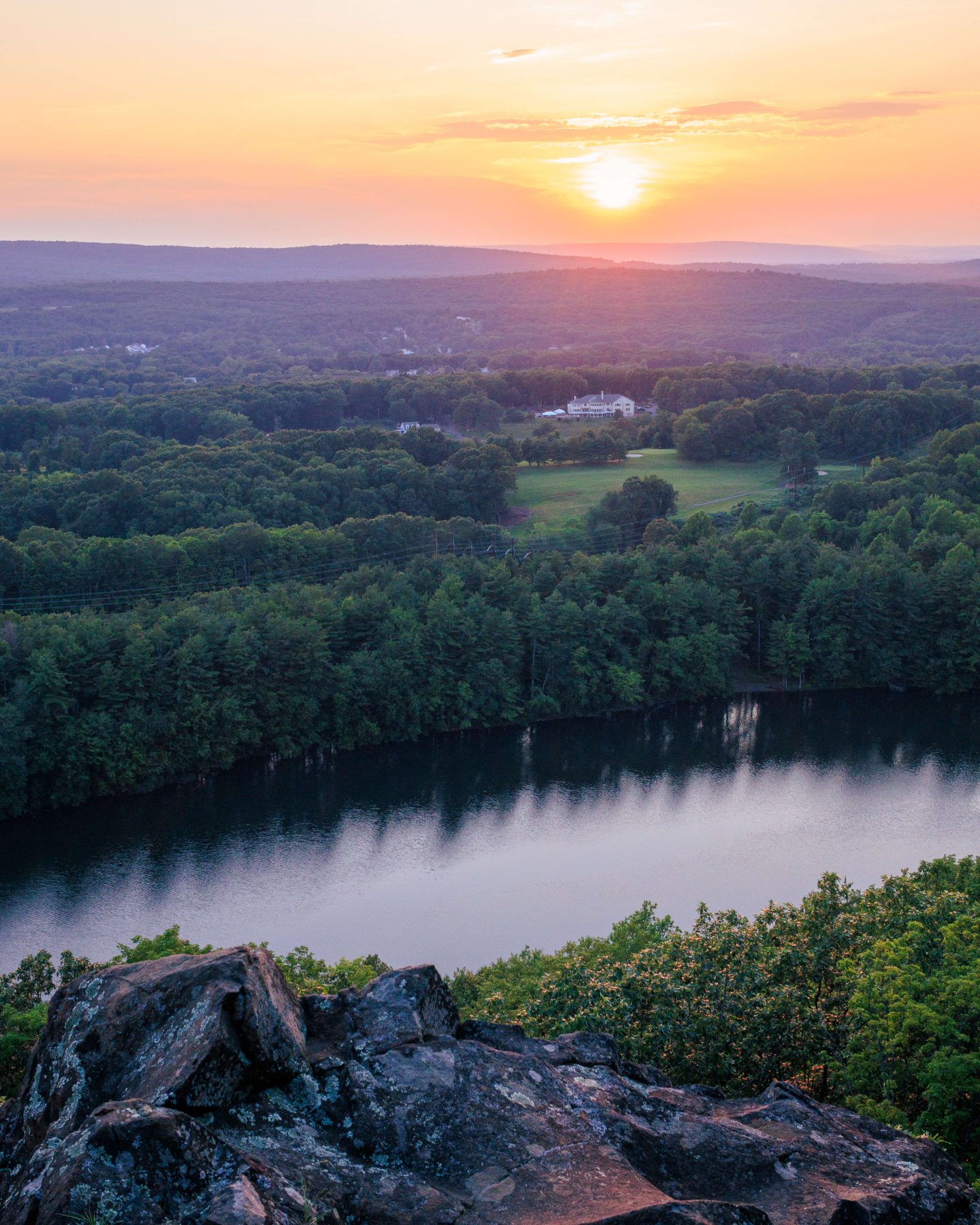 (PS there are 4 different hikes here in Giuffrida so if you are looking for more or longer hikes check out the post I wrote about Giuffrida Park here!)
At the top there are numerous overlooks and cliffs, one of them called Chauncey Peak, which faces south west.
Take in the view here but after Chauncey Peak I love continuing on the trail (head back down the way yoou came and get back on the main trail) and walking along the ridge as there are several other lookouts that face more west (great for sunset!) overlooking Bradley Hubbard Reservoir below.
If you have time and you're not racing out for sunset the whole loop around the reservoir is a great walk and only 2.2 miles total.
This hike is one to keep in your back pocket when wanting to squeeze in an after work hike. For me it's also a great spot to meet friends as it's right in the middle of CT!
🚙Getting here: GPS coordinates 41.562115, -72.762339. This lot can get busy after work hours and on weekends (I never go here on the weekends!). I like to arrive a couple/few hours before sunset on a weekday and it is a little quieter by then.
🌞I hope you enjoyed this round up of 10 short hikes with amazing views in CT, short as in under 2 miles round trip!
If you're looking for more short Connecticut hikes click here. For longer hikes in Connecticut check out this post all about hiking the Appalachian Trail in CT.
Wow, who knew you didn't need 8 hours of free time to hike a beautiful trail, spend time in nature, and top it off with a beautiful view.
I hope you found this list helpful and that you're already planning one for this week coming up! 🙂
Comment below with one you can't wait to try and feel free to leave any questions below, too!
Happy hiking! 🥾