A fall hike and a pumpkin patch or a walk and a winery. I've got you covered with super scenic fall hikes in Connecticut plus a nearby fun fall activity. Get out your fall hiking planners and schedule each of these 9 hikes for every weekend this fall! 🙂
Now any hike with views is amazing and worth doing in the fall!
So if you don't find a hike near you on this particular list take a moment to explore these two popular posts; 9 CT hikes with water views or 10 short CT hikes (under 2 miles) to find a different view! (Or if you're looking for something spooky, try this Haunted Hikes in Connecticut post!)
The hikes in those posts or any listed here are sure to contain dazzling fall views if you go at the right time..
When is the best time to hike and see the foliage in Connecticut? 🗓
The fall season of course! But the leaves start to slowly change at the end of September as the bright green leaves turn to pops of yellow. 💚💛
And come October, we see the colors start to accelerate, going from yellows to oranges. By the middle to the end of October, the oranges are turning to reds and we've got what looks like a rainbow of colors! Green, red, yellow, orange. And with that blue sky background or fog in the morning, whew, we are in for a treat. 🧡
The leaves also change more quickly in northern CT. Central and southern CT are usually a week behind the northern elevations like hikes in Litchfield or Kent.
For each hike, I include dates visited so you can get an idea but remember that the exact time for peak foliage in New England changes from year to year!
Fall Hiking Planner 🗓
I suggest picking out one hike a weekend from the end of September to the end of October. (Fall hiking in November is pretty too as the last of the yellow leaves hang on! 💛)
But if you choose one a week, especially in October, you'll be sure to catch the peak foliage somewhere!
I would hike in northern CT end of September and the first half of October and expect full colors in central and southern CT in the second half of October. 🙂
🍁9 Connecticut fall hikes to put on your New England fall hiking list! 🍁
What a special and beautiful hike! Over streams, bridges, and through the woods, you get to enjoy 3 different and spectacular lookouts here which are perfect for leaf peeping!
🌟If you want to get to the views and back down in UNDER 2 miles, click the link to this post I made and scroll to hike number 6!
Miles: Full loop 4.8 miles (read the description above to see how to make it shorter!)
Elevation Gain: 912 ft
Level: Moderate
Date visited: 10/23/22 sunrise 🌅
Parking: easy-to-miss parking lot on Westledge Rd located between Woodchuck Hill Rd and W Mountain Rd
Special features: Cathles Falls waterfall, streams, bridge, and 3 different eastern-facing lookouts which are all GREAT for sunrise
Nearby Fall Activity: Stop by Tulmeadow Farm for pumpkins and farm-made ice cream or Flamig Farm for hayrides and more! 🎃🍦
Just outside of Washington Depot are 700 acres and 17 miles of trails to explore in Hidden Valley Preserve. Trails wind their way along and over the Shepaug River.
There are lots of different trails you can take here to admire the fall views but I love the Bee Brook Loop or Hidden Valley Overlook that leads you to the pinnacle which you see in the pictures below. The list of trails is linked in the title above!
The 134-foot Thoreau bridge is also a highlight as it welcomes you into this magical preserve and across the Shepaug River. And who doesn't like reading quotes along the way which you can find inscribed on the bridge as you walk?
Miles: Hikes here range from 1.6 to 6.6 miles
Elevation Gain: varies depending on which hike you choose but they aren't too steep!
Level: Easy to Moderate
Date visited: 10/22/22
Parking: Parking lot along Bee Brook Rd
Special features: Lots to see here including a suspension bridge, Hidden Valley Overlook, Shepaug River, and the quartz mine
Nearby Fall Activity: Head to downtown Washington Depot where there are numerous cafes! This was the town that inspired the show Gilmore Girls, it's quaint and beautiful and perfect for fall. 🍁☕️
3. Mohawk Mountain via Cathedral Pines Trail, Cornwall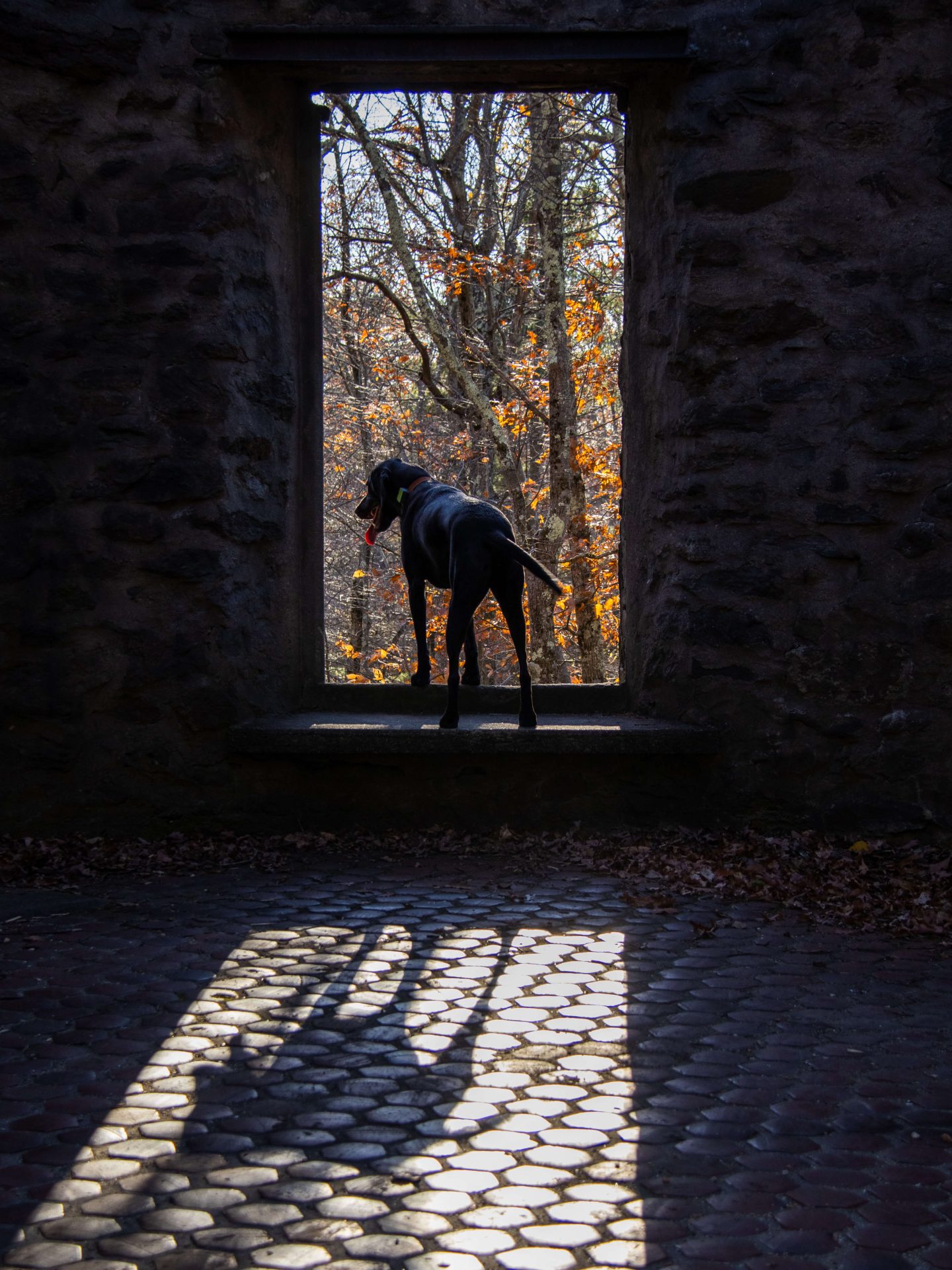 This is such a pretty trail and is one of my favorites for sure. I love walking in the tall pine forest and by the little farms with cows grazing in the pastures. This one has a road crossing a half mile in so if you have dogs be sure to get them back on the leash and the same for rogue kids!
As you get close to the top you'll walk past the ski lifts and that area has a really pretty view as well. Continuing on you will find Cunningham Tower (see pic below) which you can explore and then finally the top view of Mohawk Mountain.
🌟If you'd like a MAJOR SHORTCUT, you can get to this view by driving if you just google Mohawk Mountain and your GPS should take you there. 🙂
Miles: 5.4 miles
Elevation Gain: 1,200 ft
Level: Moderate
Date visited: 11/7/20
Parking: small pull-off on Essex Hill Rd (4-5 spots)
Special features: walking through Cathedral Pines (super tall pine trees!), walking by scenic CT farms 🐄 on the way up, and through Mohawk Mountain ski area and lifts 🚡
Nearby Fall Activity: Stop at the Cornwall Co-op Farm Market! 🌽 Hours and location here. Or drive to and through one of the last covered bridges in CT! The iconic red West Cornwall Covered Bridge over the Housatonic River. This is a very scenic spot for pictures with the bridge, river, and surrounding hills. Located on Rout 128 in West Cornwall.
What a view in just 0.6 miles! The trail starts out mainly flat but right at the end there is a little rock scramble that I think would be intimidating for beginning hikers.
It's basically a pile of rocks that you walk up, gets steeper as it goes, and requires you to use your hands a bit toward the top. But it's nothing an intermediate hiker or energetic kids and dogs can't do!
And when you get to the top you'll have views facing west and views facing east. This spot is perfect for sunrise, sunset, and of course, watching those fall colors change.
Miles: 1.2 miles
Elevation Gain: 252 ft
Level: Moderate (short but one steep and rocky section!)
Date visited: 10/15/22 sunset 🌄
Parking: Small parking lot (never ever full!) on West Avon Rd across from horse farm 🐴
Special features: almost 360 views at the top, perfect view west for sunset or east for sunrise
Nearby Fall Activity: Head to J Foster's Ice Cream in Avon or, if you're willing to drive a few minutes farther go to Dom's Coffee or Creamery in Simsbury 😍 (coffee, breakfast, lunch, or homemade ice cream!) 🍦
5. Orenaug Park Fire Tower, Woodbury, 0.9 miles, 200 ft elevation, moderate
In under a half mile, you can get to a tower with 360-degree views that's perfect for fall leaf peeping!
It can be a little scary walking up the several flights of this tower but it's completely enclosed at the top. It's great for safety but also means you have to look through the windows they gave you to see the fall views below! 🪟
The pictures really don't do it justice though and I'll have to go back to try and capture the beauty from the top here.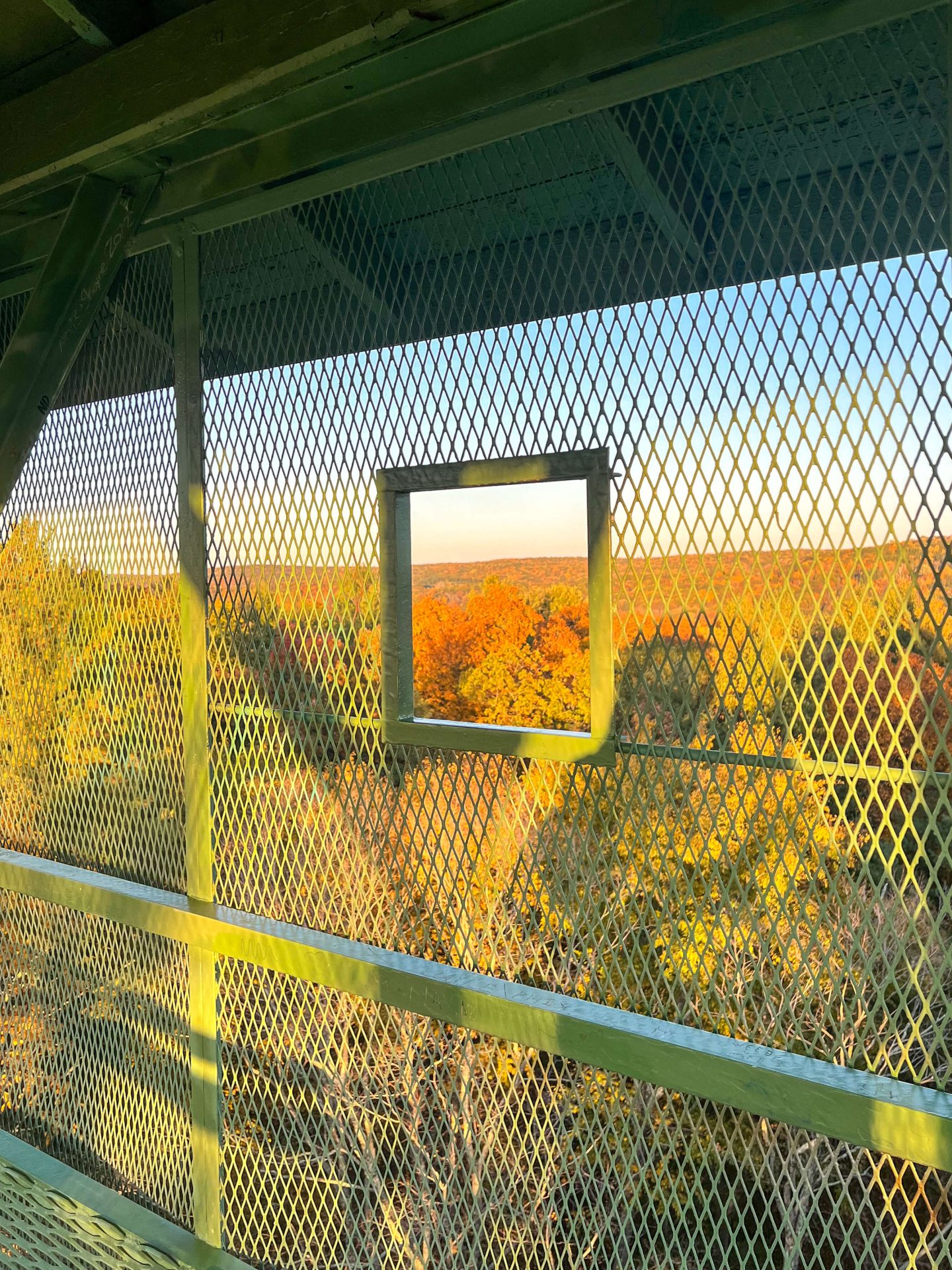 🌟To learn more about the tower check out the map and history here!🗺
Miles: 0.9 miles
Elevation Gain: 209 ft
Level: Moderate
Date visited: 10/21/22 sunset 🌄
Parking: There is a trail from Park Road and a trail from behind the town library.
Special features: 360 tower views of course! 🙂
Nearby Fall Activity: Get pumpkins, local produce, or baked good from New Morning Market, a place I love to visit when in the area! There are antique stores and other shops in the quaint center of Woodbury. And/or visit Walker Road Vineyards in Woodbury. 🍷
One of the more popular hikes in CT so it must appear on this fall hiking list! And also because as you do this loop you will have views for most of the way!
Ragged Mountain is located in central CT so it's always been a great spot for me to meet up with friends and hike. I also love doing sunrise or sunset here since as I said, there are really views in all directions!
When you enter the forest you'll see trails branching out in 3 directions. For this full 5.6 mile loop I like to start out left on the blue/red loop arriving at the first view and traprock cliff walk only 0.7 miles in. This view faces east and I've featured it in a sunrise post here along with 9 other sunrise hikes in CT!
After this eastern-facing view, you will continue along the ledge with views peaking out between trees which is where I took the picture below.
And you'll experience views as you make your way around the red/blue loop which is why this one is a perfect fall hike to do in Connecticut. There will be no shortage of photo opportunities and lookouts to see the foliage along the way.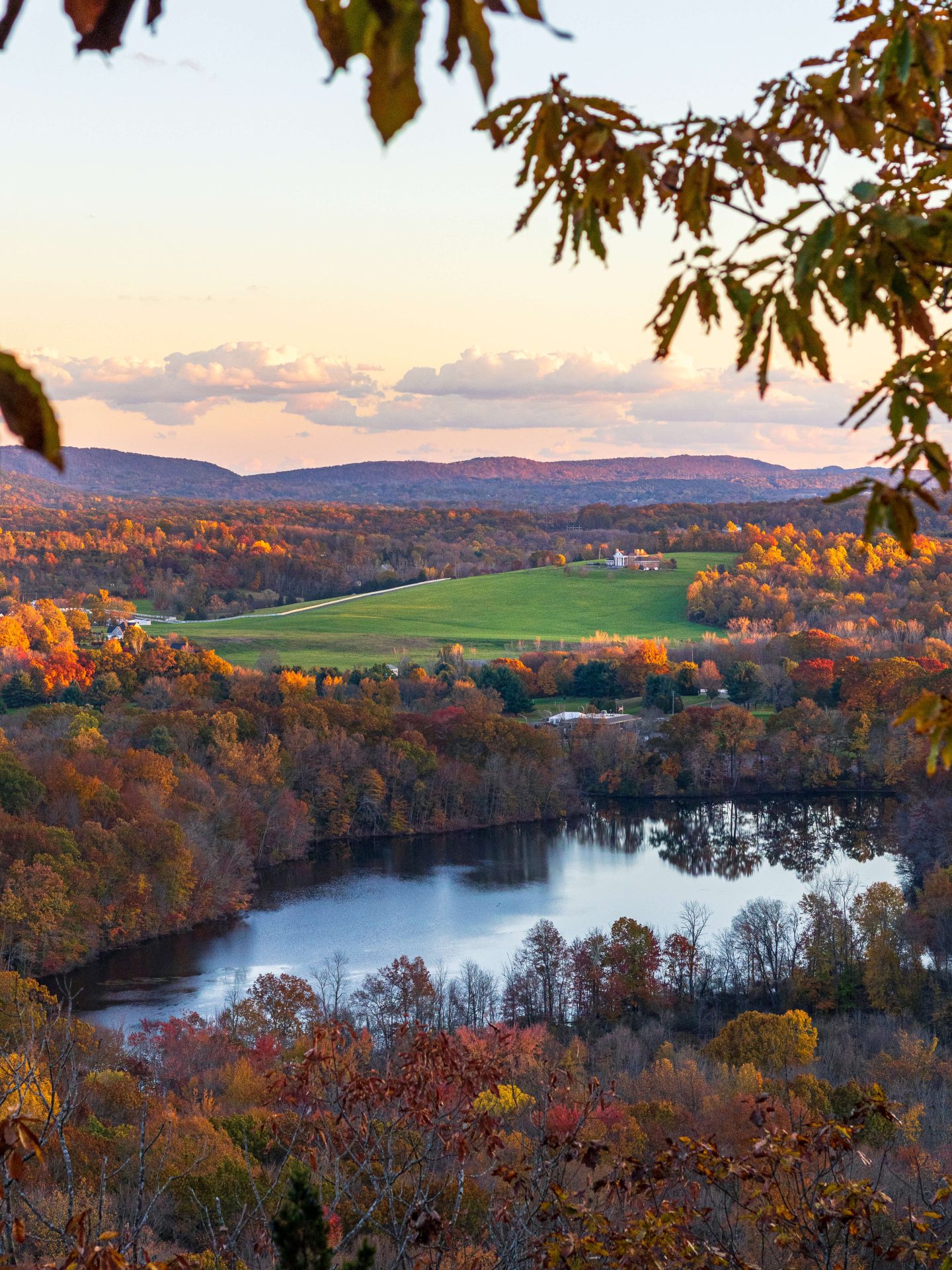 Miles: 5.6 miles
Elevation Gain: 843 ft
Level: Moderate
Date visited: 11/2/22 sunrise 🌅and 11/3/21 sunset 🌄
Parking: There are lots of space along West Lane in Berlin by the trail entrance
Special features: If you do the whole loop you will be treated to views in all directions! The loop walks around all the rocks and cliffs here. If you walk 0.7 miles in going clockwise you'll get to Sun Rock which is the best for sunrise! The right side of the loop overlooks Wassel Reservoir and the left side (Sun Rock area) overlooks Lower Hart Pond.
Nearby Fall Activity: Go get a fun latte and snack at Miel Coffee which is about 10 minutes from this hike! ☕️ Or head to Coles Road Brewery, a family-owned nano-brewery, and taproom!🍺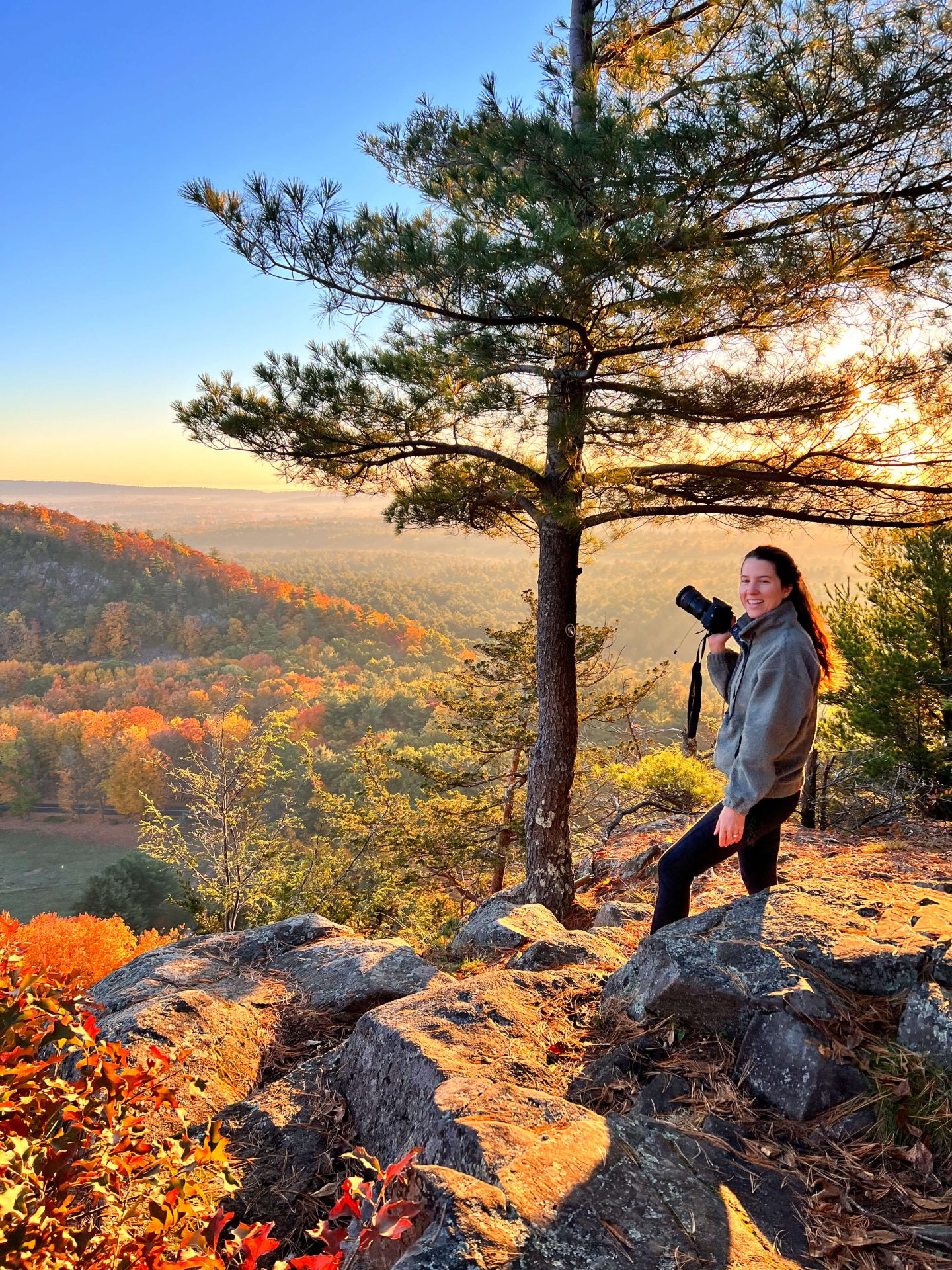 A local favorite for sure! This one is just over half a mile hike up to see the amazing views at the top. Overlooking a red barn and the other side of McLean Refuge this is the perfect backdrop for all the fall colors.
This view faces east as well making it perfect for sunrise! And have you ever seen a fall sunrise?! ✨It's perfect! I love the way the oranges and reds light up with the sun.
We've always had this lookout to ourselves, maybe because the trail to get to it is tucked away in a neighborhood, making it a little inconspicuous!
If you do visit, respect the neighbors as you access the trail since it kind of runs between several backyards. And leave no trace of your visit by carrying out all trash, etc. 🙂 Enjoy! I know you'll love it.
Miles: 1.2 miles
Elevation Gain: 324 ft
Level: Moderate (this is a pretty easy trail with just a little bit of elevation that will get your heart pumping! It is fine for beginners though.
Date visited: 10/22/22 sunrise 🌅
Parking: Small pull-off along Barndoor Hills Rd right across from Kettle Pond Lane
Special features: Faces east for sunrise
Nearby Fall Activity: Tulmeadow Farm for homemade ice cream and pumpkins or Flamig Farm for hayrides and more! 🎃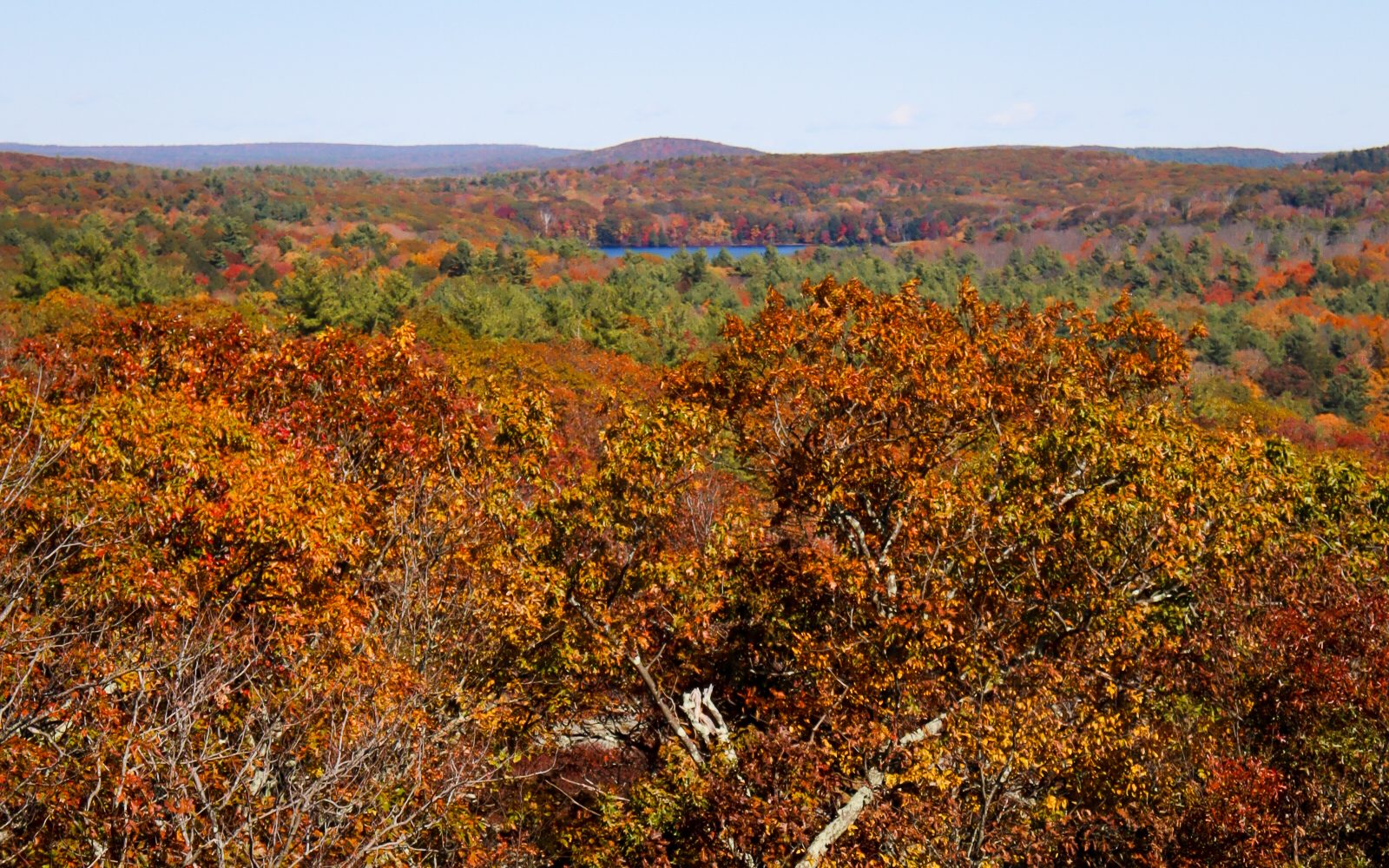 Tucked away in downtown Norfolk, behind the pristine green and white-steepled church, are more than 6,000 acres known as Great Mountain Forest.
Spanning the towns of Norfolk and Canaan, CT, the Great Mountain Forest contains over 13 miles of trails which I just discovered recently and I grew up in CT!
One of the trails in this forest is the Iron Trail which is where the path to Stone Man Mountain is located. There is a lot in this area I haven't explored yet and if you're curious, too, here is the link to maps and trail descriptions of Great Mountain Forest!
But for now, we will dive into Stone Man Mountain which offers excellent leaf-peeping in the fall with its sprawling eastern-facing views.
This is a unique hike and feels like an untouched, unspoiled area. Though this part of the state is a bit of a drive (if you're not coming from northwestern CT) I think you will appreciate the journey here through the charming town of Norfolk and the surrounding area in addition to this peaceful hike in Connecticut's country!
Miles: 2.7 miles
Elevation Gain: 672 ft
Level: Moderate
Date visited: 10/17/20
Parking: Small lot on Canaan Mountain RD
Special features: Sweeping views facing east 🌅
Nearby Fall Activity: Check out the quaint downtown of Norfolk with its pristine green and charming white church. Then head to Freund's Market for pumpkins, plants, produce, baked goods, or anything else you might want to eat. Or Norbrook Farm Brewery which has brews, views (it's gorgeous here), and even mountain biking trails! 🍷
9. Sessions Woods Wildlife Management Area, Burlington
During the fall at Sessions Woods, you can find beautiful trails to meander through and golden tunnels of leaves in this 771-acre nature preserve.
There's a trail for everyone here from 0.9 miles to 17 miles and you can take your pick from the AllTrails link above in the title. The levels range from 'Easy' to 'Hard' as the elevations vary from 45 to over 2,000 feet of elevation gain.
I love the observation tower here (mainly obstructed by trees but cool nonetheless!), the waterfall, the gazebo, and the Beaver Pond Trail.
This area is popular in the fall as you have the quintessential fall spot, Hogan's Cider Mill! 🍎🍻A charming setting, the barn where they've been making cider since 1912, string lights, and all the fall decorations you could ask for. This is a very "Instagrammbale" and photo-worthy spot!
I've never done this but there are always pictures of people with their drinks here and many of them have whipped cream on top! I am not certain what they are putting whipped cream on 🤣 but I know they also offer spiked pumpkin spice lattes. Wow! Definitely stop here to get in the fall mood!
Miles: Several trails to choose from, click the link in the title for options
Elevation Gain: Depends on the chosen hike
Level: Easy to moderate
Date visited: 10/18/22
Parking: Big parking lot and information center off of Milford Street
Special features: There's a small tower to find, lotus ponds, streams, and stonewalls!
Nearby Fall Activity: Head to the super popular fall spot – Hogan's Cider Mill!🍎🍻
I hope you enjoyed this Connecticut fall hike and activity post and now have some ideas jotted down to fill the precious fall days! The most beautiful season and it goes by too quickly. Go get out there! 🥾🍁🏃🏽‍♂️
Other posts you might enjoy:
Or, 8 Tower Hikes in Connecticut; 360-Degree Views! Perfect for fall 🍁