😍Looking for scenic hikes in Connecticut with beautiful views that you haven't seen before or that not many people know about?!
These 8 Connecticut hikes (I plan to keep adding to this list!) not only have amazing views at the top but were made to have the most scenic journey along the way. 🥾
The list of CT trails you'll find below are 'homemade hikes'. Hikes, just like cakes, cards, and cookies are better and more special when they're homemade! 🍪 Each one was made either because the view was not mapped out on AllTrails, I combined smaller trails into a longer day hike, or made a shorter trail in order to access a lookout for sunrise or sunset.
➡️All you have to do is click on the link (in the trail titles below) to access the map for each one and save/download it for future use. (PS if you want to know how to make your own hikes on AllTrails someday stay tuned for a post coming up about that!)
So what are the secret and scenic Connecticut hikes you won't find on AllTrails?!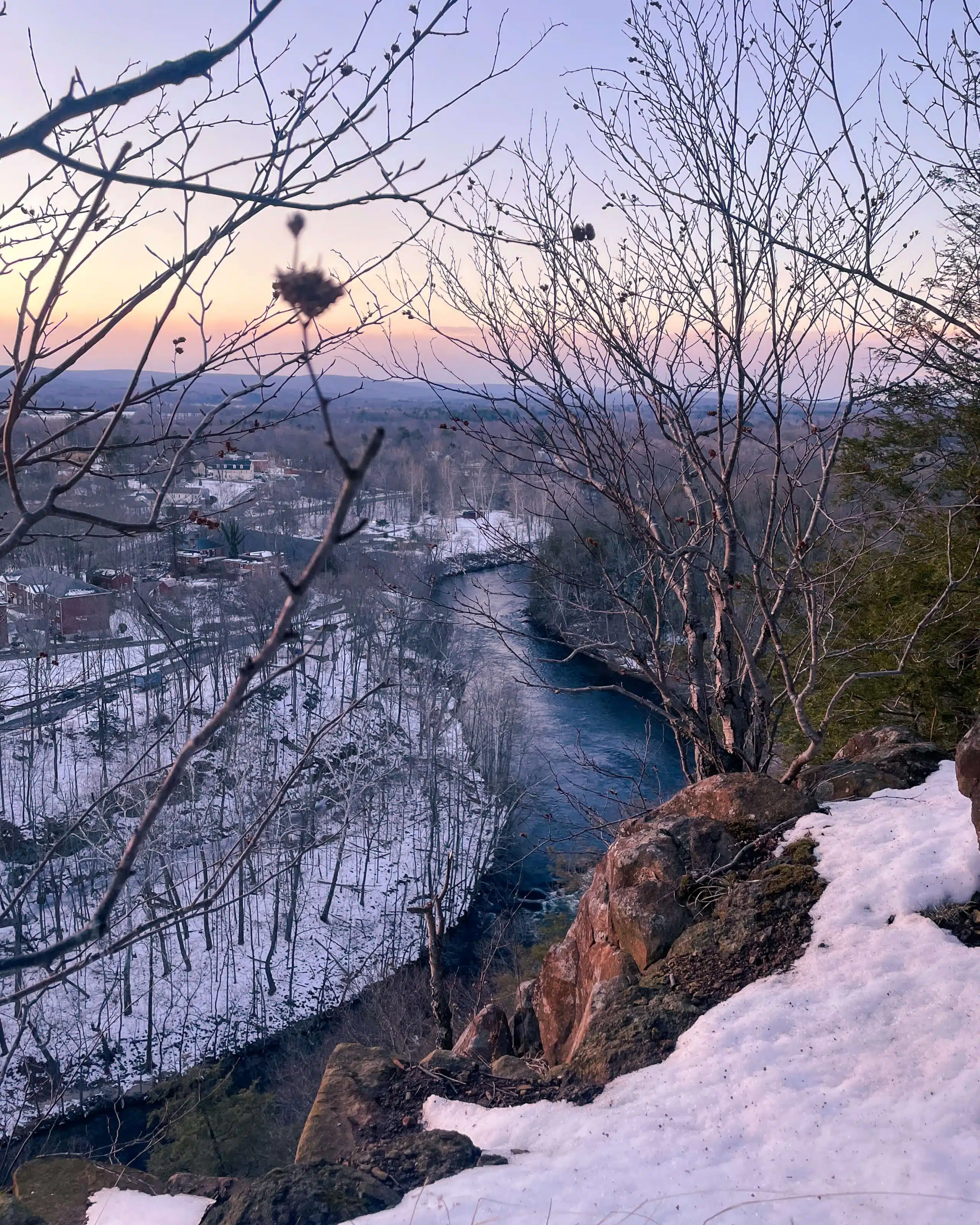 It's amazing that this beautiful Connecticut hike and view exists and isn't a set trail or marked on AllTrails except for a tiny camera icon if you zoom in. There is a hike on AllTrails called Holcomb to Hatchet Hill but it doesn't take you to this spot!
Located in Tariffville which I thought was its own town but is actually a neighborhood located on the northeastern side of Simsbury in Hartford County, this hike is in Tarifville's Historic District. It faces west making it great for sunset and it also overlooks the Farmington River! If you look at the map I made you will see lots of little trails in here so there are several ways to do this hike but we routed the more scenic option that takes you up along a ridge until you get to the lookout. There is another option of parking on Hartford Ave, Route 189 if you want to enter that way. There are mountain biking trails here (marked in blue on the AllTrails map) so if you do let dogs off-leash just be aware of that.
While there is a little elevation here on this hike I would still rate it 'easy' as there is nothing technical going on since you're walking on established paths through the woods. There is some really interesting Native American history in Tariffville, that you can read about it here! There's also a popular and highly reviewed Italian restaurant, Marco's, in Tariffville if you want to plan your trip around that. Just bring a change of shoes from your hiking boots and enjoy! 🙂
2. Sunset Cliffs, Falls Village, 2 miles, 1300 feet elevation gain, moderate
On your way to Sharon, CT you pass through the little town of Falls Village located in the northwest corner of the state. This hike is a short but steep climb up a section of the Mohawk Trail (marked blue). The link in the title is only half of it so naturally, you will double back when you are done, making it a total of 2 miles.
If I had to choose a near-perfect day hike in Connecticut that you won't find on AllTrails this would be it! Located in Kent, CT, in the Northwestern part of the state, you'll appreciate the beauty just as you're driving into town. Not to mention the coffee and chocolate shop in the center of town as you pass through. Be sure to stop at Kent Coffee and Chocolate before or after the hike!
You'll pull into the large lot and walk a short trail down toward Fuller Pond; a spring-fed and glacial lake that does seem more of a lake given its size. There is a 2-mile loop that goes around the pond which you will be doing (split into two sections) as part of this hike. I went clockwise on the trail I made (heading to the left first when you get to the pond) but it works either way. After heading around the left side of the trail and pond you will walk up a touch of elevation to the 1.4-mile mark for a pretty overlook of the pond below (see middle picture below). This in itself would be a nice hike if this was all you had time for!
After the lookout over the pond, you continue left along the second loop of this trail. It takes you into an amazing open field lined with stone walls, all part of the 800 acres of Pond Mountain Natural Area. You will have about .5 miles of a walk through this field until you reach Fuller Mountain Road so get prepared to get the dogs leashed up!
You walk along Fuller Mountain Rd, and turn right onto Skiff Mountain Road with a total of only .4 miles of road walking which I always find to be a nice change, especially on these beautiful country roads! After that .4 miles of road, at the 2.3-mile mark, you will see a trail on the left (blue blaze) heading into the woods. You'll walk up to Caleb's Peak (pictured on the bottom left and bottom right) where you'll meet up with the Appalachian Trail (white blazes).
Enjoy the view from Caleb's Peak, part of the AT, which overlooks Kent and the valley below. (If you are looking for more hikes along Connecticut's Appalachian Trail click here for the trails I made that break the whole 50-mile Connecticut AT section into 7 legs and day hikes).
After taking in the view, you'll start to close this upper loop by taking the white-blazed Appalachian Trail back down. After .6 miles of descent until you'll reach the final road crossing. When you get to Skiff Mountain Rd below you take a right on the road and walk less than a tenth of a mile until you see the trail entering the woods on the left. (Make sure you turn right and walk along the road and do not go directly across it onto the AT!)
Here you will walk .7 miles on a nice wide path along a brook that takes you back to the Fuller Pond loop. Turn left and walk down alongside the pond (the pond will be on your right) to the parking lot. If you have some extra energy and want another view check out Pond Mountain which will be on your left and require a bit of elevation to get to.
This is perhaps the best scenic hike and view in Connecticut that you won't find on AllTrails! And I will give it to Jared for this one, as this is one that he made!
We, and perhaps you as well, have driven by these cliffs so many times along Route 7 here up in Canaan, CT. Route 7 is a busy but scenic road that runs from the top CT down through the towns in Northwestern Connecticut so if you've hiked in this area chances are you've taken Route 7. 
You are not making your own trail although it might feel like that at the start! Have the AllTrails map linked above pulled up on your phone or download it ahead of time because there can be limited service up there. You will see, after about .2 miles, that there are established trails here marked green, yellow, blue, and red and we mainly take the green to yellow to the cliffs. You'll also pass a little waterfall and you pretty much follow the stream right up the mountain.
⚠️This trail is tough! It's very very steep since you go up 1000 feet in .7 miles. The steep parts don't last too long and you'll see the switchbacks that help with the incline. Once you get done with the incline you'll turn left to walk on a super pretty path in the woods and you'll feel like you have the mountain to yourself which you probably will! You will be on green at first and then it switches to a yellow-blazed trail until you get to the cliffs. 
There are a few super pretty cliff spots on the way to the final one so don't be fooled and keep going to the end of the trail with the last cliff which is wide open with expansive views that face west. Be careful as the cliff can be slippery even if it doesn't look like it!
I bet you'll be just as amazed with this view. It is definitely one of the better views in Connecticut. I want to go back and see it in summer or fall! Enjoy, be careful, and leave no trace while there! We headed to Falls Village Cafe after this (maybe 10 minutes south) since you build up a little appetite with this one!
I have done Pine Knob Loop lots of times but never knew the view to the left of it at Bread Loaf Mountain. This hike starts with a climb that'll wake you up with .7 miles and almost 600 feet of a climb. The view at the top of Bread Loaf Mountain faces east and is a nice spot to sit and finish your coffee if you got there early. Since this Bread Loaf Mountain is right off of the Appalachian Trail there is a campsite off to the side which I'm sure the AT hikers take advantage of.
After the view here you will walk a tenth of a mile until you meet up with the AT (white blazes) which you will turn right on. From here it's a beautiful mile in the woods along the AT, crossing numerous streams until you get to the start of the Pine Knob Loop. You can go clockwise around the loop (which is how I mapped this one out) or go counterclockwise heading down along the falls first and then up to the view. There are two beautiful lookouts and views along Pine Knob Loop and if you do go clockwise you will hit the views first and then come up Hatch Brook Falls (which will be alongside you on your left) as you make your way back to the trail to Bread Loaf Mountain. There are a few stream crossings so wear your waterproof boots! This hike is a Northwest CT classic as you get a little of everything with the multiple lookouts, streams, and small waterfalls.
6. Hedgehog Trail Overlooks (West Mountain), West Simsbury, 1.94 miles, 640 feet elevation, easy to moderate
Click on that trail linked above and if you go to navigate there you will see that it takes you to the end of a very pretty street in West Simsbury, North Saddle Ridge Drive. But fortunately, it also happens to be the entrance to part of the Simsbury Land Trust. You will see a short stone pillar and a sign that reads "Town of Simsbury Open Space, Cathles Trail". If you want to do the whole Hedgehog Trail here in West Simsbury then click here for the 4.8-mile loop.
Walk in and at about 0.1 miles bear left (stay on the trail) and you will see the waterfall 0.2 miles in on the right. With enough rain, this is a good one and you will likely hear the waterfall before it comes into view!
Continue and you will come to a fork in the road and a bridge on your right. You can either take a right and head up the northern part of the ridge and see its 2 lookouts first or you can go left to the southern part of the ridge and see its lookout. All 3 lookouts face east making them perfect for sunrise!
If you zoom in (pinch AllTrails map to zoom in!) you will see the camera icons on the map along each ridge marking the lookouts. All of them are wide open with lots of room to sit and enjoy coffee, lunch, or take pics. Enjoy!! Let me know how you like this one!
Hike up this short trail to the super scenic Connecticut view overlooking Lake McDonough! The other way up to this lookout is by accessing the trail from the northern end of Ratlum Road and from there it takes 3.5 miles to get to the lookout. The trail I made is great for sunset as you'll be able to see the sun going down and not have to walk back for miles in the dark! Even after the sun has set there is still light (blue hour) for you to see but bring a headlamp just in case you linger at the top!
The terrain here is pretty easy to walk on. There are two stream crossings but nothing technical. When here at the beginning of March there was snow on the trails so bring insulated waterproof boots. Have fun and remember to pack out all of your sunset snacks and anything else you bring on the hike! 🙂