Are you looking for longer hikes in Connecticut? Hikes with views, stone walls, waterfalls, rivers, and streams along the way? Fields of green and grassy meadows on one side of a well-worn narrow path with the Housatonic River on the other?!
Then a classic New England hiking experience awaits you along the 50 miles of the Appalachian Trail in Connecticut in the northwest corner of the state. 🌲
In 2020, Jared, the dogs, and I hiked the whole AT in CT by breaking it into 7 different hikes.
In this blog post I will show you how to break down the 50 miles into 7 manageable (moderate) day hikes including maps and All Trails links for each of the 7 legs so you can navigate yourself while you're out there!
Of course, the 50 miles can be broken up a bunch of different ways; some people might even hike it in 2 days! True story 👀 I ran into a group that was trail running the entire thing in one day! I like hiking to be challenging yet enjoyable, so moderately sized hikes for me, please!
About the Appalachian Trail
Did you know that the Appalachian Trail is actually the longest (at 2,193 miles) hiking-only footpath in the whole world, running from Georgia to Maine?! 🗺 And we are so lucky to have a portion of it in our state.
This part of the state is about an hour and 20 minutes from Hartford so wherever you are located in Connecticut, you can make any of these hikes a day trip destination. And it's worth it because some of the best views in Connecticut are along the Appalachian Trail.
📝Special Note: These are all 2 car, point-to-point hikes, meaning you leave one car at the start and one at the ending point so you don't have to hike all the way back. If you are hiking solo then you will need to double your miles and hike back!
To do these point-to-point hikes, first drive to the ending point and leave a car parked there. Then hop in the other car with your hiking partner and drive and park at the starting point. You are now ready to begin your Appalachian Trail Connecticut journey! 🥾
The hikes are listed in order, south to north, but you may reverse the order and hike north to south if you'd like. Click on each underlined location below to pull up a map I made that you can save & follow on All Trails.😊
All 50 miles of the Appalachian Trail in 7 Hikes:
This is the first hike along the Appalachian Trail in Connecticut. You are treated to nicely laid rocks for stairs and a little incline at the start before you come down to the Housatonic River. Look out for Tenmile hill shelter in a wide open field if you want a shaded spot for lunch. The bridge you cross has just a few steps up to it but it is a little steep. Once over the bridge you can stop for a quick break by the river.You'll then continue the final stretch of this hike with the rushing river on your right. There is no big peak with views here, the water is the main attraction! It is a great start and welcome to your journey along the AT in Connecticut.
A big chunk of the incline on this hike is right in the beginning. So try not to eat too much on the ride over and rather wait until you get to a nice view right after the initial climb. Climb up about 800 ft and you reach the top of Schaghtichoke Mountain which offers sweeping southeast views. You will now stay up at this elevation for the most part walking along with minor dips here and there, a stream crossing, and a tent site. The descent to the road is a little steep but you'll be glad to see your car and complete this second leg of the journey.
You'll love the start of this hike. Entering a big field that takes you across a little stream and let's you settle in before you begin a modest little climb of 500 feet that will get your heart pumping. The highlight of this hike is for sure Caleb's Peak with wide open views to the east and then also St John's Ledges which you will walk along at the end of the hike. The slabs are slabs of rock (that you walk along, no up!) are about 100 feet high and are named after their owner in the 1800s, Timothy St Johns.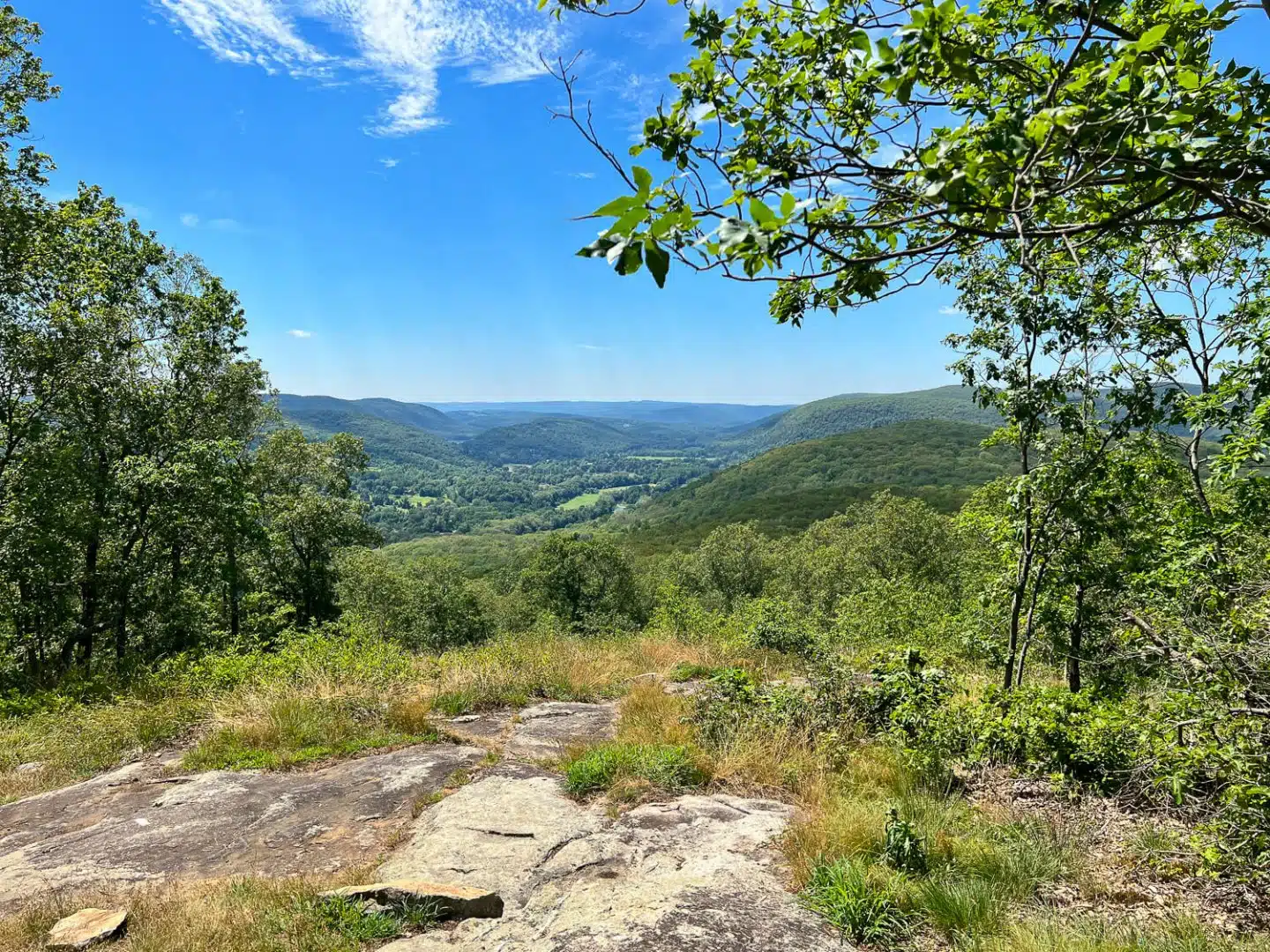 You'll love the stretch of trail, the longest stretch of the Appalachian Trail that runs right along the Housatonic River. Taking you through a wide open field with mountain views on the left, the river will be on your right and it will be like this for a good few miles! In fact, the first 4.5 miles of this hike is pretty flat and then after this you will hike up some elevation and at the end come down along the raging falls at Pine Knob Loop.
This is a big one so pack lots of snacks and water! You'll start with almost 600 ft of elevation gain here which takes you up to Pine Knob Lookout (great place to watch the sunrise)! Continuing on you'll have several ups and downs until you get to Sharon Mountain. This is another great view and good place to sit as long as you don't mind the sound of the racing cars below at Lime Rock Park! You will definitely feel a sense of accomplishment after this hike and hopefully have lots of beautiful pictures to go through.
This hike might turn into a favorite as it combines a bridge crossing with a waterfall sighting and 2 views! One of which seems to come out of nowhere. You'll start by walking along a quiet road in Amesville, crossing a bridge and seeing a top waterfall in CT called Great Falls! After this, you will begin a long, steady climb to Mount Prospect. Take in the views here but don't spend all your free time in this spot because a little while later you will run into one of the best and most unique views in CT, Rand's View. What makes it so special is how you come to it, emerging from the woods to a view so wide, that a panorama shot wouldn't do it justice! After this, keep your eye out for and get a picture with Giant's Thumb, and then continue the rest of the (relatively flat) way to the car.
⭐️I have a full post you can find on Rand's View that offers 3 different routes to get to it, including just a 2-mile round trip hike!! Check it out in this post here.⭐️
On the final leg, you have a bit of a steady climb but you are treated to two peaks, one of them (Bear Mountain) being the tallest mountain in Connecticut. And like a bear, you will kind of be using all fours here to reach these two peaks. Part of the trail that takes you up to Bear  Mountain goes through Mount Riga State Park in Salisbury, CT. But before you get to the tallest mountain in CT, you will see and enjoy the eastern-facing views at Lion's Head. There is a little scramble up rocks right before you reach Lion's Head and you will experience a similar climbing experience on the way down from Bear Mountain's summit. I love bringing a hiking pole (or two) to help brace myself on the way up or down these steep sections. After Lion's Head, you'll head to Bear Mountain and be sure to climb the pile of rocks there and see the views in the distance. 
👏That's it, friends! By now, if you've hiked the whole Appalachian Trail in Connecticut you're probably tired, hungry, and hopefully with a camera full of memories! There are lots of hikes out there to do but it feels great to complete something and while it's not the whole AT it sure is one beautiful chunk of it! If you'd like more info on the AT you can check out this site. And if you are ready to tackle amazing hikes in other states (like 10 Best Hikes in New Hampshire) be sure to head over to my Northeast Travel tab on homepage!
Please let me know if you complete any of these! I would love to see your pictures or hear about your experience. Leave a comment below or if you do hike and post about it on Instagram, tag me so I can see. 😍 And if you have any questions, write them below or message me on instagram. 📨
Wherever your hiking boots take you next time I hope you have fun, enjoy the journey, and take a few pics to savor it!
Happy Trails… 💖🥾🐾🐾 ⛰