On the hunt to check out the most beautiful and unique waterfalls in New England?! There are so many waterfalls to choose from here in the Northeast, big and small!
Here I share my favorites along with the most distinctive waterfalls in the Northeast including the tallest waterfalls in all of the states (except Maine! 😱) along with some not-so-popular (secret!) waterfalls.
In this post, I include the link to each waterfall hike on AllTrails, hike details like length, difficulty, elevation gain, and everything you need to know to get to them including parking reservations which a few require! 🚙
Choose one that matches your level and the area you're in with the New England and New York waterfall map below that pins them all!📍
Waterfall hiking advice 🙂
⚠️For any waterfall hike I suggest wearing your waterproof hiking boots. (Here is a link to my favorite and most comfortable Merrell Waterproof boots!)
Even if the trail is only half a mile long, rocks and trails around a waterfall are, obviously, wet and therefore, slippery. You'll want to navigate around the falls with a sturdy boot that has some grip so you can explore safely. 🥾
Why go in search of waterfalls?! 🤔⬇️
Not only are they fun to look at and take pictures of but I found out that the sound of the water is known as pink noise and provides numerous benefits along with simply helping us relax. 🧘🏽‍♂️
According to a 2021 study found here,

Water sounds, such as that gurgling brook or a steady waterfall, tended to be the most effective at improving positive affect (the psychological term for a more positive outlook or disposition and the experience of joy and interest), while bird sounds were best for lowering stress.
So what are the best waterfall hikes in New England and New York?!
⬇️An organized list by state. ⬇️
Vermont Waterfall Hikes
1. Bingham Falls, Stowe, .5 miles, 147 ft, easy
I loved this one! It felt like a little oasis in the middle of the woods. This trail takes you to the Bingham Falls Viewpoint and if you want to get down closer you have to carefully traverse wet rocks and a steep section so be careful if you choose to do this after some rain and wear hiking boots or boots with a grip!
This waterfall isn't huge, a 40-foot drop, but it is still one of the most popular waterfalls in Vermont and you can see why from the pictures. If you want a slightly longer walk and one that's less popular you can walk along the other side of the West Branch Little River and take this trail here that's 1.3 miles long.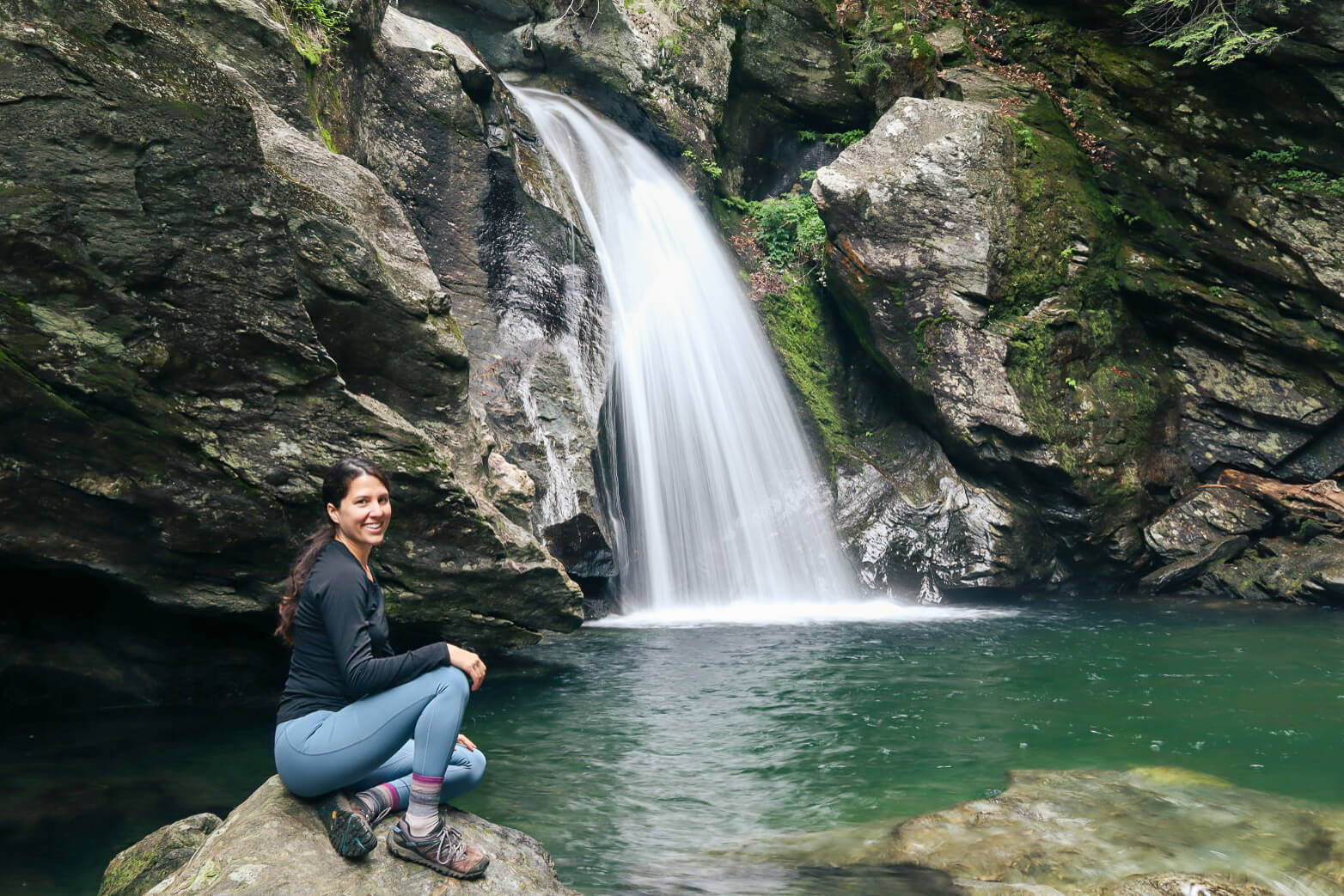 2. Vermont Moss Glen Falls, Stowe, .25 miles, easy (Vermont's TALLEST!)
Moss Glen Falls is the tallest waterfall in Vermont with an 85-foot drop! The link to this trail on AllTrails shows that it's 5+ miles but to get to the falls it is only a quarter-mile walk. You can easily view the falls from down below or walk up a steep section to a viewing level that puts you at eye level with the fall.
Or, you can do what I did and walk up the fall a little bit. Be careful along those slippery rocks, though! If you are in Stowe be sure to pop by Bingham Falls, number one on the list, in Stowe as well!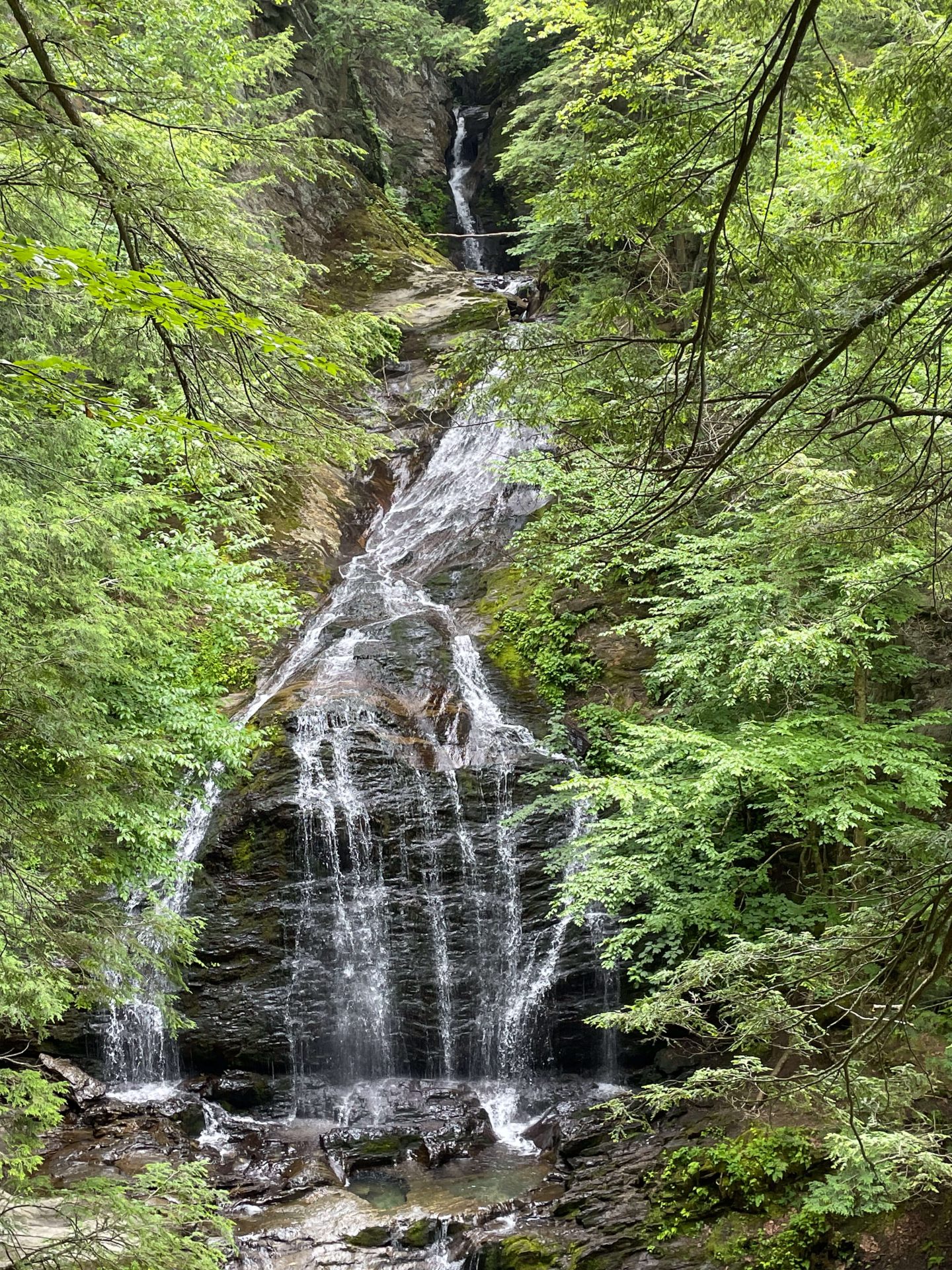 3. Texas Falls, Hancock, 1 mile, 200-foot loop, Easy
Texas Falls is a popular stop along the way from Woodstock, Vermont to Stowe. It is a very pretty and accessible family-friendly walk that takes you across a bridge at first where you can witness the cascades and falls below.
Then you walk a wide dirt path along these unique falls that flow over potholes in the rock created by glacial meltwater. The holes make this a really unique visit and waterfall to visit.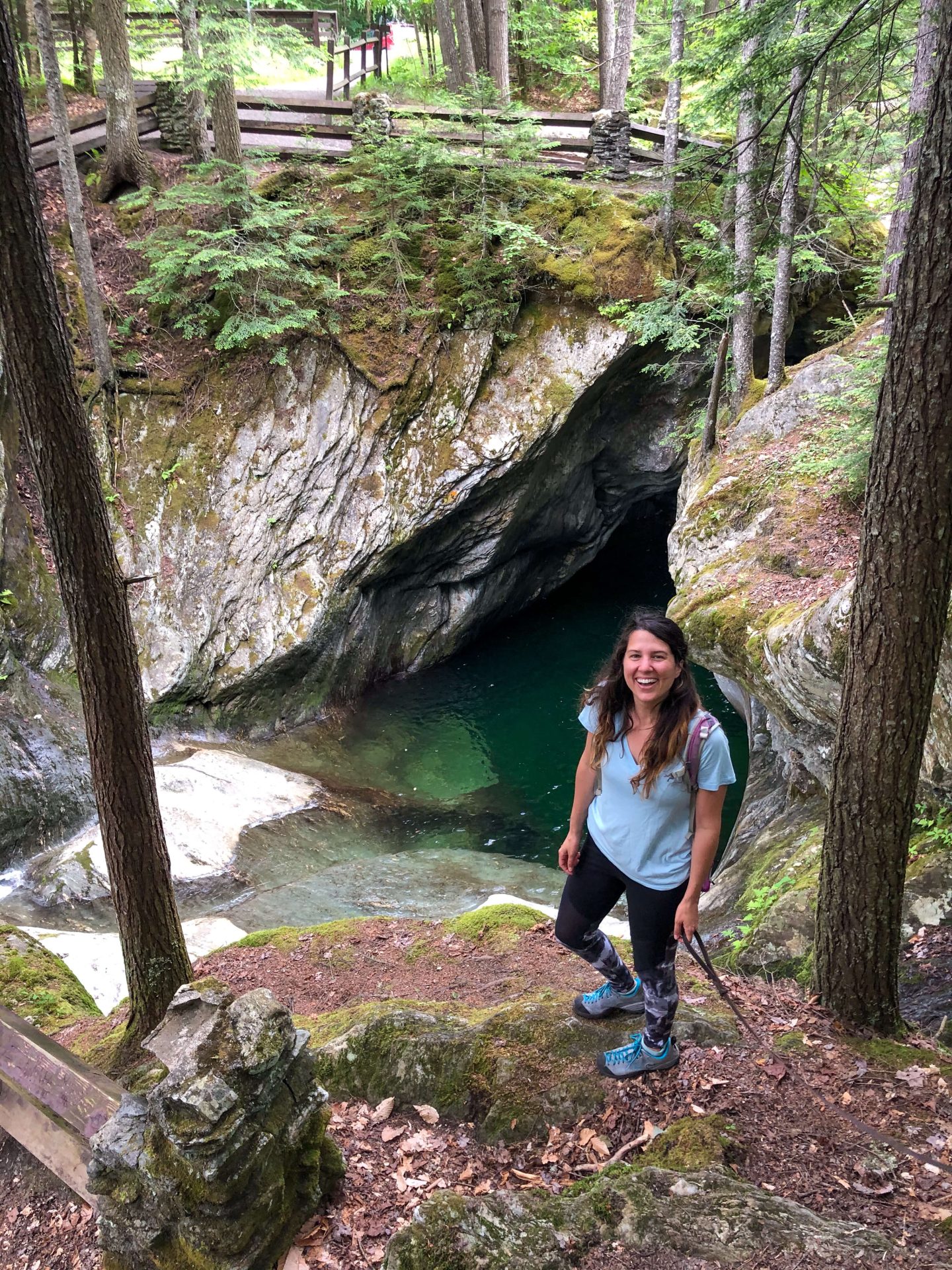 Massachusetts Waterfall Hikes
4. Bash Bish Falls, 2 miles, 520 ft elevation, Moderate hike, (TALLEST IN MA)
Located in Bash Bish Falls State Park, this is the tallest waterfall in Massachusetts! If you're looking for a slightly shorter walk, at 1.5 miles, click here! This is one of the best waterfalls in New England and it's a beautiful all along the way!
⚠️This is a very popular trail and my favorite times to visit are fall, spring, and winter EARLY in the morning before it gets crowded. 🙂
If the main parking lot is full try the lot in the trail linked here!
⚠️In the summer, the steps leading down to the falls are closed and you can only view from above. So if you want to get down closer like the photos below, plan for early spring or late fall!
This park has seen a lot of visitors so when you go please follow the 7 Leave No Trace principles to keep it beautiful and open for all! 🙏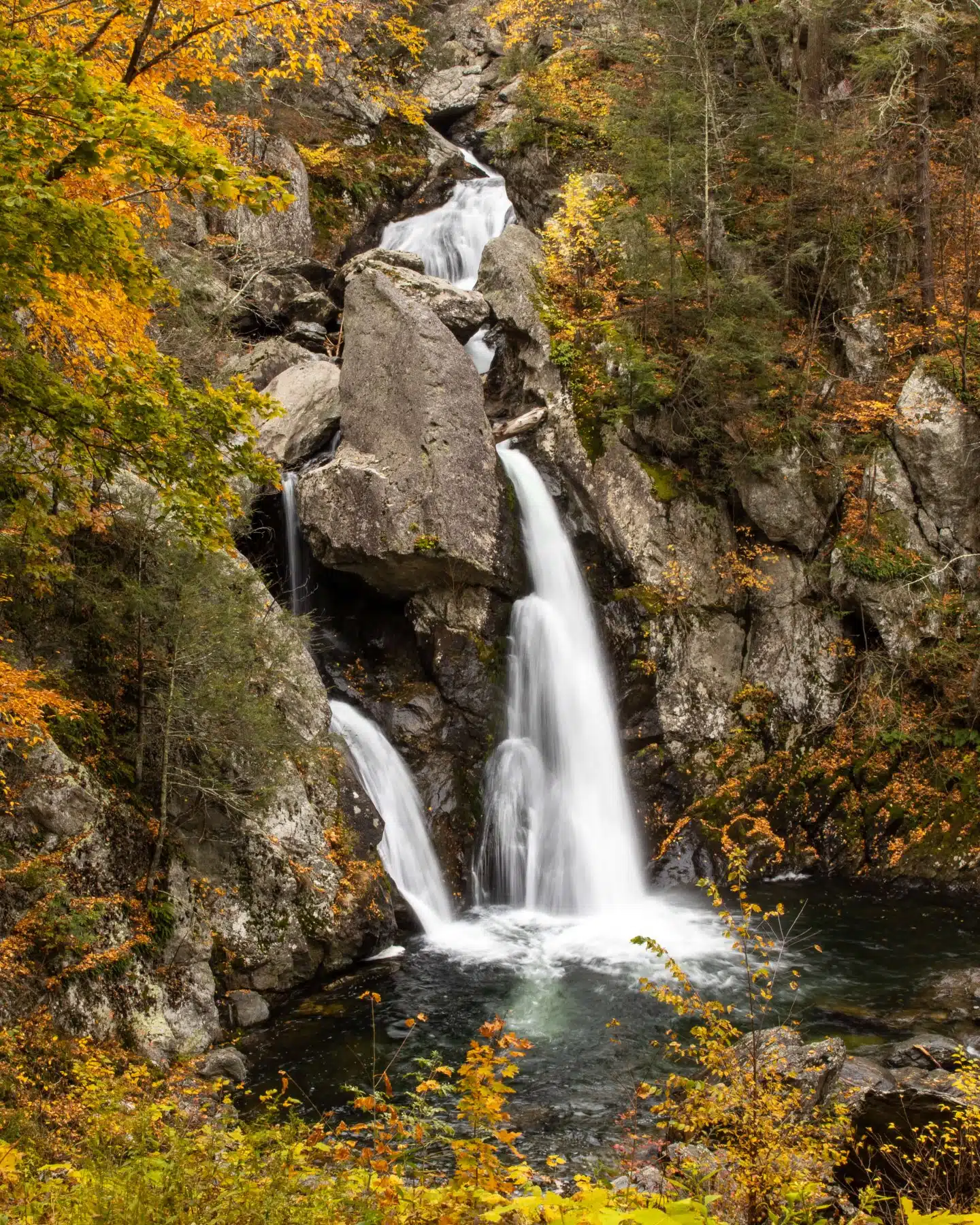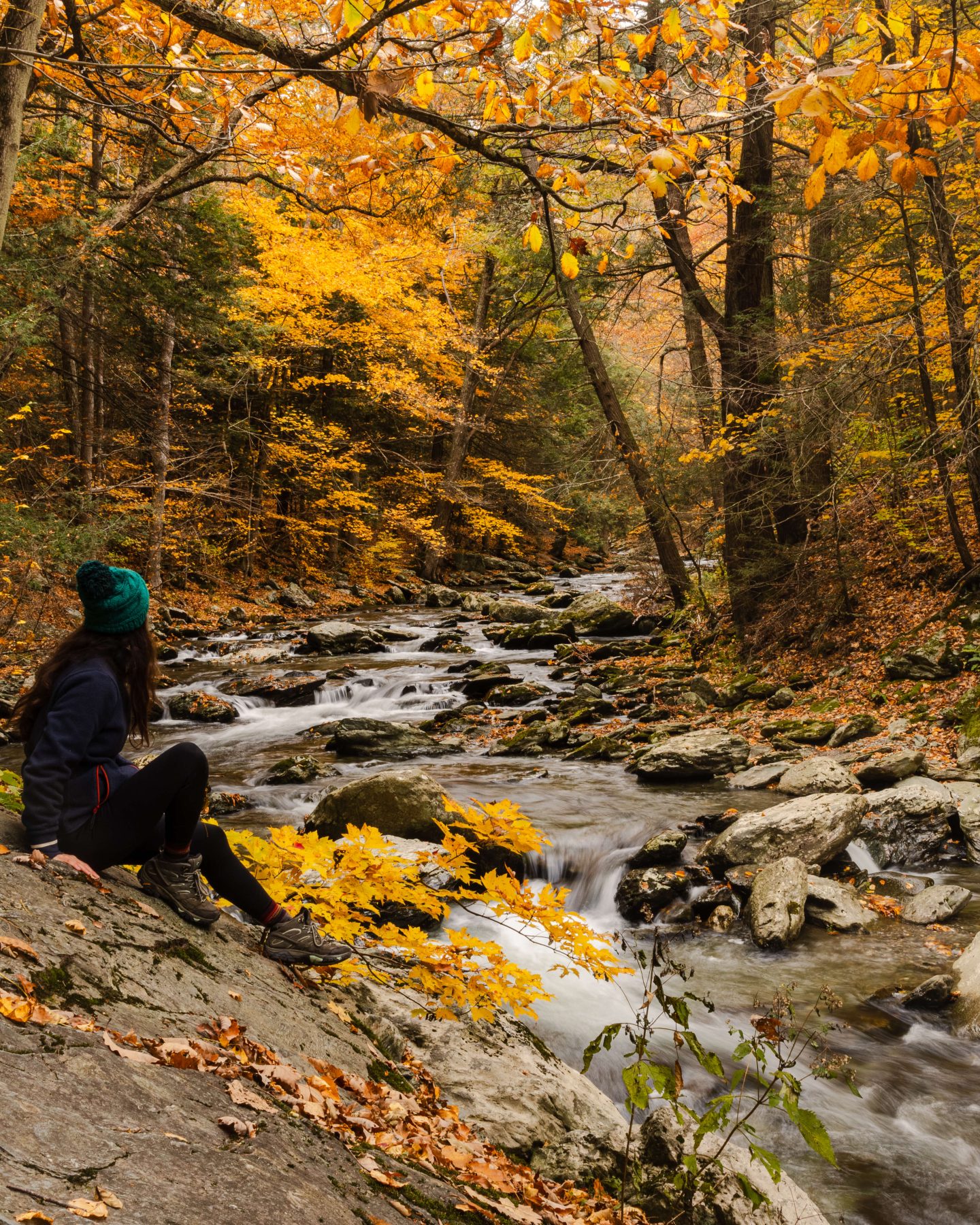 There is a shorter walk if you want to get right to the falls and skip the view! ⬇️
The loop linked in the title takes you clockwise hitting the falls at the end but if you do the loop linked in title counterclockwise, then you will get to the falls after about a mile on a relatively flat trail! This hike is located in Chester Blandford State Forest in the Berkshires (western MA) and is a beautiful setting and hike.
If you want to make a day out of it and have more time check out the Keystone Arch Bridges Trail nearby!
6. Sages Ravine, South Egremont, 3.8-mile loop, 660 ft, Moderate
This is probably my (and probably almost everyone who hikes it) favorite waterfall trail in southern New England. There isn't one big fall that's the main attraction rather there are lots of cascades and falls all along the way.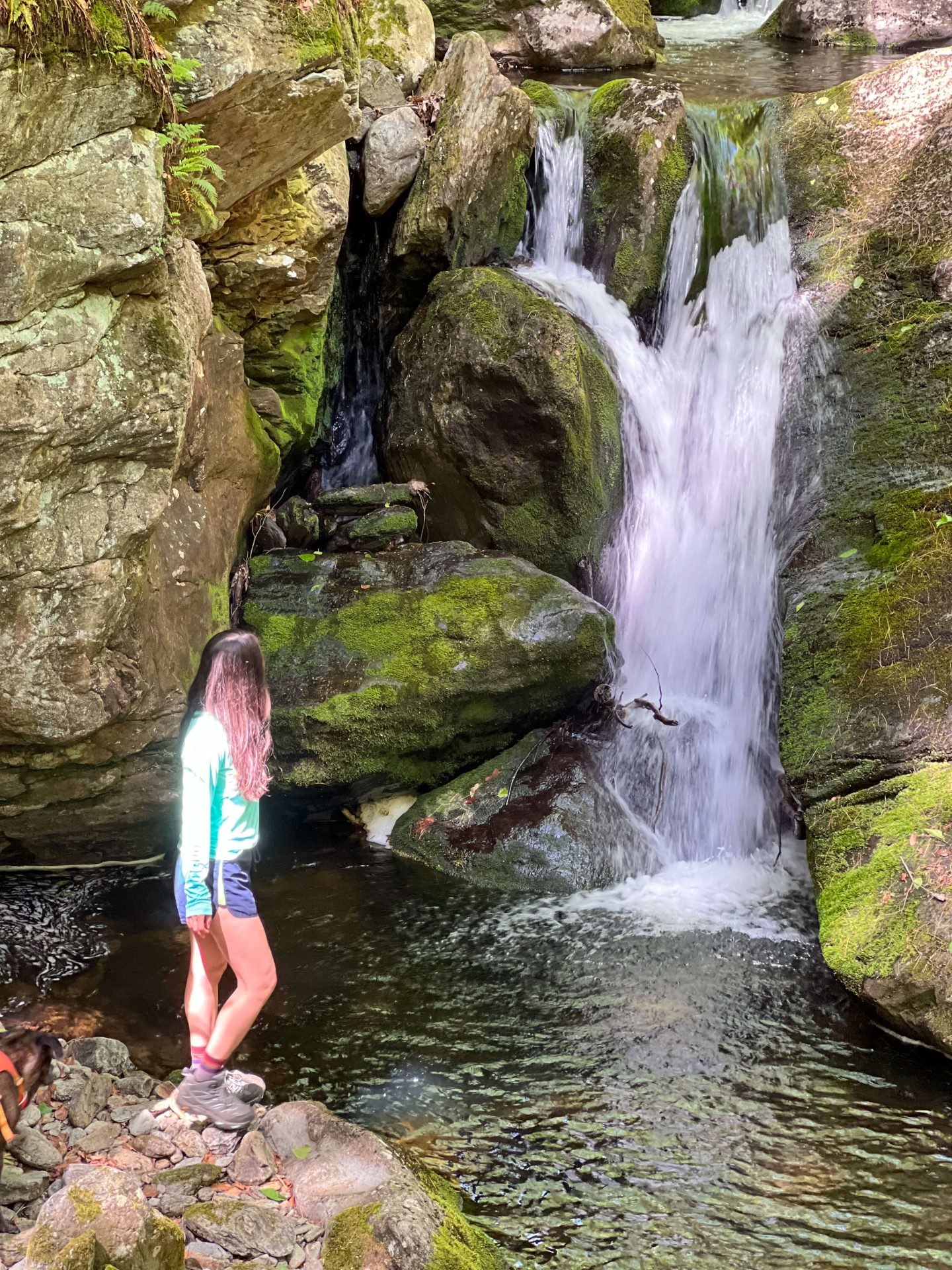 You'll feel like you're hiking in an enchanted forest right out of a fairytale! ✨
Here you'll hike along the famous Appalachian Trail and encounter numerous cascading falls along the way.
You'll find plenty to take pictures of and enjoy in this peaceful forest setting with the rushing water echoing throughout!❤️
7. Race Brook Falls, Sheffield, 1 mile, 700 ft, Moderate-Hard
You can either do the whole trail up to Mount Race (with amazing views at the top) or you can walk in just 1 mile along that trail to the beautiful Race Brook Falls.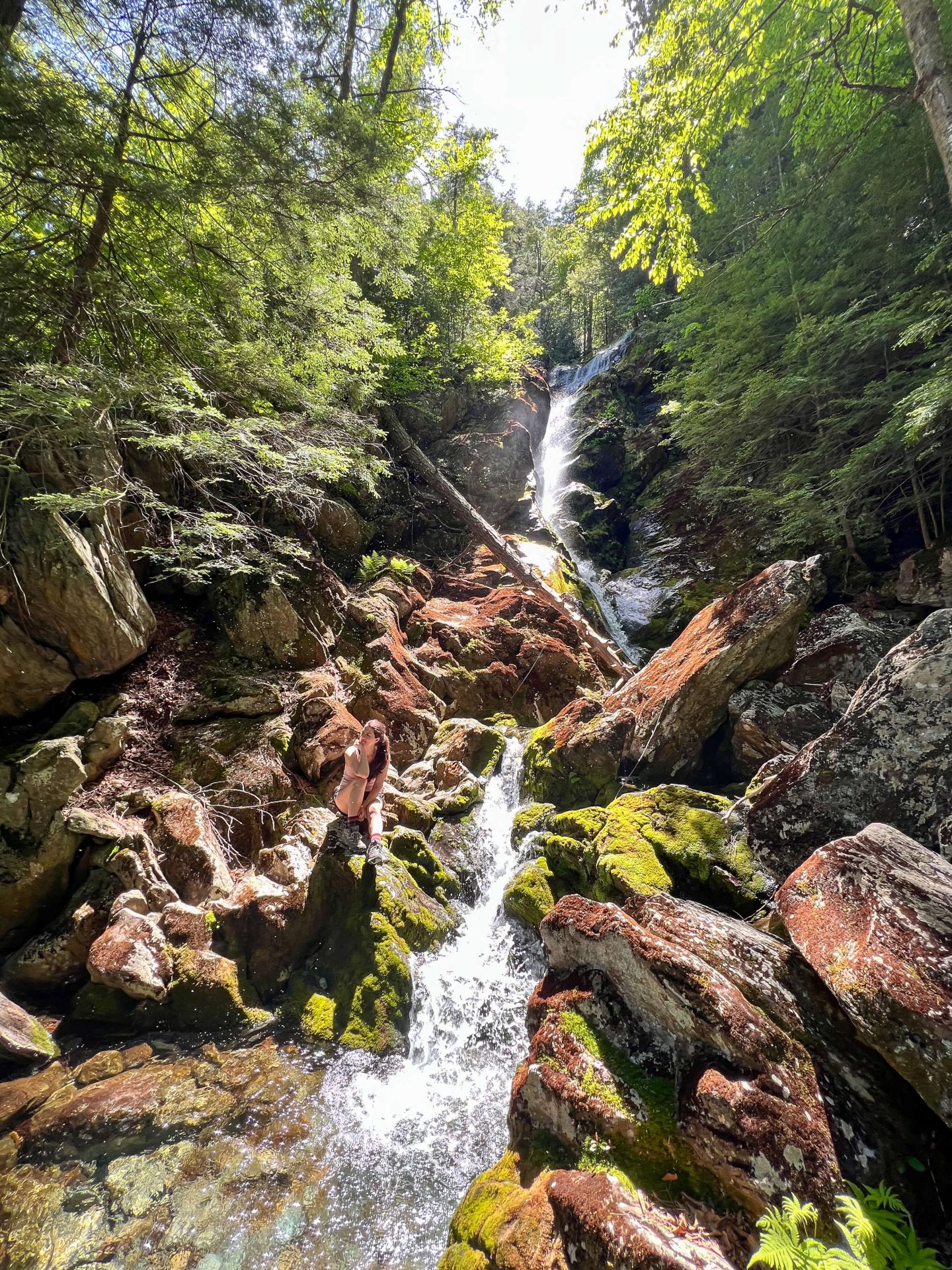 8. Wahconah Falls, Dalton, 0.9 miles, 157 feet elevation, Easy hike
Located in the Berkshires, northwest of Pittsfield is Wahconah Falls which has a 40-foot drop amongst several smaller cascades.
This is a really pretty park and if you enjoy taking photos there are plenty of spots to find along Wahconah Falls Brook. There's a large parking lot which was not crowded at all when we were there last time in the winter.
If you want to add another hike to this check out The Cobbles hike along the Appalachian Trail which has amazing views and is close to Wahconah Falls.
Connecticut Waterfall Hikes
9. Campbell Falls, Norfolk, 1.4 miles, 187 feet elevation, Easy hike
Located in Campbell Falls State Park, you'll love the peaceful walk into the falls. Though it's not the tallest (50 feet top to bottom) I think this is the best waterfall hike in CT! Or, it's my favorite to visit at least.
This one feels removed and tucked away and is located in a beautiful part of the state in Litchfield County (northwest CT and part of the trail even crosses over into New Marlborough, MA).
There is a short but steep section down to the falls which could also be slippery after some rain. Hiking boots are recommended for even this short trail!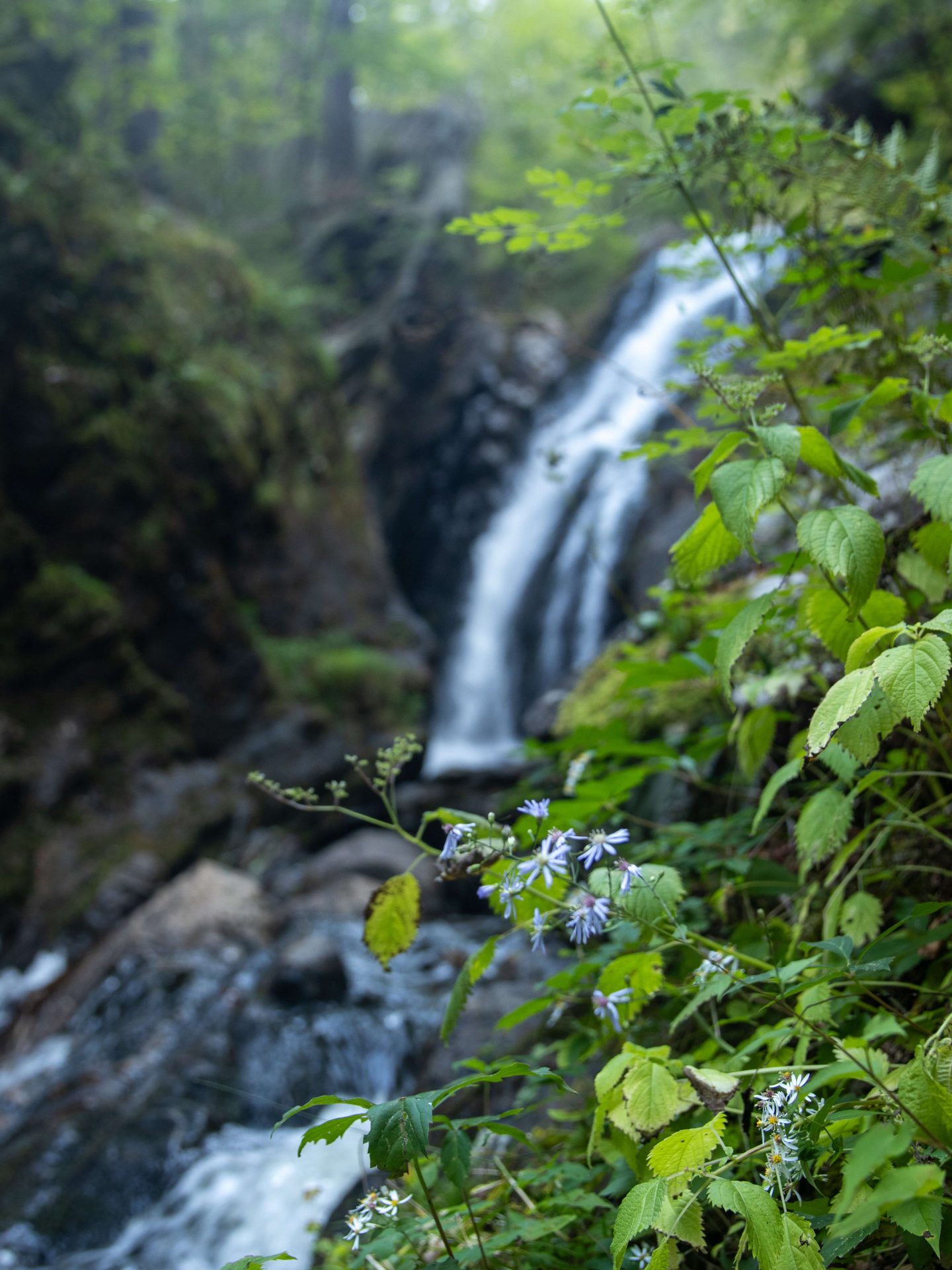 10. Chapman Falls Loop, East Haddam, 2 miles, 236 ft elevation, Moderate
There are shorter and longer options here! If you just want to see Campbell Falls and you're not interested in much of a walk then you can take the .4 mile loop trail here.
Located in Devil's Hopyard State Park there are longer loops and trails you can take and map out once you get there depending on what you have time for.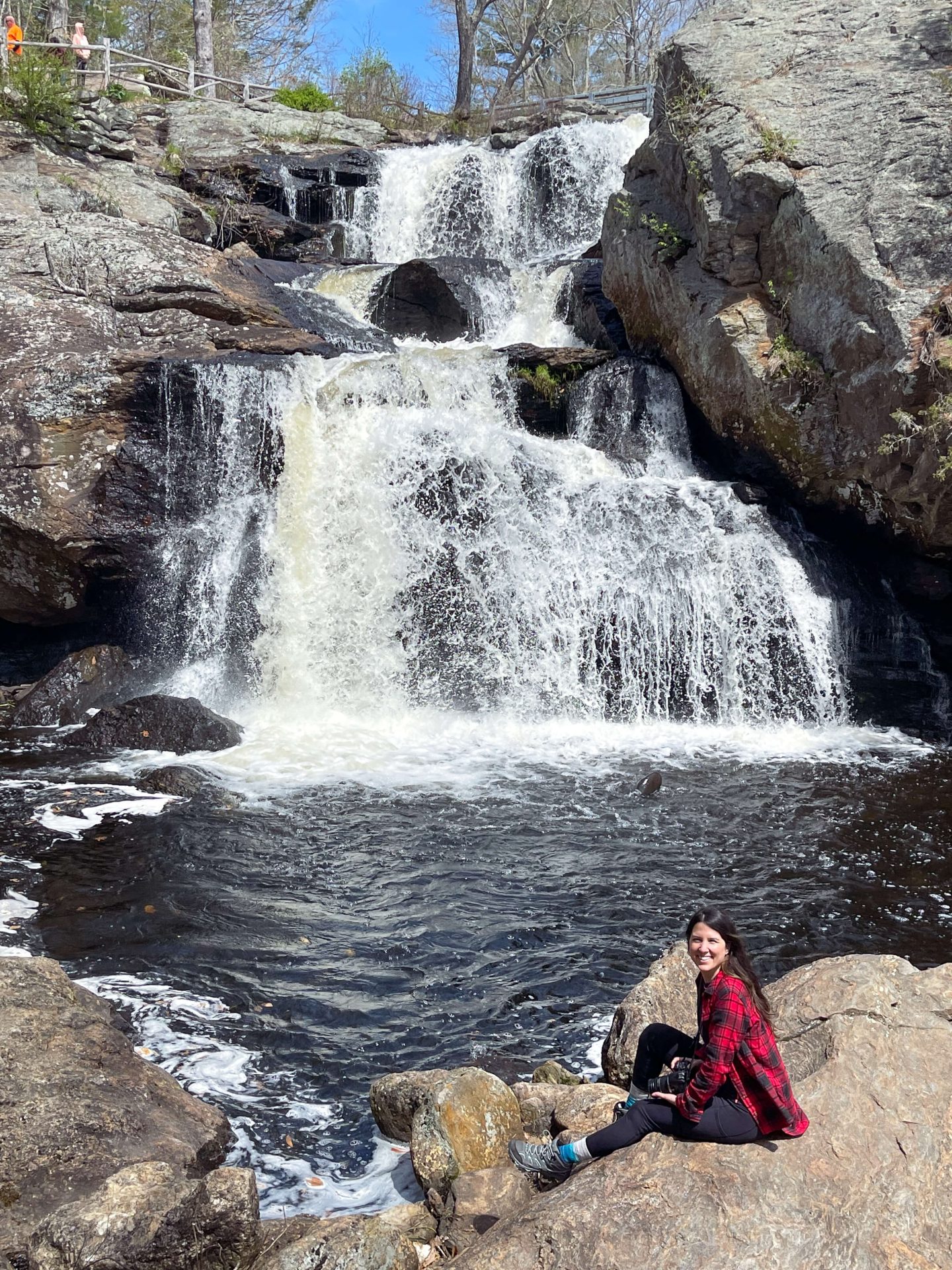 11. Kent Falls Loop Trail, Kent, .7 miles, 232 ft elevation, Easy
This is the tallest waterfall in Connecticut with a drop of over 200 ft of water cascading down in different sections. There is a well-worn path and even steps along this trail that walks you up and alongside the falls.
There are viewing platforms at various levels as you go with lots of great stops for pictures and views of the falls below. Though this is a popular waterfall in the summer there is no swimming allowed!
12. Nonnewaug Falls, Bethlehem, 1.1 miles, 147 ft, Easy
Nonnewaug Falls is a small but beautiful waterfall in Litchfield County, CT that is definitely worth a visit. It feels like you've arrived at a private oasis when you reach it! There is a somewhat steep (but short) section to walk down to get to the falls so wear boots with grip as it could be slippery after some rain.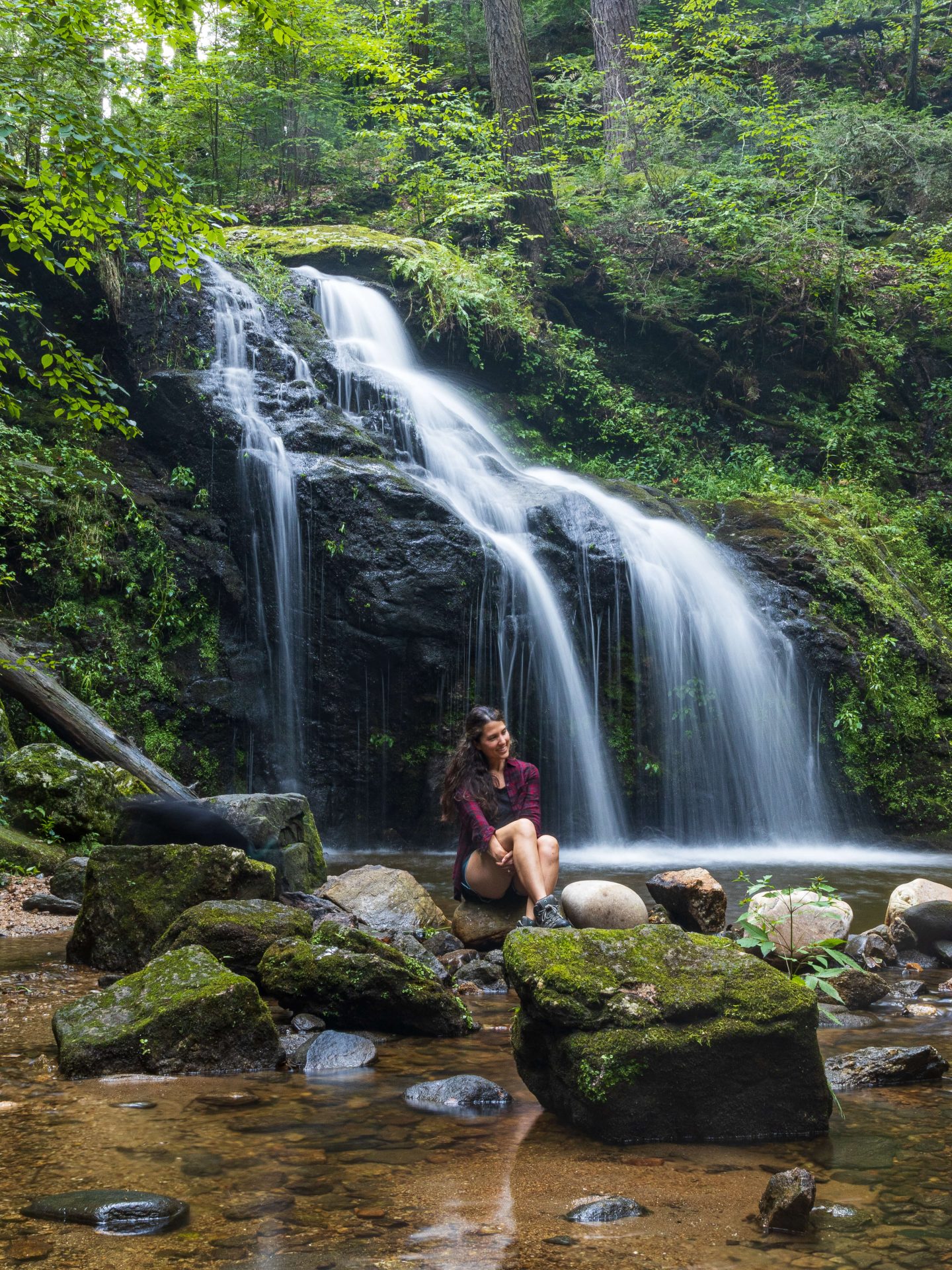 New Hampshire Waterfall Hikes
Come see New Hampshire's highest single-drop waterfall, Arethusa Falls. Located in Crawford Notch State Park and with an estimated drop between 140 and 175 feet, Arethusa Falls is a must-see when in the White Mountains.
This is a very popular waterfall and trail so consider visiting early in the day or during the week if possible. If you'd like to make this a longer (and more challenging hike) you can do the Arethusa Falls and Frankenstein Cliff loop that takes you up to beautiful views of Crawford Notch before you hit the falls (suggest going counterclockwise).
If you are in the area and are looking for more hikes, check out this post of over 10 beautiful hikes in Crawford Notch State Park! (All levels)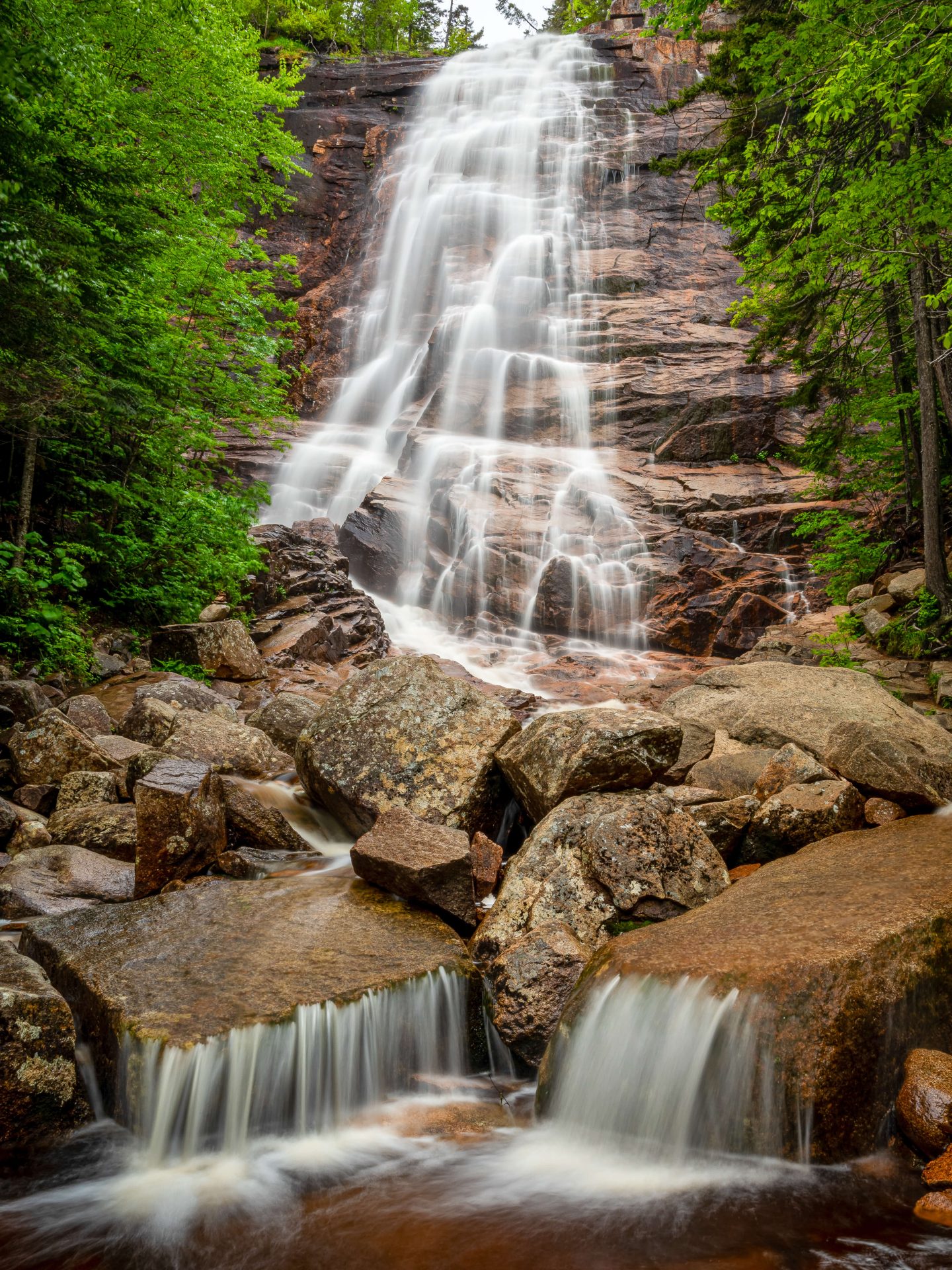 The trail linked above is to a view beyond the falls but if you use want to only see the falls then Cloudland Falls is about 1.2 miles into the trail linked above. The trail starts at Lafayette Place Campground. This is a very popular trail and it's best to get there early. You will encounter 3 waterfalls along this trail (Stairs Falls at 20 ft, Swiftwater Falls at 60 ft, and Cloudland Falls at 80 feet).
You'll hike along the Dry Brook River so while it is a steep climb it's a beautiful setting along the way and you will probably stop for pictures multiple times! 📸
Tip: Wear waterproof hiking boots here. Especially after rain or lots of melting snow, the trail may be wet (it's also very rocky) and there will be about 3 times where you will cross a brook (Walker Brook) and then cross Dry Brook River on your hike up to Cloudland Falls.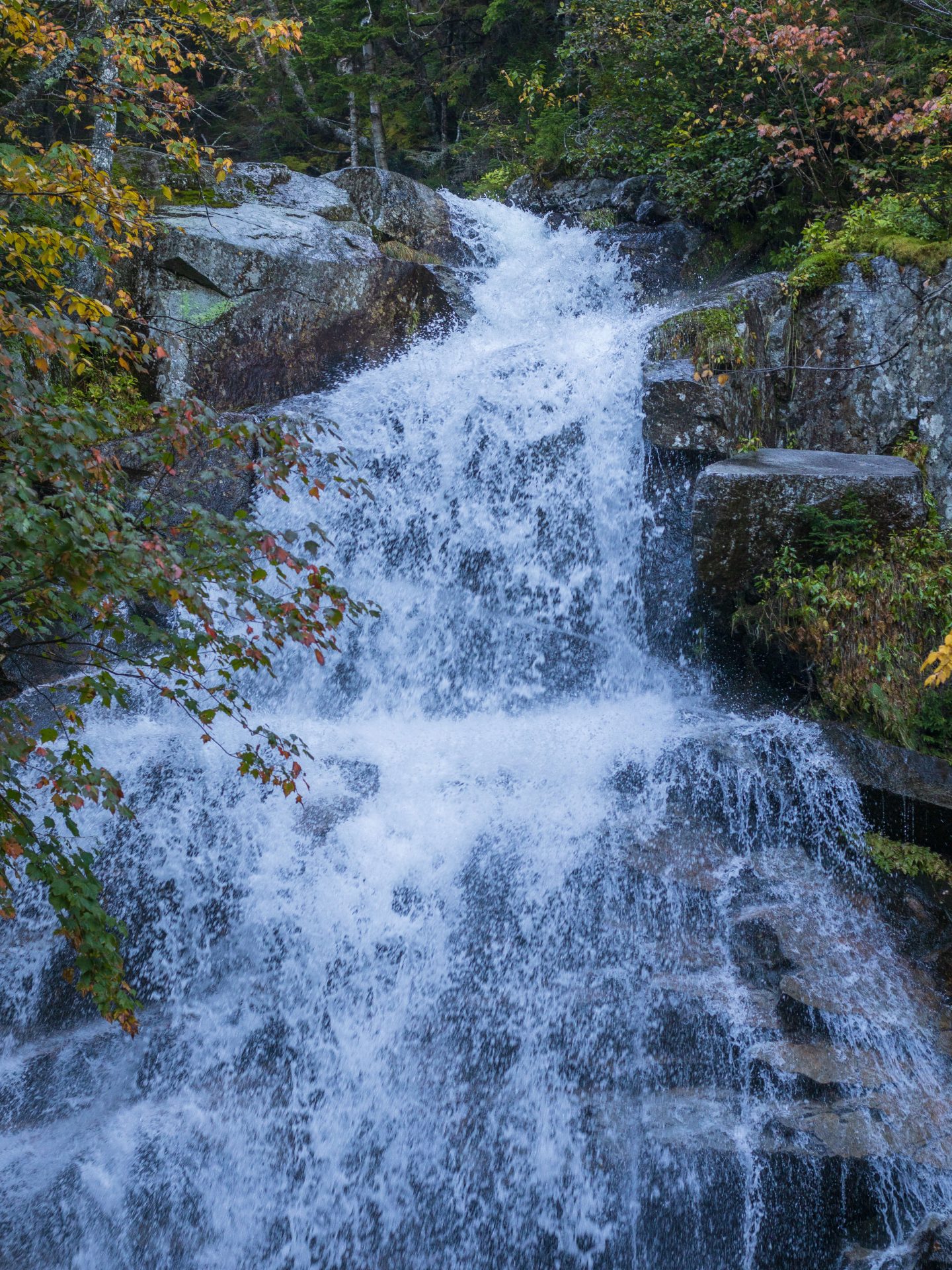 Finally, an 'easy' waterfall hike in New Hampshire! This one is located on the northern end of the White Mountains. When Jared and I discovered this one it felt like a little secret! We went in the morning but still only encountered one other couple and couldn't believe how beautiful the little falls, pools, and cascades of water were along this trail.
You'll be hiking along and next to Pea Brook so you get to hear and see the water all along the way. And while there is no really tall single waterfall drop here you won't be able to get over the color of the water in the basins and all of the little unique waterfalls along the way amongst the beautiful setting.
16. Sabbaday Falls, Bartlett, .6 miles, 100 ft, Easy
This is a popular family-friendly hike only half a mile off of the scenic Kancamagus Highway. It is only a 15-minute walk to see this unique New England fall as it's a "picturesque series of cascades in a narrow flume." While it can get very popular be sure to early or even in the winter!
New York Waterfall Hikes
17. Kaaterskill Falls, Hunter, easy to moderate (3 hike options below)
Of course, New York state's tallest waterfall at 260 feet high, leads our list of New York waterfalls. This is definitely a popular one in every season besides winter, hence why my only up-close pictures of it are from winter. 🤣
If you do plan on going during summer or any other season I would suggest going early to get ahead of the crowds. In the summer I've seen people bringing their music and bathing suits and turning it into a pool party. So if that's not your thing, plan accordingly!
It may come as a surprise that Kaaterskill is the tallest waterfall in New York given Niagara Falls. But looks can be deceiving as Kaaterskill is broken up into two tiers versus one tall drop. Go and see for yourself! 🙂
Here are a few ways to hike and get to Kaaterskill Falls:
From the Laurel-House Road parking lot, there's a short .3-mile walk that leads to a viewing platform where you can see the falls drop from above!
From the Laurel-House Rd lot head to the viewing platform and then go down to the base of the falls for only a 1.6-mile round-trip hike! It is steep and tricky in winter so bring micro spikes or snowshoes.
Make a longer hike of it and do Kaaterskill Falls & Inspiration Point Loop (such a pretty lookout here!) for 5 miles or Escarpment Loop for 7 miles.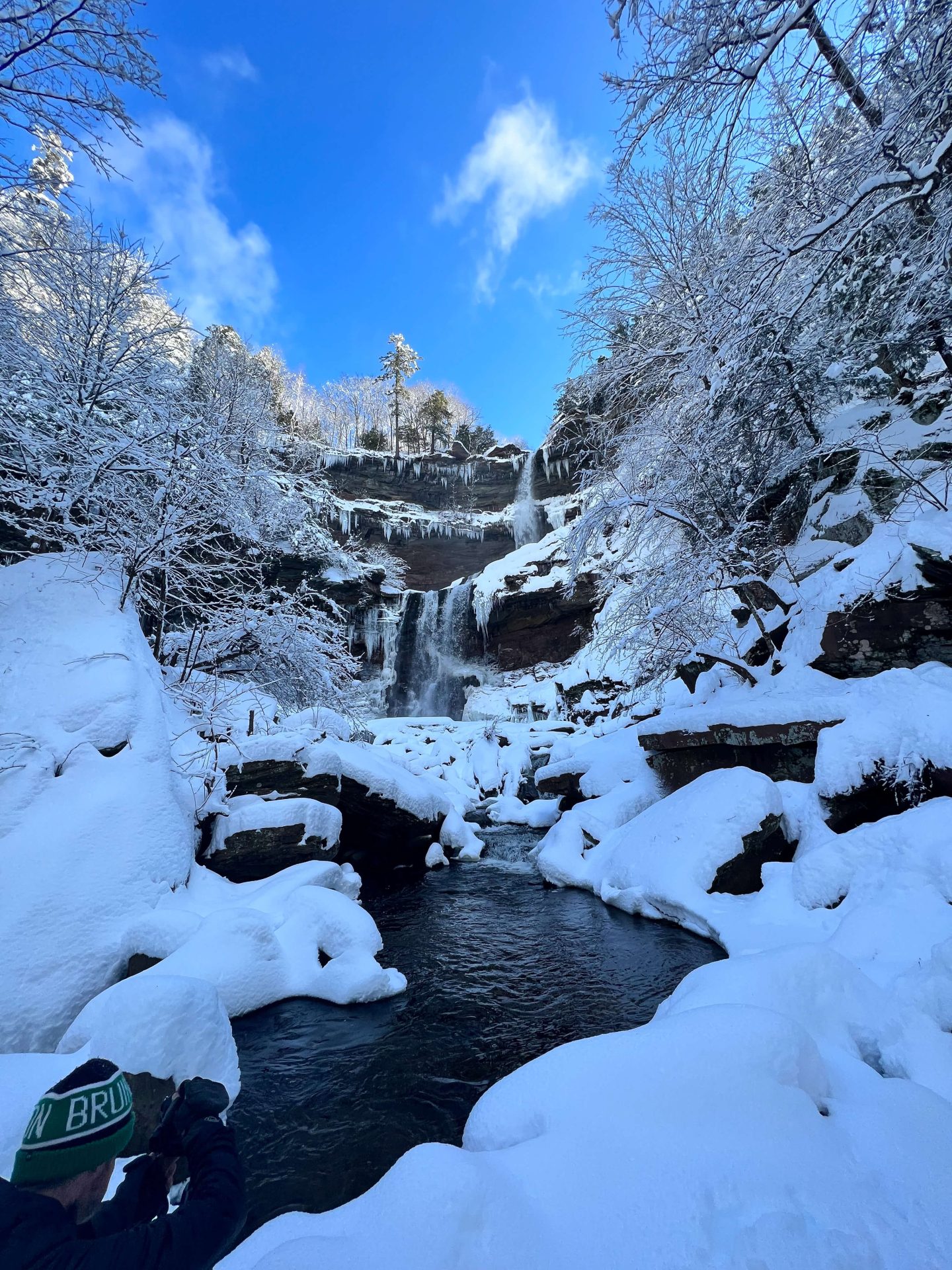 Well, what can I say that the pictures below can't tell you?! Not much. 🥴 But some tips and experiences are what I will include here so you, too, can experience the awe and beauty of this must-visit 187-foot New York waterfall!
As mentioned in the title, Verkeerderkill Falls (not sure I will ever remember how to say or spell that!) is located in Minnewaska State Park in an area of Minnewaska known as Sam's Point Preserve.
There's a lot to know about getting here – as in it's not a place you roll up to at 11 am on Saturday – sorry, folks!
This hike takes planning if you visit my post and guide on Minnewaska State Park I list all the fun rules, best advice, and info on parking reservations.
Here's the quick version; Sam's Point (which is home to Verkeerderkill Falls) requires parking reservations on weekends or getting there close to opening time (9 am) on weekdays. I got there at 10:30 am on a Thursday without reservations and was able to get a spot.
⚠️ The hike here is open and exposed. You are not hiking through a shady forest, which I learned firsthand on a hot day in July. If visiting on a sunny day bring extra water for you and your pup friends, please! 🐶💦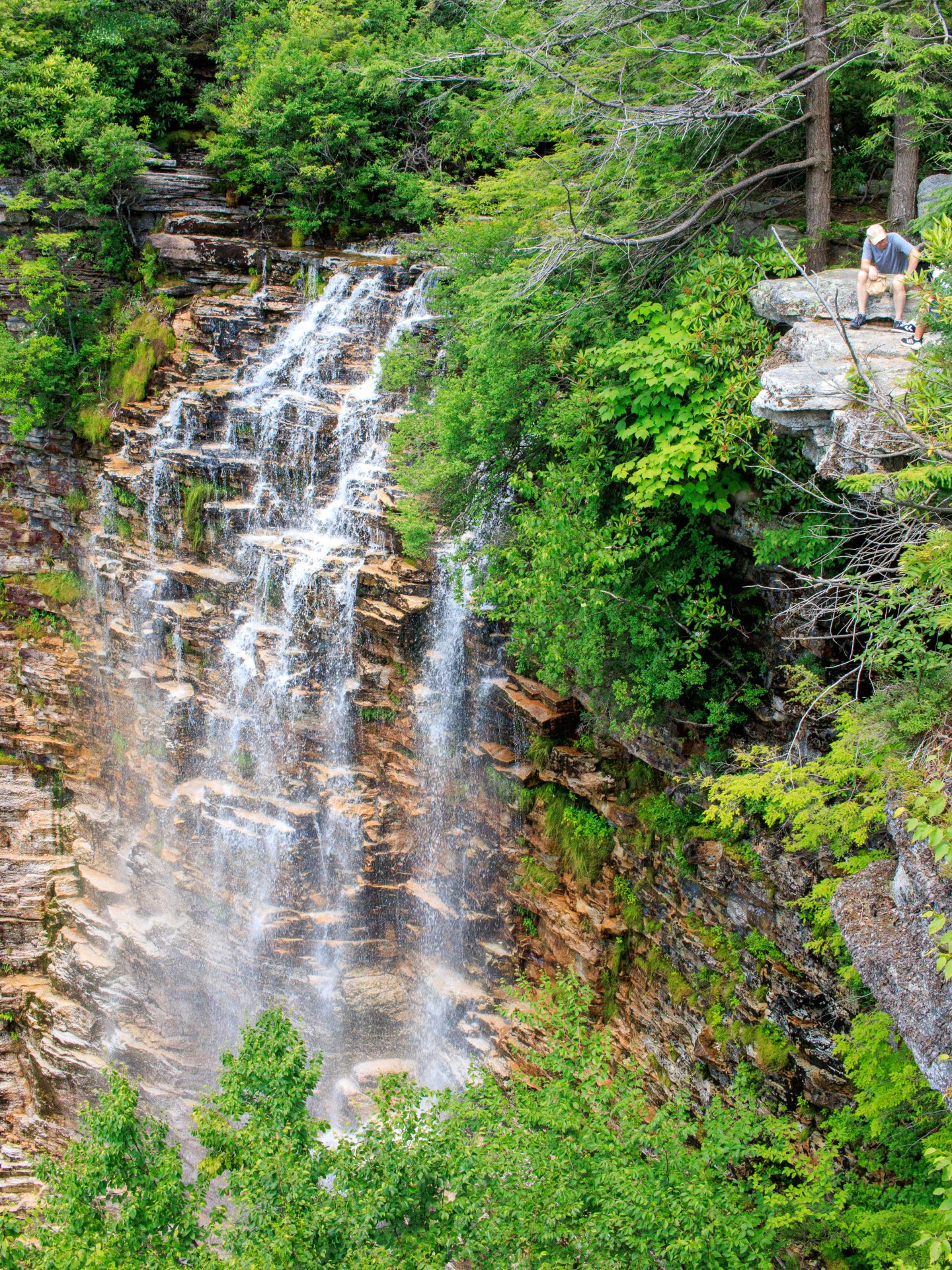 19. Rainbow Falls, 6 miles, 550 ft elevation, moderate
It takes some planning to get to this one so please read all points below!
⚠️One, no dogs are allowed on this hike (bummer) and you also need to make parking reservations for this trail. You can make a reservation here.
⚠️Two, when you click on the AllTrails link above in the title, you'll notice that it's for a 10-mile hike called 'Indian Head and Rainbow Falls'. Of course, you can do the whole 10-mile hike if you want to see the views at Indian Head but I am going to tell you how you can just get to the falls and back in 6 miles.⬇️👀 Yeah, I know, that's still long!
🗺When you look at the AllTrails map you'll notice there are yellow numbers all along the trail. These signify points of interest. If you hover over point 6 you'll see that it says 'Waterfall'.
🌈This is where Rainbow Falls is. So you will start the hike on Lake Road just like it shows on that map, passing through yellow points 1 and 2.
After walking for about 1.6 miles you'll come to a point where you can continue straight on Lake Rd or take a right on another trail. You'll want to continue straight on Lake Rd.
You'll walk for another 1.3 miles until you get to Rainbow Falls and there will be a sign at this point letting you know it's Rainbow Falls. 🙂
Take in this impressive 150-foot drop of water down into the East Branch of the Ausable River.
According to Adirondack.net, Rainbow Falls consists of 150 feet of cascades, which fill the gorge with a constant mist, providing ideal conditions for spotting rainbows on sunny days. ☀️
I encountered Rainbow Falls on my way up to the Gothics hike which is almost 16 miles. 😱 Hiking in the Adirondacks is no joke. 😉 But whatever way you choose to check out this waterfall, I hope you enjoy it!!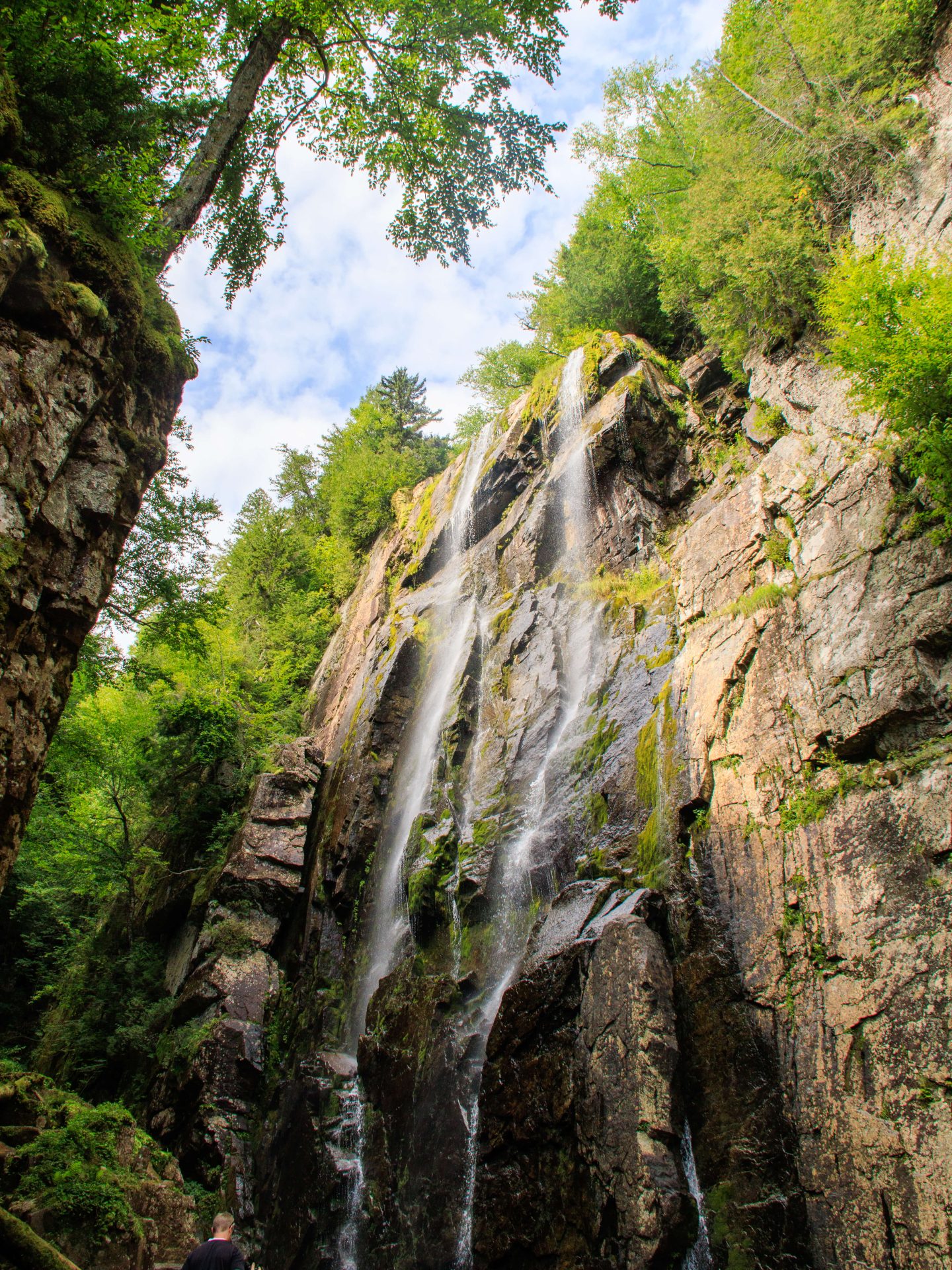 20. Plattekill Falls, 0.4 miles, 111 ft elevation, easy
You will LOVE this impressive New York waterfall located in the Catskills. At just 0.2 miles, you arrive not only at a beautiful vista (not included in photos) but also this free-falling 50-foot waterfall that seems much taller in person!
Dare I say that I like this one even more than the popular Kaaterskill Falls?👀 Maybe that's because this one is off the beaten path and lesser known so the few times I've been I haven't seen anyone else.
The trail can be a little steep on your way down so watch your step. I suggest wearing your hiking boots even though it's such a short trail.
⚠️Rocks around waterfalls are obviously wet and will be very slippery so you'll want to navigate with a sturdy boot that has some grip so you can freely explore.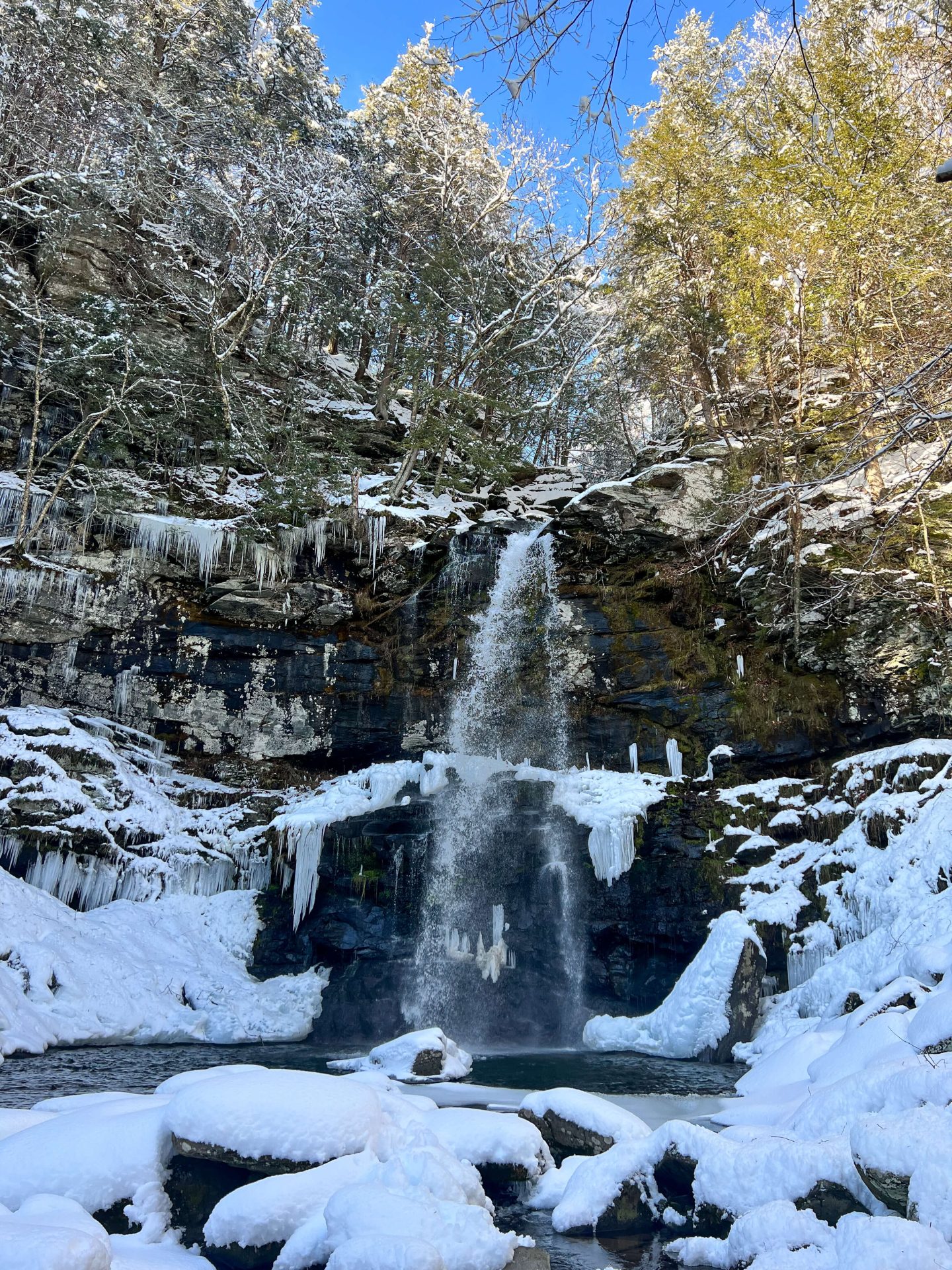 This was a really pretty trail and waterfall located in an unexpected place as the trailhead is off of a slightly busier street.
You'll follow a well-marked trail with rolling hills (no steep climbs) to this New York waterfall.
A note from AllTrails: The High Falls are calming and breathtaking, and park staff would like to remind visitors to respect nature and stay on the designated trails to preserve the area. If users are concerned about following trails, please download the offline maps.
When we went in November there were just a couple of other people on their way out so we got to sit and relax and take lots of pictures of the falls. But I'm sure this waterfall gets busier in summer and fall so as usual, get there early! 🙂 (Or, in the later part of the day).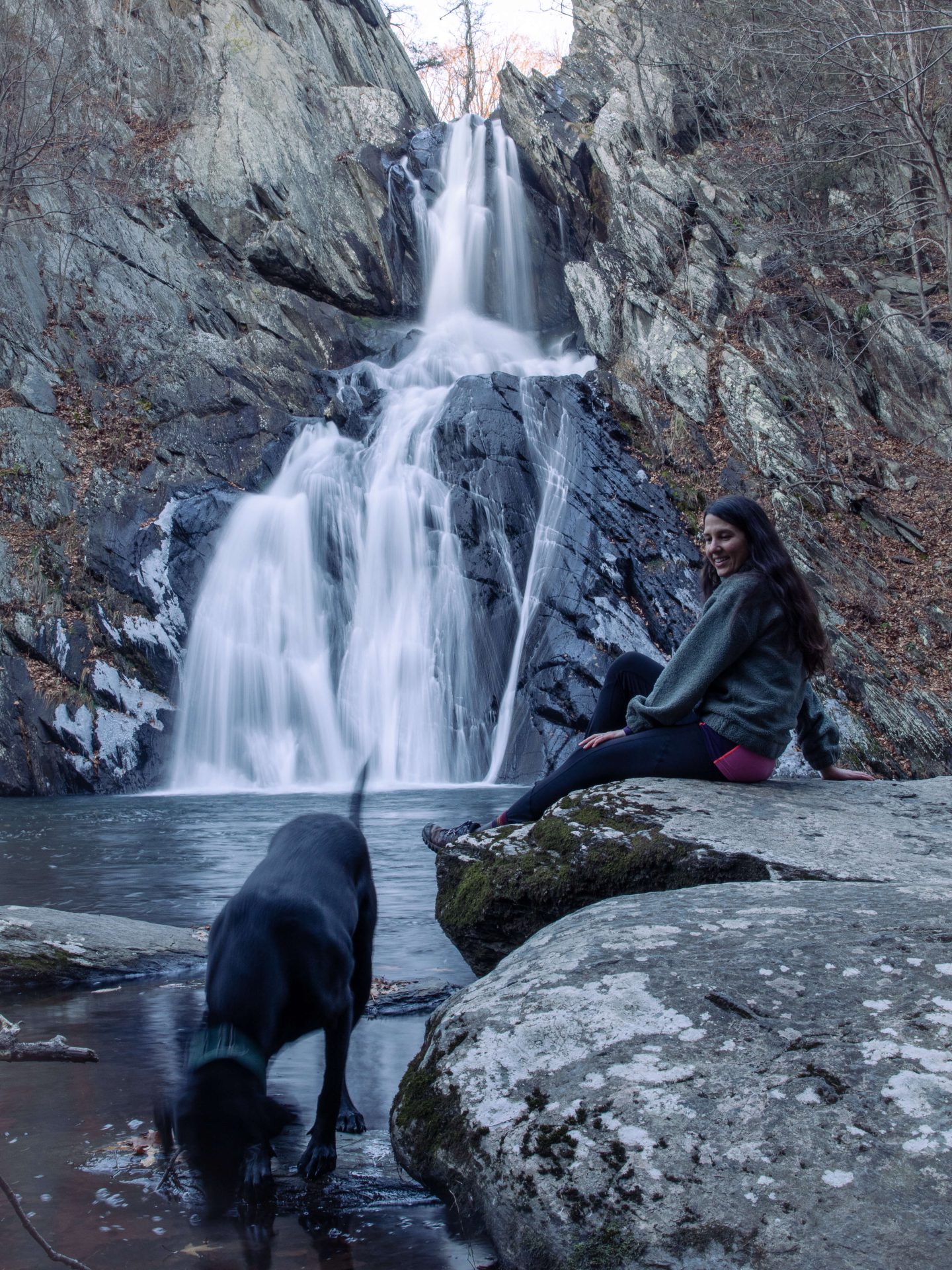 I hope you enjoyed this list of the most beautiful, unique, and to me – the best waterfalls in New England and New York.
Be sure to bookmark and save this post to visit for later and let me know if you go to any of these falls! I'd love to hear about your experience, too.
Happy trails!! 🥾❤️🐶