Are you looking to turn your new puppy or current dog into your best trail buddy? That was my number one goal when I adopted Captain 5 years ago and in this post, I give you all the advice I have along with a hiking timeline and gear recommendations in order to start hiking and enjoying time outside with your best friend!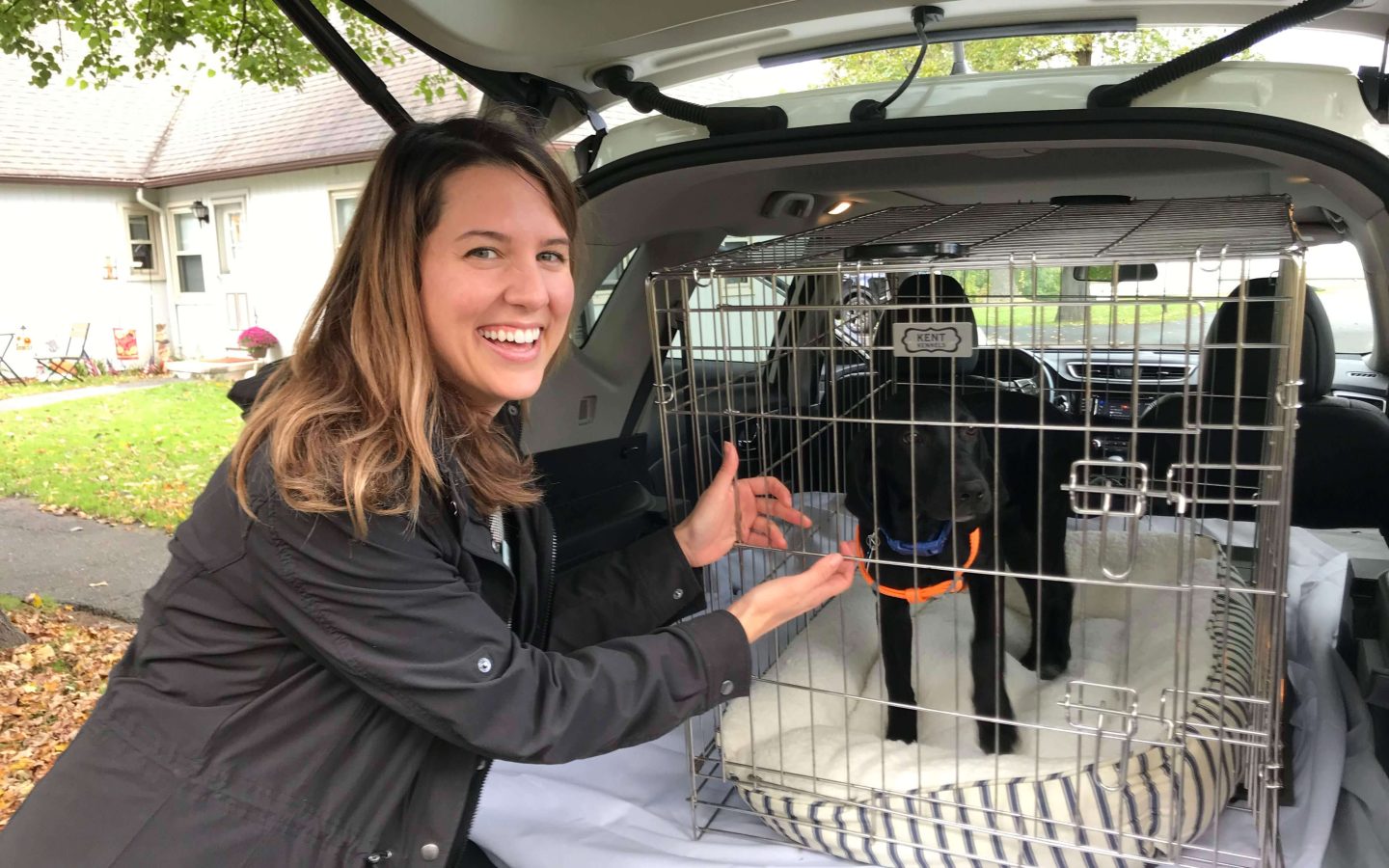 Captain is my first dog (that I got on my own) and my goal was to make him the best darn hiking dog and partner! For reasons you'll see below, I think we've succeeded. So if you are looking to make your dog a great hiking partner, too, then you've come to the right place!
While I'm not a dog trainer I will share my story, personal experience, and best advice. I learned a lot that first year through research, hiring a trainer, puppy classes, and plain old trial and error. Now I will share everything I learned with you to make your journey a little easier to paw through. 😍🐾
Of course, I wanted to know how to get him to go the bathroom outside, but my main goal was to make him a friendly, and off-leash when possible, trail dog that enjoyed hiking.
Before adopting Captain I had been adventuring more and more by myself on familiar trails and was also regularly hiking with a favorite Connecticut Meetup group.
But there are lots of benefits to hiking with your dog:
sharing in the fun journey and experience – I love seeing the smile on Captain's face!
more confidence hiking alone
calmer, more well-behaved when they are being properly exercised
dogs make you happy and more relaxed just by being in their company
And I have to say, 5 years later, (and it's hard to say without tearing up 😱) that Captain really is – the best darn trail dog and hiking partner that I could ever ever ask for. He's great off-leash, comes back before running up to another person or dog, and I would trust him with a newborn baby.. you get the picture. 😉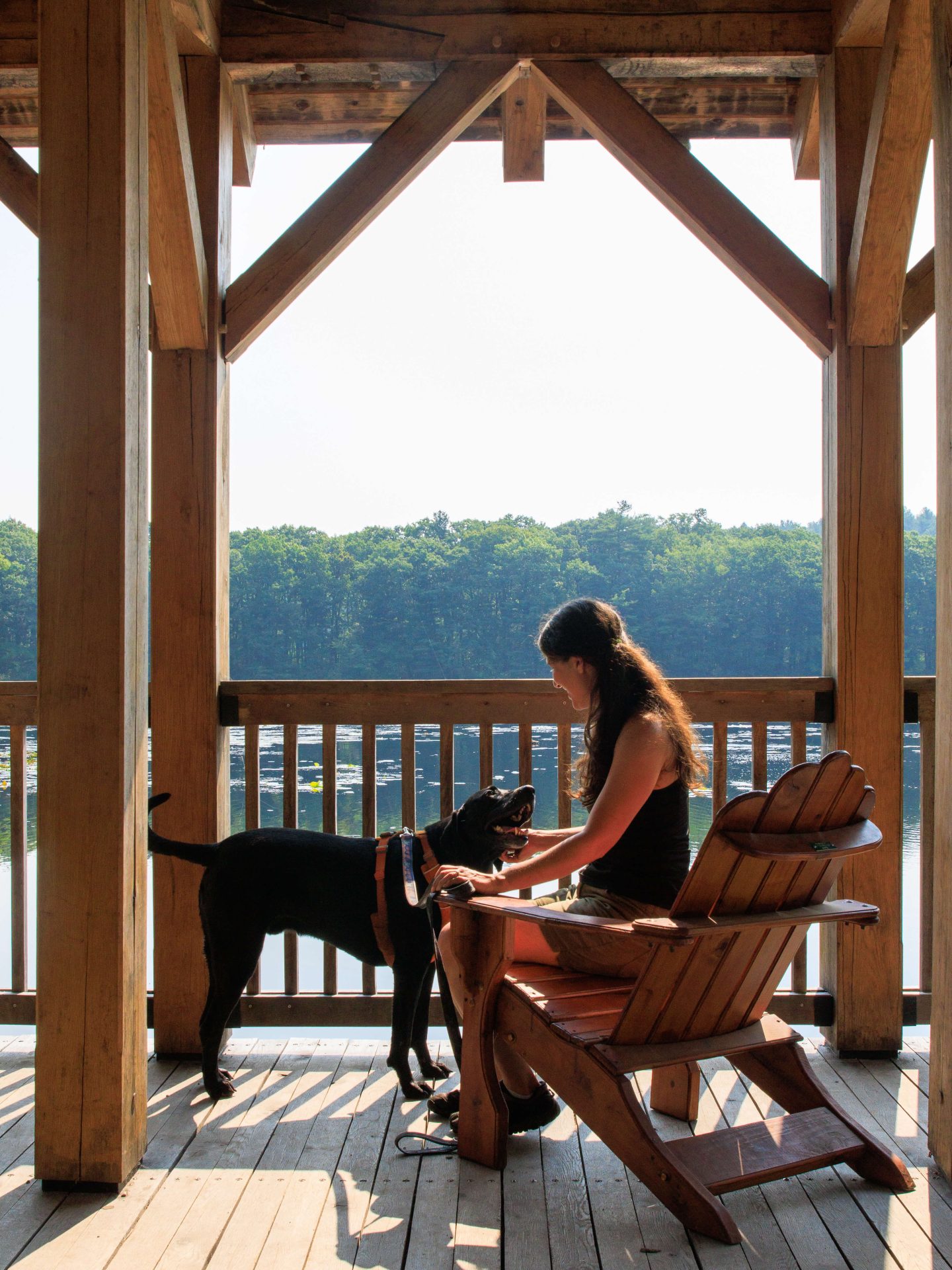 So in this post, I will share everything I did to shape Captain into who he is today. I know people talk about their kids like this but he truly makes me beam with pride when introducing him to others. I can even bring him to school with me around my students and he lays there, not bothering anyone until it's time to go out.
Whether you have a new puppy or want to start hiking with your adult dog, I am confident you will find helpful advice about hiking with your dog here. (And if you are still looking for your hiking companion check out Petfinder.com and consider adopting. Captain came up from Alabama and completely changed my life for the better! I'll never go the breeder route but understand if people have to due to allergies or special needs.)
First, what constitutes a hike?!
Making the switch from paved neighborhood streets to trails… 🥾
When you're looking to start hiking with your dog it doesn't have to be climbing the tallest mountain in your state. I would consider a hike anything that is not on a paved road. This could be a dirt path, a flat trail with little elevation (steepness), or a rocky multi-mile incline leading to an incredible view. ⛰
How to start hiking with your dog; advice and gear you need!
What to do first:
Safety first!!
The number one thing you need to do first before taking your dog into the woods hiking is to get the necessary shots and boosters to protect them. They could eat any number of things from another animal's poop to drinking from a dirty puddle. Some shots will protect them from any bacteria that could make them sick.
Check with your vet but after consulting mine and conducting various research the vaccinations they will need are the following: Distemper, Parvovirus, Rabies, Leptospirosis, and Lyme disease. These are all diseases present in the wild animal and insect populations.
What to buy: The best hiking leash and harness
Braided Leather Dog Leash
6 feet
Strong yet slight stretch
Firm grip & hold! NON-SLIP
Drag through mud or rain – no smell!
Easy to wipe clean
Durable, lasts, and has a 2-year warranty
Dog hiking leash: This leather dog leash from Amazon will cost you under $20 and to me, it's the best leash to use for hiking.
Pros: This leash is leather so it WILL NOT SLIP out of your hands. Forget about using anything nylon or soft. As you're walking along if another dog or squirrel gets your dog's attention you need to have firm control. I HATE retractable leashes for this reason. There's too much thinking you have to do with one first of all – do you click the button and retract or click to extend?! And the nylon will fly right out of your hands.
Cons: The only thing that could be worth mentioning is that dogs like chewing on leather. Captain never chewed his leather leashes (he's an angel ;)) but Bruin, yes! So put it away where they can't get to it and/or unclip it during long car rides if your dog is tempted to chew on the way.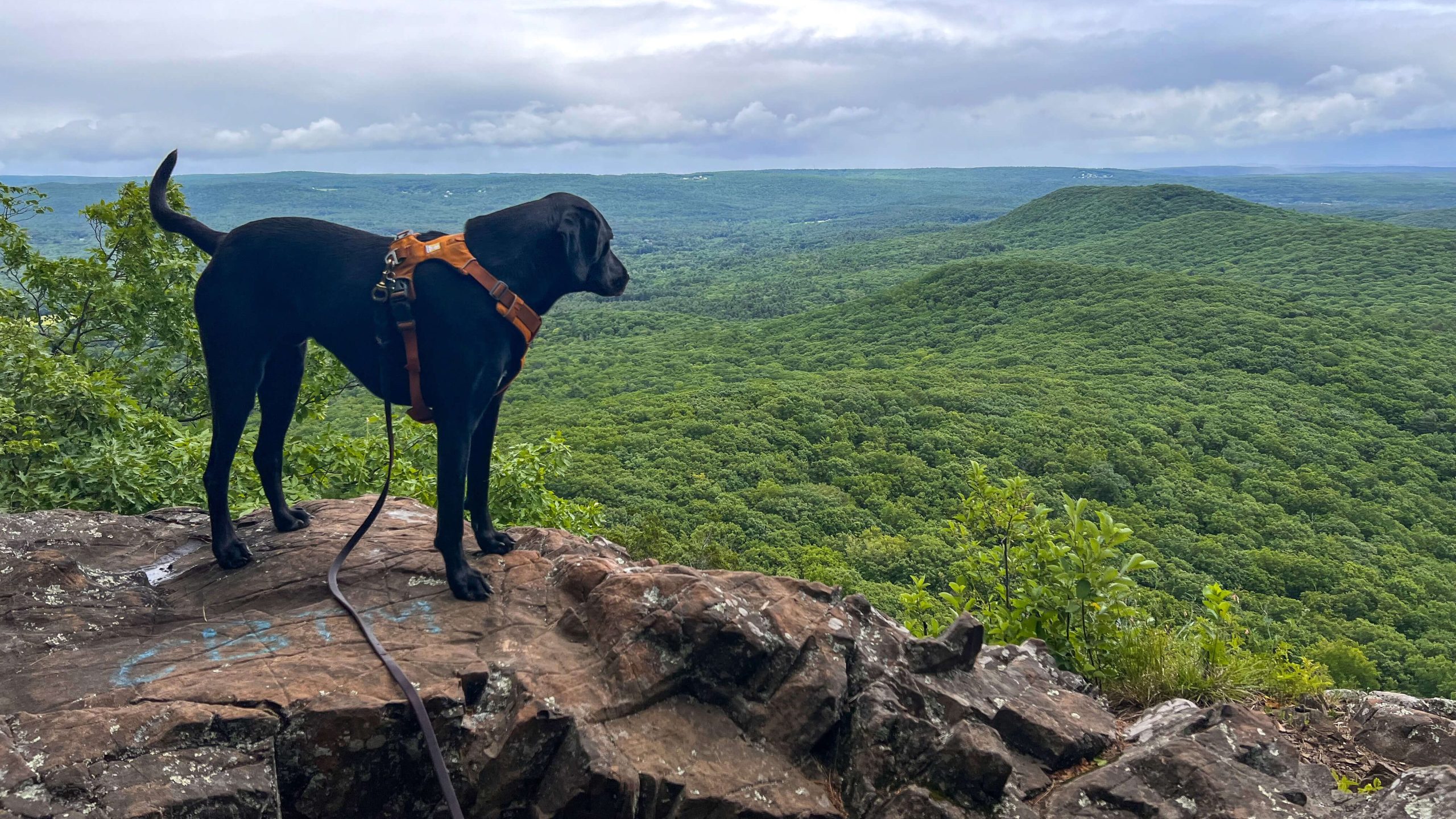 Best dog hiking harness:
Ruffwear, Hi & Light, Everyday Lightweight Harness
For Trail Running, Walking, Hiking, All-Day Wear
Side release buckles for easy on and off
The y-front style of the Ruffwear Front Range will keep your dog's shoulders unencumbered, allowing them to extend naturally and move freely.
Easy to see; Bright, easily visible fabric with reflective trim 
Durable, debris-resistant liner and material, washable
Sturdy anodized aluminum V-ring centered on back for gentle guidance and control
This Ruffwear hiking harness is the only harness you'll ever need or want.
The one suggested above is their lighter version. But if your dog has a thin coat (like a pitbull) you can get this one with more padding for the same price, $49 for Large/XL. The extra padding will prevent chaffing.
There's nothing bad to say about this Ruffwear hiking harness. It is simply made the right way with straps that go behind and under your dog's legs and shoulder rather than over. It will not restrict movement or do any damage even if your dog is a puller. This is NOT the case for all harnesses so the unique y-front style of this Ruffwear harness makes it the perfect fit for your hiking pup.
Other items to bring on a hike with your dog:
Collapsible water bowl $6 on Amazon – easily clips to backpack!
Water for both of you and treats (I usually bring one Nalgene for the dogs and one for me for moderate hikes but this varies depending on the heat and hike length. Bring extra!)
You may want to consider a bear bell for your dog's collar or bear mace. (We hike mainly in the Northeast and have only come across a black a handful of times. They are more afraid of us than we should be of them. As they hear you they stay away.)
Optional but always great to have: dog first-aid kit, $29 at REI
When to start hiking with your dog or puppy, how old?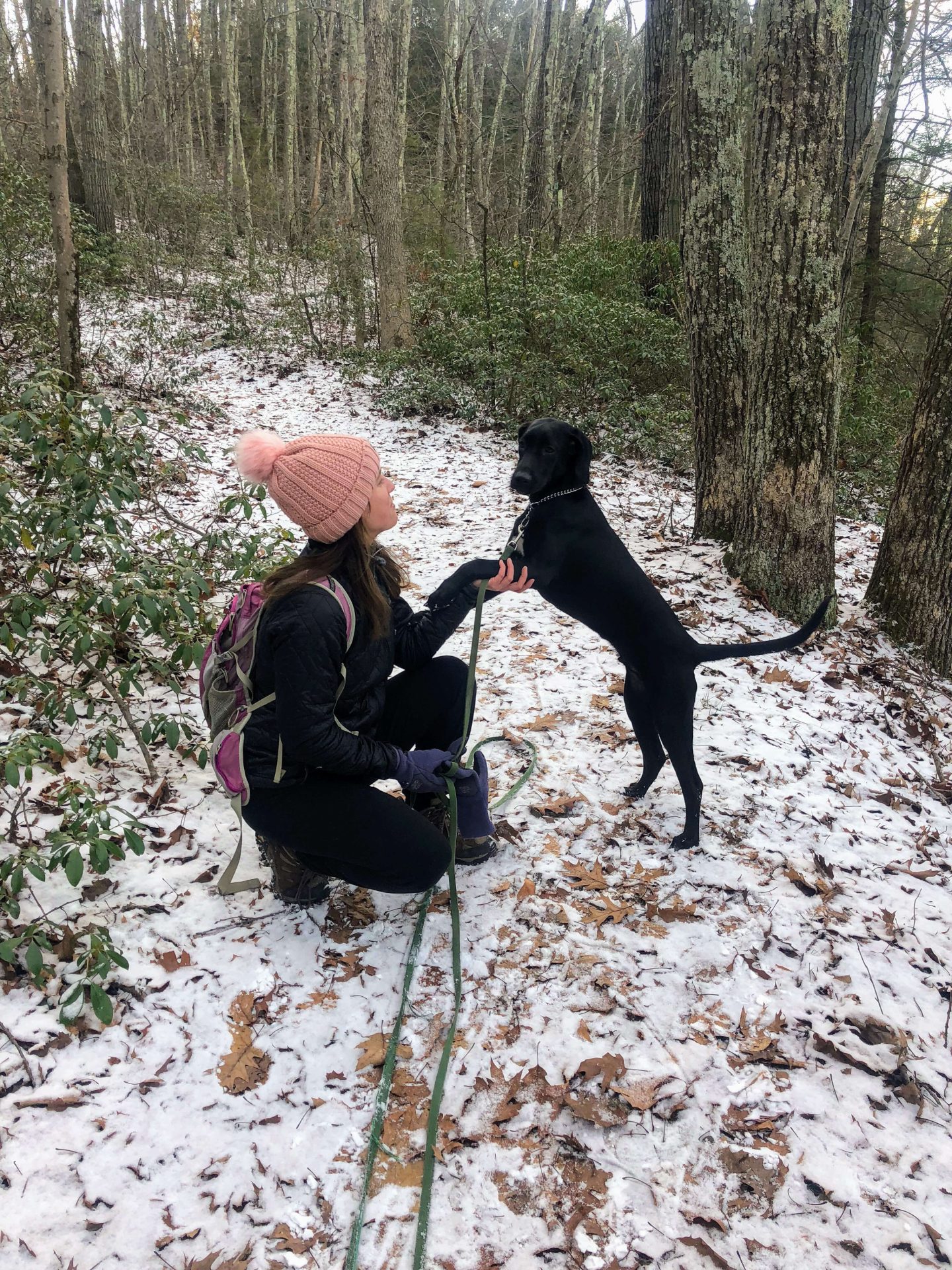 After your dog has received the above and necessary shots it is safe to bring them on the trail.
I remember googling over and over how early you can start hiking with a puppy and according to my vet and others it is safe for a puppy to hike and be challenged. Captain didn't do anything challenging (no New Hampshire mountains) until around 7 months. But leading up to that we would do moderate hikes that lasted several hours.
Hiking with your dog timeline 📈 What to expect
🗓3-4 months old or Stage 1:
They are small! Don't expect much yet in terms of long walks. I was just happy when I was able to get Captain to consistently walk around the block without stopping to lie down. At this time they are just learning what it means to be on a leash and everything around them is so new. Take it slow and allow them to sniff and take in the outdoor world. Captain was about 4 months old when I hired a one-time trainer to show me how to get him to consistently walk on a leash and not resist. It was all about getting them excited to walk using your voice "Let's go!", jingling the leash, bringing treats, and making it fun.
💡Training tip: Start with a short leash but then switch to using a longer lead when on a trail. This will get your dog used to being able to wander a little farther from you with you still in control. Take them to a fenced-in area where you can drop this long lead and practice recall. Spend 10 minutes or less (puppy attention doesn't last long!) calling their name and saying "come!" over and over with high-value treats. 🙂
Allow them to wander a bit before you call them back. Do the same thing on a trail. We started walking on flat trails with the long leash at 4 months old. The good thing about training with a long leash is that you can step on it quickly if they do turn the other way.
Often I would drop the long lead and follow behind Captain. Walking closely and ready to step on it if need be while working on recall.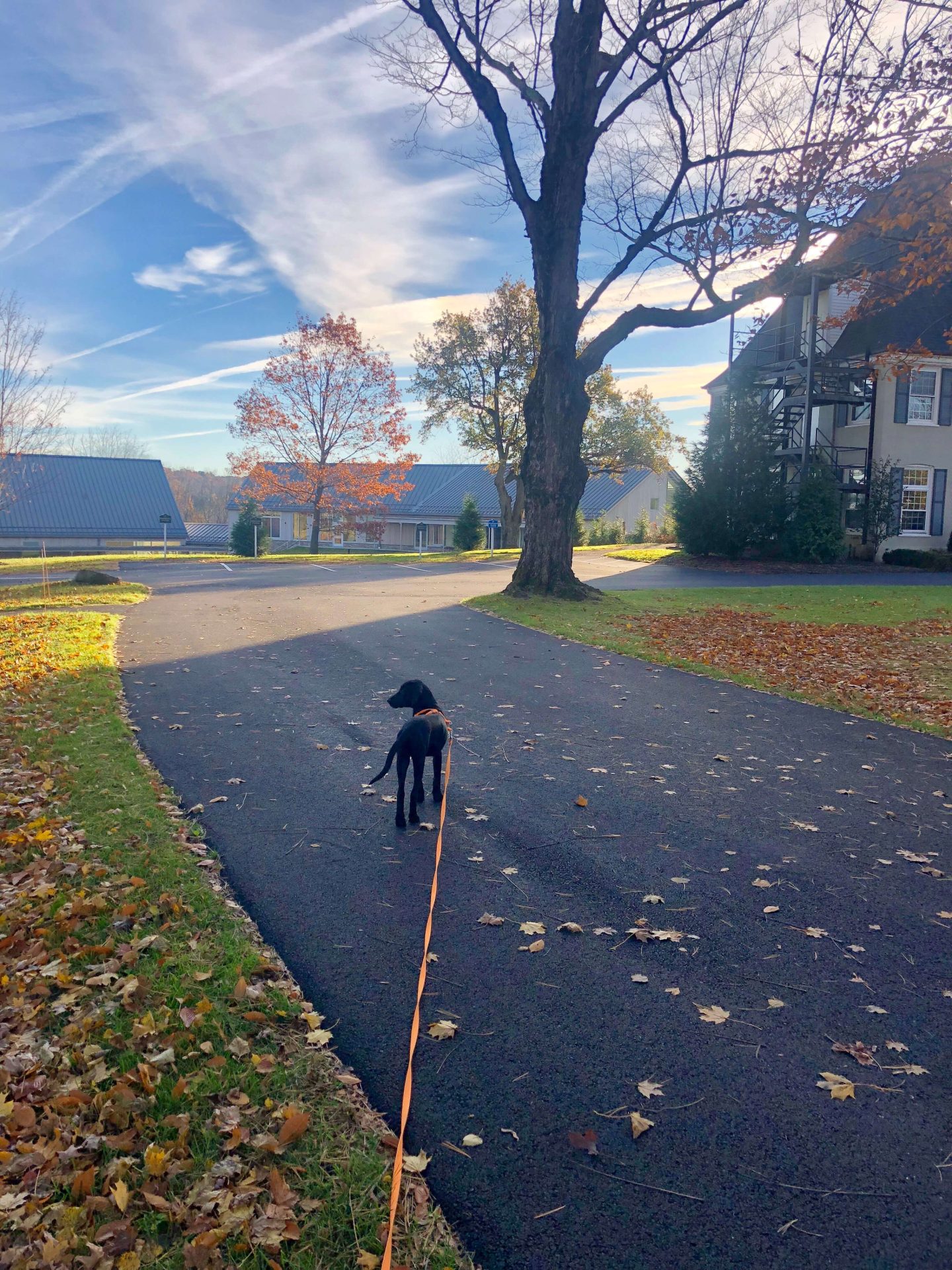 🌲Type of trail at this age or when just starting out: Stick to neighborhood walks, bike paths, or soft and flat (dirt, non-technical) trails. You should be out walking every day if you can!
🥾Goal: To get them to walk comfortably and consistently on a leash for several minutes. Get them used to their collar and walking on a leash. There are so many distractions so it's normal to stop a lot at this age.
🗓5-6 months old or Stage 2:
Getting bigger and looking to explore more! When Bruin (our other dog) was 6 months old we spent one week in Crawford Notch, New Hampshire, hiking several big mountains. He seemed to love every minute of it but I was concerned at first that he was going to be too young and he definitely wasn't. It tired him out in a way he needed! Around 6 months take your dog for a bigger (3-5 mile) hike with some elevation and let them show you how they do!
💡Training tip: Start getting your dog around other well-behaved off-leash dogs! This is so important because they will absolutely learn from them. The first time I felt comfortable dropping Captain's leash and letting him run and play was when we were with a group of seasoned off-leash friends.
🌲Type of trail at this age: An easy or moderate trail, 2-4 miles, would be great to try! Flat or with an incline. Try to get out there at least twice a week to get them used to it. Going for a hike once and then not again for two weeks isn't going to help too much in making them comfortable.
🥾Goal: Get your pup used to a different terrain under their paws than the pavement. Show them that there are big hills in the neighborhood, woods walks, or even small mountains! 🙂
🗓6 months – 1 year or Stage 3:
At this point, your dog can start enjoying more challenging trails. They have grown into their bodies more, they're less clumsy, and have better coordination. Don't be afraid to challenge them here! With more energy and endurance, see how they do with a bigger hike.
🌲Type of trail at this age: If they've been enjoying the moderate 4-mile hikes then it's time to try something bigger.
🥾Goal: A technical trail (big rocks and step-ups) with more of a climb is something that will challenge your pup. Let's get them used to hiking from this point on.
Vet advice: Don't be afraid of them jumping up onto big rocks or even jumping down (from a reasonable height). My vet said that throwing tennis balls and having them sprint and change directions really quickly while running is actually what's not good for their joints.
Let's go through the steps and stages to make sure you have a plan of action to get your dog in hiking shape:
6 Main Tips and Advice for Starting to Hike with Your Dog
1. Make an appointment with your vet to get all necessary shots and tick prevention.
2. Buy a hiking harness, a leather non-slip leash, and a long leash to train with if you have a small puppy.
3. Start with long walks (1 hour) in the neighborhood, seek out the hills, and go up them! 🙂
4. Head to a dirt trail and let them explore more while on a long leash (or regular leash), working on recall with high-value treats. Choose trail walks ranging from 1-3 miles.
5. Graduate to 2-4 mile moderate hikes. On AllTrails, it will say the level; Easy, Moderate, or Hard.
6. Move on to longer hikes or choose a hard trail if there's one that's been on your list.
I hope you enjoyed this post and have a better idea of how to get started hiking with your dog or puppy. And I hope you picked up some tips and feel empowered to get out there with your pup. The relationship with your dog is such a satisfying one and the bond only gets stronger when you do things you both love and enjoy. 🙂