Looking for an adventurous, dog-friendly stay in the southern Adirondacks, just outside of Lake George?!
If you want to be immersed in nature with all the benefits of camping without roughing it in any way 😱 then I've got you covered with this upstate New York glamping getaway in Lake Luzerne, just miles from Lake George.
Here at Huttopia Adirondacks, you can have your own bathroom with hot showers and a mini kitchen right in your own hut.
⬇️Here are some of the on-site amenities that made me fall in love with this place:
A restaurant with a full menu including wood-fired pizzas 🍕, sandwiches, and local beer and wine 🍷 (I couldn't believe how good the pizza was! Perfect after a local hike)
Cafe with freshly baked muffins and a full coffee bar for all your pre-hike latte needs! 😍☕️
Game room 🧩 and recreation area with wood stove
Pool and jacuzzi 🧖🏽‍♀️
At this New York glamping getaway, you can connect with nature in the most comfortable way!
Convinced already?! Check prices to book here!
In this post, I will tell you all about my experience staying at Huttopia Adirondacks.
With easy access to Lake George (15-20 minutes), lakes, and hikes all around – this is a perfect and super dog-friendly getaway (even for families!) for the summer or early fall in upstate New York.
Huttopia has over 100 wood frame and canvas tents inspired by the French-Canadian trappers and built for modern comfort. Most huts include electricity, super comfy beds (I even checked the tag to see where the comforter was from!), wood stoves, bathrooms, showers, kitchens, and more.
Not a camper?
Below are a few common camping worries you won't have at this glamping getaway!
Scared you're going to get cold? There's a wood stove in your hut for that. :)🔥
Bugs? The huts are completely sealed with thick canvas material! There are windows with screens if you want to use them.
Like to get clean after a hike?? There are bathrooms and showers right in your hut (depending on which you choose). Otherwise, there are super clean shared bathrooms.🚿
Like to make your own meals?! There's a small kitchen with a sink, fridge, and grill with a griddle, too! 🍳🥞
Don't want to cook or drive to a restaurant?! There's a cafe with amazing wood-fired pizza (trust me, I'm not just saying that!), lattes, and many other food and beverages, too.🍷🍕
Make those camping memories!
One of my favorites from this trip was the one night we got back late from a sunset hike at Lake George.
We were hungry and didn't want to sit and wait in a restaurant in our hiking gear and also didn't feel like researching restaurants for good takeout. So we drove right back to Huttopia and pulled into the cafe at 8:30 p.m.
Just minutes later we had two hot and fresh wood oven pizzas and the best red wine I've had in a long time. 😱 Sitting in the common room at the restaurant we played games and ate until they closed up and drove one minute up to our hut site.
About the Huttopia Glamping Experience
The way we see it, camping at Huttopia is about being comfortable and connected to the great outdoors while enjoying the company of others, and the Adirondacks is a perfect place for it. ~Huttopia Adirondacks
I was surprised to learn that Huttopia started in Europe in 1999 and has locations in France, the Netherlands, Spain, China, and Canada.
There are only 5 Huttopia locations in the United States and we are lucky to have a couple here in the Northeast! There are two in California, one in New Hampshire, Maine, and this one I write about in New York.
Huttopia Adirondack Location 🚘🗺
Huttopia Adirondacks is about 2.5 hours from central CT and 1 hour north of Albany.
Being in the very southern part of the Adirondacks it is not as far of a drive from CT. But you still get that wilderness feel that is typical of the sprawling 6 million-acre Adirondack Park. 🌲(Did you know that it's the biggest park in the US?! Definitely put the Adirondacks on your list!!) 🌲
Address: 1571 Lake Ave, Lake Luzerne, NY 12846
🚗 GPS coordinates:
Latitude: 43.384066
Longitude: -73.7831007
Contact: Phone: +1 518-696-2905 and website
💻Link to check prices on Booking.com
Huttopia Cafe & Restaurant☕️
At the base of Huttopia before you drive up to all of the huts is the restaurant and cafe.
On the menu in the morning is a drink for all your caffeine needs. Before you head off to hike, grade a latte, fresh coffee, espresso, or tea! They also have freshly baked muffins and pastry items to away or you can wait for a homemade crepe.
At night, pop in for a wood-fired pizza that you can take to go or enjoy in the open air dining areas that thye have both in and outside.
I already raved about the pizza earlier and this post (and you can trust me – I grew up near New Haven, CT, with New Haven style pizza!🥰🍕)
And they even have local beer and wine. I am not a huge drinker but I had the best french wine I've had in a long long time and asked to take a picture of the label before leaving. The cafe has something for everyone and no detail is overlooked!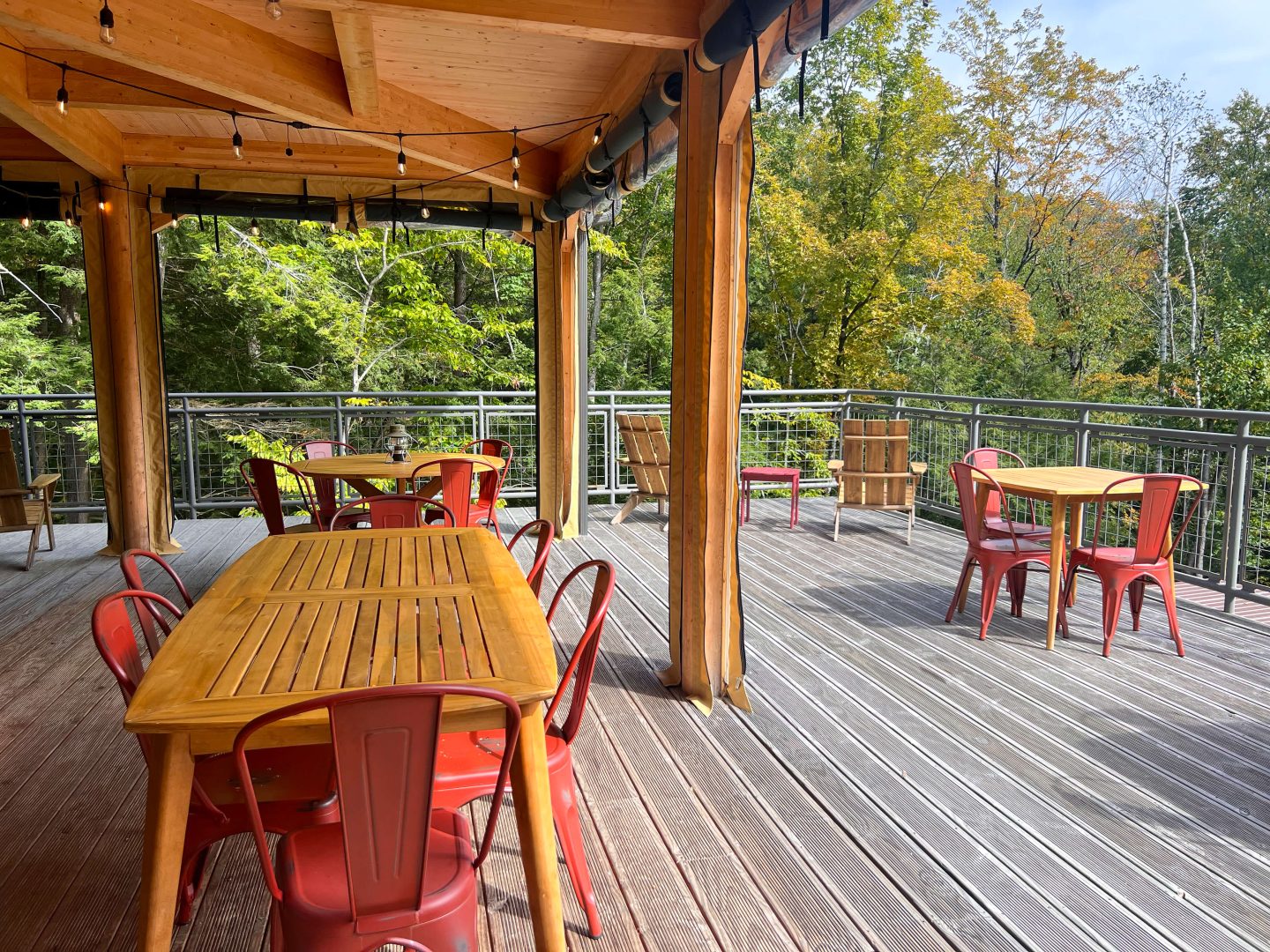 I hope you've found your next glamping getaway in the southern Adirondacks in New York! Here you'll have showers, a clean bed, bathroom, small kitchen, and restaurant on site!
Click here to check nightly rates for Huttopia Adirondacks location
Click here to check nightly rates for Huttopia White Mountains, New Hampshire, location