Looking for gift ideas for the new or experienced female hiker on your list?! If you're looking for hiking gifts (even if you think she has it all!) you've come to the right place with this list of 25 unique and essential hiking gifts for her.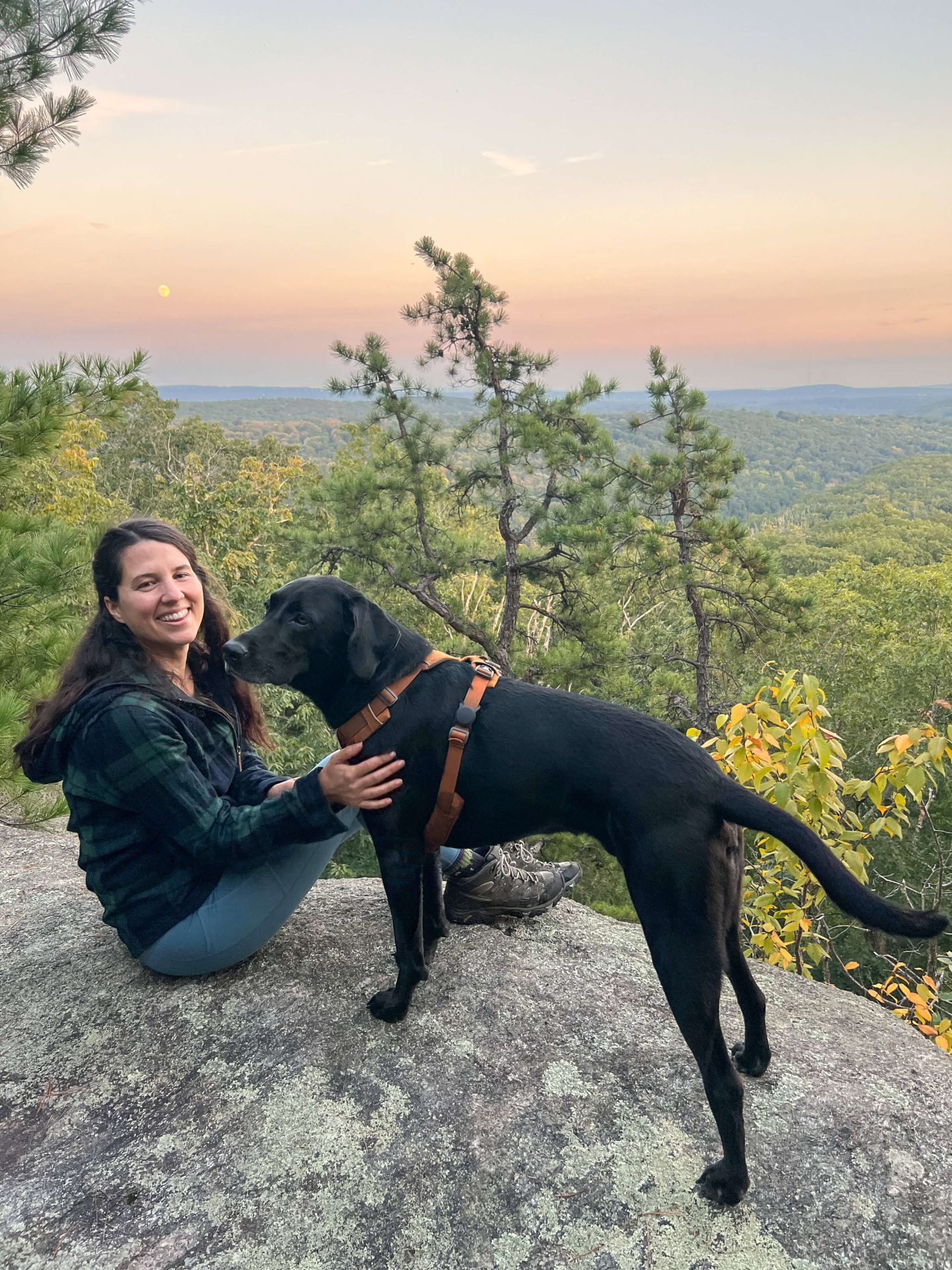 Who the heck am I and why trust me to tell you what to buy?!
I've been hiking, camping, and backpacking for almost 2 decades so this list wasn't difficult for me to put together at all. I get out there as much as I can in any season; before work for sunrise hikes, sunset hikes, and full-day hikes on the weekends!
With all my experiences, I simply made a list of all of my favorite hiking essentials, the items I use on almost every hike, that I would love to receive as gifts if I didn't already have them.
In this post you'll find super unique and thoughtful items that every hiker will love and appreciate.
The 25 hiking gifts are split into 3 categories so you can promptly find and make the best gift selection! ⬇️
Hiking Gifts for Her: Essentials for Safety
Hiking Gifts for Her Under $25
Unique Hiking Gifts: I may not buy for myself but would love to get as a gift!
⭐️Click the Table of Contents below to navigate to a specific section or scroll to browse them all.⭐️
25 Essential and Unique Hiking Gifts for Her!
🎁Hiking Gifts for Her: Safety
While these may not be the most fun and exciting hiking gifts they sure are super helpful and practical to have for all of your 'just in case' scenarios out there on the trail.
No one wants to get caught in the woods with a dead cell phone! We hikers use our phones not only to keep in touch with people but to also follow maps 🗺 when using hiking apps like AllTrails in order to correctly follow the trail.
This charger is an essential item and makes the perfect gadget gift.
Disclaimer: This post contains affiliate links that may earn me a small commission should you click through and make a purchase (at no additional cost to you). Thank you in advance for your support!
All hikers deserve to feel protected on the trail, right?! This "world's only laser sight pepper spray" makes a great gift for a hiker who may not think to buy this for themselves.
As someone who likes to hit the trails whenever I can which is sometimes by myself with the dogs, I always feel better when I have a little protection. Give the gift of extra safety! 🙂
"Just saved my life the other day. A dog attacked me while I was opening a gate, he caught me by surprise and so I quickly pulled out my guard dog pepper spray and got him right in the face. The dog came so close to biting me… it worked instantly." November 2023 Amazon review
Another safety essential to have! A #1 bestseller on Amazon, this powerful 30 ft range bear deterrent is a great gift for those who not only hike but camp, too. You can never be too careful out there!
"Gives me a lot of peace of mind when I'm out hiking, I don't even live in bear country, but I do live in California and hike a lot of mountainous trails that are home to mountain lions which this would also work on. Plus there's videos on YouTube of how to use it and it looks quite easy. It is lightweight and I put it in my backpack side pocket for quick access." 2023 Amazon Review
Amazon's Choice for adventure first aid kits! Weighing less than 4 ounces this water-resistant little pack has all the essentials: antiseptic wipes, butterfly bandages, sterile dressings, and a topical adhesive.
"Bought this for a backpacking trip and it was perfect! It's super lightweight and has everything you'd need for minor injuries. Bandaids in different sizes, pre-cut moleskin, gauze, fabric tape, alcohol pads, tylenol, benedryl, antibiotic cream, etc. It comes in that yellow water resistant bag and a ziploc bag to keep waterproof." 2023 Amazon customer review
🎁Hiking Gifts for Her Under $25
Okay, we arrived at the fun part of the list! 😍 Here are 13 hiking gifts for her that are under $25!
An essential item and perfect gift for any female hiker! Kula is a cloth for anybody that squats when they pee! Because who wants to carry toilet paper around?!
Kula Cloth® is the first of its kind – an intentionally designed reusable antimicrobial pee cloth.
Before I got this for myself I didn't see what the big deal was but now that I have it – I love it! Who wants to carry toilet paper around?! 😱
Go ahead and give this as a gift and watch it become their favorite hiking/travel mug! ☕️🎁
"The cup was the perfect size. Not too big and convenient for carrying on a hike or hunting trip. Doesn't leak and I love how you twist the cap to open and close it because when it's closed it's very secured." Amazon review
If you can't be out there the next best thing is to have a mug at home to remind you! 🌲
This mug makes such a great gift because chances are the person you're shopping for doesn't have it and anyone who hikes will love it! 🙂
"Gifted to my nature-loving Secret Santa match and he remarked on how durable and lightweight the mug is." Amazon Review
I was never a Clif Bar believer until the last couple of years. I went my whole life seeing them in gas stations or anywhere snacks are sold and I never thought I'd like them. But, I was wrong!
I bring one to work every day even when I'm not hiking. They provide the perfect amount of energy in any situation! And the chocolate is my favorite with chocolate chips in it. 🍫🍫
So if the hiker girl in your life loves chocolate she will love this snack on a hike! 🍫
"This is my go-to energy bar when I'm out and about, whether it's hiking, running, or cycling." Amazon review 2023
I wish I had 7 pairs of these socks so I could wear one every day! They are the perfect hiking socks for any temperature.
They resist moisture and sweat and retain heat in the cold. This is of course only possible with a wool blend sock like this one.
And how cute is the bear on the side!? The gal you are shopping for will no doubt love it, too! 🐻❤️
"My favorite new cool-cold weather wool hiking sock! This sock is adorable, and kept my feet dry and warm during an all day hike where temps ranged from low 30's to high 50's. I am very hot natured and other wool brands keep me feeling hot despite their claims to acclimate to your temp. These keep me warm when cold and cool when hot. And look great after first few washes." REI 5-star review
This pack of single serving electrolyte powder packets makes a great gift for hikers! I always notice the difference when I take one of these. When I am starting to feel a little low on a hike or for recovery after these packs deliver much needed vitamins and electrolytes to feel rejuvenated and continue on!
One thing a hiker doesn't want to be caught without – water! But sometimes it happens..the hike is longer than expected, the temperatures are hotter than you thought, and sometimes you don't bring enough water.
Fortunately, there are cool tools like this straw water filter you can use in any stream, river, or pool of water. 💦 This is the perfect gift to ensure she's always prepared!
"Wow. To my surprise, it was the freshest tasting water I'd ever tasted. Excellent for stream and tank water. These are quite simple to use. They are ideal for camping, hiking, or any form of situation where clean water is in short supply." 5 star Amazon review
12. Books about Hiking
📚Appalachian Trials: A Psychological and Emotional Guide To Thru-Hike the Appalachian Trail, $12.50
📚Wild: From Lost to Found on the Pacific Crest Trail by Cheryl Strayed, Editor's Pick and NYT Bestseller
📚A Walk in the Woods: Rediscovering America on the Appalachian Trail, #1 Best Seller East South Central US Books
📚To Shake the Sleeping Self: A Journey from Oregon to Patagonia, and a Quest for a Life with No Regret, #1 Best Seller in Cycling (and thought it's about cycling for miles any hiker at heart can identify with the story in this book)
13. Nature Poetry Books
I couldn't just pick one! So l listed a few of my favorites. But if I HAD to choose, I'd pick Mary Oliver. That's the one that always on my nightstand. 🙂
📖Devotions: The Selected Poems of Mary Oliver $11.33 (⭐️Best Seller in Nature Poetry on Amazon!⭐️)
📙Nature's Bounty: Poems about Nature, $11.99
📘The Daily Haiku Reader: Everyday Mindfulness Through the Seasons, $14.99
📗The National Trust Book of Nature Poems, $15.99
📕Poems of Earth and Spirit: 70 Poems and 40 Practices to Deepen Your Connection with Nature,$13.95
Perfect for the girl who loves to write, record, and log their hikes.
We've got two items linked above! The logbook is a little more fact-based and the hiking journal has more room for free writing.
Know of a crafty hiker?! This would be a perfect gift to encourage them to save their memories of their facorite hikes! I'm not necessarily crafty but it would be fun to be gifted this as I'd love to look back at my hikes instead of just scrolling through photos on the phone. 🙂
"The paper is really great quality and the images are beautiful. The description says "2 sheets per design" but really-its one sheet with 2 designs on it. I will still use them but am a little disappointed."👀 Amazon review
A fun little hiking gift. I would never think to get these for myself but if someone bought them for me I sure would have fun sticking them places to remind me of all the things I love. 🙂 🥾
"Stickers are of good quality and the overall value is spectacular. There were a few I won't end up using because they don't match my style, but the vast majority are just perfect. Even with the ones I won't use it's a great deal!" Amazon review
What a fun little gift to give someone. While I don't have any hiking stationary for myself I'd love to have a set on hand for thank you letters or little notes. This is a great, easy, and affordable gift!
From rabbits and foxes to owls and bears, the beloved forest animals in this colorful set of notecards bring a fanciful elegance to everyday correspondence—perfect for all occasions.
🎁Unique Hiking Gifts (she may not think to buy for herself!)
This list stems from personal favorite hiking items that I love that are more fun and different or are a little on the pricier side. These are items she will love but may not think to buy for herself.
Think of each hiking gift on this list as a special treat. ❤️
Bring the outside in with this candle that smells like the woods! 😍 Scents of pine and sandalwood this is a special candle for the hiking lover in your life!
"Bought it as a gift. But I also have it in my home. I absolutely love this company and all the scents I've bought thus far. Candles are a little pricey so I like to get them as gifts for special occasions." Amazon review
Walkie Talkies for adults?! Yes, please! These make hiking with a partner or friend super fun as each person is able to go at their own pace without losing touch with each other!
Cell service is often limited out there. This is a fun and practical gift for any hiker! And definitely one she might not think to buy for herself.
"My family loves this product – we use it to stay in touch on hikes or walks/riding bikes." Amazon Review
Wow, what a perfect gift for an outdoors lover! Anything from LL Bean is, really. I grab this flannel hoodie to wear on chilly hikes and walks with the dogs or for running errands in fall.
The softest long-lasting flannel, designed for relaxed comfort and warmth in our most easygoing Scotch Plaid Shirt yet. Available in the widest range of 100% authentic Scottish tartans – all specially yarn-dyed so they'll stay bright.
Perfect for stashing your daily essentials on the go, the Cotopaxi Kapai Del Dia 1.5-liter hip pack lets you keep your hands free. REI.com
"If you don't own this fleece you need to change that! It's so soft and comfy, feels like you're wrapped in a cloud! This is the best mid layer I've ever found! Also, pockets are a must for me and these have deep and functional pockets! And I love having the chest pocket to put my ski pass in! Whether I'm skiing, camping, traveling, etc this is a must have essential!" REI review
A luxury hiking item and great gift for her! 🎁
"Whether you're treating yourself or looking for a thoughtful gift, the Women's Embroidered Logo Earmuff from UGG is the perfect choice for those who value both style and comfort." Amazon Review
24. Microspikes for light snow or ice ❄️
Kahtoola brand Microspikes (best brand, long lasting), $74.95
Amazon's Overall Pick & the cheapest, $14.99
Waterproof, windproof and breathable GORE-TEX® shells are backed by lightweight synthetic insulation and cozy, fleecy interiors for warmth
I hope you found several gift ideas on this list of hiking gifts for her!
It doesn't take much to have fun out there but dressing comfortably for the weather and taking safety precautions with the items listed above help someone to enjoy hiking a lot more.
Save or bookmark this page for the next time you need gift ideas!