Trail review! Let's hike to Compounce Mountain and Julian's Rock for its lookouts, waterfall, and beautiful forest setting. 🌲🌲
I'll tell you about the good and the bad in this Connecticut trail review. 😍 Because we all know, not every trail is perfect!
At the start you'll see important details about where to park (can be tricky for this one), miles, my personal safety rating, what to look out for, etc., and other details you won't find on AllTrails!
I then provide a guide for hiking Compounce Mountain with a breakdown of miles and important points to note. 📝
Everything you need to know – you'll find it here in this trail guide below! So let's get to it.. ⬇️
This is a fun and challenging hike! It's no stroll in the woods but for the 2 lookouts and waterfall along the way, it's worth it and feels great!
Overall Rating: (out of 5 stars) ⭐️⭐️⭐️⭐️
While we didn't get to see the view because of the fog I still loved the challenge of this trail. It's not often you find a 1000+ elevation change hike in central CT. It also had a deep forest feel to it with its various settings from narrow paths through green ferns to rugged trails with white birch trees.
Miles: 4.8 miles
Elevation gain: 1,322 ft
Level: Moderate to Hard
Parking: At the end of a cul-de-sac street; Panthorn Trail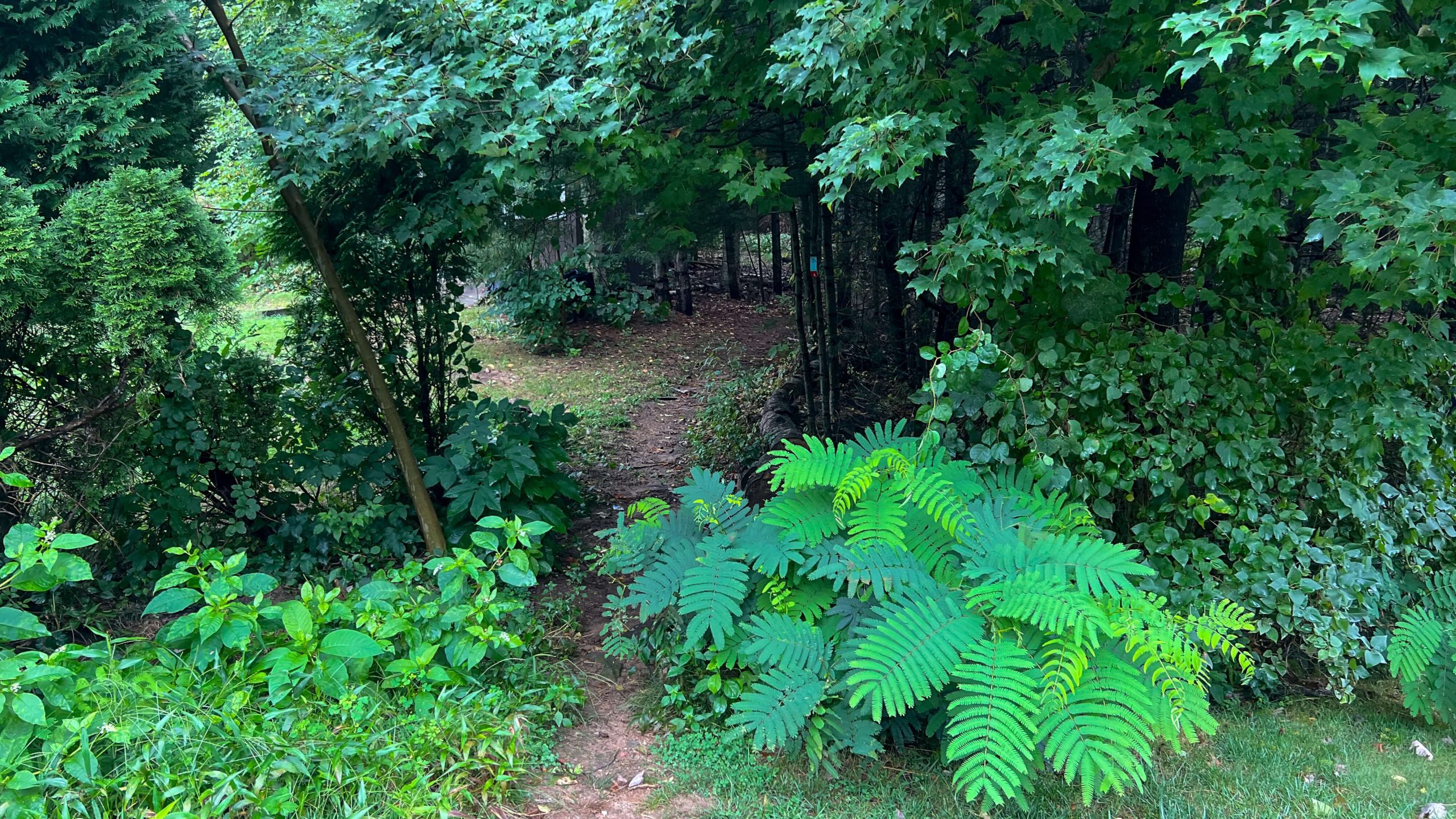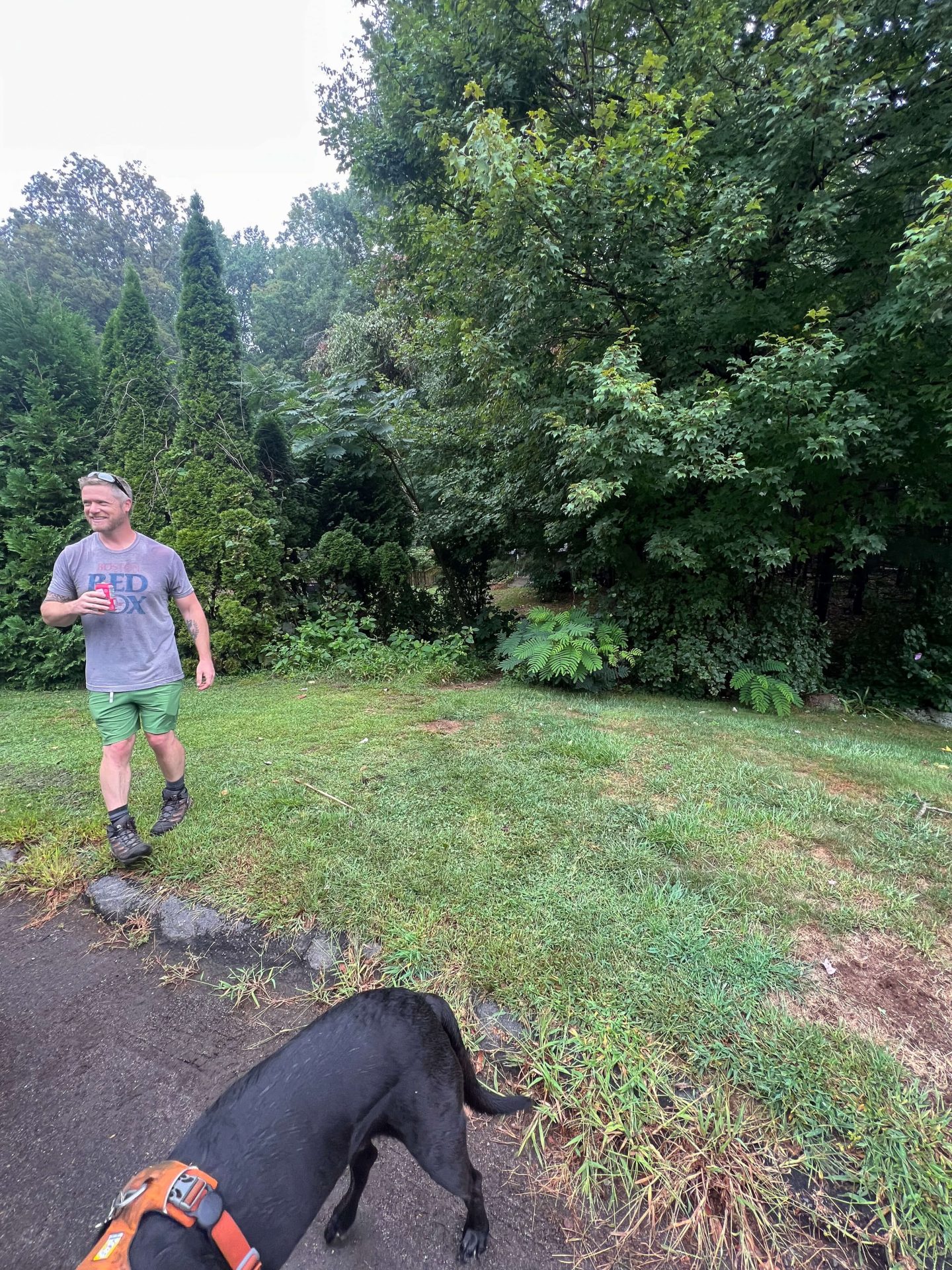 Okay, this is a tricky part. It's something I've been asked about when I first shared about my visit here.
Off Mt. Vernon Rd you will find Panthorn Trail. Panthorn Trail Street? Panthorn Trail Road? Neither! Just look for Panthorn Trail. 🙂
The trail entrance and parking is at the very end of this cul-de-sac road. I included pictures above so you can know what you're looking for.
In between the two houses at the end of the road, peer through the trees and you'll find a blue blaze and trail paving the way!
Terrain: Rugged 🪨
There are both rocky & flat paths here but mostly it's a bumpy trail. So wear those sturdy hiking boots! Here's a link to my favorite Merrell hiking boots. 🙂 I wear them no matter the terrain. (Even a small root or rock can cause a rolled ankle and I love the support of these.)
Dog-friendly: Yes. 🙂
There are several streams for water, too.
Kid-friendly: Depends!
This trail is kind of tough with its steep elevation. This along with a few technical sections with lots of rocks and roots, I could see a small child tiring of it quickly. But 10 years and older might be OK!
Peace and Quiet 🤫☮️: Yes and no..
There are lots of peaceful and quiet stretches of trail here. BUT, there is a section, along the back of the large loop on Compounce Mountain, where you can hear a nearby gun range.
When we first heard it we thought it was fireworks. But after about 20 minutes of thinking, gee, this is a really expensive daytime fireworks show 🥴, I dug up online that there is a range on the other side of Compounce Mountain.
It can be a little loud and a little startling, but this was also on a Saturday which may be a popular time for the range.
Safety:
Often when I'm out hiking with Jared, I'll think – would I come back here alone? 🤔
This seems like a very safe area of Southington and in a nice neighborhood. But after doing this hike once I probably wouldn't seek it out again by myself as there are other trails closer to home for me.
It does feel a little remote and quiet up here on Compounce Mountain. On a late Saturday morning, we saw just two other friendly hikers, one with a dog.
This trail can be hard to follow at times as well. There were several times when I pulled out my phone to consult the map to decide whether to go right or left. I did have service here but you could download the AllTrails map just in case.
Compounce Mountain Hike Route and Guide
Now that we have the basics out of the way, let's get into the trail a little more!
🚗Driving here you'll likely pass several busier areas and neighborhoods in Bristol or Southington and you might think, like I did, how is there an awesome hike in here?!
As you get closer to Compounce Mountain things get a little quieter and more spaced out and a low mountain emerges above the suburban neighborhoods below.
Oh, and you may pass Lake Compounce Amusement Park on the way! It is pretty eerie to go by when it's not open and you just see empty rollercoasters rising above the trees. 😱
Park at the end of the quiet and beautiful street, Panthorn Trail, and look for the blue blaze on the trees at the end of the street.
Begin the hike…
0-0.4 miles: A bit of uphill walking until you reach a fork in the trail. At 0.4 miles in you'll come to a fork (the first big loop, see pic below) where we took a left to go clockwise.
0.4-0.9 miles: In another half mile, you'll come to a spot labeled on the AllTrails map as 'Libby's Lump' with a camera icon 📸 next to it on the map.
This usually means that there's a view here, but unfortunately, I was not able to find one and I don't think one exists! :/
✍️Personal note: At this point in the trail, I was really looking forward to that view because of the initial climb and also because I kind of convinced Jared to go with me this morning. 👀I think he would have preferred to stay home on this overcast day so I wanted to be like, See! This was worth it. But, onward we pressed…
0.9-2.2 miles: You get a nice break here! You're done with the uphill for now and the trail is flat for the next 1.3 miles. Through tall trees and fern fields, you'll walk along looking forward to the view coming up!
2.2 – 2.3 miles: It's time for another fork in the trail! Have the map handy because there are technically two different trails that you can turn left on.
The best way to describe it is to take the first left! And head up to Julian's Rock where, thank goodness, there is a view!! 😍
Julian's Rock faces east over Lake Compounce and Compounce Lake below. Unfortunately, on the day we were there it was very foggy as you can see. We plan on coming back for sunrise and I'll update the photos when we do.
Another point of interest at the top of Julian's Rock is an old chairlift ride.
According to an article on CTinsider.com, The remains of the SkyRide chairlift control tower can be seen along the top of the ridge. Resembling a chair ski lift, the ride once took visitors up to the top of the ridge and back down to the lakeshore. Built in 1997, it was closed in 2017 due to the rugged terrain of the mountain and the limited access to the remote area.
2 options from here:
1. For a shorter hike (3.4 miles in total for the day), turn around now and head back down. You'll close out the first loop and walk just 1.1 miles down to the car.
As I mentioned earlier I kind of dragged Jared on this hike with me ;)) so we turned around at this point to close out the first loop and headed back down to the car.
2. For the full 4.8-mile hike (an additional 2.3 miles), continue past Julian's Rock and start the second loop before heading back down to the car. This second loop is where Cussgutter Brook Cascades is. 💦
I hope you enjoyed this trail review of the Compounce Mountain and Julian's Rock hike. This is one I've been wanting to try for a while and I will be back on a clearer day for the views and to check out Cussgutter Brook Cascades! 🙂
Have you hiked Compounce Mountain yet?
I'd love to hear your thoughts about it. Leave a comment or question below! ⬇️
Til next time, CT hiking friends! ❤️