Set in the rolling hills of Western Massachusetts, the Berkshires is a mountainous region of western MA dotted with towns and villages from South Egremont up to North Adams where the tallest peak (Mount Greylock) in MA is located. In this guide you'll find 33 winter activities to do in the Berkshires during your visit; both inside and outside!
The subject of James Taylor songs and Norman Rockwell paintings, the Berkshires are a magical getaway in the wintertime..
While eastern Massachusetts serves as the economic engine of the state, those in search of captivating rural beauty should make their way to the Berkshires on the Western edge.

Forbes.com
If you're dreaming of a magical winter scene like Kate Winslet's English cottage in The Holiday, then look no further than any of the small towns that make up the Berkshires!
I lived in the Berkshires (in the towns of Great Barrington and then Lenox) for 4 years. Since I was living alone it forced me to find tons of things in the Berkshires to do. I sought out the very best in every Berkshire town in order to entertain myself and now I've put it into a list for you!
From Chocolate Spring's Cafe, named a TOP 10 Chocolate Maker in the US, to snowshoeing in Kennedy Park and strolling through the Naumkeag mansion's Winterlights with hot chocolate in hand – there's no shortage of winter activities in the Berkshires!
From the arts to hiking and nature, amazing food, multiple world-renowned spas, and a famous yoga center, the Berkshires have it all! At just 2.5 hours from NYC, 2 hours from Boston, and just 1 hour from Hartford, CT, the Berkshires are a perfect winter weekend destination or day trip.
What is there to do in the Berkshires this winter?
✨Outdoor Holiday Winter Activities in the Berkshires ✨
NightWood is an "innovative and immersive sound and light experience set against the backdrop of Edith Wharton's historic home. Wander the illuminated 3/4-mile route through the woods and gardens for an otherworldly experience that evokes wonder and awakens the imagination." edithwharton.org
The home, called The Mount, was designed and built in 1902 by an American author Edith Wharton. Open to the public The Mount is now a National Landmark. There is a cafe open too where you can get cookies, food, and spiked and non-spiked hot chocolate! This is by far one of my favorite things to do in the Berkshires during the holiday.
A public garden and a historic home run by The Trustees; Naumkeag estate hosts its popular WinterLights event every year. In this family-friendly activity, you'll walk the paved paths through the mansions' gardens and grounds which are transformed with thousands of twinkling lights.
The self-guided walking tour lasts about 45 minutes with food, refreshments, and a gift shop at the end! Tickets for WinterLights sell out FAST so mark your calendars for the mid-end of October when they first go on sale! Ticket costs range from free (children 2 and under) to $27 for adult weekend tickets. Click here for tickets. Dogs are not allowed at this event. 🐶
Another festive, holiday light show in the Berkshires! For 20 nights in December (from 5-8 pm) Shaker Village sparkles in a multi-sensory (kid-friendly) experience! Stroll around this 19th-century village and admire the historic buildings illuminated with artist Joe Wheaton's spirited light projections. Lots to see with the Round Stone Barn with farm animals to fire pits with adult and kid beverages and a mercantile shop with Shaker-inspired gifts! Check openings and tickets here.
🌲Winter Hiking in the Berkshires🌲
4. Hike Mount Greylock (tallest mountain in MA), Williamstown
At 3,491 feet, Mount Greylock is the highest point in Massachusetts with views 60-90 miles in the distance of four states and five mountain ranges! It became Massachusetts' first wilderness state park to preserve its natural environment for public enjoyment.
There are multiple trails up to the top of Mount Greylock in Mount Greylock State Reservation so research and choose the best trail for you here. I hiked the Gould Trail in winter which is 6.7 miles with 2,300 feet of elevation and is labeled 'hard' on AllTrails. Note: There is a road to the top along with a lodge that has overnight accommodations and serves breakfast and lunch (Bascom Lodge) but it is only open Memorial Day to Labor Day so you'll have to visit then!
Right in the center of Stockbridge behind the quaint downtown of shops and restaurants sits a beautiful area to hike in Sedgwick Reservation.
Work off your breakfast or lunch and hike the 1.8-mile (round trip) trail up to Laura's Tower where you see close to 360-degree views up top. There is a steep set of steps to get up but you can hold tight to the railing as I did!
Located from the same lot as Laura's Tower Trail (you can do both on the same day!), this unique path with tall pines runs through the forest and then takes you through boulders to navigate which is what makes this a 'moderate' trail on AllTrails.
According to the Laurel Hill Association, you will "clamber over, under, and around giant boulders in a glacial ravine. The sides of the glen are covered with old-stand pine and hemlock. At the north end of the glen is a flat rock face with an inscription from the donor, David Dudley Field. At the south end of the glen is reputedly the tallest pine in Massachusetts."
A signature hike in the southern Berkshires and another property maintained by The Trustees is Monument Mountain Reservation which has four different trails for hiking.
The Hickey and Peeskawso Peak Loop is probably the most popular and takes you to all the multiple lookouts. There are pretty steep rocks and cliffs at the top so keep kids and dogs close and on leashes. These trails are rated as 'moderate' but I always see families hiking up together yet given the steep rocks and cliff faces at the top keep kids and dogs close and on leashes. Unless you're a member of The Trustees there is a $6 fee to park here and you can pay with a card at the machine there. 
8. Drive to Olivia's Overlook (can take pics right from the parking lot) and then hike the Charcoal Trail, Lenox
Perched above the Stockbridge Bowl this is a signature view in the Berkshires located on Lenox Mountain Rd. Olivia's Overlook is at the heart of the 734-acre Yokun Ridge South reserve in the heart of central Berkshire County.
This popular overlook is also the trailhead for 6 miles of trail (there's a 2-mile loop) and is accessed right from the small parking lot of about 8 cars so get there early! This is a great little hike before or after your breakfast, lunch, or brunch at Haven Cafe and Bakery in downtown Lenox which is minutes from here!
From Olivia's Overlook parking lot, cross the street and take the Burbank Trail which is a 3-mile 'moderate' trail that takes you by one of my favorites- Monk's Pond! If you take the loop counterclockwise you will see Monk's Pond on the right about .9 miles in.
On the loop back you will come to a really pretty lookout that faces west to the towns of Richmond and Hancock.
With over 1,400 acres and 7 miles of trails to explore along Lenox Mountain, you can have yourself a full winter hiking day in here and build up an appetite for dinner. This sanctuary has four different trails listed on AllTrails for you to choose from and they are all highly rated with almost all 5 stars! Click here to choose your trail as they range from 2.5 to 7.6 miles in length. Note, dogs are not allowed here in Pleasant Valley Sanctuary. (bummer!)
11. Hike Bash Bish Falls (tallest waterfall in Massachusetts!), Egremont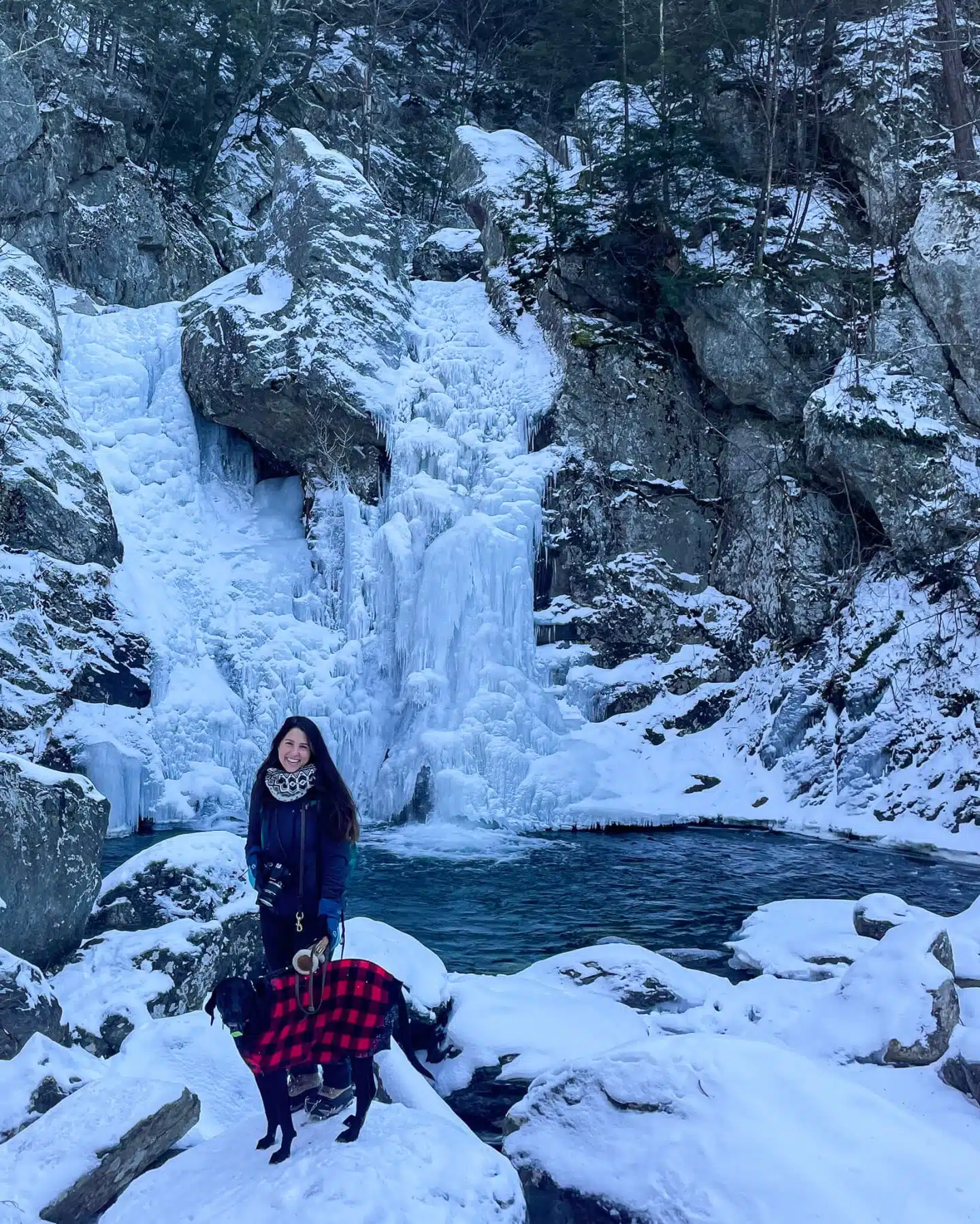 We are ending this Berkshire winter hiking list at the very southern tip of the Berkshires at the tallest waterfall in MA! Go admire the beauty of Bash Bish Falls with a drop 80ft into an emerald plunge pool that attracts more people than you'd want to see on a trail in summer and fall, that is!
That's why visiting in winter can be the most magical and serene time to be there and really appreciate it. In a serene forest setting you'll walk a mile up along Bash Bish Brook to get to the falls. This trail is rated 'moderate' and is about 2.1 miles round trip.
🎿Winter Sports Activities in the Berkshires🎿
12. Ski or Snowboard at your choice of FIVE different Berkshires ski mountains!
Wow, the skiing choices in the Berkshires are endless!! How will you choose?! Well, I guess it depends where you're staying and each mountain has its own special features like live music and a restaurant at Bosquet to tubing and lessons at Catamount. Here's the list with the location and link to each ski spot in the Berkshires.
13. Ice skate (or fish!) on the Stockbridge Bowl, Stockbridge
This is a BYOS activity – bring your own skates! The Stockbridge Bowl (aka Lake Mahkeenac) is a super popular spot for ice skating in the Berkshires. The best place to access the lake and park is the boat ramp at 106 Interlaken Rd. 🙂 You're welcome!!
In the wilderness of Williamstown (a college town in northern Berkshires) is The Clark Institute (known as The Clark). During the winter The Clark's 140 acres outside the museum are open for exploring by snowshoe, AKA Project Snowshoe.
They offer complimentary snowshoes if you don't have any. This is a perfect winter activity and afternoon in the Berkshires. Visit inside the museum, snowshoe around the beautiful property, and warm up with some soup at the cafe!
Another activity in the northern part of the Berkshires and another outdoor option to get you moving and to see a waterfall! The Cascades Trail is a beautiful and short river walk that follows Notch Brook in North Adams to a popular cascading waterfall.
"A hidden in-town gem, this trail is minutes away from downtown areas of North Adams and Williamstown. This trail has been protected from motorized vehicle traffic for many years and is now maintained by the Trustees of Reservations of Western Massachusetts for outdoor recreation." explorenorthadams.com
❤️Indoor Winter Berkshire Activities (Museums, Spas, Fitness, Entertainment, Markets)❤️
A Berkshire stop that can't be missed! The amount of times I would drive to Chocolate Springs for just a few truffles when I was bored and living in the Berkshires is too embarrassing to mention.
Named one of the Top 10 chocolate makers in the United States, Josh Needleman has brought us a treat for all senses in his chocolate cafe. Not only will these truffles (try the dark chocolate sea salt caramel!) be some of the best chocolate you've had but you won't believe the details and work of art that make up each one.
The cafe offers tables to sit at and of course, hot chocolate made with their dark cocoa powder or any other cafe drink you'd like. Anytime I drive up to the Berkshires I make sure to swing by Chocolate Springs Cafe and bring a special box of treats home! (I can feel the snap of the delicate truffle shell from here. :)) Enjoy!!
It wouldn't be a Berkshire experience without visiting the Norman Rockwell Museum in Stockbridge.
American painter Norman Rockwell spent the last 25  years of his life living in the Berkshires and painting classic scenes of downtown Stockbridge that you can find in the museum today. At the end of his life, he entrusted his studio and its contents to the Stockbridge Historical Society which later because of the Norman Rockwell Museum.
Rockwell was named the official state artist of Massachusetts and also received the nation's highest civilian honor, the Presidential Medal of Freedom. An ideal afternoon would be going to see Rockwell's "Stockbridge Main Street at Christmas (Home For Christmas)" painting and then heading to the real Main Street in Stockbridge to see it come to life!
There are tons of paintings in the museum and I also loved wandering the grounds where Rockwell's studio is and where he used to walk with his dog.
18. Visit Mass MoCA, North Adams
Way up in the northern part of the Berkshires is another must-see Berkshire museum.
According to their website, "The Massachusetts Museum of Contemporary Art (MASS MoCA) is one of the world's liveliest centers for making and enjoying today's most evocative art. Much of the work is made here during extended fabrication and rehearsal residencies that bring hundreds of the world's most brilliant and innovative artists to North Adams all year round."
Stroll around with a hot chocolate even visit the cafe inside after taking in the beautiful galleries and pieces of art.
"Opened to the public in 1955, the Clark has built upon this extraordinary group of works to become one of the most beloved and respected art museums in the world, known for its intimate galleries and stunning natural environment. It is one of the few institutions in the United States that combines a public art museum with research and academic programs."
As mentioned in the 'outdoor activities' section, The Clark offers complimentary snowshoes to explore their property outside as well!
20. Pamper yourself at a world-renowned spa (multiple spa choices here!)
Wow, each of these could be listed separately with all they have to offer but whether you are looking for a facial or a full body seaweed wrap (sorry, no pictures of that ;)) then take your pics from the multiple choices of spas in the Berkshires.
And these aren't just any spas, they're world-renowned celebrities visit kind of spas!
Canyon Ranch in Lenox is more than a spa but a leading wellness resort that offers much more than just pampering yourself. There is a team of doctors and experts there to help you with whatever you might need on your journey to wellness!
Miraval Berkshires in Lenox is an all-inclusive destination resort and spa. Both Canyon Ranch and Miraval offer day packages that allow you to eat at their amazing and healthy restaurants on-site, book any services you'd like along with the use of property amenities and access to lectures and an array of classes. If you need an escape for the day either is the place to be! 
Take a class, weekend course, or retreat at the largest retreat center in North America!
Kripalu brings in well-known presenters and teachers (Elizabeth Gilbert was recently there teaching a writing course) that share their knowledge and expertise. Anything that interests you or if you are looking to improve your life, physical or emotional well-being, I bet there's a course there for you.
Or, if you're just looking for a relaxing and uplifting weekend you can book an R&R package that allows you to stay there, eat in their amazing kitchen, and take any of the classes during the day. They even have outdoor activities like snowshoeing or cross-country skiing that you can safely try with their guides.
22. Take a yoga, dance, or fitness class at one of the numerous studios!
You won't miss your favorite yoga studio or gym back home after visiting one of these.
If you're unable to get outside to snowshoe or hike but want to exercise then pop into one of these studios for a class! I've been to ALL of the studios below and enjoyed my time at each, so wherever you go, I trust you'll be in good hands at any of them (And no worries about being new, as a vacation destination, they are used to drops in and welcoming new people! :))
For almost 25 years now Berkshire Museum has held its Annual Festival of Trees.
"The indoor forest of holiday brilliance features hundreds of stunning and uniquely decorated trees. Tree designs range from the nostalgic and traditional to whimsical and even interactive." It's such a fun indoor activity for after or before dinner somewhere and after a long day of adventuring!
In the month of December only, the Stockbridge Chamber of Commerce puts together a Historic Holiday Property Tour at various mansions in Stockbridge. The following mansions are included in the tour:
-Merwin House
-Mission House
-The Old Rectory
-High Lawn Farm Museum
-Ventfort Hall Mansion and Gilded Age Museum
This is one of my personal favorites! Guido's Fresh Marketplace is worth the visit in any season. From the fresh, local produce and meat, huge cheese section, bakery, and cafe with lattes and smoothies. To the prepared food to go and then of course, their newly expanded home and gift section!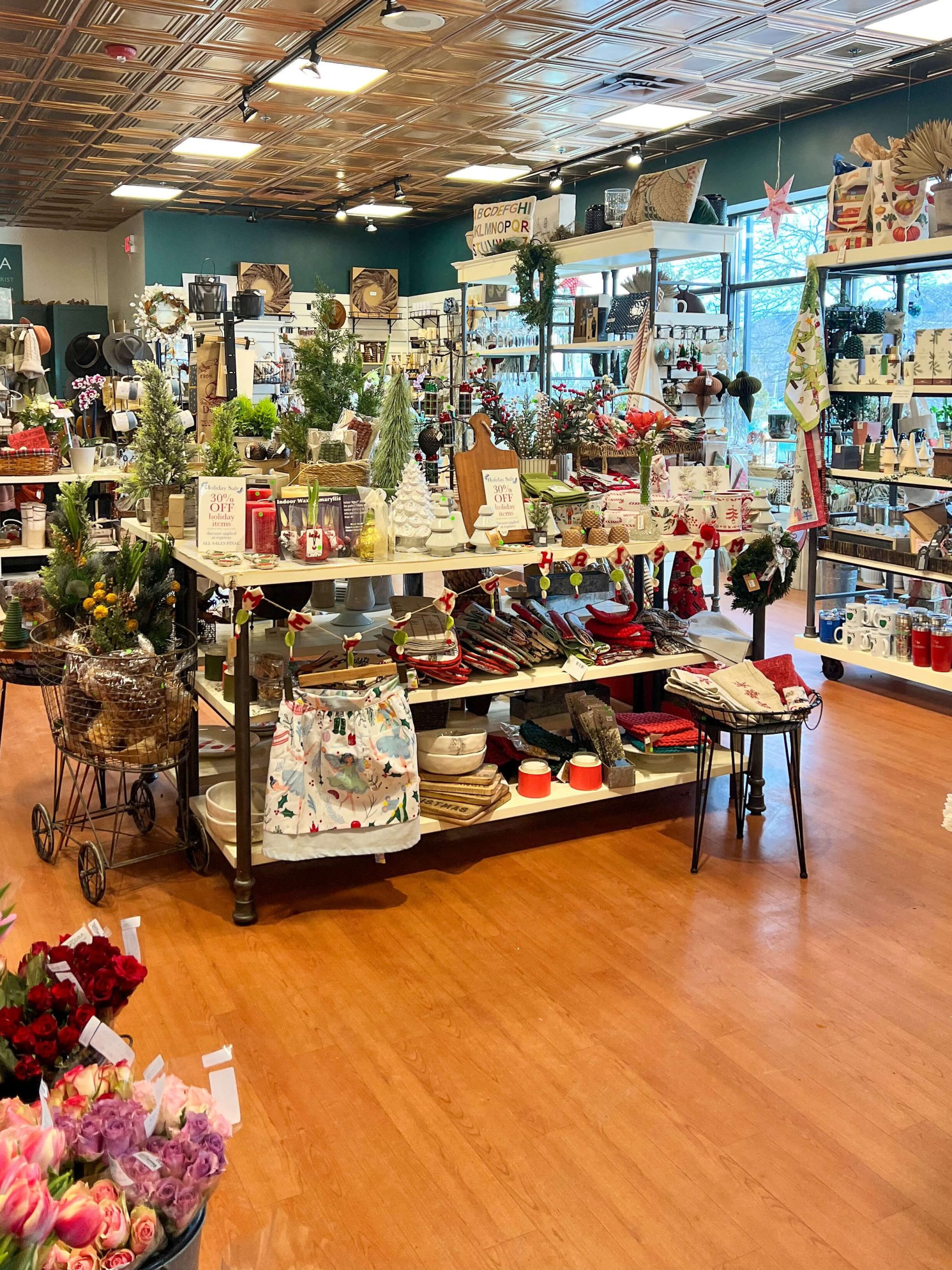 I could get lost in there. Lots of items are from local Berkshire businesses and everything in the store feels special and unique. Check out the two locations below:
-Guido's Fresh Marketplace, 1020 South St, Pittsfield
-Guido's Fresh Marketplace, 760 South Main St, Great Barrington
26. Shop at a Berkshire holiday market 🎄❤️
Berkshire Botanical Holiday Marketplace, Stockbridge: This is an annual event that transforms that Garden into a glistening holiday market featuring the Gallery of Wreaths, a Garden tradition offering one-of-a-kind wreaths created by some of the area's most talented designers and artists. A holiday plant sale features hand-selected flowering plants, traditional centerpieces, and holiday swags, and regional craft vendors offer a range of products from hand-made giftware and jewelry to beeswax and felted products. In December only, click here for dates and tickets!
–Handmade Holiday Fest, Dalton: From pottery and jewelry to gourmet food items and body care products, the Handmade Holiday Festival is a one-stop holiday shopping destination.
–Festive Holiday Market, North Adams: Set in an expansive, light-filled mill, the 30,000-square-foot open marketplace will include culinary crafters, local farmers, fermenters, and the region's best artisan makers!
Have kids and need to entertain them for a little bit? Check the hours of public skating and even free skating times!
If the weather isn't great or you want to relax and see a show after dinner check out any one of Berkshire Theater Group's amazing performances.
Located at the Colonial Theater in downtown Pittsfield, I've seen a few shows of theirs (The Nutcracker being my favorite!) around the holidays and they're always entertaining with amazing talent.
29. Check out a historic Berkshire inn
Take a look at this "Best Inns of the Berkshires" list from Forbes and you'll see just how many historic and beautiful inns (from the 18th century!) there are to choose from.
At the top of the list and at the top of mine as well as the iconic Red Lion Inn. Sitting on the corner of Main Street in Stockbridge this great white inn attracts lots of tourists around the holiday season and year-round.
30. Warm up with spirits! Choice of Berkshire Distillery, Bright Ideas Brewing, or Barrington Brewery
For a taste of the Berkshire (literally) head to any of these breweries/distilleries below depending on where in the Berkshires you're located.
–Berkshire Mountain Distillers, Sheffield (southern Berkshires) "One of the founding members of the craft distiller movement, Berkshire Mountain Distillers is an authentic, regionally focused maker of small-batch, award-winning craft spirits." (taken from their website)
–Bright Ideas Brewing, North Adams (northern Berkshire)Located on the campus of the MASS Moca you can visit the museum and stop by the brewery afterward! Click here to check out what's on tap here!
–Barrington Brewery, Great Barrington (southern Berkshires) "Since 1995 Barrington Brewery has been serving our own Barn Brewed Beer and food made from scratch. We were the first brewery on the East Coast to install a solar panel system that supplies solar-heated hot water for brewing and restaurant use. Our kitchen features scratch-made desserts and locally sourced ingredients when possible." (taken from the website)
🛍Mix of Indoor and Outdoor Fun in the Berkshires🛍
31. Visit downtown shops and restaurants of Stockbridge
Along Main Street in Stockbridge is where you want to park and give yourself time to walk around this cute and quaint downtown! The Red Lion Inn on the corner of Main St kicks off a whole block of restaurants, cafes, and shops. While it is only a block or two on both sides of the street, don't be deceived! There are little alleys that you walk down with even more stores and you can go down Elm St as well which is right off Main St.
A few favorite shops and cafes:
32. Visit downtown shops and restaurants of Lenox
Stroll down Main St in Lenox and be sure to branch out to all the interconnected side streets with no shortage of cafes and shops to pop into!
Main Street runs parallel to Church Street and both are chock full of little shops. Connecting those two streets are Housatonic St and Franklin St which have a lot as well.
A few favorite shops and cafes:
33. Visit downtown shops and restaurants of Great Barrington
With the largest downtown of these three Berkshires towns; Main Street in Great Barrington goes on for a few blocks with side streets on either side to check out! (Church Street, Railroad Street, and Elm Street) Find a place to park, walk, and shop!
A few favorite shops and cafes:
I hope this post inspired you to either book a Berkshire winter getaway (it makes a great gift!) or that you found tons of fun things to do for your trip this winter in the Berkshires.
Let me know what you're looking forward to doing and feel free to leave a question below! ⬇️